Diablo Immortal Memes: That Time Blizzard Totally Misread The Room at BlizzCon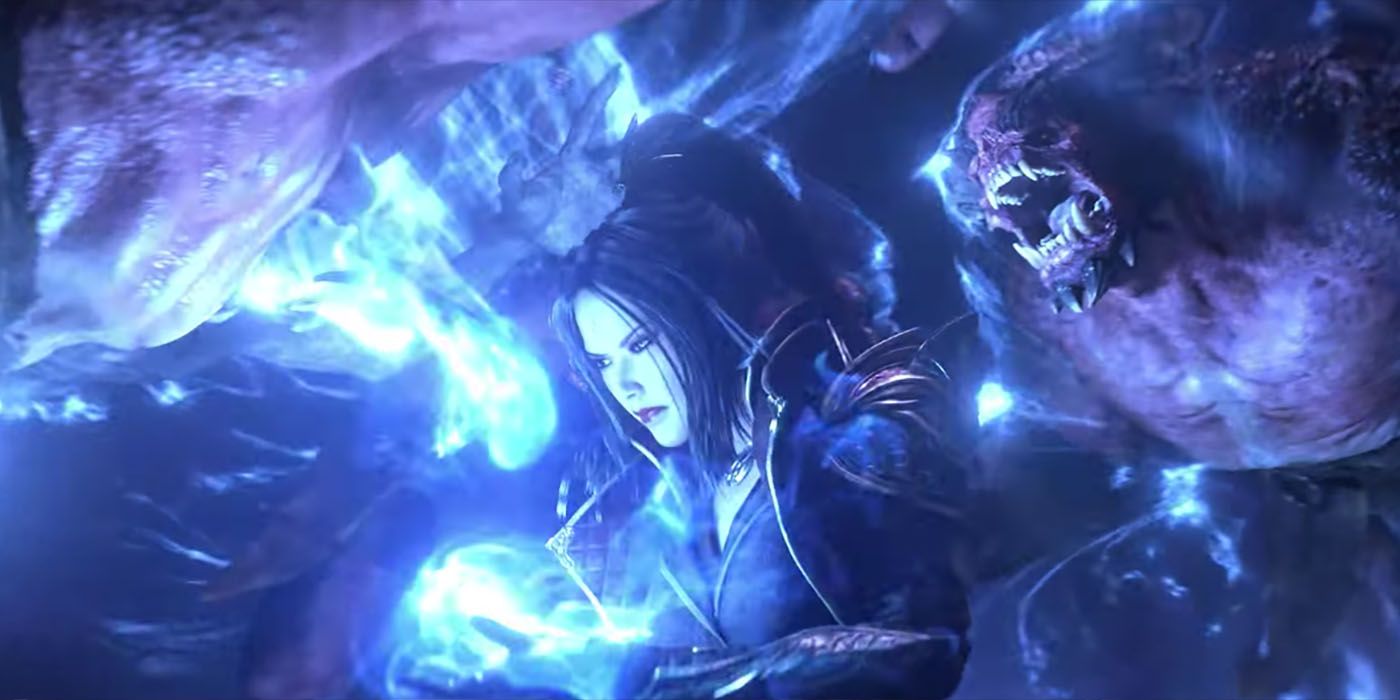 Developers at Blizzard Entertainment have inadvertently become an overnight internet sensation after the Diablo Immortal fiasco at BlizzCon 2018. Between the negative fan reaction to Diablo Immortal and accusations of Blizzard deleting negative comments from the game's trailer, the internet has responded with a series of memes to perfectly sum up the presentation.
Since 1996, the Diablo series has slowly built itself a loyal following of gamers and put the pieces in place for another outing after Diablo 3 first hit PCs in 2012. Considering Diablo 3 became the fastest-selling PC game of all time, it might seem like a logical step to stick to what Blizzard knows. Unfortunately, there was no long-awaited announcement of Diablo 4 at BlizzCon and many fans were left scratching their heads when developers confirmed the next game in the series will be a wholly mobile experience set between Diablo 2 and 3. 
Related: Diablo 2 Producer Says Blizzard Doesn't Understand Gamers Anymore
During Diablo Immortal's announcement, one gamer became famous when he asked, "Is this an out of season April Fool's joke?" to cheers from the audience. Reddit has responded in kind and immortalized 'April Fool's Guy' in his own meme: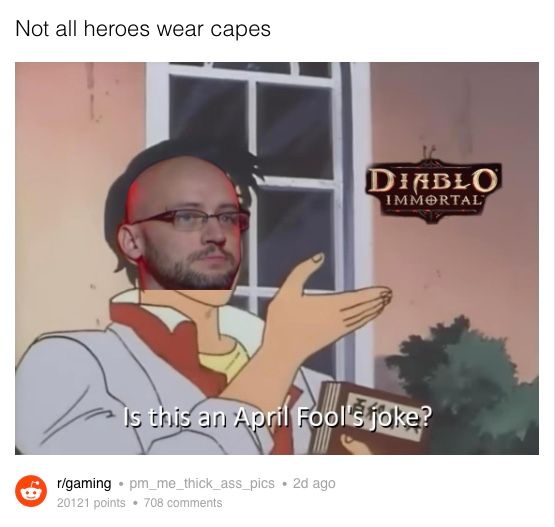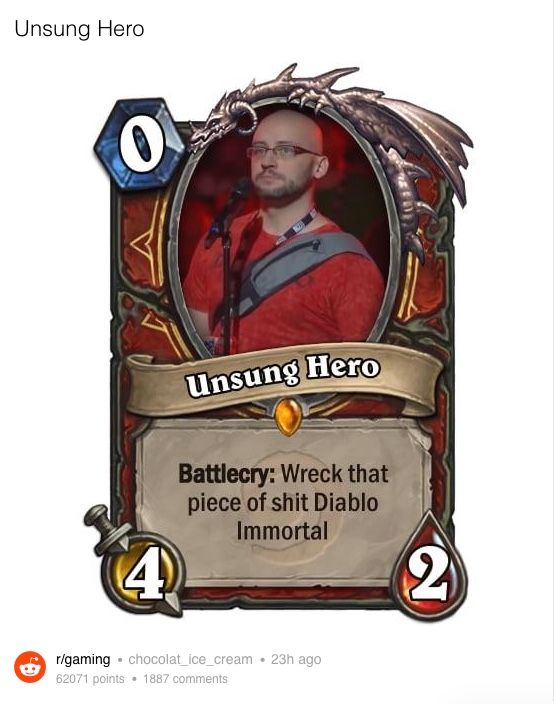 Speaking for a large majority of fandom, the man expressed how many Diablo players felt during the BlizzCon presentation. Developers had already promised that the recently announced animated Diablo series was just one of a number of projects set within the dungeon-crawling world of demons and heroes. Safe to say, a mobile-only game that is already being accused of being a re-skin of NetEase's Crusaders of Light wasn't what anyone was expecting.
The Diablo Immortal devs clearly misread the room at BlizzCon and made the meme-worthy statement of "Do you guys not have phones?" when the game was loudly booed by the crowd. Although it probably isn't the slogan that Blizzard wants to use to promote Diablo Immortal, "Do you guys not have phones?" is also doing the rounds online as a meme. Elsewhere, there are some immortal words from the late Steve Jobs, an idea for Diablo Monopoly as another moneymaking idea, and some players have even poked fun at Diablo Immortal with reference to the Android's disastrous Ouya console.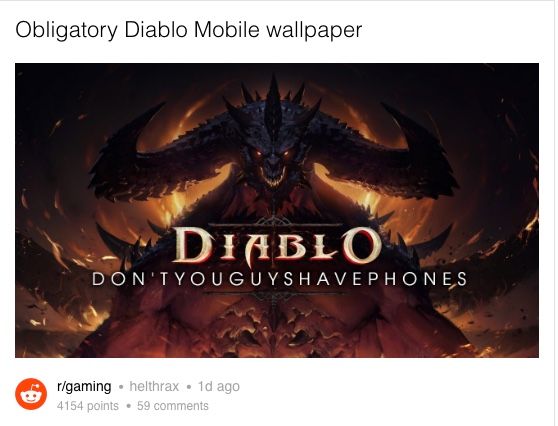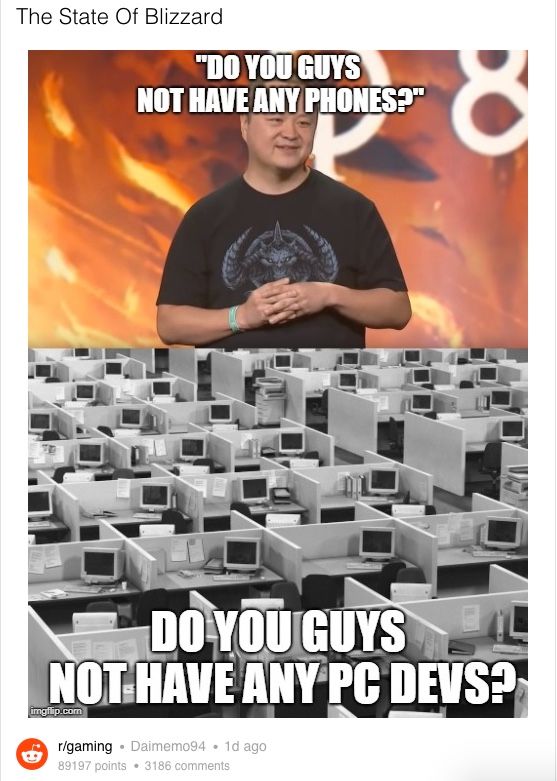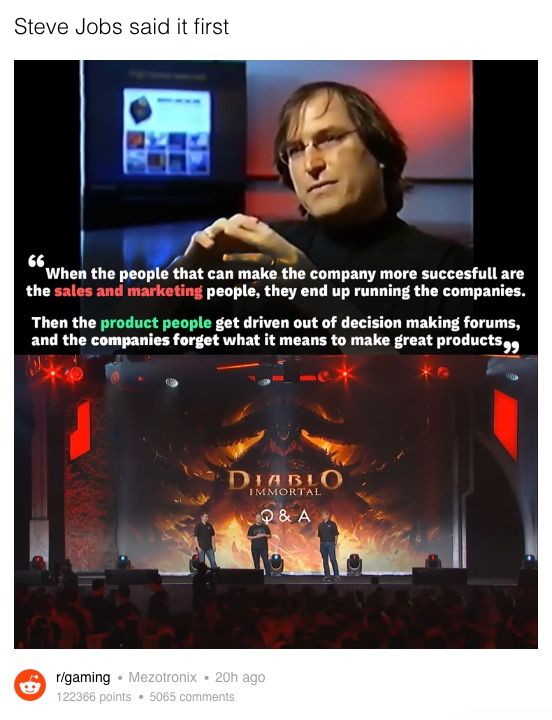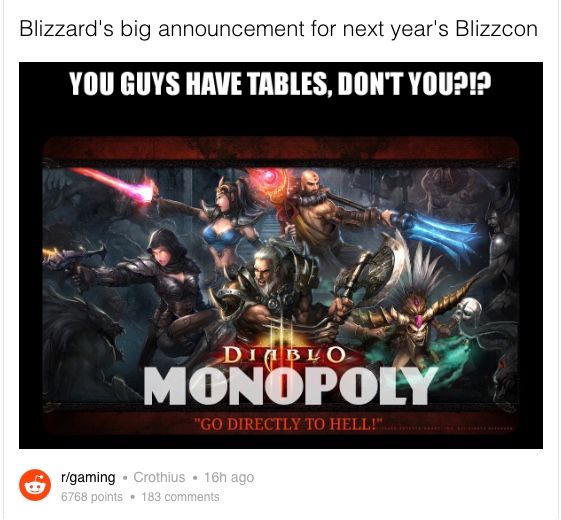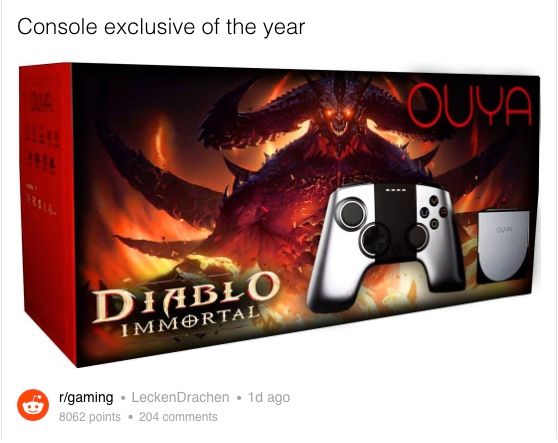 Even those who have never played a Diablo game only need to look at the BlizzCon Twitch on YouTube to see the outpouring of negative comments when principal game designer Wyatt Cheng announced Diablo Immortal. A sensible decision would've been to regroup and discuss a marketing strategy, but instead, the Blizzard developers went on the defensive.
Considering even the Diablo 2 producer has slammed Blizzard for not understanding its customer base, the company has a lot of work to do to restore faith in Diablo Immortal. Maybe the only thing that could save the red faces of Cheng and co. would be a swift announcement of Diablo 4, but don't count on it just yet. Whatever happens, expect those Diablo Immortal memes to keep coming.
Source: YouTube, Reddit [see images]
This entry was posted by Screen Rant on November 5, 2018 at 6:11 am, and is filed under TV News. Follow any responses to this post through RSS 2.0. You can skip to the end and leave a response. Pinging is currently not allowed.