10 Brooklyn 99 Guest Stars Who Have Been In Other Cop Shows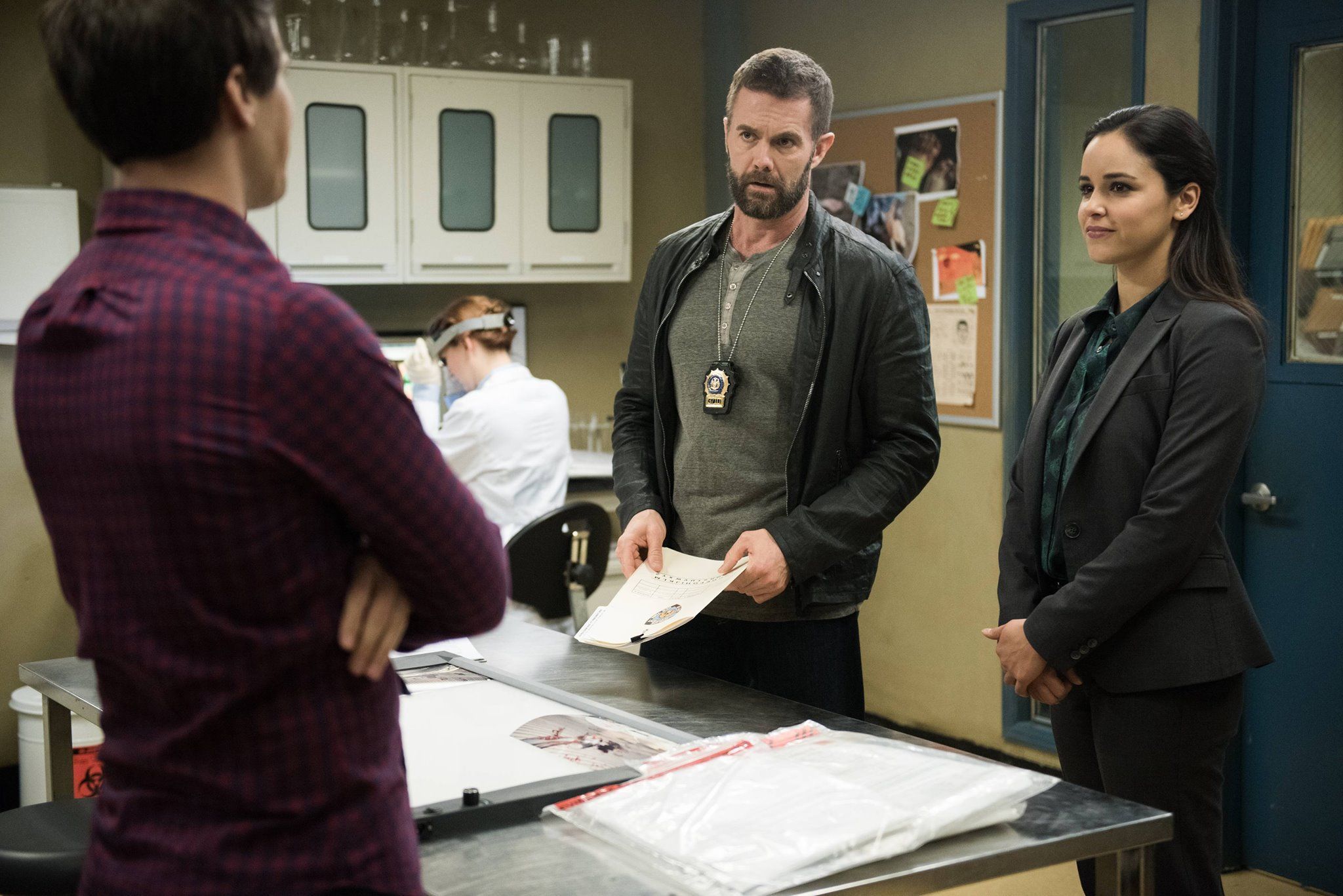 With a never-ending list of guest and recurring stars, Brooklyn Nine-Nine has involved some of the finest actors around in its plot by way of recurring appearances and amusing cameos. Whether they were cast due to their dramatic or comedic talents, each one of these stars contributed some additional flavor to a show that is already rich with content and star power.
In addition to being some of Hollywood's finest, a number of these stars have also appeared in other cop shows, which makes it understandable as to why their performances on Brooklyn Nine-Nine were so convincing. Let's take a look at some of these guest stars that you may be surprised to learn have appeared in other cop shows.
10. Ken Marino
Ken played the goofy precinct captain "C.J" at the beginning of season four while Holt and Peralta were in witness protection. C.J. is typically portrayed as being clueless and unqualified for the job, allowing everyone in the precinct to take advantage of him to maintain the image of a "chilled" boss.
In addition to his three-episode run in the Nine-Nine, Marino also appeared in various roles in Reno 911! as well as Detective Gerard Donnelly in NYPD Blue. 
RELATED: NYPD Blue Sequel Series Casts Original Stars Kim Delaney & Bill Brochtrup
9. Jimmy Smits
Guest starring as Amy's father, Jimmy Smits perfectly embodies the role of Victor Santiago, a rugged and analytical former detective who places the wellbeing of his daughter as his utmost priority. Perhaps this is due to Jimmy's long history of experience doing cop-related shows; experience that has given him the ability to come across with both brawn and intellect.
Before his appearance on the Nine-Nine, Jimmy guest-starred on Miami Vice and Cop Rock, and starred as Detective Bobby Simone in longstanding police procedural drama NYPD Blue. He also recently starred in 24: Legacy.
8. Zooey Deschanel
While typically known for portraying Jess on New Girl, Zooey Deschanel is not an actress that fans would expect to appear on a police-related series, or in the action genre for that matter. To the delight of Brooklyn Nine-Nine and New Girl fans alike, Zooey made a guest appearance in Brooklyn Nine-Nine where she reprised her role as Jess in a series crossover.
In contrast to her typical roles, Zooey also made a guest appearance on Bones as Margaret Whitesell, a distant cousin of Detective Temperance Brennan, who is portrayed by her real-life sister Emily Deschanel.
RELATED: New Girl Series Finale Explained: What Happened & The Future
7. Craig Robinson
Revered for playing the witty and hilarious Doug Judy, Craig Robinson has returned to reprise his role as the "Pontiac Bandit" at least once every season. Judy is Jake Peralta's long-standing "frenemy," and manages to narrowly escape Jake's grasp during each of their encounters.
Robinson also featured as the main character in another TV show called Ghosted, where he played disgraced former LAPD detective and current mall cop Leroy Wright. Unfortunately for Robinson, the show was canceled after just one season. However, Brooklyn Nine-Nine fans can rest assured that he will return as Doug Judy in the near future.
6. Garret Dillahunt
Dillahunt guest starred in the second season as Detective Dave Majors, the best detective in the NYPD who both Amy and Jake try their utmost to impress. Majors also finds himself attracted to Amy, which makes Jake ponder over whether or not he should reveal his feelings to Amy before Majors asks her out.
It's no wonder that Dillahunt naturally fits into the role of the rugged detective, as he is a veteran at acting in police procedural dramas. His long list of credits includes guest spots on NYPD Blue, CSI, CSI: NY, Law and Order: Special Victims Unit, and a recurring role on Justified.
RELATED: Fear the Walking Dead Season 4 Casts The Gifted's Garret Dillahunt
5. Gina Gershon
This esteemed actress cemented her place in fans' minds as Lieutenant Melanie Hawkins, leader of an elite task force and an idol to both Jake and Rosa. There is more to Lt. Hawkins than meets the eye, however, as the squad from the 99th precinct would find out over a three-episode arch spanning over seasons four and five.
This is not Gina's first outing sporting a police uniform, however, as she previously starred in the detective series Snoops, as Glenn Hall, who operates her own detective agency. She also guest starred on The Untouchables and Numb3rs.
RELATED: Brooklyn Nine-Nine Season 5 Finale Review: This Is Why The Show Deserved To Be Saved
4. Nick Offerman
Widely known for his impressive facial hair, this rib-tickling comedian had a cameo appearance as Frederick, an ex-boyfriend of Captain Holt. Another interesting fact is that it is Offerman's voice that we hear saying "Fremulon" when the Fremulon production graphic appears at the end of each episode.
Among Nick's other appearances on cop shows are recurring appearances on NYPD Blue and 24, as well as guest spots on Monk and CSI: NY. 
MORE: Curb Your Enthusiasm Season 9: Bryan Cranston, Nick Offerman & More to Guest Star
3. Bradley Whitford
This seasoned actor plays a recurring role in this police sitcom as Captain Roger Peralta, estranged father to Detective Jake Peralta. First appearing in season two, Roger is disliked by Jake due to abandoning Jake and his mother, however, he soon finds his way back into their lives as he and Jake's mother reconcile and began dating.
Whitford previously starred in police sitcom The Good Guys and is yet another actor on this list who enjoyed a recurring role on NYPD Blue.
2. Dean Winters
No stranger to action films and TV shows, Winters plays the recurring character Detective Keith Pembroke. Pembroke is also known as "The Vulture," a fellow NYPD officer in the Major Crimes Unit; an adversary to the gang from the 99th precinct. While he has hounded the squad on numerous occasions, the height of his chaos came when he briefly took over as Captain of the Precinct during season three.
Winters has had a noteworthy record of appearances in police-related shows. He starred in Homicide: Life on the Street, NYPD Blue, Law and Order: Special Victims Unit, Law and Order: Criminal Intent, and CSI: Miami.
1. Eva Longoria
Appearing in four episodes in the show's second season, Longoria plays the role of Sophia Perez, a defense attorney who becomes the love interest (and later girlfriend) of Detective Jake Peralta. While the couple shares many common interests, such as their love of Die Hard movies, eating hot wings, and playing ping-pong, they failed to reveal their respective careers to one another; which later creates some complications.
Whilst Longoria is typically not known for police dramas or action films, she did appear as a series regular on police procedural drama L.A. Dragnet, where she portrayed Detective Gloria Duran.
NEXT: Dora the Explorer Movie Casts Eva Longoria As Dora's Mom
This entry was posted by Screen Rant on January 13, 2019 at 4:01 am, and is filed under TV News. Follow any responses to this post through RSS 2.0. You can skip to the end and leave a response. Pinging is currently not allowed.