10 Characters For Titans Season 2… And The Actors Who Could Play Them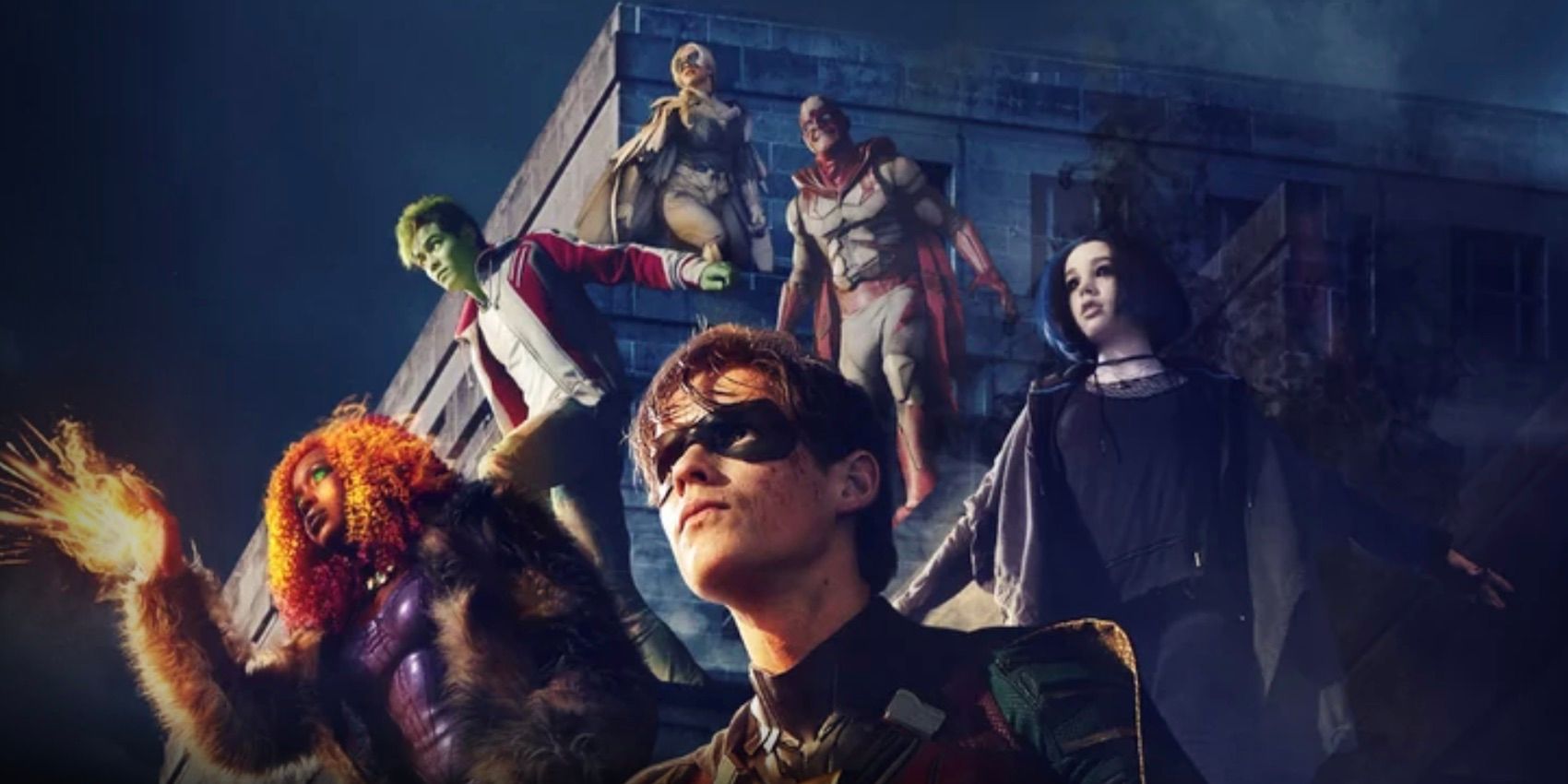 Whether you liked Titans or not, you can't deny it did a lot of great stuff for fan service. Easter eggs and DC Comics characters abound in the mature streaming show, and we have a hunch that Titans season two will follow that pattern. We have our favorite choices as to which DC characters we think we will or would like to see in the second season, but we thought it would be fun to go a step further. Who could play these iconic roles, we wondered. After doing some brainstorming, we came up with this, 10 Characters For Titans Season 2... And The Actors Who Could Play Them. Let us know what you think!
Related: 8 Big Unanswered Questions After The Titans Season One Finale
10. Superman - Lee Pace
An actor that plays Superman has to have two distinct sides. One has to be his mild-mannered alter-ego, and the other had to be his true identity as one of the most powerful beings on Earth. Lee Pace can handle this duality. Consider his performance as Ronan the Accuser. The Guardians of the Galaxy villain, who will return in this year's Captain Marvel, is an intense, powerful being. Though Superman would never commit the same evils, he does have that personal sense of strength. Next, consider Lee Pace's quiet, reserved character on Pushing Daisies. Pace plays both these parts with aplomb, making him a perfect choice for the Man of Steel. That is, unless he has to play Legolas's dad again anytime soon,
9. Batman - Charlie Cox
Fans joked that when the MCU cast Michael Keaton as The Vulture, Marvel had "stolen Batman" from DC. That, of course, was just a light-hearted jab, but that doesn't mean DC couldn't get back at Marvel in an interesting way. With the masterful actor behind Daredevil now out of work, Charlie Cox would be an amazing choice to play the Dark Knight. He's already shown that he can play an intense, strong-willed trauma victim that struggles with the morality of killing. Plus, have you seen his fight scenes in Daredevil? Put that guy in a cape and watch the warehouse scene in Batman vs. Superman face some serious competition.
8. Deathstroke - Andrew Lincoln
Speaking of out of work actors, we were all a little sad when the iconic Rick Grimes left The Walking Dead universe. Of course, he'll be appearing in three spinoff movies, but that doesn't make it any less sad that he won't be with us every week. However, Titans could remedy that. Andrew Lincoln has the gruff, veteran strength needed to play DC's deadliest mercenary, and putting him in the role is guaranteed to pull in new fans. He'd need someone to provide him an eyepatch but who knows? Maybe his old pal Carl could help him out with that.
RELATED:  What To Expect From DC's Titans Season 2
7. Ravager - Tati Gabrielle
There was a lot to love about Netflix's first season of Chilling Adventures of Sabrina. One of them was the antagonistic Weird Sisters, lead by Tati Gabrielle's Prudence. In the role, Gabrielle showed that she could play a fiercely individual character who wasn't afraid to get her hands a little dirty. Plus, she proved that she could play a role that deals with some serious family drama (watch Sabrina to find out why), and that would definitely help for the character of Deathstroke's daughter. Gabrielle wasn't in Titans, her performance in Sabrina guarantees that we'll be seeing a lot more of her somewhere.
6. Terra - Lili Reinhart
Fans of Riverdale know that Lili Reinhart can play "scary angry." Her character Betty Cooper struggles with an especially vengeful inner darkness, making her perfect to play this (literally) earth-shattering character. Terra is a troubled and rage-filled hero in the Titan comics, and anyone familiar with the DC storyline 'The Judas Contract' knows that she can go to some extreme places because of her anger. For a character that is in touch with both her inner darkness and desires friendship, DC Universe could do a lot worse than Lili Reinhart.
5. Blackfire - Angel Parker
Komand'r is the older, more violent sister of the Titan Starfire. She is a ruthless and brilliant reflection of the alien hero, kind of like what General Zod is to Superman. And if DC wanted to include her in the next season of Titans, Angel Parker would be a great choice. You might recognize her from her role on Marvel's Runaways, where she also plays a crafty, powerful character. Just know that in Runaways, she's fully committed to her family. If Blackfire were to appear in Titans and meet up with her little sister, that probably wouldn't be the case.
RELATED:  All the DC Movies and TV Shows Streaming on DC Universe
4. Joker - Guy Pierce
Putting the Joker into Titans Season Two is somewhat of a risk. However, it's not out of the realm of possibility. We've already technically seen (a demonic vision of) him, and with Jason Todd as a major player on the show, it only follows that his eventual murderer would appear as well. Again, DC would be smart here to kind of steal from Marvel. As you know, Guy Pearce was the primary antagonist in Iron Man 3, and that was just one of his great antagonistic performances. However, for all the great things we've seen Guy Pearce do, we've never seen him go full maniacal psychopath. Including the Clown Prince of Crime in Titans season two is a perfect opportunity.
3. Aqualad - Jordan Calloway
Another Riverdale alum, Jordan Calloway plays misogynistic and mean-spirited Chuck Clayton. While Aqualad doesn't exhibit qualities to those extremes, he does have a pretty high view of himself. That comes out in his self-assured leadership skills. Though he is a talented head of operations, he can very prideful. This is exemplified when he kept a very important secret of his heritage to himself, refusing to let his teammates into his past.
2. Superboy - Darren Criss
The last time Darren Criss was on a major TV show, he was playing a character pretty far removed from a superhero. As a murderer in American Crime Story, Criss shocked audiences with his ability to portray a violent role. Some may think that that makes him unqualified to play Superboy, but if you know Conner Kent at all, that's just not the case. Conner Kent is a cloned version of Superman, and with that comes some internal distress. Just tune in to the post-credits scene in the last episode of Titans season one to see that this is the direction the showrunners are going with. Criss can play someone who's an All-American golden boy on the outside, but with a potential for violence within. That's Superboy if we've ever seen him.
RELATED:  DC's Titans: 8 Big Unanswered Questions After The Season 1 Finale
1. Wonder Girl II - Sophie Turner
Donna Troy was one of the best parts of Titans Season One. Now, it would only make sense for Warner Bros. to expand even more into their Wonder-characters, and Cassie Sandsmark is a perfect addition to that roster. Cassie is the daughter of an archaeologist and the god Zeus. She is the second character to bear the name Wonder Girl, after Donna Troy first took on the name. We think Sophie Turner would be a perfect choice because we've seen Sophie do power before. As Jean Grey and Sansa Stark, Sophie's played women with great amounts of strength, who eventually come into leadership positions. As Cassie Sandsmark, she could not only expand on the Amazonian mythology in Titans, but continue the theme of legacy that the show's already started.
After all, odds are that Jason Todd won't be a Robin for much longer...
Which Titans do you want to see show up in Season Two? Who can you see taking on their roles? Let us know in the comments section below!
This entry was posted by Screen Rant on January 17, 2019 at 2:01 am, and is filed under TV News. Follow any responses to this post through RSS 2.0. You can skip to the end and leave a response. Pinging is currently not allowed.