10 Shows Riverdale Fans Should Watch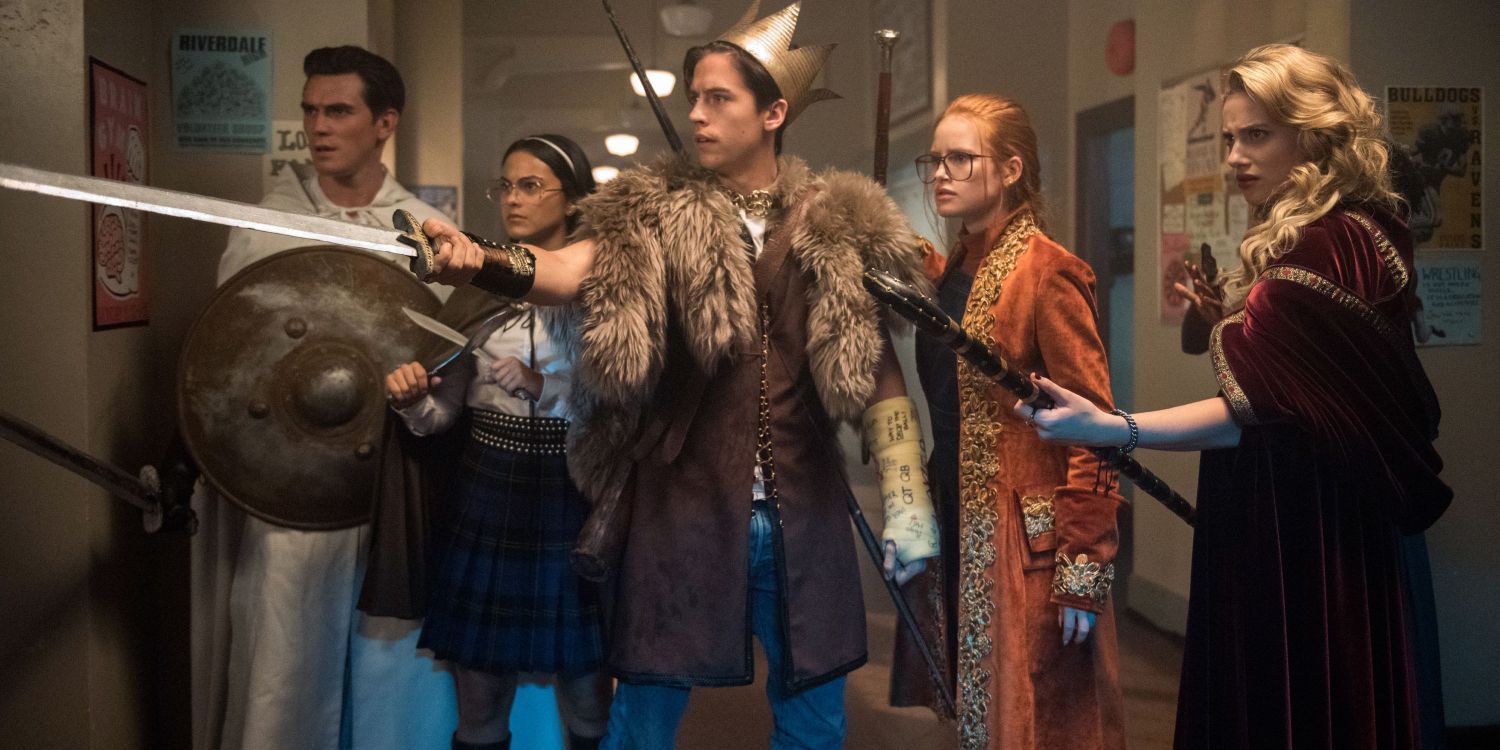 In 2017 the show Riverdale premiered. It's a television series that gives the classic Archie comics an updated story. It stars characters such as Archie Andrews, Jughead Jones, Veronica Lodge, and Betty Cooper, who are played by some of the hottest young stars around. These characters date on the show and in real life, but the relationships are not the only excitement. Yes, many fans regularly turn to this series for its dark and edgy vibe, and while the original comics were light-hearted, this version explores the strangeness lurking beneath Riverdale, which seems like a wholesome small town.
Those who can't get enough of the drama and the thrills in Riverdale should also consider checking out these other 10 TV shows, which also bring the excitement!
RELATED: Riverdale Kills Off [SPOILER] In Midseason Premiere?
10. Chilling Adventures of Sabrina
Of course, we recommend Chilling Adventures of Sabrina. The original version of this show, which was called Sabrina the Teenage Witch, was based on a comic series that existed within the same universe as Archie's. Now, it too has received a darker tale all about Sabrina Spellman, who is half-witch and half-mortal. That being said, she has to fight off evil with her aunts while also going to school and hanging out with friends, as well. It is a delicate balance. There are even references to one show in the other, so this is a must for those who love Riverdale!
RELATED: 10 Riverdale References In Sabrina
9. Pretty Little Liars
When watching Riverdale, anything could happen at any moment, and the same is true with Pretty Little Liars. This popular series starts with a girl going missing, which causes her friends—Spencer, Aria, Hanna, and Emily—to drift apart. However, they are forced to re-join forces when they all start receiving anonymous and threatening text messages from "A." Those who are familiar with this show know that it gets even crazier as the story progresses, as more mysteries and messages pop up. And people who have not watched PLL... Well, now is the time!
8. Gossip Girl
On a similar note, we have Gossip Girl, another teen drama based on another book series. The main characters here are not average teens, though; they are an attractive and an affluent group on the Upper East Side in New York. And instead of receiving creepy texts from A, their lives and secrets are thrust into the spotlight thanks to Gossip Girl, an anonymous blogger. So, it is definitely full of excitement, and like Riverdale, it places a heavy emphasis on steamy romances and juicy details. So feel free to leave now to watch this for the first time or to rewatch this for the umpteenth time!
RELATED: 21 Mistakes Fans Completely Missed In Gossip Girl
7. The 100
The 100 is a post-apocalyptic show in which the only survivors are those in 12 international space stations. And after three generations have lived in said space stations, supplies start to dwindle, so 100 juvenile prisoners are sent down to a planet in order to test its habitability. While the sci-fi elements here are a bit different than the ones in some of these other teen dramas, the main draw is still there. Yes, in short, fans of Riverdale should consider watching The 100, with its exciting plot and characters.
6. Stranger Things
Speaking of sci-fi...Watch Stranger Things! Streamed on Netflix, Stranger Things is set in the '80s, focuses on the coolest group of kiddos, and features the Upside Down. This unique show immediately gained a huge following, and this year, fans are super excited about season three being released. Plus, there is something for everyone: a great soundtrack, loveable characters (like a waffle-eating hero named Eleven), plenty of thrilling moments, drama that has comedic relief sprinkled in, and Steve's hair, which deserves its own mention here.
RELATED: 10 Coolest Fan Theories From The Stranger Things Teaser
5. One Tree Hill
The town of Tree Hill may not see quite as much action as the town of Riverdale, but this show belongs on this list. As mentioned, many fans are into Riverdale due to the relationships and the mystery of wondering if Archie will end up with Betty or Veronica, or if Jughead will find his way within his gang. Similarly, One Tree Hill centered in on pretty girls falling for popular boys and vice versa. Oh, and it gets better: The main two guys in this series are half-brothers named Nathan and Lucas (played by Chad Michael Murray).
RELATED: One Tree Hill: 20 Things Wrong With Lucas Scott We All Choose To Ignore
4. Once Upon A Time
Some people grew up reading Archie comic books, while many of us grew up reading fairy tales. Therefore, the next television series on this list is Once Upon a Time. In this show, classic characters and modern life collide, and who would not want more of Tinker Bell, Robin Hood, Belle, the Wicked Witch of the West, Victor Frankenstein, and Genie? This is another popular series, and we think that many who regularly watch Riverdale should also turn to Once Upon a Time for even more entertainment.
RELATED: Once Upon A Time: 10 Storylines That Hurt The Show (And 10 That Saved It)
3. Supernatural
Do you like the magical elements in Once Upon a Time and the edgy vibe of Riverdale? Then try Supernatural! Of course, many fans are already addicted to this show, but those who are not should consider checking out the adventures of Sam and Dean Winchester. These brothers hunt monsters, meaning they are always investigating new and strange creatures. It checks off many boxes, making it a hit series; there is always excitement and a little bit of danger and mystery to each episode. And there are good-looking characters at the center of it all!
RELATED: Supernatural Showrunners Explain Why John Winchester is Returning
2. Big Little Lies
We wanted to include at least one entry on here that is not a teen drama since people of all ages enjoy the shows on this list; so up next is Big Little Lies. It is based on a best-selling book, and it is a darkly comedic tale about three mothers. In their community, things appear perfect, but things are not always as they seem... a lesson that many have learned through Riverdale! This new show is talked about constantly, and those who have yet to watch it need to see what all the fuss is about.  
1. You
Last but not least, we suggest that Riverdale fans watch You, the hottest series of the moment. It premiered on Lifetime in September 2018, and now that it is on Netflix, it seems the whole world is tuning in for this dark show. Penn Badgley stars as Joe, a man whose crush is taken a bit too far. Shay Mitchell and John Stamos also star in it, and it definitely appeals to those who enjoy exciting drama, steamy relationships, thrilling mysteries, and entertaining television (elements that can be found in all 10 of the TV shows on this list!).
RELATED: YOU Season 1 Ending Explained
This entry was posted by Screen Rant on January 23, 2019 at 1:01 am, and is filed under TV News. Follow any responses to this post through RSS 2.0. You can skip to the end and leave a response. Pinging is currently not allowed.