10 Shows To Watch If You Love 90 Day Fiancé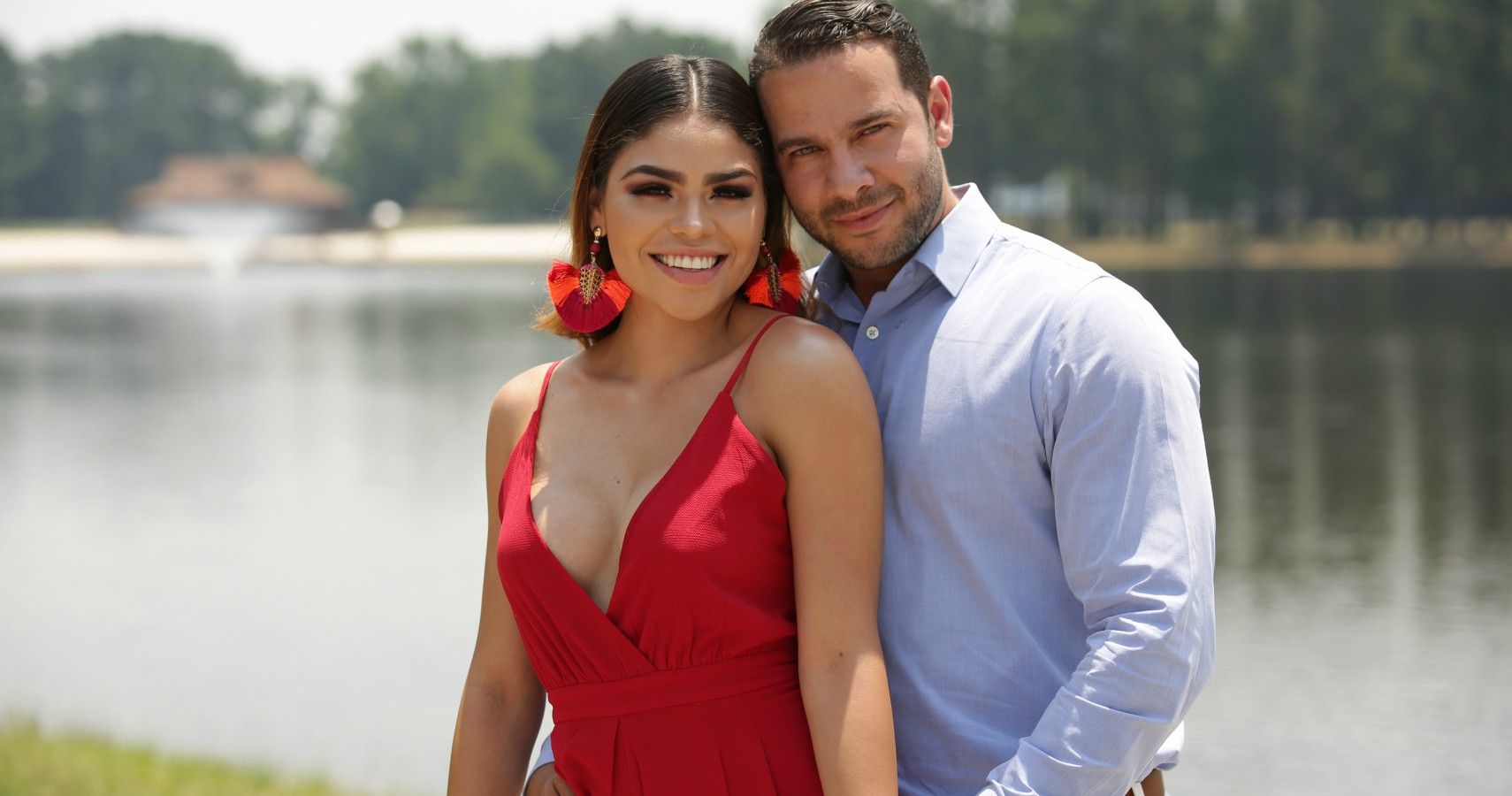 Yet another season of 90 Day Fiancé has come to a close, but even though the show is through with us, we are not through with it. Of course, you can only re-watch a series so many times before it becomes repetitive (and, in the words of our now ex-therapist, "obsessive and unhealthy"). What we need is a bunch of other great yet similar shows to fill the gaping hole in our reality TV show-loving heart.
When it comes to dramatic documentary-style television, there are plenty of options to choose from. Pop some popcorn, grab a fizzy beverage and plop yourselves down on the couch! Here are 10 shows to check out if you love 90 Day Fiancé.
10. Catfish
Based on the 2010 documentary of the same name, and brought to viewers by MTV, Catfish is a reality show hosted by Nev Schulman and Max Joseph that explores the many potential problems of online dating. The two hosts meet up with people who are (or, at least, who think they are) involved in virtual relationships. Then, with some good old-fashioned detective work, figure out if the person on the other end of the relationship is actually a real person or just a catfish.
*Infomercial announcer voice*
But wait, there's more! See, the show doesn't stop there. Once Nev and Max have determined a person is a catfish, they begin to explore the bizarre reasons behind catfishing. It's, uh...well, frankly, it's a bit of a mess, but in an entertaining way.
RELATED: 15 Behind-The-Scenes Reality TV Photos We Can't Unsee
9. Love After Lockup
With this show, the title pretty much says it all. Love After Lockup on WE TV follows the stories of real inmates as they re-enter the real world after serving time behind bars for their criminal ways. After being released from prison, these men and women meet their fiancés for the first time, and, naturally, relationship drama ensues.
Things aren't always easy in normal, non-prison related relationships, but the criminal element adds a whole new level of baggage that we reality TV viewers can't get enough of. Follow these ex-cons as they tangle with dating and the highs and lows of love. Will they allow their old ways to interfere with new beginnings? Tune in to find out!
RELATED: 8 Reality TV Stars Who Are Legitimate Tough Guys (And 7 Who Are Only Tough On Screen)
8. Unexpected
Another bang-up reality series courtesy of TLC, Unexpected began airing in 2017, and it'll leave you on the edge of your seat wanting more; which is kind of a problem because, as of right now, there are only two seasons, but still, it's definitely worth a watch.
Unexpected gives viewers a raw, authentic look at teenage pregnancy as it follows the lives of the high school-aged, soon-to-be mothers and fathers, now struggling with parenthood before even reaching adulthood. The show follows these young men and women's personal relationship struggles, as well as the overall impact on their lives and families.
7. Age Gap Love
Some people see intergenerational relationships being creepy. Some people see an age gap as a minor detail that can easily be overlooked. So when Netflix sees a couple with a big age difference, all that they see is an opportunity for some quality, reality-based TV series content — and we'd just like to take a second to thank them for that.
Age Gap Love follows the complicated relationships between men and women with major age gaps. We're not talking five or 10 years, here. We're talking tens of years — decades! While age may just be a number for some people, there's no denying that intergenerational relationships come with their own unique sets of trials and tribulations.
RELATED: 10 Fakest Current Reality TV Shows (And 10 That Are Surprisingly Real) 
6. My 600-LB Life
We don't know how TLC has managed to produce so many quality reality-based TV shows, but they've definitely found their niche. My 600-lb Life follows the lives of morbidly obese patients from all around the country who, unable to hit the brakes on their unhealthy eating habits, make the journey to Houston, Texas to get help from seasoned bariatric surgeon, Dr. Nowzaradan.
As anyone who has ever followed a low-carb diet can attest, major changes in eating habits and maintaining a healthy lifestyle, in general, can be super tough, but for Dr. Now's patients, the struggle is multiplied tenfold. They don't just have cravings, they're truly addicted to food. Inspirational and heartwarming, My 600-lb Life will scratch anyone's reality TV show itch.
5. Married At First Sight
Based on a Danish TV series, Married at First Sight was so popular that it also has a U.K. and Australia version. The U.S. version of the show originally aired on A&E, but later switched to Lifetime. Being on air since 2014, there's plenty of relationship drama to enjoy.
Each season of Married at First Sight follows six people who are single and not loving it. In fact, they're not loving it so much that they're willing to do something absolutely crazy. Each participant in the reality show agrees to legally marry someone they've never met, in an experiment to see if such a relationship can last. So...can it? CAN IT?! Better watch the show to find out.
RELATED: 15 Actors You Didn't Know Started Out On Reality TV
4. Teen Mom
If you just can't get enough of teenage pregnancy drama, and 90 Day Fiancé also happens to be right up your alley, then allow us to recommend this oldie, but goodie. MTV's reality show Teen Mom has been captivating viewers for years. It originally ran from 2009 to 2012, but it started another run in 2015 and recently finished up its seventh season on December 31st of last year. So there's plenty of quality entertainment to binge-watch on your next week-long vacation.
This series also has a spin-off reality series that's worth checking out. 16 and Pregnant follows the lives of teenage girls as they struggle to balance teenager-dom with their impending parenthood. Two recommendations for the price of one right here, folks. What a bargain!
3. Who The (Bleep) Did I Marry?
Come for the relationship drama, stay for the irresistibly juicy true crime element. If you want to check out this one—And once we tell you about it, you totally will—then flip over to the D channel. Also, you should probably watch it with the lights on. It's not horror movie scary, but it is Unsolved Mysteries unsettling. Bear that in mind before you hit "play."
Each episode of the show follows one person's love story that's far from fairytale perfect. They soon discover the loves of their lives have secret and pasts, and as they dig deeper, they soon learn their soulmates aren't who they say they are. Love is a dangerous game in Who the (Bleep) Did I Marry?.
2. Find My First Love
If you're like us—and we don't just mean perfect in every way, we're talking about the fact that we're hopeless romantics—then get ready to fall hard for Find My First Love. An original series from BBC and hosted by British host, Cherry Healey, the series is syndicated in the U.S. on the FYI network.
Find My First Love explores the whirlwind first romances of a new person in each episode, and it also attempts to help each person reconnect with their first loves in the hopes that that old flame will be rekindled. If romantic comedies are your jam, you're sure to love this series.
RELATED: Below Deck Has Become Bravo's Best Reality Show
1. Are You the One?
Are You the One combines the drama of a reality TV show with the thrill of matchmaking algorithms, and we know we can't speak for everybody, but that sounds like a winning formula to us. Airing on MTV since 2014, there are seven seasons of this puppy to enjoy, so that makes it a perfect follow up to a 90 Day Fiancé marathon.
In this one, a group of single men and women live together and are secretly coupled off by the show's producers using an algorithm that matches everyone up based on their preferences. Over the course of the season, the contestants are allowed to pair up, and if the couples accurately guess the matches made by the algorithm, they win a shared prize of $1 million. Wow, true love and a cash prize? The stakes are high!
This entry was posted by Screen Rant on January 21, 2019 at 10:01 am, and is filed under TV News. Follow any responses to this post through RSS 2.0. You can skip to the end and leave a response. Pinging is currently not allowed.