20 Things Fans Completely Missed In The Punisher Season 2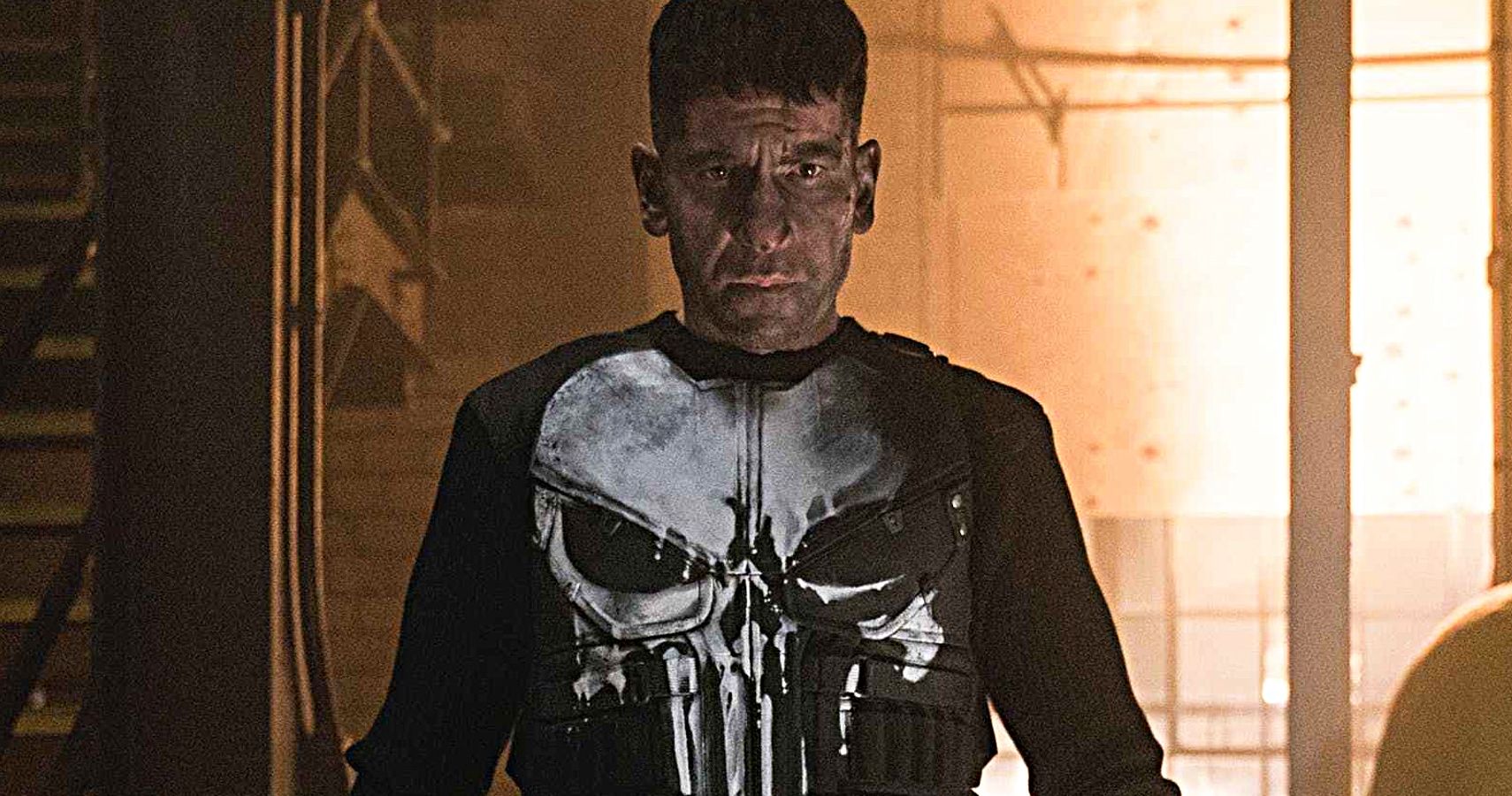 A fist meets a face. Bones crack. Blood spills. Sweat drips. Bullets fly. That's right, The Punisher is back — and bad guys everywhere should beware. It's been a year since the events of the first season of the Marvel-Netflix series, and Frank Castle has been traveling around the country trying to live a quiet life. But just when he thought he was out, he gets pulled back in. First, at a Michigan bar, he meets a girl who's gotten herself in way over her head with some very scary people. Then, he learns his old friend-turned-enemy Billy Russo is on the loose — and is being haunted by what Castle did to him, even though he can't quite remember his life after leaving the Marines.
In The Punisher's second season, anti-hero Castle can't help jumping into the fray. He's an unstoppable force who's still working out the trauma he experienced when his family's lives came to an end right in front of him. And the only way he knows how to do that is to act as judge, jury, and executioner to those that do the wrong thing. Of course, Castle's season 1 actions have had a ripple effect in season 2 and each character is dealing with their demons in different ways.
With everything happening onscreen, including the many loud and aggressive fight scenes, it's easy to overlook some of the Easter Eggs and other details that make The Punisher such a rich show. However, these little things add additional meaning to the series and make it even more interesting to watch.
Here are  20 Things Fans Completely Missed in The Punisher, Season 2
20

CASTLE MAKES A SEASON 1 REFERENCE IN THE FIRST EPISODE

In the first episode of season 2, Castle spends the night with Beth, a bartender he meets at a Michigan roadhouse. During their time together, they talk about being lonely and he says that a friend once told him that "we're all lonely. All life is, is trying not to be." Beth correctly guesses that it was a woman who made the observation. That woman was Karen Page.

Castle is paraphrasing something Karen said in the fifth episode of The Punisher's first season. Karen was concerned that Castle would always be lonely after taking down the people who took his family from him. And the nomadic existence Castle's been living since the end of season 1 seems to be exactly the future Karen envisioned for him. Still, at least Castle gets a moment with Beth where he doesn't feel lonely. Plus, for fans, it's nice to be reminded of Karen's continued importance to Castle — especially since she doesn't appear again until well into the show's second season.
19

JOHN PILGRIM'S ELDEST SON'S UNUSUAL NAME IS BIBLICAL

In addition to his ailing wife, the series' new villain John Pilgrim has two sons, the eldest of whom is named Lemuel. It's an unusual name, but for the religious Pilgrim, it's a nod to his faith. Lemuel is a biblical king who's mentioned in Proverbs. The identity of the king is uncertain and biblical scholars have speculated about who he really was.

Regardless of King Lemuel's true identity, the name's meaning would certainly resonate with Pilgrim. Lemuel means "to God," implying "belonging to God." The idea that his son belongs to God fits perfectly with Pilgrim's worldview as a born again Christian.
18

AMY NEVER USES PROFANITY

While many of the other characters on the show curse loudly and often, the character Amy makes a point not to. Like a parent attempting not to use profanity in front of their children, Amy employs all kinds of strategies to avoid saying bad words. She spells things out, substitutes numbers for letters, and uses words that sound similar to avoid bad language. Episode nine is even titled "Flustercluck" after one of her curse alternatives. So in her own way, Amy still curses without cursing.

Why? Who knows. It's a character trait that makes her character seem that much more quirky, though. And it's certainly good for a laugh — even Castle seems to get a kick out of it.
17

TWO OF THE THREE PLACES ON THE STREET SIGN IN EPISODE 2 ARE REAL

Unlike DC, Marvel has typically named real places in its stories. For example, Daredevil operates out of Hell's Kitchen while Luke Cage worries about Harlem. Yet, The Punisher bucks this trend in season 2 by spending its second and third episodes in a place called Larkville. First Larkville appears to be a small Ohio town, then viewers learn that it's actually a whole county based on the sign outside the sheriff's station where Castle is taken.

Yet, there's no such place in Ohio. In fact, it's the only place that's not real among the three locations listed on the street sign shown at the beginning of episode 2. The other cities listed, Ravenna and Cuyahoga Falls, are both in Northeastern Ohio. So based on Larkville's supposed proximity to them, if it did exist, it would be about an hour outside of Cleveland.
16

BEFORE RUSSO'S GANG COMMITS ITS FIRST ROBBERY, SOMEONE REFERENCES ANOTHER GANG

After Billy Russo leaves the hospital, he meets a group of former soldiers who are reeling from the difficulty of resuming civilian life. The group soon realizes that their military background gives them the training they need to become a well-oiled criminal machine.

While preparing for their first robbery in the season's seventh episode, the gang role-play the scenario. However, one of the men playing a victim of the robbery manages to get away during the simulation, to the chagrin of the others. The man is feeling cocky about his escape, though, and as he walks back to the group he declares, "And like that, he was gone." This is a reference to The Usual Suspects, a movie about a group of criminals who plan a heist together and the mastermind pulling their strings.
15

CASTLE'S ALIAS IS MEANINGFUL

When The Punisher's second season starts we quickly learn that Castle is still going by the same alias he'd adopted in season 1: Pete Castiglione. The Italian name Castiglione can be roughly translated to Castle, and it's not the first time it's been associated with The Punisher. In 1985 the comic The Punisher: Circle of Blood introduced Castiglione as the Castle family name before they came to America.

Then in 1990, a story arc in The Punisher: War Journal associated the name with Castle's family's roots in Sicily. On the show, Castle never shares his family's country of origin so the name could simply be a knowing wink to comics fans. However, during season 1 Castle also mentions his wife's grandmother was Sicilian, so perhaps the name doubles as an homage to her family.
14

THE MASK RUSSO DRAWS NODS TO HIS MILITARY SERVICE

When Russo is first re-introduced in the second season's earliest episodes he's wearing a mask that's been decorated to look horrific. Viewers soon learn that it was Billy himself who drew the mask at the recommendation of his therapist. It's an external representation of what he's feeling internally. The face drawn on the mask shows the broken and shattered image Russo has of himself and that he believes the world sees.

However, the red, white, and blue stripes on the sides of the mask tell a slightly different story. There's even a white star on a blue background on one side. This is a nod to Russo's service in the United States Marines, one of the few things he still vividly remembers and thinks of positively from his life.
13

THE ACTOR PLAYING BETH IS KNOWN FOR A DIFFERENT SHOW

Beth, the bartender that Castle spends the night with and returns to the roadhouse to see the subsequent evening, may look familiar. The actor's name is Alexa Davalos and although she only appears in two episodes in The Punisher, she has a much bigger role in a different genre show.

Davalos is perhaps best known for her role as Juliana Crain in The Man in the High Castle from that other streaming service, Amazon Prime. Davalos has also appeared in movies like Clash of the Titans and The Chronicles of Riddick and had a brief but memorable turn as Gwen on the Buffy spin-off Angel. As a result, fans of science fiction and fantasy have probably seen her work at one time or another.
12

RUSSO ISN'T THE ONLY ONE WHO WEARS THE SCARS OF THEIR TRAUMA ON THEIR BODY

Much is made of the scars Russo bears because of his fight with Castle at the end of season 1. Of course, they aren't nearly as overwhelming as those borne by the comics version of Jigsaw. Yet, in Russo's mind, he is just as disfigured as his comics counterpart. To Russo, his scarring is a constant reminder of the trauma he suffered — even if he can't completely remember what happened. And Russo isn't the only character who wears the scars of their individual trauma on their body.

Dumont, Madani, and Curtis do as well. Dumont's whole body bears the scars of an early childhood incident where she almost lost her life after going through a window. Madani still bears a small but noticeable scar on her head from what Russo did to her in the show's first season — a constant reminder of what she suffered. And Curtis lost his leg while serving in the military. Even Castle, is always sporting one wound or another. While these may eventually heal, they're a constant reminder of his mission and the trauma that catalyzed it.
11

JIGSAW PUZZLES ARE MENTIONED, BUT ONLY METAPHORICALLY

In the comics, Billy Russo becomes the villain known as Jigsaw after his face is disfigured by Castle. The TV version of the character goes through a similar transition after Castle runs his face into a shattered mirror, yet the name Jigsaw is never mentioned. Instead, jigsaw puzzles are referenced in other ways.

In the early episodes of season 2,  Russo's therapist, Krista Dumont, refers to Russo's mind being like a jigsaw puzzle. He can't remember everything that happened after the trauma he suffered so he's still trying to find all the pieces and put them back together. Also, later in the season one of Billy's crew says his face looks like a jigsaw puzzle. These are nods to the comics character Russo becomes in every way but name.
10

THERE ARE NO REFERENCES TO THE EVENTS OF THE MCU MOVIES

The higher-ups at Marvel have always said that everything is connected in the MCU. Whether it's on the movie or TV side, the events that happened in one storyline were always supposed to impact those in another. As a result, there have been multiple references to the MCU movies in the MCU TV shows. Even though they've never been overwhelming, they've always acknowledged the Marvel Universe in its entirety.

The Punisher, however, has limited its references to the rest of the shared universe, especially the movie side, and this season continues that tradition. On the one hand, Karen does eventually show up representing Nelson and Murdock, and Castle asks what Murdock would think if he knew she was there. On the other, the world of The Punisher appears completely unaffected by Thanos' snap in Avengers: Infinity War, which eliminated half of life on Earth. It's possible Avengers: Endgame will provide a reasonable explanation for this omission when it premieres in April. Right now, though, The Punisher appears disconnected from the larger MCU.
9

THERE ARE SMALL NODS TO CURRENT CULTURAL AND POLITICAL ISSUES

The Punisher isn't especially concerned with real-world events. Generally, it occupies its own space where a good guy with a gun can stop a bad guy with a gun — although it corrupts everyone. Yet, the show's second season does make mild references to current events.

The conflict Castle is dragged into courtesy of Amy revolves around the need to suppress some photos of the son of a wealthy couple. The wealthy couple will stop at nothing to prevent the photos from seeing the light of day. Yet, the Russians know of their existence and want to use them to influence the son, a potential future president. In addition, the wealthy couple runs a series of successful alt-right websites that pedal fake news. These plot points evoke the same concerns about Russians influence in American politics and fake news that have been a major concern for citizens in real life.
8

THE SERIES CREATES ITS OWN JOKER AND HARLEY QUINN

When Russo's therapist, Krista Dumont, is first introduced she comes across as an advocate for Russo with a strong interest in healing his broken mind. She may be a bit too involved, but mostly things stay professional. Then Russo breaks out of the hospital and shows up at her door after realizing he has nowhere else to go.

Dumont lets him in, but it's not until they begin a romantic relationship that things really take a turn. What follows has echoes of the relationship between the Joker and Harley Quinn, another therapist who falls in love with him and becomes his partner in crime. Dumont's desire to heal Russo goes into overdrive and she works with him to take down Castle so he can be whole again. Dumont's devotion and willingness to risk everything for Russo crosses every kind of line, just like the DC couple the pair resemble.
7

THE SEASON IS PREOCCUPIED WITH LIES AND TRUTH

Last season, Castle was on a mission to learn the truth behind what happened to his family. This season instead of one big lie, there are many little ones. The season kicks off when Castle meets a teenager who needs help. The catch: she's constantly lying about who she is and why people are coming after her. At the same time, Agent Madani believes that Russo's faking his memory loss. She's convinced he's hiding the truth and will strike when everyone least expects it.

While The Punisher continues to explore many of themes, it's more interested in secrets and lies than ever. From the little white lies we tell the people we love to protect them, to the lies we deliberately tell to protect ourselves, and the way we twist the truth to make it easier to accept, each character is waging their own battle with what they believe is true and the lies they'll tell themselves to maintain that belief.
6

BILLY RUSSO'S BACKSTORY IS DIFFERENT IN THE COMICS

While Billy Russo is a familiar name to those who've read The Punisher comics, his comic book backstory differs substantially from his TV origins. In the 1986 comic The Punisher: Year One, readers learned that the villain Jigsaw was once Billy Russo, a mob enforcer who was so good-looking he was nicknamed "The Beaut." His abusive father kicked him out at a young age, and he went on to abuse his wife and son. All the while, he ascended the mob hierarchy. That is, until he came up against Castle who left him scarred and vengeful after he threw Jigsaw through a window.

The Russo of the TV series also got his scars at the hands of Castle and is similarly out for revenge because of it. However, his underworld origins were traded for military service and his connection to Castle started far earlier and much more positively than in the comics.
5

THAT THOR REFERENCE

In the ninth episode, the word "Valhalla" is graffitied in the lair of Russo's gang, and later fans learn that it's the name the group has given the place. In Norse mythology, Valhalla is the equivalent of heaven. However, this is not the first time Valhalla has been evoked in the MCU.

Not surprisingly, Thor has mentioned the term in the past. Valhalla is said to be located in Asgard and ruled over by Thor's father Odin. It's a place where those who meet their end in battle go, so in Thor's belief system, it would be a sacred place that he would strive to end up. By naming their lair Valhalla, Russo's gang is referencing both their military roots and their belief that they're making their own little heaven on Earth with their criminal activities.
4

AMY IS VERY DIFFERENT FROM HER COMICS COUNTERPART

The teenage grifter, Amy, becomes the catalyst for the events of The Punisher's second season. Amy's no stranger to the harsh realities of the world and she's also not a stranger to fans of The Punisher comics. In the comics, though, Amy is quite different.

Amy Bendix was introduced in 1994, and was significantly younger than the 16-year-old Amy we meet on the show. The comics Amy nursed a wounded Castle back to health. However, her sheriff father found out and took Castle into custody, only to release him when Amy is taken by assassins. Amy's been aged up and given a very different background in the TV version of The Punisher. In fact, she's approximately the same age Castle's daughter would be, something that makes him feel that much more protective of her.
3

THE CHARACTER TURK BARRETT HAS APPEARED IN EVERY NETFLIX MARVEL SHOW

For a long time, nurse Claire Temple seemed to be the glue that held the world of the Marvel-Netflix shows together. She appeared in every one of them, except The Punisher. It turns out, though, there's another character that's appeared in even more of the shows than Temple. That would be Turk Barrett. Not only has he appeared in Daredevil, Jessica Jones, Luke Cage, Iron Fist, and The Defenders, he's appeared in both seasons of The Punisher.

Turk is a small-time criminal who various characters on the shows go to for arms and information. Over his many appearances, Turk seems to constantly be getting into trouble. Whether he's helping out good guys or bad, he's constantly beaten up or threatened. That continues in The Punisher's second season where Castle uses Turk to set up a meeting with the Russians — a plan that inevitably goes sour, forcing Castle to rescue Turk.
2

JOHN PILGRIM MAY BE INSPIRED BY A COMICS CHARACTER

The new villain introduced in The Punisher's second season is named John Pilgrim, but those familiar with The Punisher comics have pointed out that he resembles a character called The Mennonite. Like Pilgrim, the Mennonite is desperate to heal his sick wife. While The Mennonite agrees to take out Castle in exchange for money for a cure, Pilgrim acts as an enforcer to the wealthy couple helping to treat her.

Both men are deeply religious, however, The Mennonite is Amish and Pilgrim is a born-again Christian. Pilgrim's less than righteous backstory as a member of a white supremacist gang is also eluded to on the series. The Mennonite doesn't share that background, but like Pilgrim, when his search for Castle brings him to New York, he's tempted by sin at every turn.
1

CASTLE'S BROKEN HAND WASN'T FAKE

Early in the second season, Castle breaks his hand. It turns out, though, the injury wasn't just for the show. Actor Jon Bernthal, who likes to do his own stunts for The Punisher, actually broke his hand during one of the show's many fight scenes.

According to Bernthal, the break happened during the first fight of the season on the first day of what was supposed to be a three-day shoot. Instead of telling anyone, though, Bernthal kept working and the subsequent stunts involving his injured hand just made everything worse. Castle wears a makeshift cast in subsequent scenes presumably because Bernthal had to. Despite the fact that the season only takes place over a few days, however, Castle's hand seems to be back in fighting shape quickly, likely because the shooting took much longer than the events of the story, leaving Bernthal's hand plenty of time to heal.

---

What did you think of season two of The Punisher? Let us know in the comments!
This entry was posted by Screen Rant on January 21, 2019 at 10:01 am, and is filed under TV News. Follow any responses to this post through RSS 2.0. You can skip to the end and leave a response. Pinging is currently not allowed.