3 CW Shows Ending In 2019 (And 17 Possibilities)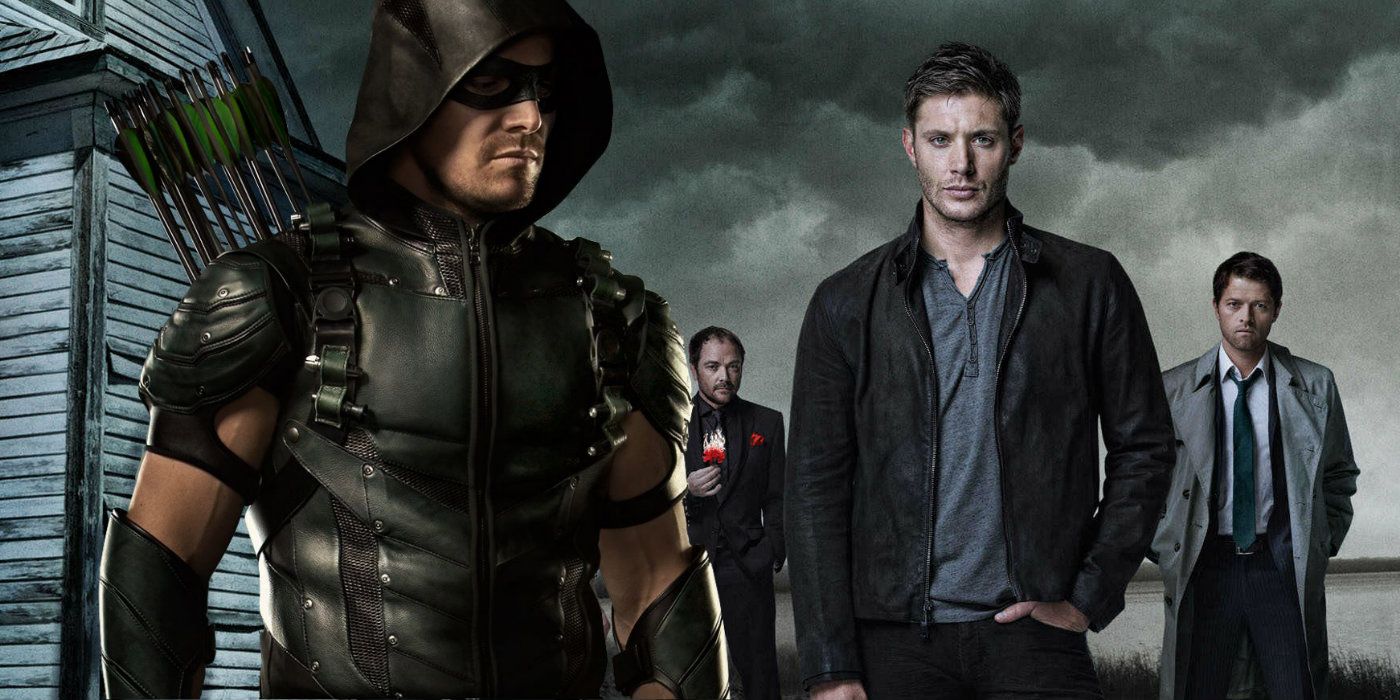 The CW seems to be living in its own golden age. Not only has the network been thriving with young viewers in the last decade, but it hosts dozens of shows that dominate fan culture — from the Arrowverse shows like The Flash and Legends of Tomorrow to teen dramas like Riverdale and the everlasting Supernatural. There are very few CW programs that viewers aren't following, or, at the very least, are aware of as young adult phenomena.
However, despite flourishing in this age of hyper-competitive "event" television, not every show gets to be a winner. Like all networks, viewership numbers and Nielsen ratings are king — some shows can stay and some just have to go. For this list, we're going to take a look at the CW shows that will be saying goodbye in 2019, as well as shows that have not been renewed yet. Ratings will play a large part in helping us determine what might stay and what might not, as well as overall critical reception of each series.
Many of these programs are in the middle of airing a new seasons, but since they haven't been canceled or renewed just yet, their futures remain uncertain.  Don't fret, CW fans — with shows like Batwoman, Nancy Drew, and even a Riverdale spin-off in development, there will be plenty of new shows to replace the old ones.
Is your favorite CW show getting the axe this year? Let's find out. Here are 3 CW Shows Ending In 2019 (And 17 Possibilities).
20

Possibilities — Black Lightning

Black Lightning sits in an odd spot in the CW's programming. It's a superhero show, like many of the network's hits. It stars a DC character, giving it some brand recognition. The hero himself is black, which is something that audiences have been clamoring to see more of-- and that we all should have seen a long time ago. However, it isn't part of the CW's shared DC universe or the "Arrowverse" as it has come to be known.

Season two's average of a million viewers an episode just isn't as solid as the previous season's 1.7 million. It probably isn't getting canceled, though — as a matter of fact, a crossover between Black Lightning and the rest of the Arrowverse shows might be just the boost that the show needs. It's unclear whether that'll ever happen, but that's a safer bet than the show's cancellation anytime soon.
19

Possibilities — The Outpost

With Game of Thrones wrapping up later this year, every television network is fighting to fill the fantasy-drama niche ahead of time. The CW's contribution to the genre is The Outpost. The series follows a superpowered adventurer named Talon who must trek across her world to the hunt down the mercenaries who took the lives of her family.

The first season of The Outpost didn't exactly rake in crowds, as numbers consistently sat under a million viewers per episode. The show's critical reception is mixed as well, currently sitting at 50 percent on Rotten Tomatoes. With that said, CW has renewed The Outpost for a second season set to air in mid-2019. Of course, if the next season performs even worse, it's unlikely that it'll survive the year.
18

Possibilities — Legacies

The Vampire Diaries may no longer air on the CW, but the show's extended universe is still going strong. The Vampire Diaries was succeeded by The Originals back in 2013; a spin-off that focused on the very first family of vampires. The Originals concluded back in August, and so the next spin-off has hit the channel: Legacies.

Legacies follows Hope Mikaelson, a vampire-witch-werewolf hybrid who must learn to control her various supernatural powers. So far the show has performed fairly well, bringing in a consistent million-viewer tally for every episode. Considering this franchise has been around for a decade and Legacies has been a hit with critics and audiences, it'll probably stick around for a second season. The show is currently airing its premiere season, and nothing has been announced about a potential renewal or cancellation.
17

Possibilities — Roswell, New Mexico

This reboot of the 1999 series Roswell (itself an adaptation of the Roswell High novels) just hit the CW in January 2019. It follows Liz Ortecho as she returns to her hometown only to learn that her childhood crush is actually an alien with mysterious powers. This alien has been living among humans in secret, of course, after the Roswell UFO incident of 1947.

The season premiere brought in 1.5 million viewers, which is a solid start. Can it hold numbers like that for the rest of the season? The original show is a bit of a cult classic, so perhaps there are fans still holding out for more? In any case, we can't judge a new series on a single episode. Only time will tell if the CW's take on Roswell can make an impression.
16

Possibilities — Riverdale

This edgy Archie Comics adaptation has no shortage of fans, haters, and viewers. That last category is especially important since Riverdale has pulled in a huge audience every year, especially between seasons one and two. Riverdale is a certified hit for the CW — one apart from its slew of DC superhero shows with its own potential for spin-offs. Not only that, but with season three hitting an average of 1.3 million viewers an episode, it would be a mistake to cancel Riverdale while the show is a top performer.

Netflix's Chilling Adventures of Sabrina was another huge hit that got people invested in the Archie Comics world, and with Riverdale spin-off plans already in the works, the show will probably stick around for years to come. Now, how about that Sabrina crossover?
15

Possibilities — Arrow

Arrow put the CW back on the map — between the rising popularity of superhero shows at the time and the ramping-up of the DC Extended Universe, Green Arrow was the perfect character for a self-contained TV series. It has spawned several superhero shows in its wake, but despite still being one of the network's top performers, the series' viewer numbers are dwindling. Season six and the first half of season seven are some of the worst performing seasons of Arrow yet.

The show is currently airing its seventh season, and while it probably won't be canceled outright, it wouldn't come as a surprise if the show started to wind things down. Oliver and friends could live on in shows like Legends of Tomorrow and The Flash anyway, so it wouldn't be the end for Team Arrow.
14

Ending — iZombie

With a solid few years under its belt, iZombie concludes this year with its fifth and final season. The show was a big hit for the CW when it first premiered, but despite critical success and great ratings, viewership has steadily declined over the years. Liv Moore and her zombie-detective days are coming to an end.

The fourth season averaged 750,000 viewers an episode, down from the previous season's 800,000 and 1.3 million before that. With such an apparent decline in audience numbers, it only makes sense to end the show preemptively to give dedicated fans the narrative closure they deserve. It'll likely live on with reruns and streaming services, but the CW is officially ending the show.
13

Possibilities — Whose Line Is It Anyway?

It feels like this show will live forever — sure, it was canceled once already, but Whose Line Is It Anyway? is a staple series for comedy fans. The show continues to maintain a loyal audience too, with the last few seasons all averaging around a million viewers an episode. Even without a narrative arc or cliffhangers, Whose Line has managed to keep pace with other mid-tier CW shows.

Improv comedy isn't everyone's cup of tea, but it seems like Whose Line is going strong and it would surprise us if it was canceled in 2019. The fifth season is set to air this summer so get ready for more laughs, more guests, and more hoedowns.
12

Possibilities — Dynasty

Dynasty isn't what you would expect from the CW. A reboot of the 1980s soap opera of the same name, Dynasty doesn't necessarily appeal to the CW's younger audience — one that enjoys sci-fi and fantasy more than glitzy drama. The ratings for the show reflect this, with the second season's average viewership just inching over a half-million per episode.

The first season scored similar numbers, which is both low for an existing property as well as for a program in the CW's evening time-slots. However, Netflix acquired the international distribution rights for the series, making it available to stream almost immediately. While it doesn't do well on the air, perhaps the Netflix deal will keep the show afloat. No announcements have been made about its future, but this one sounds like it could go either way.
11

Possibilities — Legends Of Tomorrow

DC's Legends of Tomorrow is more than just the bargain bin for C-list Arrowverse heroes. The show offers time travel hijinks and an opportunity for the CW to explore the weirder corners of the DC universe. It's definitely the lesser of the DC shows — certainly more niche than the others — but it has maintained a strong following.

Season three averaged a solid 1.5 million viewers an episode, and while season four is currently on hiatus, the first half has hit an average of a million an episode. It seems like a big drop, but again, half the season is yet to air. The Arrowverse is doing well — it's seen better days when it comes to ratings, but it's in no real danger. Legends of Tomorrow will probably live on, though it could use a boost.
10

Possibilities —Masters of Illusion

This Dean Cain-hosted magic show has been a constant in the CW's lineup for the last few years. However, the tricks seem to be getting stale as ratings are in decline. While Masters of Illusion doesn't necessarily have the young fan base that other CW shows do, it has performed fine over the years. The show used to average around a million viewers an episode but the previous season clocks in under the million mark. The show returns in late 2019, but will it survive the next season?

The decline probably isn't steep enough to cause a panic, so it seems likely that the CW will renew it yet again. Unless the next season does even worse — in which case, some real magic would come in handy.
9

Possibilities — All American

The CW's all new sports drama has been met with positive critical reception, but it isn't a ratings blockbuster. All American follows Spencer James — loosely based on retired NFL linebacker Spencer Paysinger — as a rising high school football star.

Although the first season is still airing, the show currently sits at 91 percent on Rotten Tomatoes with many critics praising its cast and the ambitious setup. However, is this enough? Episodes have rated at an average of 700,000 viewers per episode. It's performing well for a series that lacks the built-in fan-base of a superhero or novel series, but that doesn't mean it'll stick around. The rest of the season could determine the show's future, but for now, things look promising.
8

Possibilities — Pen and Teller: Fool Us

Unlike the CW's other magic shows (fictional or otherwise), Penn and Teller seem to be pulling some real ratings magic. The show, which debuts in the summer and typically concludes in the winter, is a hit for the network. The series revolves around legendary magicians Penn and Teller and their magic competition — each act must perform a trick in an effort to confuse the duo, and if they can't figure out how the trick was pulled off, the performers win.

Ratings for the show always average above the million-viewer mark. While the previous season took a slight dip, there is no reason to believe that those numbers will take a dive anytime soon. Fool Us returns in 2019 and it would be a surprise if it wasn't renewed yet again.
7

Ending — Crazy Ex-Girlfriend

Despite the love it gets from critics, Crazy Ex-Girlfriend is coming to an end after years of consistently abysmal ratings. The romantic comedy has its fair share of fans — the Rotten Tomatoes audience scores are positive for each season, and its score with critics always ranges anywhere from 90 to 100 percent. That's some high praise compared to most other CW shows. However, the series is always one of the worst performing programs on the network's roster, with seasons often struggling to crack a half-million viewer average per episode.

The CW kept the show going until its fourth and final season, which will bring the story to a natural conclusion in April 2019.
6

Possibilities — The Flash

It may have all started with Arrow, but The Flash has become the champion of the CW. Not only has it taken the reigns as the primary series in the Arrowverse, but it has inspired a whole new generation of Flash fans and a ratings boom for the network.

The Flash hasn't been officially canceled or renewed yet (it's still in the process of airing the fifth season), but there is little chance that it'll go away. It's worth noting that the ratings have declined recently, but nowhere near enough to raise an eyebrow. It looks like the show won't stop running until Barry does, and that doesn't seem soon at all. Expect Flash to stick around and continue to run circles around the competition — sometimes literally.
5

Possibilities — Burden of Truth

CW took another departure from genre television this year with Burden of Truth. It follows Joanna Hanley, a corporate lawyer for "big pharma" whose morals are tested when she must represent a company being sued by sick individuals. It's already been renewed for a second season, but the first was a ratings bomb. The next season could very well be its last.

Is the CW's young demographic itching for a legal drama? If they are, this doesn't seem to be the one. The series struggled to crack a million viewers, with an average of a little over 720,000 per episode. The network is taking a gamble with another season, but the show's cancellation seems imminent. The next season has to knock it out of the park to turn things around, but it doesn't look good for Burden of Truth.
4

Possibilities — Charmed

The CW is airing yet another reboot this year. Charmed has returned with an all new cast, continuity, and a decidedly progressive new direction. The show is currently in the middle of its premiere season and has been met with positive reception so far.

While there is no shortage of fantasy drama TV, the Charmed reboot seems to have potential. Early ratings for the season are decent — with an average of a million hits per episode and a peak of 1.5 million, it seems more than reasonable for the show to be renewed. Like many of the shows on this list, it has not been officially canceled or renewed yet, but with a promising start it seems destined to stick around.
3

Possibilities — Supergirl

Supergirl sits beside Flash and Arrow as one of the CW's consistent top performers. After acquiring the show from CBS after the first season, the CW gave the series some juice by crossing it over with the Arrowverse. This helped boost ratings and keep it relevant with the more popular DC shows, and it seems to have paid off.

The last season of Supergirl performed very well, especially during the Arrowverse crossover events. With the current season rating high so far, there is no reason for the show to end. Supergirl is a driving force behind the ever-expanding DC franchise, so expect Kara to stick around for a few more years and potentially soar even higher.
2

Possibilities — Supernatural

It's been on for nearly 15 years. Do you really think it's going anywhere now? The adventures of Sam and Dean Winchester have been a constant CW hit for longer than most of the shows that fans obsess over today. This is because of Supernatural's especially loyal fans — while ratings have slowly dipped over the years, they haven't dipped sharply enough for this show to be in any danger.

Expect the CW to renew Supernatural for yet another season, even though the current season isn't even over. While ratings aren't a pressing issue for the show, it has been on for quite some time. Surely Sam and Dean will want to retire eventually — the question is when.
1

Ending — Jane The Virgin

Jane the Virgin is easily the CW's most beloved show to date, and it is set to end in 2019. Despite the extremely positive reception — the series is one of the few on Rotten Tomatoes to get a 100 percent every season — the show's viewership has taken a steep dive in recent years. This isn't necessarily because of a drop in quality, but because of a decision behind the scenes.

Last season, the CW moved it from its Monday night time-slot to the notoriously lousy Friday night slot. This move has nearly cut the average viewership in half, and it might be the factor responsible for the show's end. Jane the Virgin's fifth season premieres on March 27, concluding the award-winning and arguably most well-received show on the CW.

---

What's your favorite CW show on the list? Let us know in the comments!
This entry was posted by Screen Rant on January 18, 2019 at 2:01 am, and is filed under TV News. Follow any responses to this post through RSS 2.0. You can skip to the end and leave a response. Pinging is currently not allowed.