American Horror Story: 20 Wild Details Behind The Making Of Apocalypse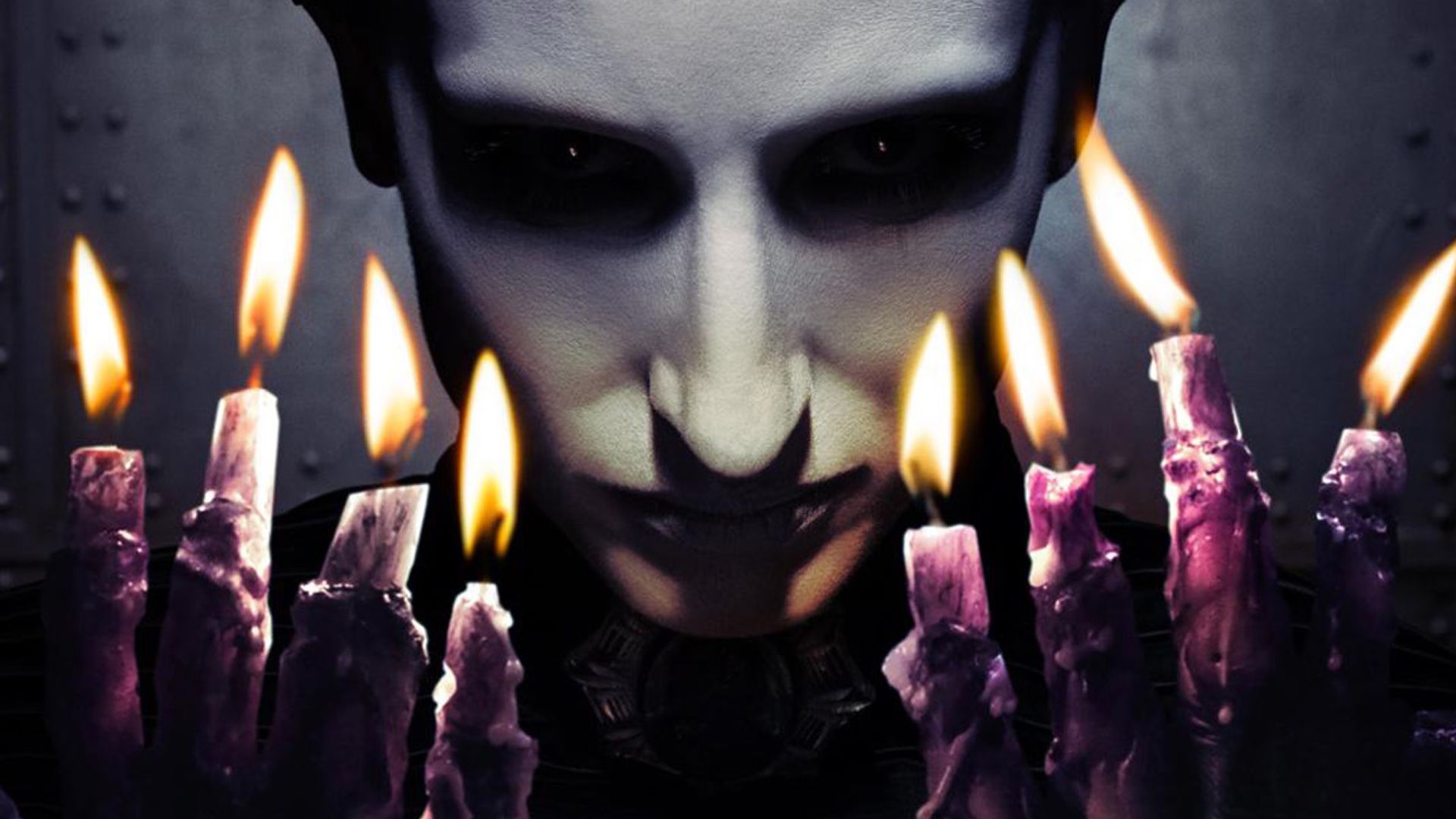 American Horror Story is without a doubt one of the wildest, most hair-raising programs to ever make it to network television. From maniacal asylums to deranged circuses, witch covens, and an entire colony of dangerous ghosts, there really aren't any shows able to compete with AHS' surreal brand of wacky horror.
Each season usually comes with enough plot twists to make M. Night Shyamalan blush, though Ryan Murphy did admittedly borrow pretty heavily from some of his works in the show's first season. That said, Apocalypse, the eighth season of the beloved creepshow, may be the most cerebral and eyebrow-raising anthology yet. Replete with warlocks, nuclear detonations, and a Fallout-esque dystopian society contained within a bunker, it definitely takes a special mind to come up with some of these storylines. Of course, that means that there's a lot going on behind-the-scenes, and fans are always curious as to the litany of cutting-room-floor details they aren't being told.
The show's revolving door of cast members and directors is typically fairly tight-lipped about what's to come in American Horror Story, but they aren't above dropping the occasional spoiler or offering a glimpse into the show's inner workings. Murphy himself gave away a few juicy tidbits prior to the season's premiere, and that's likely to continue as fans gear up for the show's ninth season, which is set to debut sometime in 2019.
Neither the world nor the show end with Apocalypse, thankfully, and here are the 20 Wild Details Behind The Making Of American Horror Story: Apocalypse that will have you returning to your favorite episodes.
20

Coven's Comeback was Originally Planned to Happen in An Earlier Season

Up until now, Ryan Murphey and his fellow contributors didn't seem all that keen on establishing anything other than passing connections between American Horror Story seasons. Of course, though it may seem that way to casual viewers, dedicated AHS fans probably already know that Murphy wanted to re-introduce the witches from Coven much sooner than Apocalypse.

Unfortunately, for whatever reason, that didn't happen, though some connections to the third season were definitely included in subsequent stories. Though it may have taken longer than planned, it's great to see Emma Roberts and the gang return to the world of AHS, and it was hilarious to see just what become of Madison Montgomery. It looks like it's back to retail.
19

An Important Scene was Deleted from the Finale

Though we can't know for sure, it's likely that tons of AHS material has been left on the cutting room floor since the series first debut in 2012. With plots as severe and complicated as these, it can be tough to know exactly what to present to the audience. With that in mind, one deleted scene from the ending to the show's most recent season left one actress particularly heartbroken.

Leslie Grossman, who played Coco St. Pierre Vanderbilt in Apocalypse, stated in an interview that she was disappointed to see that a small scene between her character and Angela Bassett following Madison Montgomery's apparent return to the underworld got the axe. The scene was meant to empower Coco and possibly reveal her more powerful side, but we won't know the details unless it eventually surfaces.
18

Sarah Paulson Made Her Directorial Debut

Fans will recognize Sarah Paulson as… well, a ton of different AHS characters from multiple seasons. Most notably, she portrayed the journalist who dug too deep into Briarcliff's secrets in Asylum, but she has made an appearance in some capacity in every single season up to this point.

Though she played a significant onscreen role in Apocalypse, she also stepped behind the camera to orchestrate the filming of the season's sixth episode. That episode was a total revolution for most longtime AHS fans, as it revealed the fate of Murder House focalpoint Constance Langdon. It also introduced viewers to Rose, Constance's fourth child who was only briefly mentioned in the first season.
17

Ryan Murphy Posted Some Spoilers on Instagram

It's pretty rare to see a dramatic plot twist even hinted at before an episode premieres in American Horror Story. After all, the series' staple out-of-left-field twists are a major part of what keeps fans coming back season after season. That said, series mastermind Ryan Murphy wasn't above letting a few things slip via his Instagram account partway through 2018.

One particular post revealed the cast of Coven in costume. Captioned "On Wednesdays we still wear black," fans instantly noticed that a character previously believed to have no magical powers had been included in the photo. This was actually a small bit of foreshadowing, which prematurely revealed that Leslie Grossman's Coco St. Pierre Vanderbilt was, in fact, a witch.
16

Emma Roberts Hated Filming Some of Her Scenes

Actors appearing in American Horror Story need to be pretty thick-skinned — it just comes with the territory. Though that's usually the case for fan-favorite actress Emma Roberts — who plays everyone's favorite sorceress Madison Montgomery in both Coven and Apocalypse — some scenes actually got to her.

She stated in an interview with Variety that she really disliked filming the exterior Outpost 3 segments. According to her, they were shot "in the middle of nowhere" and all of the added fog and dramatic special effects unseated the traditionally durable actress. Given that American Horror Story's apocalypse is absolutely no laughing matter, it's safe to say that few would feel totally secure outside that bunker… or inside it, now that we think about it.
15

It Marked The Return of Jessica Lange

As previously mentioned, Apocalypse finally reveals what happened to Constance Langdon following the first season's finale, and, unfortunately for her, it wasn't a particularly comforting fate. That said, the character's return was doubly interesting for fans, as Jessica Lange, the woman behind Constance Langdon and several other AHS characters, hasn't made any notable contributions to the series since Freak Show, its fourth season.

Similar to Evan Peters or Zachary Quinto, fans always take notice when Lange enters a shot, and it was wonderful to have her back, albeit briefly. Given that American Horror Story is an anthology series that only makes tenuous connections to seasons both future and past, it's hard to know if Constance Langdon or any other Jessica Lange characters will appear in AHS season nine.
14

Cody Fern Didn't Know What He Signed Up For

Cody Fern, an actor who hit the big time when he signed on to play a role in the ever-captivating political thriller House of Cards, first appeared in American Horror Story during its eighth season. Though he didn't have any significant previous ties to the show, he was cast in a pretty important role, though he didn't actually know it until the lead up to the season's production.

According to Fern, Ryan Murphy only told him what his role in the season would be two days before filming began, so he didn't have much time to mentally wrap his ahead around the complex character. Murphy is infamously weird about letting sensitive information slip, but it seems particularly odd that he would keep his actors and actresses on a need-to-know basis.
13

Sarah Paulson and Jessica Lange Share More Than An Onscreen Relationship

Most longtime fans of American Horror Story will know that actresses Sarah Paulson and Jessica Lange are deeply connected to the roots of the series. They both debuted in AHS' inaugural season and have been with the show in some capacity for the majority of its lifetime. That said, there's a reason they show up together so often: the two go back quite a long way.

Lange acted aside Paulson during her broadway debut, and the too have remained professionally and personally associated ever since. Paulson's directorial role in Apocalypse was a major reason for Lange's return to AHS, as well, as she had previously been totally absent from the series for quite some time. Hopefully, Apocalypse won't mark the end of this dynamic duo.
12

Evan Peters Was Supposed to Get a Shot at Directing

Sarah Paulson may have sat in the director's chair for a period during the filming of American Horror Story's most current season, but she wasn't the only series veteran slated to have a hand in the production of the show. According to Variety, Evan Peters, the actor behind a morally-diverse spectrum of characters like Tate Langdon, Kit Walker, and Kai Anderson, was going to try his hand at directing an episode.

However, for whatever reason, this never came to fruition, though it may have had something to do with the fact that directing would have been tough for someone playing multiple characters at the same time. It seems likely that Peters will eventually get a shot at directing in either the ninth or tenth season, though.
11

Pepper (Sort of) Makes a Return

Though she was little more than a side character during Asylum, Naomi Grossman's Pepper played a major role in Freak Show and became a much more sympathetic character than the one to whom audiences were originally introduced. Though Pepper has yet to make an official return to AHS canon, Grossman did have a brief cameo in the middle of the show's eighth season.

It's tough to spot — especially since she's not sporting all of that makeup necessary for her other character — but Naomi actually plays one of the Satanists who performed the Black Mass ritual. Things got a little weird following the… shall we say "impromptu" open heart surgery, but it was a neat little cameo nevertheless.
10

Murphey Wanted the Apocalypse to Remind Viewers of Asylum

Though the first three seasons of American Horror Story — Murder House, Asylum, and Coven respectively — received almost universal acclaim from series fans, the same can't really be said of the ensuing five seasons. While some may praise the entirety of the AHS anthology, it's safe to say that everything following Coven is a bit of a mixed bag.

Ryan Murphy commented on this early on in the development of Apocalypse and stated that he wanted the then upcoming season to take on a decidedly Asylum or Coven-esque vibe. Both seasons were starkly horrifying and narratively robust, and these elements are definitely present in Murphy's ensuing effort. Apocalypse seems to have been well received, but, at this point in the show's lifespan, it's hard to get audience members to agree on anything.
9

Evan Peters Was Almost Written Out of Apocalypse

Evan Peters has had a major role in every single season of American Horror Story, and, at this point, the show wouldn't be the same without him. Of course, the same was once said about Jessica Lange, but we really mean it this time. Though he doesn't seem to be going anywhere any time soon, there was a point during the production of Apocalypse during which it seemed like he would need to be written out of the show due to scheduling conflicts.

Peters plays a role in the recently-debuted Pose, a show focused on the intense diaspora formed between different social classes in New York City, and he didn't quite know if he could star in two shows at once. Plenty of other actors and actresses have made it work, of course, and Peters thankfully found time in his schedule to return to American Horror Story once again.
8

Fans Knew About the Coven and Murder House Reunion Way Ahead of Schedule

Seasoned AHS fans may already be aware of this, but Apocalypse was far from the show's most popular season. In fact, the series peaked with the debut of Freak Show back in 2014 and has steadily declined since. Though that may be a downer for most fans, plenty of people were still clamoring for AHS-related news from the 2018 TCA Summer Press Tour.

During the event, the cast of the then upcoming eighth season of the show revealed the names of the characters they would be playing. Thanks to the ever-changing nature of America's favorite horror series, recurring cast members won't always guarantee the return of a certain character. However, they spilled the beans and told members of the press that fan-favorites Madison Montgomery and Constance Langdon would be returning to the series way before episode one premiered.
7

"Apocalypse Then" Was a Direct Homage to the Murder House Finale

This should come as no surprise to anyone familiar with all eight seasons of American Horror Story, but the very ending of the Apocalypse finale is more or less a direct copy of the events that end the first season. Once again, we see an evil child be born who sends their babysitter to an early grave some years later. We can only assume that this is the second coming of Michael, and that the apocalypse is destined to repeat, albeit a few years later than the first one.

This twist confused plenty of viewers when it was first aired and still seems to be a slight plot hole. In season one, it was established that the antichrist had to be born of child and spirit, but, as far as we know, neither Timothy nor Emily are ghosts.
6

Sarah Paulson was Super Busy Behind the Scenes

In addition to directing her first ever episode of American Horror Story, series mainstay Sarah Paulson admitted that she was a bit in over her head when it came to her onscreen roles in Apocalypse. Not only did she spend some time in the director's chair, but she also played three different roles in the season. That would be tough for anyone to pull off, but she also stated in an interview with The Hollywood Reporter that she actually had to portray two separate roles in the same day.

Filming schedules are usually pretty tight in the Hollywood world, but this would have thrown a lesser actress off quite a bit. Of course, this does sort of question just how many hats Ryan Murphy can have his actresses wear before things start to get too weird.
5

The Coven Witches Still Aren't Done

With Madison Montgomery working retail again and the world seemingly bound for more turmoil, most fans would probably guess that the witches first introduced in Coven probably won't be showing up again anytime soon, and they may very well be right.

However, in an interview with Ryan Murphy conducted in late 2018, the AHS screenwriter revealed that he does indeed have plans to reintroduce the members of Miss Robichaux's Academy for Exceptional Young Ladies to series canon at a later date. Though it likely won't be in the forthcoming seasons nine or ten, Murphy does believe that viewers haven't seen the last of the witches from New Orleans.
4

Love Boat Inspired the Apocalypse

What does the '80s comedy series Love Boat have to do with something as tonally opposite as American Horror Story? Well, in truth, not much, though Ryan Murphy did mention that it was an inspiration of sorts for his show's eighth season. Love Boat was famous for regularly introducing guest stars, and the show eventually became something of a who's-who in Hollywood.

In a way, that sentiment is reflected in Apocalypse because, for the first time, audiences were reintroduced to multiple different characters stemming from separate seasons. It was a pretty significant crossover for the anthology series, as, prior to that, the most solid connection between inter-seasonal events was the recurring reporter Lana Winters from Asylum.
3

Cody Fern Teased Michael's Fate in the Apocalypse Finale

It's no secret that Cody Fern's Michael Langdon wasn't the most likeable guy. In fact, he was a major factor in the season's titular apocalypse, so there probably weren't too many viewers on his side throughout his ten-episode stint. He didn't see it that way, of course, and he remarked in an interview that he actually saw Michael as something of an antihero.

He also stated that he found Michael's ending to be "deeply beautiful and tragic," though plenty of AHS fans were certainly just happy to see his character gone. The circumstances that lead to Michael's demise were catastrophically weird and still don't make all that much sense, and some viewers weren't all that satisfied with the way it was all handled. That said, it's nice to know that Fern was emotionally invested in his character.
2

There's Not Just One Way to Be a Voodoo Priestess

After being told that her character would have magical abilities in Apocalypse, actress Adina Porter made a deliberate effort to differentiate her character from the litany of magical characters in American Horror Story. She was worried that Dinah Stevens, a former talk show host and member of the purple upper-echelon class in Outpost 3, would come across as too similar to former AHS characters like Marie Laveau or Papa Legba.

"I wanted the Voodoo Queens to also have the same flexibility" she said of her character in comparison to the varied Coven witches. "There's not just one way to be a Voodoo priestess," she said. "I want [Dinah] to be completely her own person."
1

The Buffy the Vampire Slayer Crossover

By now, everyone and their mother should be aware that American Horror Story's most current season serves as a crossover between a bunch of previous AHS seasons. It's something we aren't used to, as, aside from some small connections stemming from character names and brief, off-handed mentions, most of the stories don't seem to be connected.

Apocalypse merged the infamous Murder House with the witches from Coven, but it also serves as a very minute crossover between the beloved late '90s television series Buffy the Vampire Slayer. The house featured in AHS' first season (and subsequently in its eighth) was actually portrayed as a frat house in one episode of the aforementioned series, which is a cool Easter egg for Buffy fans.

---

What's your favorite behind-the-scenes secret about American Horror Story: Apocalypse? Let us know in the comments!
This entry was posted by Screen Rant on January 21, 2019 at 6:01 am, and is filed under TV News. Follow any responses to this post through RSS 2.0. You can skip to the end and leave a response. Pinging is currently not allowed.