Aquaman's Box Office Success Was Better Than Anybody (Even DC) Expected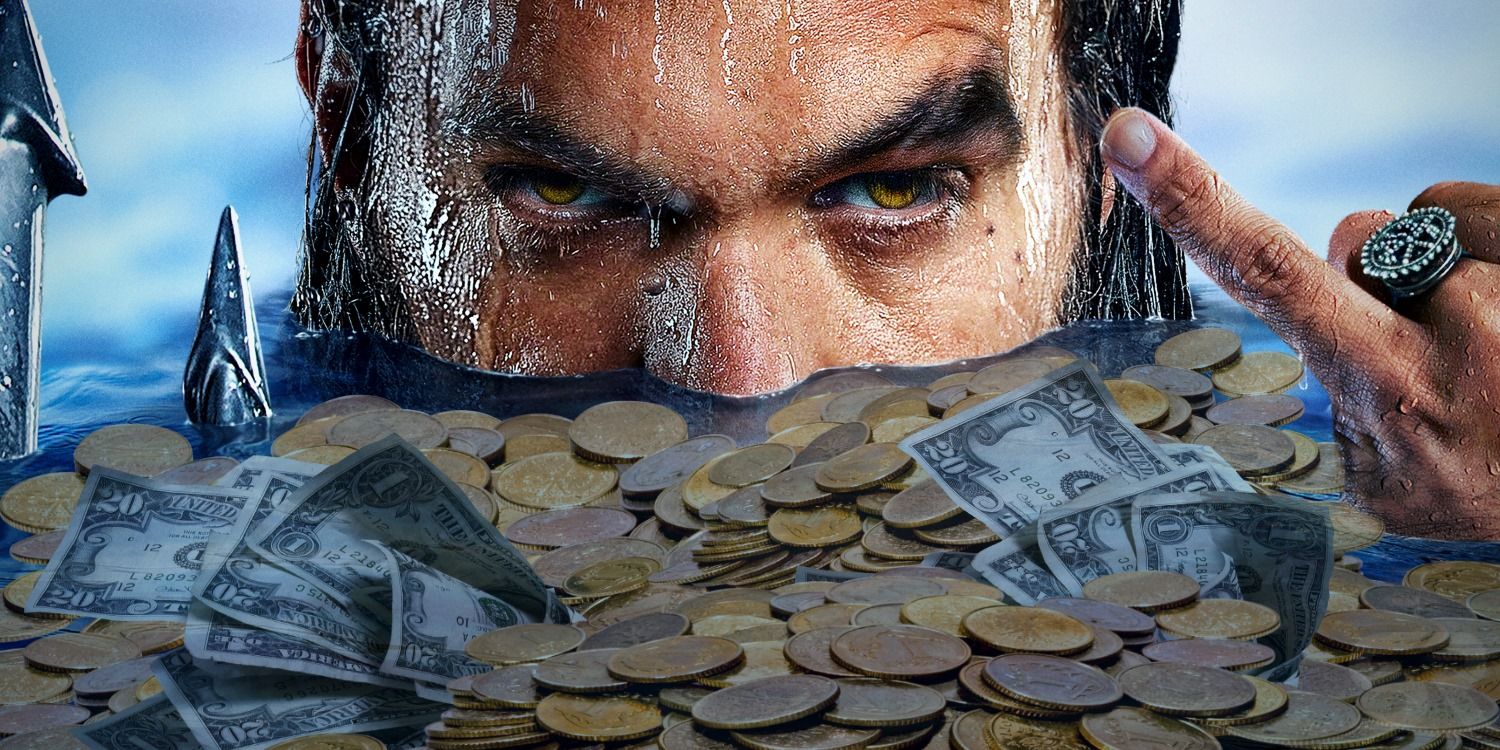 Aquaman was a much bigger box office hit than anybody anticipated. At this point last year, the DC Extended Universe was in bad shape, left reeling from the critical and commercial disaster that was Justice League. The long-awaited team-up film was marred by a rocky production (which has been extensively covered already) and ended its theatrical run as the lowest-grossing entry in the young franchise. Whatever goodwill was generated by Wonder Woman was essentially thrown away, leaving many people to contemplate what the future would hold for DC.
Justice League's underwhelming performance brought about substantial behind-the-scenes changes at WB and considerable doubt Henry Cavill's Superman and Ben Affleck's Batman have a place on the film slate. One project that was virtually unaffected by the drama was James Wan's Aquaman, which had wrapped filming months before Justice League opened in theaters. Many were curious to see how Arthur Curry's solo film would fare, and it's safe to say the film exceeded even the rosiest of expectations.
Related: Why Aquaman Is The First DCEU Film To $1 Billion
Aquaman Is The Highest-Grossing DCEU Film
Understandably, WB chose to kick off their shared universe by featuring characters the general public was overtly familiar with. Superman origin story Man of Steel was first out of the gate, and in the next film, Kal-El took on Bruce Wayne. However, the results were hardly what the studio was looking for. Critical and audience reactions were decidedly mixed, as several people found it difficult to not compare these latest versions of pop culture icons to what came before. The word-of-mouth seemed to have some impact on the box office; Batman V Superman suffered a massive 69.1 percent drop in its second weekend and came up well short of $1 billion. WB and DC had more success when introducing characters to filmgoing audiences.
Wonder Woman is a strong example of that point ($412.5 million domestic; $821.8 million worldwide), but Aquaman is an even better one. Believe it or not, the one-time superhero punching bag headlined the first DCEU film to cross the $1 billion plateau, even as it played during a crowded holiday season that included several other high-profile titles like Bumblebee, Mary Poppins Returns, and Spider-Man: Into the Spider-Verse. Riding waves of positive buzz, Aquaman emerged as the go-to film for general viewers over Christmas, filling the void left by Star Wars (which had called December home since 2015). While Aquaman didn't receive reviews as glowing as Wonder Woman, many were in agreement it was a visually-stunning and fun comic book adaptation that should be seen on the big screen. For those reasons, it won three consecutive weekends before its reign was ended by The Upside.
Related: How Aquaman Corrected The DCEU's Marketing Mistakes
Where Aquaman truly thrived was overseas, as $733.6 million of its $1 billion total comes from international markets. In particular, the film was a massive hit in China, becoming WB's highest-grossing release in the country and earning a rare extended run in their theaters. The list of comic book adaptations Aquaman has outgrossed globally is very impressive, and it needed all the help it can get from foreign territories. Domestically, the film's performance was fine, but nothing to write home about. Debuting with $67.8 million in the States, Aquaman's current domestic total stands at $289.3 million. That's still the second-lowest figure in the DCEU (though it should pass Man of Steel soon). It might be able to climb up the list during the tail end of its run (Suicide Squad's mark of $325.1 million is in reach), but now Aquaman has to deal with Glass becoming the hot movie of the week. It'll be interesting to see what happens from here.
That being said, it doesn't matter to WB where the money comes from as long as they make a lot of it. $1 billion is still $1 billion, and the studio turned a very healthy profit from their investment. Aquaman was budgeted at around $160 million, meaning its break even point was roughly $320 million. Obviously, the film greatly surpassed that and is in the black for a cool $680 million before we even factor in ancillary revenue like home media sales. If Aquaman stopped earning money at the box office today, WB would still be able to make four Aquamans and still have a little side cash to spare. There's no overstating that's an incredible accomplishment for this movie, which only a handful of years ago seemed like an unlikely proposition. It's amazing enough Aquaman was made, but to see it be this monumentally successful gives WB plenty of reasons to celebrate.
Aquaman's Box Office Lessons
Aquaman grossing this much makes the impending departures of Cavill and Affleck sting a little less. The franchise now has two cornerstone characters they can build around - the other being Wonder Woman. Diana Prince already has a sequel coming through the pipeline and is now scheduled for a summer 2020 premiere. WB still has not made any official confirmations on an Aquaman 2, but it's likely only a matter of time before that happens. The studio was reportedly internally discussing followup possibilities and star Jason Momoa pitched his own ideas to WB brass. Nobody is going to leave this kind of money on the table, so Arthur Curry will return soon.
Still, the fact Aquaman 2 is not dated yet represents a dramatic shift in WB's handing of their prized franchise. In the early days, they made a thinly-veined attempt to copy the Marvel formula by rushing into crossover films and placing a priority on fleshing out the shared universe. Justice League's post-credits stinger is a blatant setup for a sequel where the heroes would do battle against Lex Luthor's Legion of Doom. The only problem with that is that it's now incredibly unlikely Justice League 2 comes into fruition, meaning the studio has to scrap plans they've already publicly revealed (which is a little embarrassing). Judging from that initial 2014 DC slate, it's clear the studio got way ahead of themselves. Movies like The Flash and Green Lantern Corps. are no closer to hitting the big screen now than they were upon their first announcement nearly five years ago.
Related: Aquaman Is Black Panther - But With the RIGHT Ending
Since that model didn't exactly work, WB is trying something they know from experience does: produce quality, standalone pieces that stand on their own merits and go from there. That's the approach that yielded Richard Donner's iconic Superman: The Movie and Christopher Nolan's game-changing Dark Knight trilogy. Aquaman is very much cut from that same cloth. Outside of a Steppenwolf name-drop, it doesn't bend over backwards to tie into the larger DCEU and keeps the focus squarely on Aquaman's corner of the franchise. Yes, there is a stinger teasing an Aquaman sequel, but that's no different from Nolan ending Batman Begins on the Joker card. Importantly, WB and Wan were rewarded for their efforts, illustrating to the filmmakers that this is the way to go. See what works and then move forward with the next installments, rather than putting the cart before the horse.
WB now knows that solo Wonder Woman and Aquaman movies work, so they'll likely look to keep making those. This isn't to say there won't be any more crossovers in the DCEU (Momoa wants Wonder Woman and the Flash in his sequel), but they're no longer the priority. Look at Wonder Woman 1984, which Patty Jenkins is envisioning as its own thing. Odds are, DCEU connections there will be minimal, with much of the focus on Diana and the surprise return of Steve Trevor. This is smart. The Avengers wasn't successful simply because it threw a bunch of heroes at the screen; it told an entertaining story that was worth being invested in. The temptation to do massive team-ups is understandable, but by now we've seen too many instances of studios trying and failing to replicate the Marvel formula (hi, Dark Universe). What audiences really want are quality movies. Arthur is the only Justice League member in Aquaman and it made $1 billion. Solo superhero movies aren't an antique because Infinity War exists.
-
If Aquaman had failed or posted Bumblebee type numbers, then DC would have been in fairly large trouble, leaning almost too heavily on the Wonder Woman franchise without anything else to develop. Fortunately, things worked out for the best and now WB can confidently move forward with future adventures in Atlantis. And ideally, Aquaman marks the dawn of a new era for the DCEU. The franchise has some positive momentum now in the months leading up to Shazam, which is garnering buzz due to its fun marketing campaign. Perhaps DC has finally figured it out.
This entry was posted by Screen Rant on January 16, 2019 at 1:01 am, and is filed under TV News. Follow any responses to this post through RSS 2.0. You can skip to the end and leave a response. Pinging is currently not allowed.