Avengers: Endgame Toys Reveal Ronin Mask & [SPOILER]'s Possible Return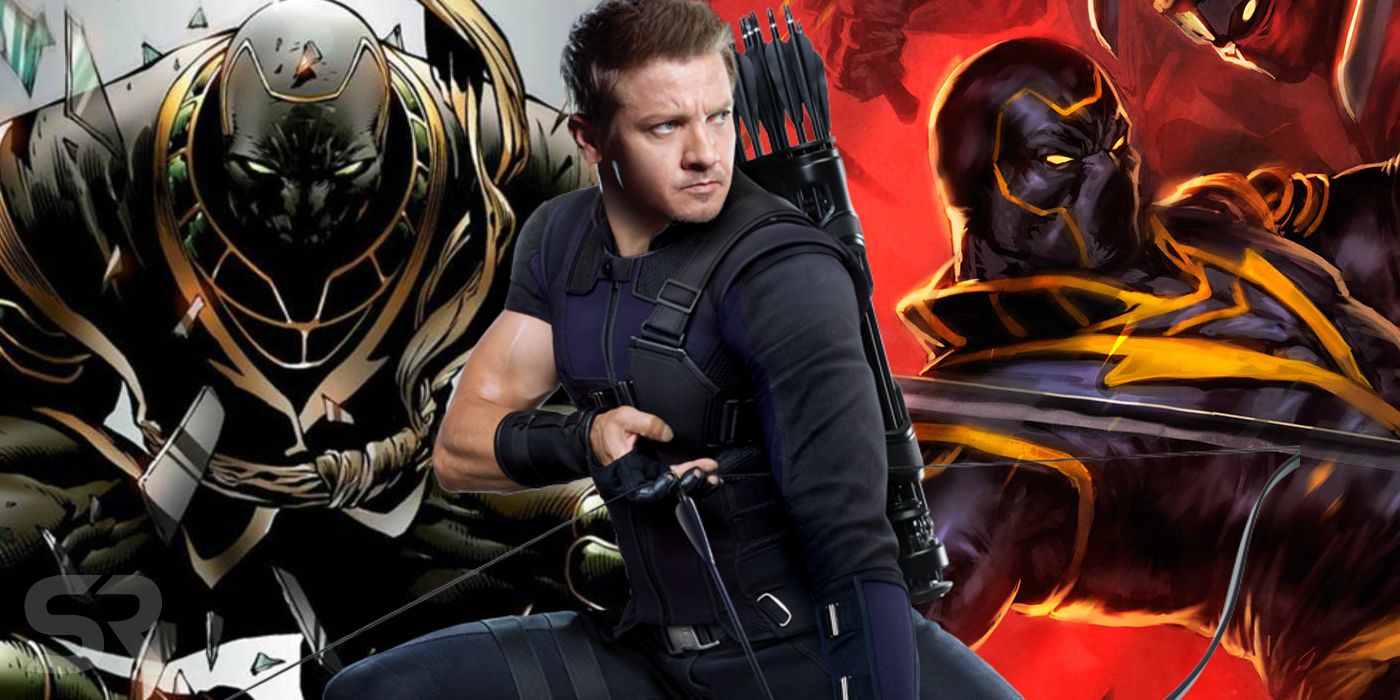 New toys for Avengers: Endgame appear to confirm the inclusion of white suits for the Avengers, offer the first look at Jeremy Renner's masked Ronin costume, and tease a possible return. Marvel Studios is trying to keep as much information under wraps about Avengers 4 as possible, and have been somewhat successful. Those worried that the first trailer or any future marketing would give away too much shouldn't be, as Kevin Feige has teased they may not show much footage beyond the first twenty minutes.
While Marvel's official marketing can try and keep the plot a secret, other sources of information have not been as kind. Some of the earliest set photos from Endgame looked to confirm a time travel plot at the heart of the upcoming story, with Ant-Man (Paul Rudd) and an older Iron Man (Robert Downey Jr.) seen at the original Battle of New York from The Avengers. There appear to be a few hints at time travel in the first trailer, but Marvel's yet to confirm it. But, there are also toys surfacing that often result in new information being spread online. This happened to Endgame earlier, when toy packaging revealed new white suits for many of the heroes.
Related: Avengers: Endgame's Time Travel Explained By Captain Marvel's New Power?
That packaging is now seemingly confirmed to be legit, as someone using the handle caffeinesn0w spotted the toys on shelves somewhere in the world, and uploaded photos of them to Reddit. The toys show Black Widow (Scarlett Johansson), Thor (Chris Hemsworth), Rocket Raccoon (Bradley Cooper), and Hulk (Mark Ruffalo) in these white suits. There's also a new look at Thanos back in his armor and with his new sword, as well as Captain America (Chris Evans) in his new uniform and back holding his shield. But, fans looking forward to Hawkeye's transformation into Ronin may be most excited to see him finally masked up. Additionally, one photo of the packaging teases a possible return by Valkyrie.
Hawkeye was noticeably absent from Infinity War, and longtime fans of Marvel's archer have speculated what forced him to drop the Hawkeye look and name. He was only briefly shown in the trailer, and even pulled off his mask, but now we finally get a look at his complete costume. Valkyrie also sat out Infinity War, and it's unclear what she was doing during that conflict, or why she might reemerge in Avengers: Endgame.
Now that it looks to be confirmed that the white suits will be in Endgame, the question becomes what is their purpose. It has previously been speculated that these suits will be Quantum Realm suits for the heroes. They are somewhat similar in design to the suit Hank Pym (Michael Douglas) wore in Ant-Man and the Wasp, and a prominent theory is that the Avengers will use the Quantum Realm to time travel thanks to the realm's time vortexes. Since this is all still not confirmed by Marvel Studios, we'll have to wait and see if future Avengers: Endgame marketing materials confirm these theories.
Source: caffeinesn0w/Reddit
This entry was posted by Screen Rant on January 21, 2019 at 2:01 am, and is filed under TV News. Follow any responses to this post through RSS 2.0. You can skip to the end and leave a response. Pinging is currently not allowed.