Avengers: Infinity War Concept Art Reveals Alternate Gauntlet Designs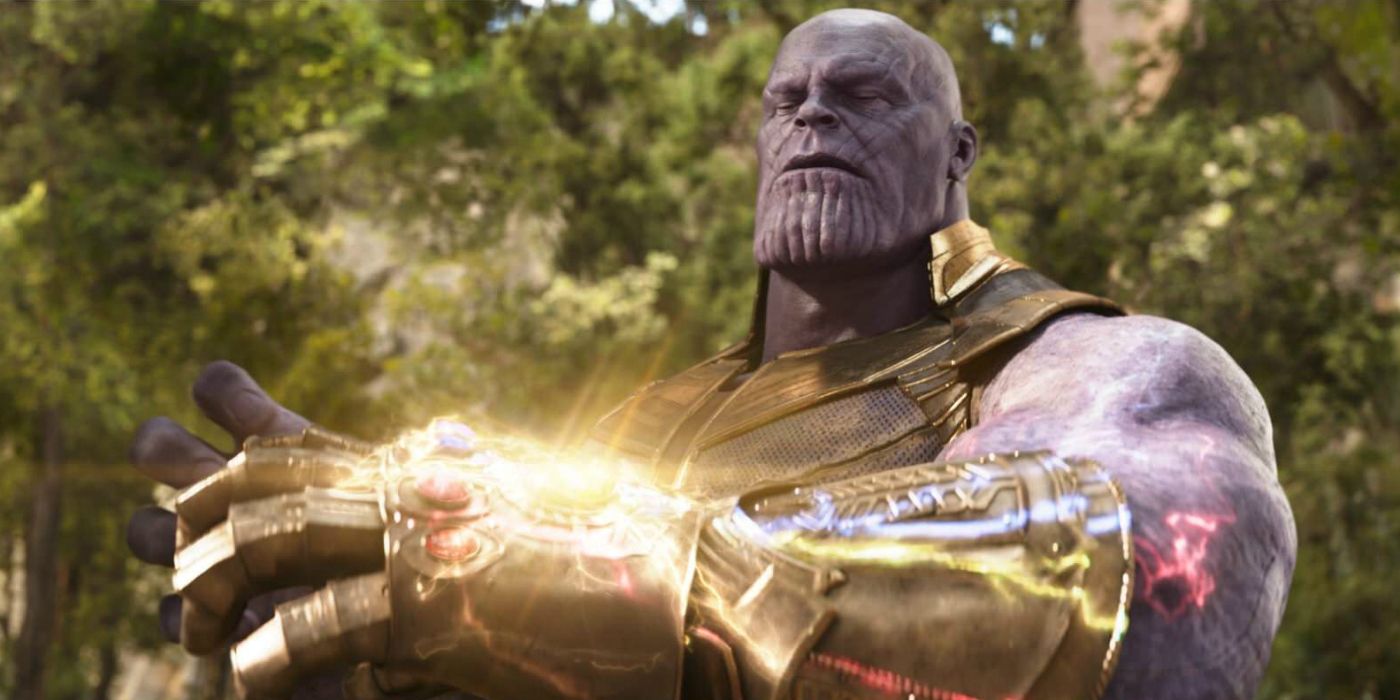 New designs for the Infinity Gauntlet that Thanos uses in Avengers: Infinity War have been shared online. The Infinity Gauntlet is a Dwarven glove that is used to hold and harness the power of all six Infinity Stones - Thanos' personal weapon of choice.
While Thanos is now at the forefront of the Marvel Cinematic Universe, Thanos had been teased for years with the Infinity Gauntlet first appearing in Thor back in 2011. The Infinity Gauntlet was then seen during the post-credits scene for Avengers: Age of Ultron, with Thanos delivering the memorable line, "Fine. I'll do it myself." The Gauntlet later appeared in Thor: Ragnarok as Hela declared that Odin's Infinity Gauntlet was fake, paving the way for Thanos to use the one and only Infinity Gauntlet in Avengers: Infinity War. The Infinity Gauntlet and the Infinity Stones were featured prominently in the movie, but the Gauntlet almost looked very different.
Related: Avengers 4 Trailer: How It Should Have Ended Video Introduces X-Men
Shared on Instagram by Anthony Francisco (via: CBR), a senior visual designer at Marvel Studios, fans can now see concept art for the Infinity Gauntlet in Avengers: Infinity War. All six of the designs have slight variations that set them apart from one another, and the artist clearly played with the placement of the Infinity Stones, as well as the actual color of the Gauntlet itself. Some of these sketches feature a silver Infinity Gauntlet, while others are completely gold or a combination of silver and gold. Francisco's concept art can be seen in his post below:
After Thanos snaps his fingers at the end of Avengers: Infinity War, the Infinity Gauntlet, as well as Thanos, were permanently damaged. Despite this, both the Infinity Gauntlet and Thanos will be returning this year for Avengers: Endgame. The trailer for Avengers: Endgame shows Thanos brushing his hand with the charred Infinity Gauntlet across a field of flowers, possibly revealing that the Gauntlet is permanently fused to his hand. Due to rumors about the Avengers time-traveling to stop Thanos, the Infinity Gauntlet will likely make an appearance in its original form during the movie.
Since the Infinity Gauntlet had been seen in previous movies, Marvel likely would have gotten heat for using any of these designs since they look quite different from the Gauntlet's past appearances. That being said, Thanos' design changed over the years, so Marvel changing the Infinity Gauntlet's design was clearly an option the studio was considering. With that in mind, these designs could be used in a future movie if Thanos forces Eitri to make him another Gauntlet.
Source: Anthony Francisco (via CBR)
This entry was posted by Screen Rant on January 13, 2019 at 6:01 am, and is filed under TV News. Follow any responses to this post through RSS 2.0. You can skip to the end and leave a response. Pinging is currently not allowed.