Bird Box's Rosa Salazar Pitches A Sequel Focused On Her Character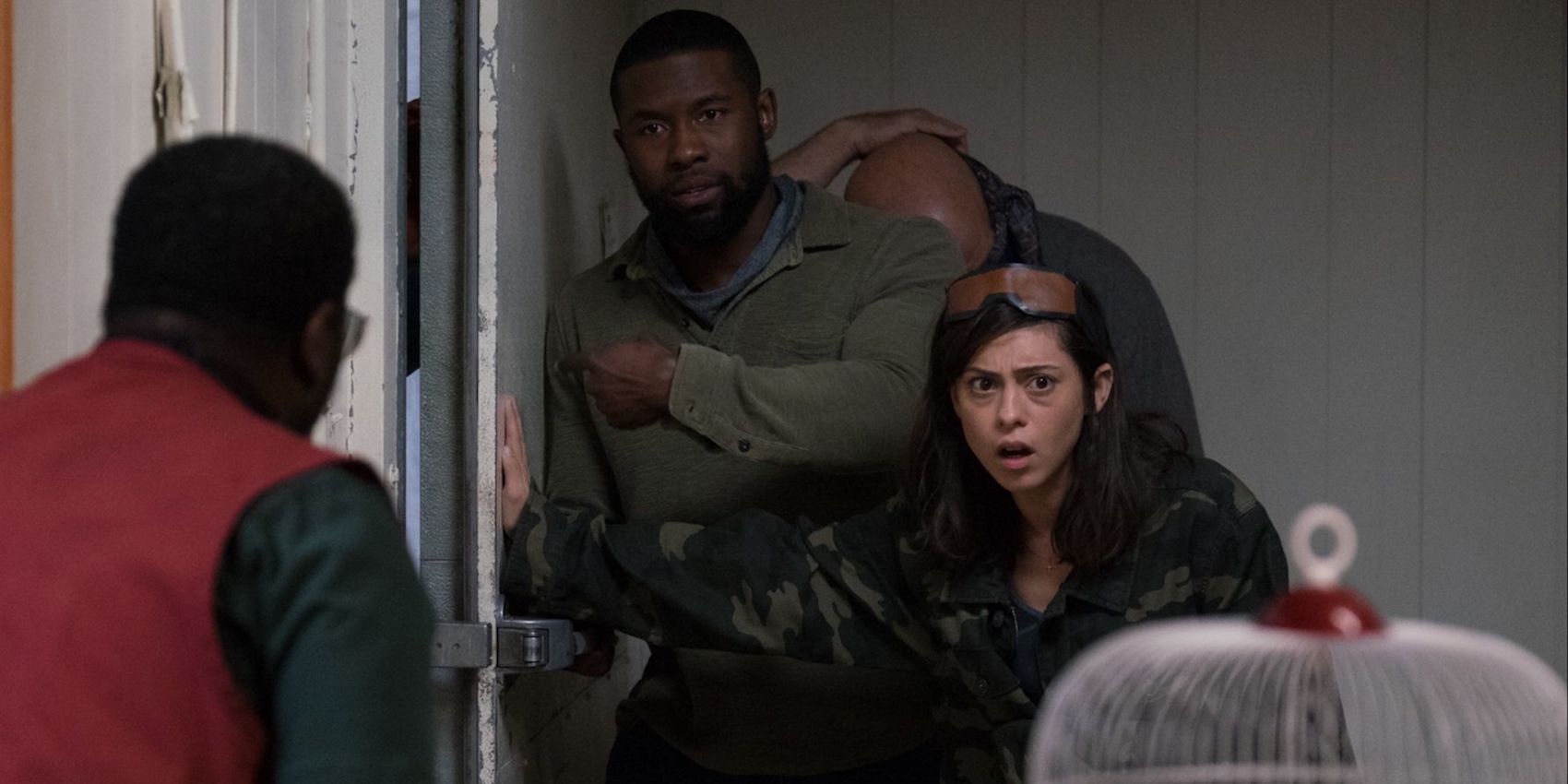 Bird Box star Rosa Salazar wants to do a sequel that would focus on her character's fate. Since its release, Netflix's sci-fi thriller has been a massive success and has been at the center of countless viral trends. While Salazar only had a short role in the film, that hasn't stopped viewers from theorizing her fate. And, despite multiple viewers wanting to see a Bird Box sequel, there has yet to be an announcement regarding a continuation.
Bird Box centers on a post-apocalyptic world where unseen forces are driving members of society to kill themselves after appearing as their worst fears or regrets. In order to survive, a group of survivors learns to tackle everyday life while blindfolded to avoid looking at the creatures. Salazar appears as Lucy, a member of the group the film centers on, and during her tenure with the dysfunctional assembly she develops a connection with Felix (Colson Baker, aka. Machine Gun Kelly), and the two abandon ship never to be seen or heard from again. Fans have had questions regarding the whereabouts of Lucy & Felix, but Salazar thinks the answer can be done as a possible follow-up.
Related: How Netflix's Bird Box Sets Up A Sequel
During an interview with LA Times, Salazar revealed an interest in a sequel that focused on her character. She feels that Lucy & Felix managed to survive, and mentions that this idea was crafted with Baker's input, as the two are always mapping out ways to do a follow-up. She believes drugs and alcohol may have contributed to the duo's survival since being under the influence would cause temporary insanity, which plays a factor in the film for a select few individuals. When discussing a potential continuation, she answered with the following:
"We're always scheming on how we're going to do it. We have this dream of doing a sequel where we survived, and leaving was the best thing you could possibly do. Then you have this story that's 'True Romance' meets 'Fear and Loathing in Las Vegas,' only it's 'Fear and Loathing in Bird Box,' and because they are so resourceful, this punk rock combo in love, they manage to make a life and survive."
While the idea could be interesting to watch on-screen, Bird Box director Susanne Bier feels that fans should just enjoy what was already given for now, though she hasn't ruled out revisiting the post-apocalyptic world. As for Salazar, she has another project on the horizon, which could be her major breakout role. Salazar is set to star in Robert Rodriguez's Alita: Battle Angel, which has already received early praise from early screenings. With that said, perhaps once this upcoming film releases, Salazar can then shift her focus toward filling in the gaps with her pitch for a Bird Box sequel.
Bird Box continues to grow in popularity despite its polarizing reception, and viewers of the film continue to have fun with its concept. The film's momentum doesn't appear to be slowing down anytime soon, so for those who have not yet seen it, there is still time to see what all the fuss is about. While a continuation only appears to be wishful thinking at the moment, fans would welcome a return from Salazar if a Bird Box sequel were to ever be announced.
Source: LA Times
This entry was posted by Screen Rant on January 15, 2019 at 1:01 am, and is filed under TV News. Follow any responses to this post through RSS 2.0. You can skip to the end and leave a response. Pinging is currently not allowed.