Breaking Bad Movie Reported Cast List Includes Bryan Cranston & More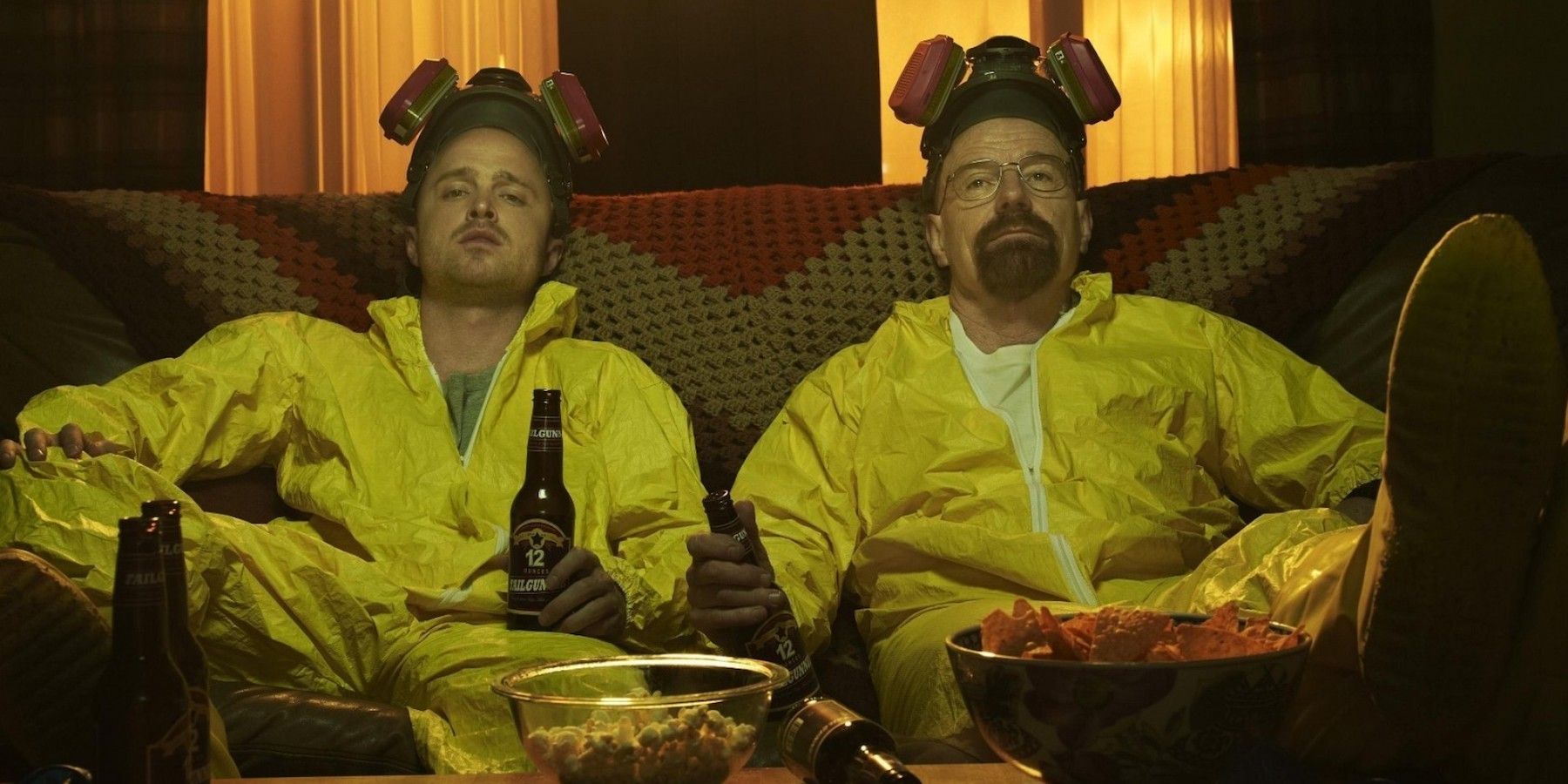 A reported cast list for the Breaking Bad movie includes several returning characters, including Bryan Cranston's Walter White. Considered one of the finest television dramas of the 21st century, Breaking Bad signed off the air with a powerful series finale in 2013, but tales of Vince Gilligan's Albuquerque continued to compel and entertain well after that. Spinoff Better Call Saul is currently a staple of AMC's original programming lineup, finishing its fourth season last year. A fifth is in the works.
Apparently, Gilligan has other projects in mind to expand the Breaking Bad universe. Last fall, word broke that a feature film centering around Aaron Paul's Jesse Pinkman was in development, serving as a sequel to the original series. Shortly after that announcement, Cranston expressed interest in reprising Walter, but due to Broadway commitments, it seemed like that wouldn't be able to happen. Now, however, it looks like Cranston is very much involved with the Breaking Bad movie.
Related: The Breaking Bad Movie Can Give Jesse A Happy Ending
According to Revenge of the Fans, a cast list for the Breaking Bad movie (which goes by the codename Greenbrier) features a plethora of familiar faces. In addition to Cranston, the rundown features Krysten Ritter, Jonathan Banks, Jesse Plemons, Charles Baker, Matt Jones, and Robert Forster (among others).
Longtime Breaking Bad fans know that several of these characters (including Walter and Ritter's Jane) died during the events of the show's five seasons. If they are indeed returning for the movie, it implies Gilligan is going to employ flashbacks and/or dream sequences that look to further flesh out the relationships Jesse had with the most significant people in his life. This isn't anything out of the ordinary for Gilligan, as Better Call Saul has scenes set before (obviously, as a prequel), during, and after Breaking Bad. It should be fun for viewers to see what Gilligan has up his sleeve here and how everyone from Walter White to Todd fits in. Since the primary plot is supposedly a Breaking Bad sequel, their roles likely won't be large, but hopefully they contribute something meaningful to the narrative.
Some may question the need to have this many Breaking Bad alumni come back for the movie, but it's worth keeping in mind Gilligan is not one for cheap fan service. He's very smart about the way he deals with connections between his projects, only including something if it's organic to the story at hand. There's a reason why Cranston never cameoed on Better Call Saul. Over the years, Gilligan has demonstrated he knows what he's doing in this universe, so if he feels the Breaking Bad movie must feature Walter, Jane, Mike, and others, then he's earned the benefit of the doubt for now. Hopefully, he delivers something as captivating as ever.
Source: Revenge of the Fans
This entry was posted by Screen Rant on January 24, 2019 at 8:01 am, and is filed under TV News. Follow any responses to this post through RSS 2.0. You can skip to the end and leave a response. Pinging is currently not allowed.