Deadly Class Cast & Character Guide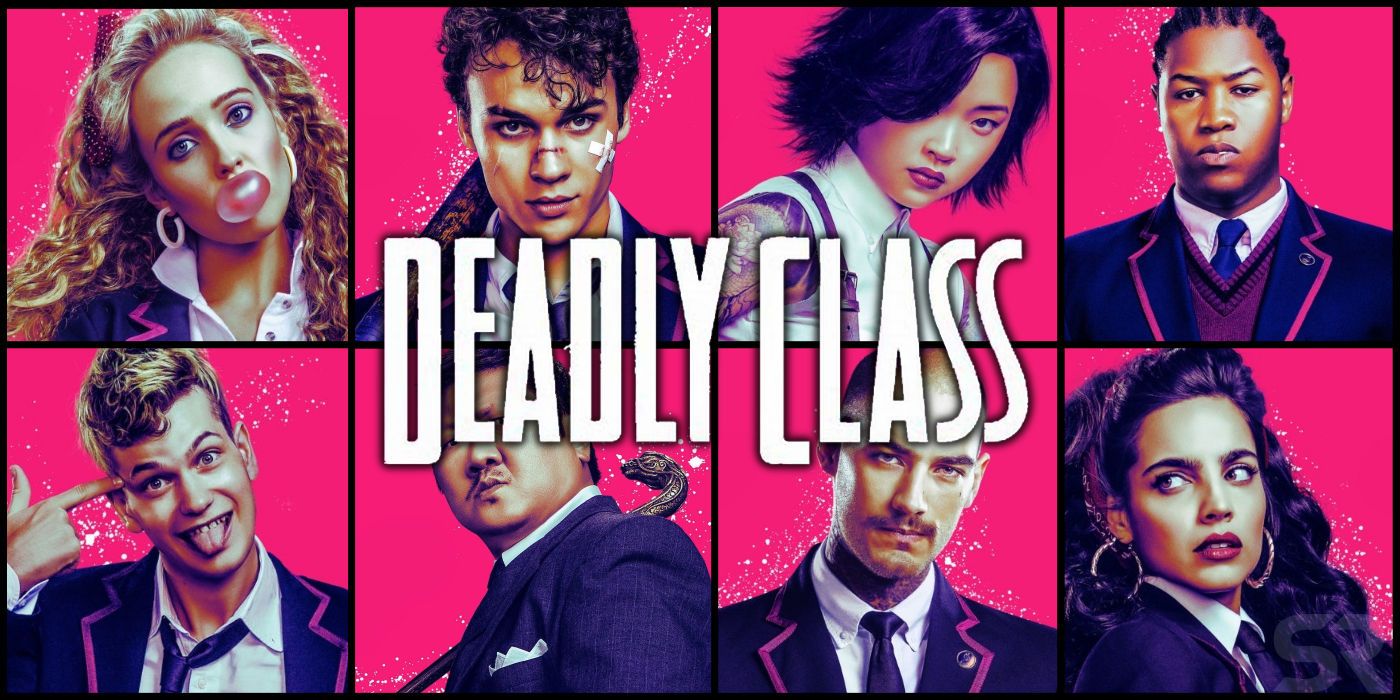 Syfy's Deadly Class boasts an impressive cast of young adult actors and actresses, who've successfully brought to life fan-favorite characters from Rick Remender's comic book series of the same name. Based the Image Comics graphic novel series, Deadly Class was created for television by Remender and Miles Orion Feldsott, and it's being executive produced by Avengers: Infinity War and Avengers: Endgame directing duo Anthony and Joe Russo.
A pilot episode for the Deadly Class adaptation was ordered in late 2017, and then the show was given a full series order in spring 2018 - and it's meant to be one of Syfy's biggest debuts for 2019. For the uninitiated, Deadly Class takes place at a school for the deadly arts called King's Dominion (hence the show's name), and it initially follows teenager Marcus Lopez Arguello, who trains to become an assassin in the 1980s.
Related: Deadly Class Explores Consequences Of Violent Choices
Given that Deadly Class starts off following Marcus but then eventually moves onto other students, it's possible that the series will switch between characters either as season 1 goes on or by each season - but that remains to be seen. For now, here's a complete guide to the main and supporting characters in Syfy's Deadly Class.
Deadly Class' Main Cast & Characters
Benjamin Wadsworth is Marcus Lopez - Marcus is the primary protagonist and the most recent recruit for King's Dominion. Marcus is played by Benjamin Wadsworth, who's most well known for starring in the comedy series Dad vs. Lad, as well as appearing in an episode of Teen Wolf.
Lana Candor is Saya Kuroki - Saya is one of King's Dominion's best students, and she's the current leader of the Kuroki Syndicate. Saya is played by Lana Candor, who's easily most recognizable for her role as Lara Jean Covey in the Netflix rom-com, To All The Boys I've Loved Before. But her first role ever was playing Jubilee in X-Men: Apocalypse.
María Gabriela de Faría is Maria Salazar - Maria is one of the core members of the Soto Vatos and has ties to the Mexican Cartel. Maria is played by María Gabriela de Faría, a Venezuelan actress and singer who's appeared in numerous Spanish-languaged productions, such as Isa TKM and Grachi, but will be making her Hollywood debut in Deadly Class.
Luke Tennie is Willie Lewis - Willie is a member of the Final World Order and puts on a (gangster) front because of it, but in reality, he doesn't believe in what they do at King's Dominion. Willie is played by Luke Tennie, who recently appeared in the 2018 film Thriller. But like some of his co-stars, Deadly Class is his first real break in the entertainment industry.
Liam James is Billy - Billy is a "rat," like Marcus; they don't belong to any particular faction and don't come from prestigious backgrounds, so they've been dubbed "rats." Billy is the son of a smuggler, and he's played by Liam James, who many people will recognize as young Shawn Spencer from Psych as well as the lead actor in the movie The Way Way Back.
Michel Duval is Chico - Chico is the leader of the Soto Vatos, the group to which Maria belongs to, and he's Maria's former boyfriend; he's also the "top dog" of King's Dominion and one of Marcus' first antagonists. Chico is played by Michel Duval, who previously starred in TV shows such as Unforgivable and Queen of the South, and is still appearing in Lady of Steel.
Benedict Wong is Master Lin - Master Lin is the headmaster of King's Dominion, who ultimately joined the life of being an assassin (or, at least a teacher to would-be assassins) after his family was killed. Master Lin is played by Benedict Wong, who is easily well-known for playing the sorcerer Wong in the Marvel Cinematic Universe, though his filmography goes back a long way to the early 1990s.
Deadly Class' Supporting Cast & Characters
Siobhan Williams is Brandy Lynn - Brandy is a neo-Nazi and a Southern belle; she also makes a threat to kill Marcus almost right away. Brandy is played by Siobhan Williams, who's starred in multiple TV shows throughout the 2010s, such as UnREAL and Beyblade Burst, as well as appearing in 2018's movie Welcome to Marwen.
Taylor Hickson is Petra - Petra is a goth girl who also doesn't have any affiliation to one of the school's factions. Petra is portrayed by Taylor Hickson, who played Brianna Copeland in the TV show Aftermath, as well as starred in a number of movies in 2018, including Incident in a Ghostland and Giant Little Ones.
Jack Gillet is Lex - Lex is another outcast in Deadly Class who doesn't affiliate with one of the school's factions/groups. Lex is played by Jack Gillet, who has only one credited appearance preceding Deadly Class: a guest-starring role as Declan in DC's Legends of Tomorrow.
This entry was posted by Screen Rant on January 16, 2019 at 3:01 am, and is filed under TV News. Follow any responses to this post through RSS 2.0. You can skip to the end and leave a response. Pinging is currently not allowed.