Deadly Class: Every School Legacy Group & Affiliation Explained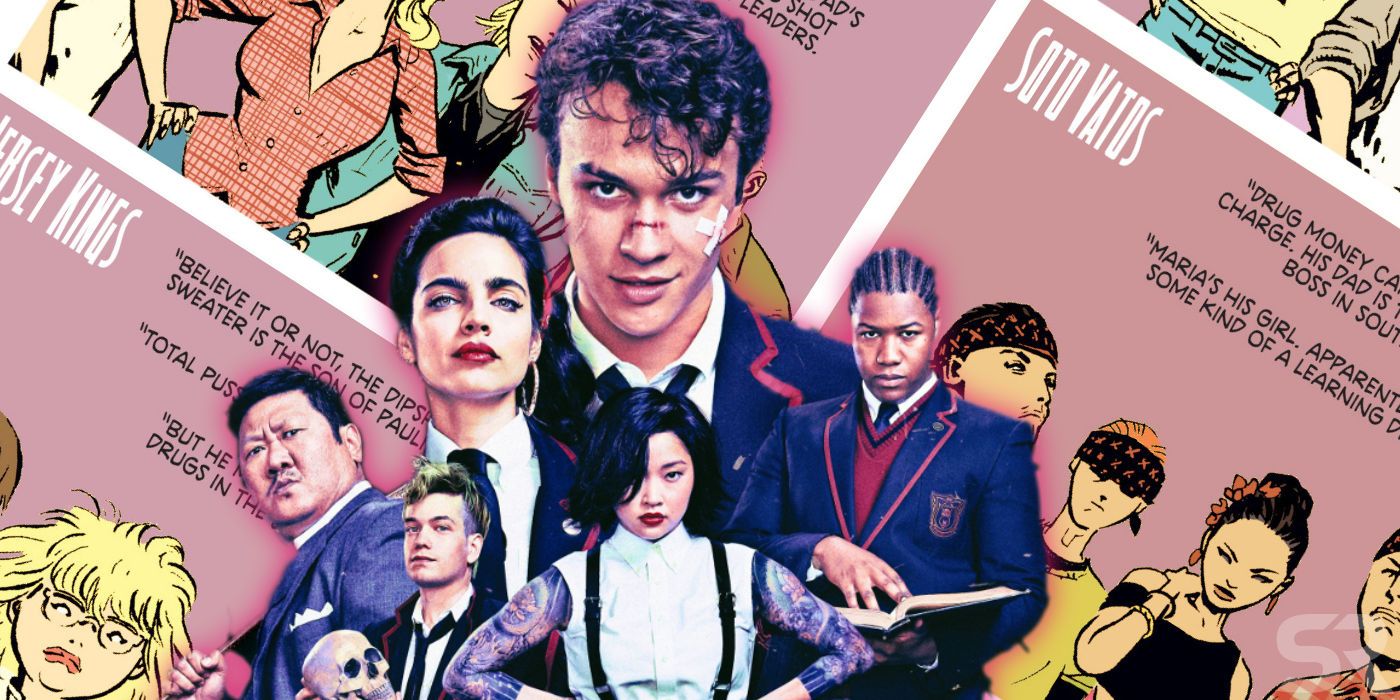 Deadly Class's King's Dominion school for would-be assassins is pretty much like any other ordinary high school, with some significant, underlying differences, of course, such as what makes up the school's factions/groups that separate all the students. Syfy's adaptation of Rick Remender's comic book series of the same name, which was drawn by Wesley Craig for Image Comics in 2014, was created by Remender and Miles Orion Feldsott.
In addition to Avengers: Infinity War and Avengers: Endgame directors Anthony and Joe Russo producing the new series, Deadly Class boasts an impressive cast, consisting of big hitters like Benedict Wong as Master Lin and Lana Candor as Saya Kuroki, among many others. For those that are unaware, the Deadly Class TV show and comic series follow a group of students at King's Dominion School of the Deadly Arts, who are training to become the next generation of assassins in the world.
Related: Deadly Class Cast & Character Guide
Some of the students at King's Dominion are there by choice, whereas most of them have been sent there by their parents to either follow in their line of work or take over for whatever gang, cartel, syndicate their families run. And because of that, the ordinary cliques in modern schools - the jocks, the goths, the preps, etc. - have been split into various factions that work in accordance with King's Dominion, and here's a breakdown of those groups.
Deadly Class Legacy Groups Explained
Soto Vatos - As Billy tells Marcus in the Deadly Class series premiere episode, Chico leads the Soto Vatos, a group of students belonging to the drug cartels. Since Chico is the "top dog" of the school, that's in part what makes the Soto Vatos the "top of the legacies," of which the legacies are groups of students who've been sent to King's Dominion by their parents, who work either in crime or with the government.
The Preps - On the other side of students from major organizations are the Preps, who are students whose parents are typically rich and work with police and intelligence agencies like the CIA and FBI. Since this is the late 1980s, Marcus likes to consider people like that to be fascists.
Dixie Mob - Instead of splitting up the Dixie Mob into separate groups, Deadly Class puts all of the neo-Confederates, neo-Nazis, Aryan Brotherhood, and white nationalists together into one legacy faction. One of the most prominent members of this legacy group is Brandy Lynn.
Final World Order - The F.W.O. are members of a street gang from Los Angeles, and their leader is Willie. While the comics mention Willie's dad as being one of the toughest "OGs" from the gang, the Deadly Class TV show changes it up to talk about Willie's mom.
Kuroki Syndicate - Yakuza kids, as Billy subtly puts it. Saya is the leader of the Kuroki Syndicate, and they are arguably the second toughest group at King's Dominion after the Soto Vatos, which makes them dangerous to Marcus and everyone else that doesn't have an affiliation.
The Rats - Billy and Marcus are two of Deadly Class' main "rats," as they are students who don't belong to any particular legacy or group; Billy is the song of an abusive cop and Marcus is an orphan who's been accused of burning down a children's home. They have no affiliation, which could spell trouble for them later on.
The Hessians - Interestingly, the Deadly Class TV show adds their own group to the mix; the Hessians, who aren't given too much of a backstory in the series premiere episode. However, the name "Hessian" has referred to German soldiers, so it's certainly possible they are affiliated in some way to those soldiers.
-
Syfy's Deadly Class is clearly sticking close to the source material, but since there's logically only enough material for one - maybe two - seasons, if the series is successful, then the show may have to overtake the comics. Perhaps it's a good thing, then, that the comic book creator also developed the adaptation himself.
This entry was posted by Screen Rant on January 16, 2019 at 7:01 am, and is filed under TV News. Follow any responses to this post through RSS 2.0. You can skip to the end and leave a response. Pinging is currently not allowed.