Detective Pikachu TV Spot Reveals First Look At Live-Action Snubbull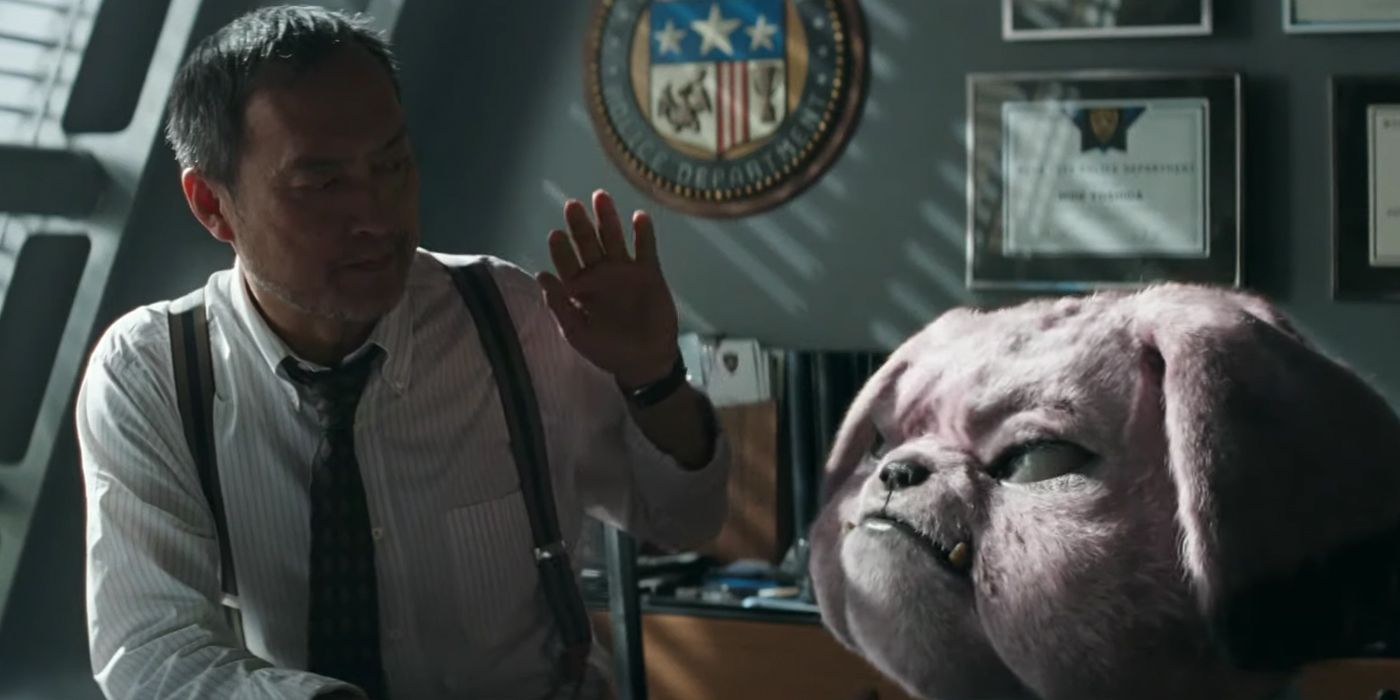 Warner Bros. debuted a new TV spot for its upcoming live-action Pokémon movie, Pokémon: Detective Pikachu, which reuses footage but does offer a first look at live-action Snubbull. The film stars Ryan Reynolds as the voice of the titular Pikachu, who has the ability to talk to his human partner, played by Justice Smith. This new TV spot arrives after the Detective Pikachu trailer debuted late last year.
Directed by Rob Letterman, Pokémon: Detective Pikachu also stars Suki Waterhouse, Kathryn Newton, Bill Nighy, Rita Ora, and Karan Soni in pivotal roles. The film follows Smith's Tim Goodman, who looks to unravel the mystery of his missing father, Henry Goodman, by teaming up with Detective Pikachu. Though a number of Pokémon were depicted in live-action in the film's first trailer, another Pokémon is confirmed to appear thanks to a new TV spot.
Related: Detective Pikachu: Every Pokémon Confirmed (So Far)
The 30-second teaser premiered during the NFC Championship game and later showed up on Pokémon: Detective Pikachu's social media accounts, including Instagram. The teaser gives us a peek into some other Pokémon that are a part of this adaptation of the iconic video game turned anime series turned motion picture. The highlight of the TV spot is the first look at Snubbull. As seen in the teaser, Ken Watanabe's Detective Yoshida doesn't seem to be a big fan of the dog-like Pokémon, as he recoils in response to Snubbull's exhale. You can check out the new TV spot below:
Fans were quick to point out their concerns over Snubull's size, however. According to the Pokémon's bulbapedia page, the typical height of a Snubbull is about two-feet, for which this live-action version is certainly not. Fans have already called into question many other Pokémon's average sizes, and even being caught off guard by some of their more cosmetic appearances. Jigglypuff was immediately signaled out for her fur-covered body and anatomically correct hairdo. Of course, when it comes to adapting an animated TV series, there are going to be some artistic liberties when crafting photo-realistic versions of the characters.
In addition to our first look at Snubbull, the TV spot also shows off more footage of Psyduck, Charizard, also Mr. Mime. The latter being one of the focal points of the first trailer, taking down Pikachu's pride in a hilarious display of miming. Reynolds, of course, continues his sassy one-liners as the titular character, including a fart joke. Yes, Pikachu lets one rip on the shoulders of Justice Smith's character. The iconic Pokémon then blames it on his overindulgence for a certain dark, caffeinated drink. Which calls into question: How much coffee can a Pikachu drink? We'll have to wait until Pokémon: Detective Pikachu is released later this Spring to find out.
Source: Detective Pikachu/Instagram
This entry was posted by Screen Rant on January 21, 2019 at 9:01 am, and is filed under TV News. Follow any responses to this post through RSS 2.0. You can skip to the end and leave a response. Pinging is currently not allowed.