Doctor Who: Catherine Tate Says She's Up for Donna Return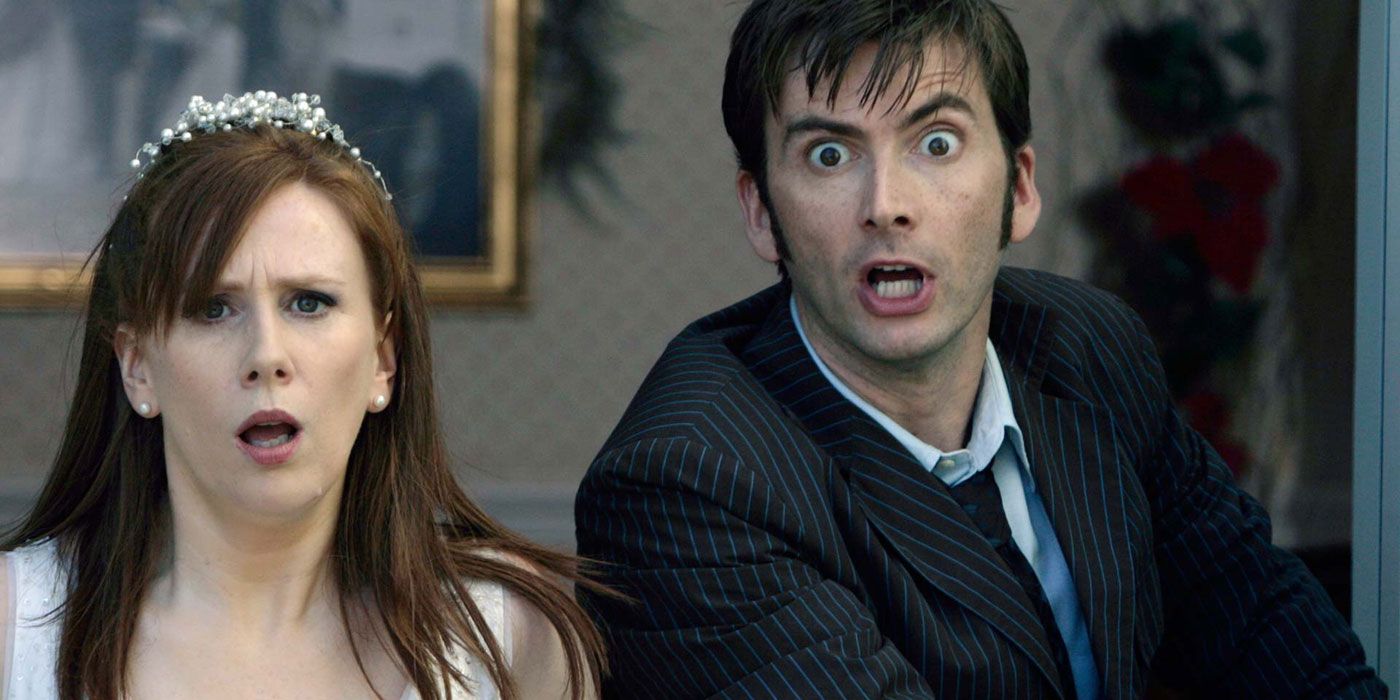 Doctor Who star Catherine Tate confirmed that she would be up for coming back for the show's new seasons starring Jodie Whittaker as the thirteenth Doctor. Tate, known for her comedy work in The Catherine Tate Show and a recurring role in The Office, first appeared on Doctor Who as the fiery and indomitable Donna Noble in 2006. She later boarded the TARDIS as the tenth Doctor (David Tennant)'s regular companion in the fourth season, and exited the show, along with Tennant, in 2010.
Although fan opinions on Donna as a character may be divided, few can contest the comedic chemistry between real-life good friends Tennant and Tate, or the refreshing quality that their platonic Doctor/Companion dynamic added to their season together. Prior and following companions, such as Rose Tyler (Billie Piper), Martha Jones (Freema Agyeman), Amy Pond (Karen Gillan) and River Song (Alex Kingston) were often characterized as having unrequited romantic tension with the Doctor. Donna, on the other hand, habitually mocked, sassed, and called him out, with little to no consideration for his ego; although it was made clear that she deeply loves him as a friend. The season 4 scene, in which the two share a tearful last embrace after she saves the universe from the Daleks, leaving the Doctor no choice but to erase all her memories of him to save her life, is remembered as one of the most heartbreaking in the show.
Related: New Doctor Who Comic Reveals Donna Noble Aftermath
Nine years later, Tate talked about the possibility of a Doctor Who return on The Jason Manford Show. Although it doesn't sound like she's been asked to return by showrunner Chris Chibnall yet, there's a good chance she'd be on board. Check out the full interview.
"It wouldn't be up to me because you can't just turn up on the set uninvited. They don't like it. But that would be nice. I haven't tried. Probably all the security would still remember me."
Tate confessed that she hasn't kept up with the most recent installments in series, but expressed her confidence in and respect for Whittaker, who previously co-starred in Broadchurch alongside Tennant:
 "I haven't yet, only because I won't understand them and it makes me feel inferior. But I know she's brilliant because she's fantastic."
With season 11 of Doctor Who having just wrapped up, and season 12 not due until sometime in 2020, a lot of questions about what lies ahead are hovering. Although Chibnall and Whittaker have changed up the series format a fair bit, they've left the door open for reinstating some classic elements such as legacy villains. Beyond Tate, plenty of other alumni have been involved with, or indicated an interest in doing more with the franchise. Billie Piper and Alex Kingston have both worked on audio series based on their respective characters, Karen Gillan's TARDIS selfie last fall sparked excitement among Whovians, and John Barrowman, who played Captain Jack Harkness, also said he'd love to return.
At this point, season 12 could get as wild, with as many familiar faces, as the writers want. It's not like there's any shortage of space in the TARDIS, after all.
Source: The Jason Manford Show
This entry was posted by Screen Rant on January 16, 2019 at 12:01 pm, and is filed under TV News. Follow any responses to this post through RSS 2.0. You can skip to the end and leave a response. Pinging is currently not allowed.