Dumbo Flies High in New Live-Action Remake Image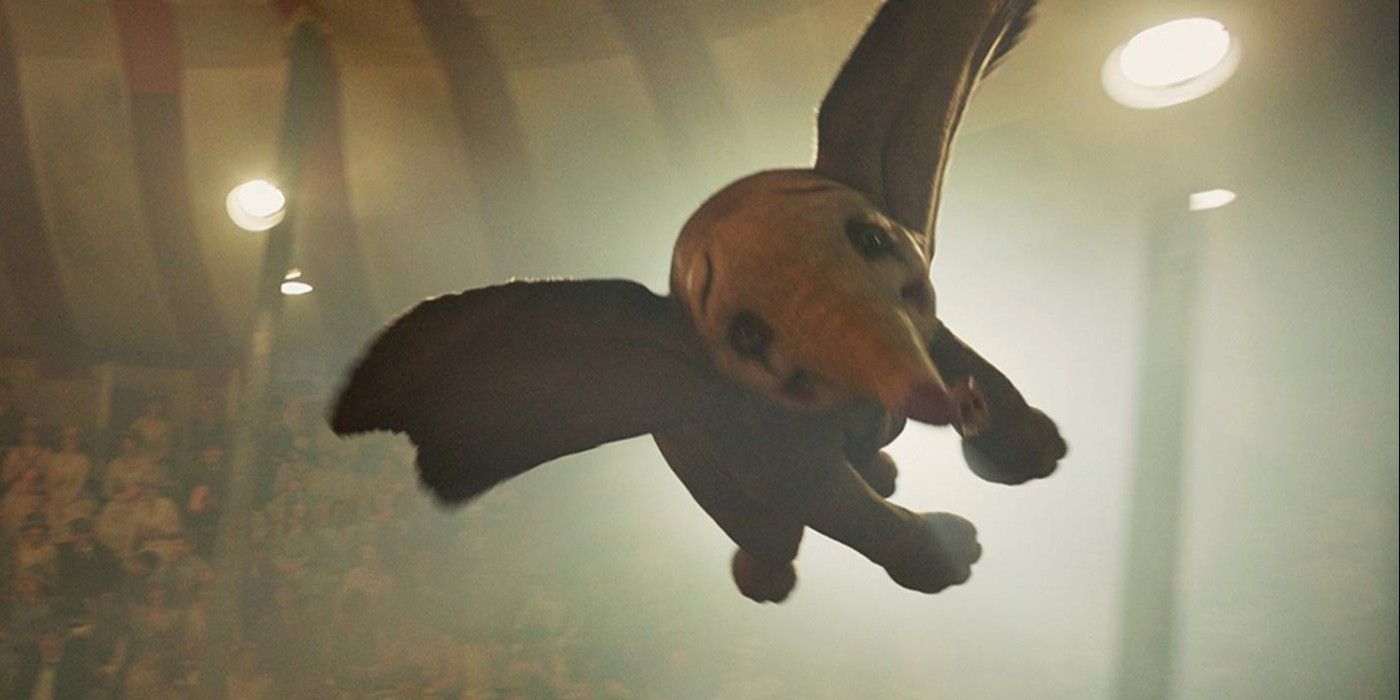 Dumbo flies in a new image from Disney and director Tim Burton's live-action remake - a film that star Colin Farrell promises won't be "too sweet". Burton actually got his start as an animator and storyboard artist for the Mouse House in the early '80s, before he turned to directing films. The storyteller had firmly established his brand of dark kookiness by the time he reunited with Disney three decades later for Alice in Wonderland, a live-action reimagining of the studio's animated 1951 movie. Spurred on by the film's success (it made $1.02 billion worldwide in 2010), the Mouse House has started churning out live-action remakes of its animated features at a much faster rate.
Up next is Dumbo, a live-action retelling of Disney's 1941 animated film and Burton's third collaboration with the studio in the past ten years (after Alice and his stop-motion Frankenweenie adaptation). In some ways, it's a perfect match; the original Dumbo tells the story of an outsider ostracized for their differences, much like the majority of Burton's movies have over the years. The animated film also combines moments of sweetness with darker and even surreal plot beats, ranging from Dumbo's mother being locked up (after she tries to protect him) to the infamous "Pink Elephants on Parade" sequence. Burton's remake won't stray too far from that approach either, by the sound of it.
Related: Disney's Upcoming Movie Releases Through to 2023
Empire debuted an exclusive image from Burton's film that shows Dumbo flying high at the circus where he performs. The photo was accompanied by a quote from Farrell, noting "Tim is suspicious of things getting too sweet" in the movie.
One can generally count on Burton's films being kindly and weird in equal measure, and that shouldn't change with Dumbo. The live-action remake expands upon the animated movie's story, but if anything the new material by screenwriter Ehren Kruger (Transformers: Age of Extinction) sounds as sinister as the original film's darkest elements. Among other things, the live-action Dumbo introduces a proper villain in the form of V.A. Vandevere, an entrepreneur who wants to make the flying elephant part of an entertainment venue known as Dreamland. Seeing as Vandevere is portrayed by Burton's Beetlejuice, Batman, and Batman Returns actor Michael Keaton, it's safe to assume the self-declared visionary is hiding some real darkness beneath his eccentric, but otherwise harmless facade.
It's been a hot minute since Burton made a film that critics and audiences really loved (the responses to his recent movies have been lukewarm, at best), but the hope is Dumbo will succeed in recapturing some of that old Burton magic. The story's blend of wonder, darkness, and tenderness certainly plays to the filmmaker's strengths and he apparently enjoyed himself while making the movie. According to Farrell, Burton was "just a child" when the cameras rolled on Dumbo and "It was lovely to see that level of engagement". If that same energy comes through in the actual film, then Dumbo may yet prove to be something special.
Source: Empire
This entry was posted by Screen Rant on January 22, 2019 at 5:01 am, and is filed under TV News. Follow any responses to this post through RSS 2.0. You can skip to the end and leave a response. Pinging is currently not allowed.