Every European Location Peter Parker Visits In Spider-Man: Far From Home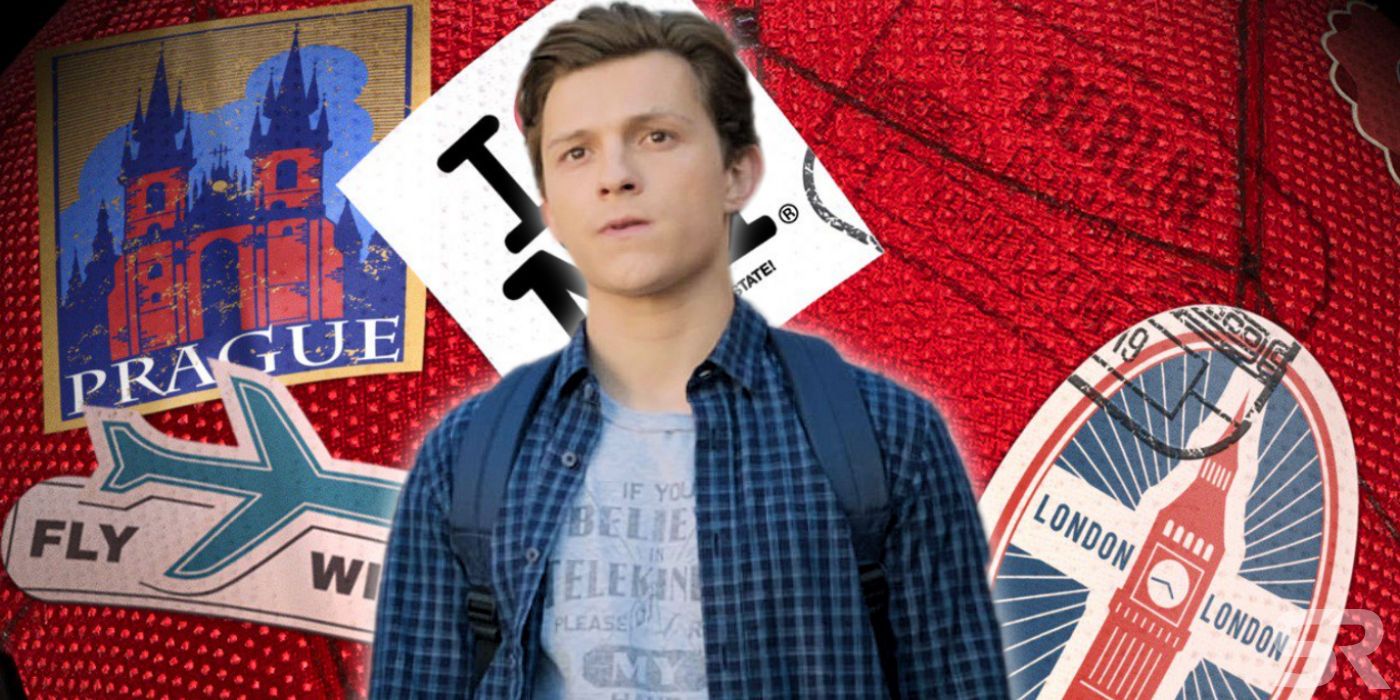 Peter Parker is going on holiday and here's every European city he visits in Spider-Man: Far From Home. Director Jon Watts' sequel to Spider-Man: Homecoming continues the Marvel Cinematic Universe's trend of sending our friendly-neighborhood wall-crawler away from his home stomping grounds of Queens, New York. This time, our world-traveling web-slinger is adding a lot of new stamps on his passport.
In the five Spider-Man movies directed by Sam Raimi and Marc Webb, Peter Parker never left New York City, although a move to the UK is something Andrew Garfield's Peter wanted to make. When the MCU got a hold of Spider-Man, now played by Tom Holland, the first thing they did was send him to Berlin to fight alongside Team Iron Man in Captain America: Civil War. Next, Spider-Man: Homecoming took the wall-crawler to Washington, D.C., while in Avengers: Infinity War, Spidey literally left the planet (and died on Titan thanks to Thanos). In Spider-Man: Far From Home, Peter doesn't venture quite as far from home as he did in Infinity War, but despite having his best friends (and Flash Thompson) from Midtown School of Science and Technology with him, his European vacation doesn't seem like it will be any safer or relaxing.
Related: Spider-Man: Far From Home's Elemental Villains' Identities
We know from the Spider-Man: Far From Home trailer that Peter and his friends land in Italy first but after he is recruited by Nick Fury (Samuel L. Jackson), he encounters three elemental super-villains - Molten Man, Hydro-Man, and the Sandman - as well as Mysterio (Jake Gyllenhaal), who appears to be a brand-new superhero. Spider-Man's adventures take him around the continent and to the UK where he gets to don a few new Spider-Man suits as well. If all of the action he's entangled in isn't enough, the exotic locales spark romance between Peter and MJ (Zendaya). So let's pack our bags and preview every European destination Spider-Man visits in Far From Home.
New York City, USA - Naturally, the movie starts in Peter's hometown, but before Aunt May (Marisa Tomei), who now knows and supports Peter's superheroism, sends him to Europe, Spider-Man has to appear at her charity event.
Venice, Italy - Peter and friends' first stop is the city of canals and romance is in the air - but not for long as Nick Fury recruits Spider-Man, who has to face Hydro-Man and encounters Mysterio.
Prague, Czech Republic - Spidey heads further East to the City of a Hundred Spires, but in the Czech Republic, he also acquires his sleek, black stealth suit.
London, UK - Spider-Man also crosses the English Channel and lands in London where Nick Fury has a base in the Shard and the web-slinger gets to don a cool new red and black suit as the Tower Bridge is lit aflame.
In addition, the official Spider-Man: Far From Home poster shows Spidey's mask covered with stickers of European destinations including a couple not shown in the trailer: the Swiss Alps and Berlin, Germany, marking Peter's possible first time back in Berlin since the Avengers' airport fight in Civil War. Marvel Studios is holding back details on what happens in Switzerland and Germany (as well as whether or not Far From Home is definitely set after Avengers: Endgame) but encountering the unexpected is part of the experience of traveling abroad.
By the end of Spider-Man: Far From Home, Tom Holland's Peter will absolutely be the most well-traveled movie Spider-Man ever. But after fighting super-villains in multiple countries across a whole continent, no one would blame Peter if he decides his travel bug has been satisfied and he wants to stick to swinging around New York City from now on.
This entry was posted by Screen Rant on January 21, 2019 at 5:01 am, and is filed under TV News. Follow any responses to this post through RSS 2.0. You can skip to the end and leave a response. Pinging is currently not allowed.