Everything You Need To Know About Rambo V: Last Blood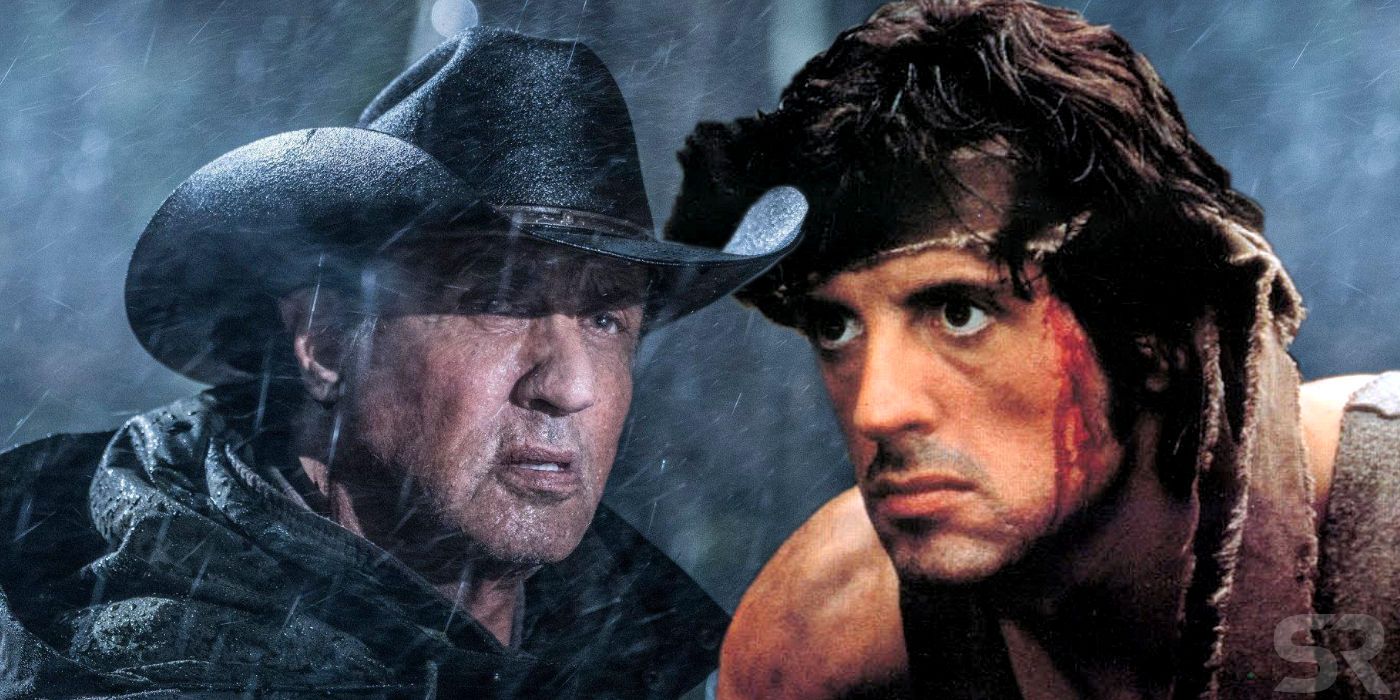 It's been a long road to Rambo V: Last Blood, but the legendary soldier is set to return for his fifth – and final - mission in 2019. The Rambo series got off to a rocky (no pun intended) beginning, with First Blood kicking around Hollywood for close to a decade. First Blood was based on the novel by David Morrell and followed a disturbed Vietnam vet who launches a one-man war on a small town. Dustin Hoffman and Steve McQueen turned it down until Stallone finally tied on the bandana.
Luckily, wiser heads prevailed and First Blood proved to be a surprise hit. Stallone returned again for Rambo: First Blood Part II, which upped the action and body count significantly and helped cement the character's iconic status in pop culture. The third time wasn't the charm, however, with 1988's Rambo III proving to be a disappointing end to the trilogy, both critically and financially. Stallone has never been a man to let a viable franchise die without a fight, though, so he dusted off Rambo's bow & arrow again for 2008's spectacularly bloody Rambo.
Related: Sylvester Stallone's Greatest Movie Roles
Now, over a decade later, Stallone is back for Rambo's supposed last mission. Rambo V: Last Blood, which has been in various stages of development since the previous installment hit theates in 2008, comes from director Adrian Grunberg (Get The Gringo) and sees the retired legend back in the war zone.
This Page: Rambo V's Story, Images, & Release Date
Sylvester Stallone Returns One Final Time For Rambo V: Last Blood
While Sylvester Stallone isn't necessarily a stranger to retiring a character - only to come back again years later (as Stallone returned as Rocky Balboa for Creed, for instance) - it appears Rambo V: Last Blood will definitely be his last outing in this particular role. Part of the delay with Rambo V was Stallone's belief the final scene of Rambo, where the character comes out of self-imposed exile to finally return home, was a fitting end to the character's arc.
Related: Rambo V: Sylvester Stallone Wraps Filming
For years, Stallone has stated a potential Rambo V would be the end of the road for John Rambo, and when he wrapped filming on Rambo V: Last Blood, he posted a video reflecting on his time with the series. Stallone also alluded to his retirement as Rocky Balboa following Creed 2, having handed the reins of that series over to Michael B. Jordan as Adonis Creed. Reports even state The Expendables 4 could mark the end of that franchise as well, thus suggesting that Stallone is wrapping up his action hero legacy.
Rambo V: Last Blood Releases On …
An exact release date for Rambo V: Last Blood has yet to be confirmed, though both Stallone and the movie's own teaser poster state that Rambo V will release in fall 2019. Many of Stallone's recent starring roles – including both Creed movies – have bowed theatrically around November, so in or around that month feels like a solid bet for Rambo V: Last Blood's release window. This is something that Lionsgate should announce somewhat soon as production wrapped in December 2018.
What Rambo V: Last Blood Images Reveal
One of the very first images revealed from Rambo V: Last Blood took many people by surprise; it was the titular character himself dressed up in cowboy gear. This, of course, won't be his look throughout the entire movie, as John Rambo only wears this getup working on his farm. Other Rambo V images reveal Rambo hiding out in his "man cave," where he stores his weapons and photos of his time in Vietnam. Stallone also debuted the first look at Rambo's giant new Heartstopper knife and revealed that the character will once again make use of a bow & arrow.
Related: Sylvester Stallone Shares New Rambo 5: Last Blood Photo
Stallone himself has shared many Rambo V photos and videos from the movie's set, and he has promised to share a new still everyday leading up to Rambo V: Last Blood's release. These images will also come with story context, but they may not reveal too much about the movie's plot.
What We Know about Rambo V: Last Blood's Story
The plot of Rambo V: Last Blood can be essentially be summed up as Taken in Mexico. Rambo V finds the retired soldier working on his family farm in Arizona but suffering from PTSD, and he spends most of his nights drinking. That's when Maria, who has worked at Rambo's farm all her life, seeks his help when her daughter is kidnapped. At that point, Rambo dusts off his trusty knife and seeks out a sex trafficker and, after torturing the man, he learns Maria's daughter was sold to a particularly brutal Mexican cartel.
Related: Rambo V: Spoiler Heavy Plot Details Emerge
Rambo, then, travels to Mexico to rescue her and enlists the help of Carmen Delgado, a reporter also searching for her kidnapped sister. Rambo's search leads him into the path of Hugo Martinez, the vicious leader of the cartel who is more than a match for the aging ex-soldier. Some reports suggest there might also be a flashback to John Rambo's younger days with Stallone being de-aged for the scene. Given how far de-aging technology has come and how prevalent it is in Hollywood blockbusters, it's not a far-fetched idea.
Rambo V: Last Blood Has Been A Long Time Coming
Following the success of Rambo, talk of Rambo V came quickly. Stallone's original impulse was to do something completely unexpected and turn Rambo V into a sci-fi horror movie. The star planned to adapt the novel Hunter for Rambo V, which finds a legendary tracker being tasked by the government to track down a feral, man-made monster. Hunter leads a team of mercenaries after the creature, which seemingly cannot be killed. Since Hunter and Rambo are essentially the same character, Stallone felt the book would make a strong basis for a sequel.
When Stallone later pitched this version on Ain't It Cool News, it was met with swift derision from fans, so he soon scrapped the concept; that said, it was recently confirmed he plans to adapt Hunter as a solo movie. Stallone later began work on the story that became Rambo V: Last Blood, which always featured the character traveling to Mexico on a rescue mission. His involvement with The Expendables series and other movies always pushed Rambo V to the back of the queue, explaining the long gap between sequels.
An "Award-Worthy" Idea Was Rejected
First Blood author David Morrell revealed in an interview that, around the time Stallone was working on Creed, he got in touch about working on a script that would mark a "soulful" final journey for John Rambo. The pair collaborated on this concept, which Morrell says would have contained action, but it was more about a man who had spent his life at war contemplating his past.
Related: Stallone Almost Retired Rambo After Original Fifth Movie Pitch Was Rejected
The author feels this undiscovered Rambo V concept could've garnered awards recognition, but when Stallone took it to producers, they rejected it and wanted to focus on the human trafficking story instead. It appears the star wasn't happy with this, as Stallone later announced his retirement from both the Rambo and Expendables franchises.
Rambo Was Almost Rebooted
Prior to Stallone's "retirement" from the Rambo franchise, there was some talk of him playing a supporting role in a proposed TV series. The Rambo: New Blood TV series would've primarily focused on Rambo's previously unmentioned son, J.R., who returns from war and gets involved in new adventures. Rambo: New Blood also would've revolved around the difficult relationship between father and son. Once Stallone exited Rambo V: Last Blood, he confirmed he was no longer involved with New Blood either, which was still in development. Morrell later admitted they could never quite figure out the show's premise, so it never went anywhere.
Reports of a full-on Rambo movie reboot emerged in 2016, which was also titled Rambo: New Blood, and that would've focused on the early adventures of John Rambo. The report suggested the film was being approached as James Bond-style reboot that would kick off a new series. Once Stallone returned for Rambo V: Last Blood, talk of a reboot or TV show quickly went away.
Rambo V: Last Blood Cast
John Rambo's main nemesis in Rambo V: Last Blood will be Hugo Martinez, played by Sergio Peris-Mencheta, while Oscar Jaenada plays his brother Victor. Paz Vega plays reporter Carmen Delgado, who becomes Rambo's chief ally during his time in Mexico, and who seeks to rescue her own sister. Adriana Barraza will play Maria, who is described as a sister of sorts to Rambo. Aside from Stallone, it appears there will be no other returning actors from past installments, though that could always change before the movie releases, and even then, it's possible Rambo V: Last Blood could have some sort of cameo from an old character.
There Is No Rambo V: Last Blood Trailer Yet
There's is currently no trailer for Rambo V: Last Blood. Given how active Stallone has been about the sequel on social media, he will likely confirm when the first trailer is due to drop. Fans will be eager to catch the first look at Rambo V: Last Blood, which promises to be a dark, bloody final chapter in John Rambo's story. Franchise fans may remember the famously gory first trailer for 2008's Rambo, which was a quick cut montage of the film's bloodier scenes. That preview helped build hype around Rambo's return, so Rambo V: Last Blood's trailer may try a similar tactic.
This entry was posted by Screen Rant on January 22, 2019 at 5:01 am, and is filed under TV News. Follow any responses to this post through RSS 2.0. You can skip to the end and leave a response. Pinging is currently not allowed.