First Zootopia-Themed Land Coming To Disneyland Shanghai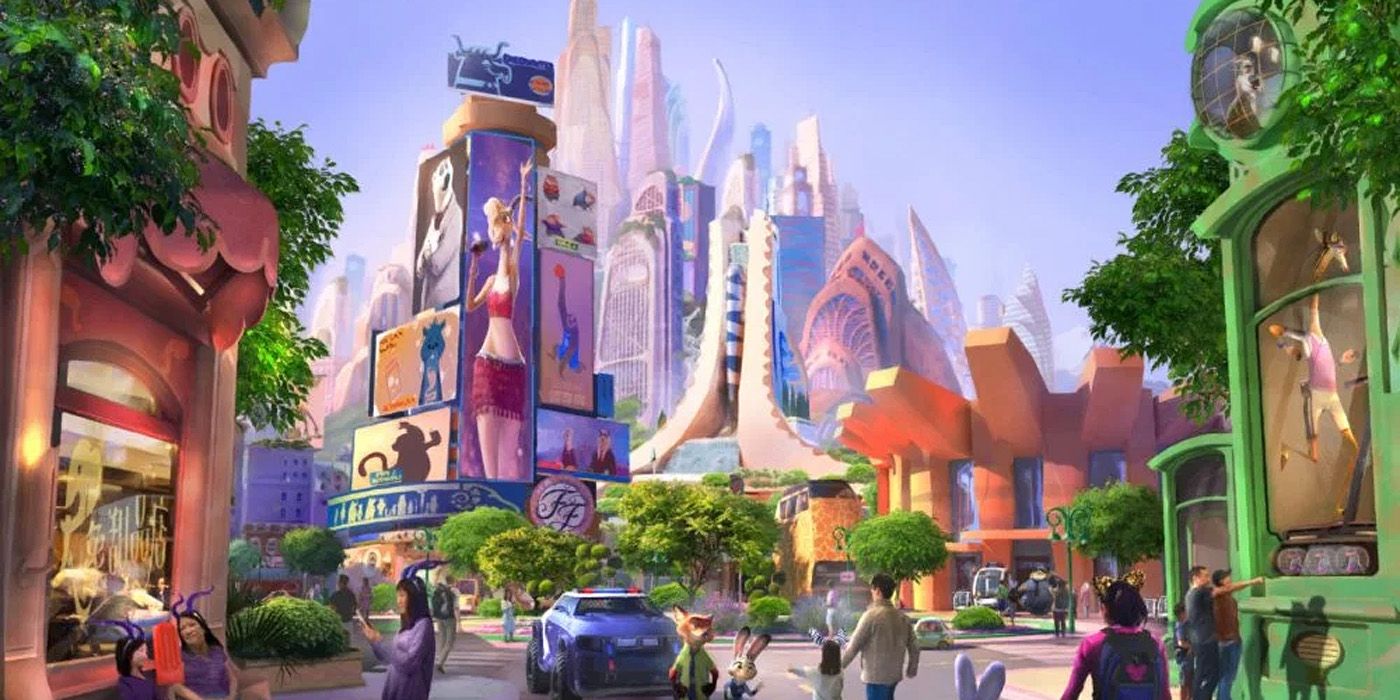 Disney has announced plans to add a Zootopia-themed land to Shanghai Disneyland. Zootopia initially released to theaters in 2016 and introduced viewers to a world of anthropomorphic mammals that included a rabbit named Judy Hopps. In spite of her small stature, Judy signs up for the Zootopia City Police Department but ends up getting entangled with a con artist, Nick Wilde. Together, the two uncover a conspiracy involving the disappearance of several of Zootopia's citizens.
Zootopia was a massive hit for Disney, earning $75 million worldwide during its opening weekend. It went on to become Disney's 11th biggest movie of all time, as well as the second biggest original film of all time. Critics and fans loved Zootopia, and it also won an Academy Award, a Golden Globe and a Critics' Choice Movie Award for Best Animated Feature Film. It's surprising that Disney has not yet announced a sequel or spin-off movie based on Zootopia, but co-directors Byron Howard and Rich Moore have said that they are open to the idea.
Related: What Makes Toy Story Land So Special at Disney's Hollywood Studios
Now, Zootopia is getting its own land in a Disney theme park. According to the Disney Parks Blog, Shanghai Disneyland will be getting a new expansion based on the award-winning movie. It will be the park's eighth themed land, but the first Zootopia-related addition to any Disney theme park. The official description reads:
"Guests will be invited to experience the mammalian metropolis of Zootopia 'where anyone can be anything,' with a new major attraction that will seamlessly blend Disney storytelling and state-of-the-art technology to bring this fan-favorite movie and its characters to life - including Judy Hopps and Nick Wilde. Entertainment, merchandise, and food and beverage offerings will invite guests to fully immerse themselves in the Academy-Award-winning animated movie."
This move makes sense for Disney's park in China because the film did exceptionally well there: It was the most successful animated movie in Chinese history. This news is also in line with the commitment Disney has made over the past few years to expand all its theme parks. Not only did the company open a new Toy Story-based land at Walt Disney World in Florida in 2018, but the company will also open the much-anticipated Star Wars-themed land, Galaxy's Edge, in both of its U.S. parks in 2019. The company also has plans to add a land based on Marvel superheroes to Disneyland in California, with the company expected to build it around the existing Guardians of the Galaxy: Mission Breakout ride that premiered several years ago.
For a long period, many Disney Parks fans complained about the lack of new attractions and lands in theme parks. Recently, though, Disney has announced many new projects for its parks and resorts. Of course, that means that ticket prices will inevitably go up (and have already done so at Disneyland), but if anything, Disney has already proved its fans will pay big bucks to revisit their favorite movies and Disney franchises as attractions.
Source: Disney Parks Blog
This entry was posted by Screen Rant on January 23, 2019 at 11:01 am, and is filed under TV News. Follow any responses to this post through RSS 2.0. You can skip to the end and leave a response. Pinging is currently not allowed.