Fortnite's V-Bucks Currency Reportedly Being Used To Launder Money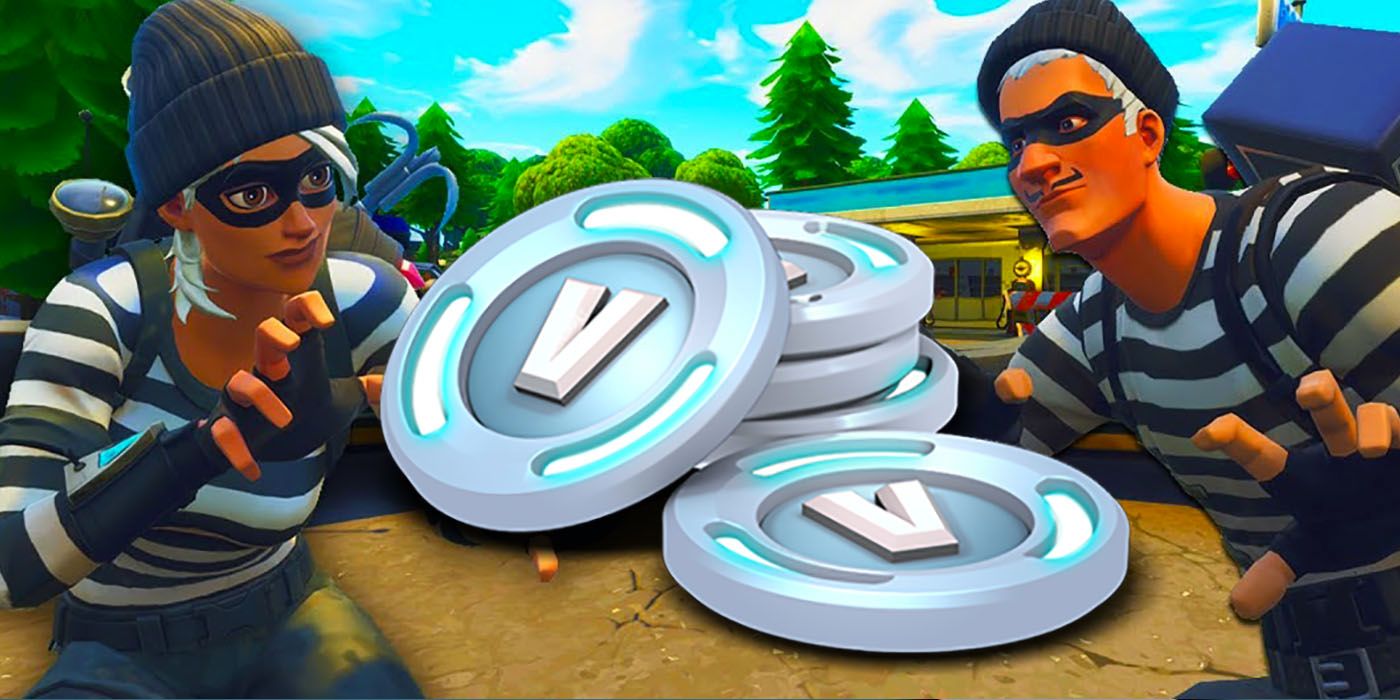 It turns out that criminals are using Fortnite to launder money in the real world and exploit Epic Games' V-Bucks currency. With the world of video games still gripped by Fortnite fever, the game's giant fanbase is being increasingly turned into a criminal underworld.
Since launching in 2017, Fornite has continued to grab headlines as a battle royale brawler. Outshining its rivals and overtaking PlayerUnknown's Battlegrounds, Fortnite has also cornered the market when it comes to a successful business model in the world of gaming. However, as more and more gamers part with their real money for in-game purchases, cybercrime is on the rise - especially inside Fortnite.
Related: Orange Shirt Kid Mom Sues Epic Games Over Fortnite Dance
In a joint investigation with security firm Sixgill, The Independent explains how criminals are making the most of flaws in Epic Games' current system. Sixgill senior intelligence analyst Benjamin Preminger told the site how this crime wave has gone relatively unnoticed, touching on the individuals taking advantage of the game, as well as "weak security measures" within in the game. He said:
"Criminals are executing carding fraud and getting money in and out of the Fortnite system with relative impunity. Threat actors [a malicious person or entity] are scoffing at Epic Games' weak security measures, saying that the company doesn't seem to care about players defrauding the system and purchasing discounted V-bucks… This directly touches on the ability of threat actors to launder money through the game."
The scheme involves stolen credit card details being used to buy V-Bucks — Fortnite's in-game currency — and then selling them. When the V-Bucks are bought by someone else for real-world money, the criminals have effectively laundered their stolen money for clean cash. Epic Games made a staggering $3 billion in profit last year, which isn't bad for a game that is free-to-play. These figures alone show how lucrative V-Bucks can be, so it was only a matter of time before criminals turned their attention to the game.
With V-Bucks being sold for a net profit on the dark web, the buyers are unaware they're helping fund the crime. The resale of V-Bucks is strictly prohibited, but it's a growing trend thanks to their often discounted rates. The perpetrators are constantly one step ahead of the authorities, with many of these transactions taking place with cryptocurrencies, making it even harder to trace who is behind the theft.
There isn't an exact figure about how much money has been made through this type of laundering, but considering Sixgill found Fortnite items grossed more than $250,000 in just 60 days on eBay, it makes it easier to imagine how much has been made through the exploitation of V-Bucks. Although representatives from Epic Games haven't responded to The Independent and Sixgill's request for comment, expect the company to look into these claims and try to spot V-Bucks fraud in its tracks.
Source: The Independent 
This entry was posted by Screen Rant on January 17, 2019 at 2:01 am, and is filed under TV News. Follow any responses to this post through RSS 2.0. You can skip to the end and leave a response. Pinging is currently not allowed.