Friends From College Season 2 Cast and Character Guide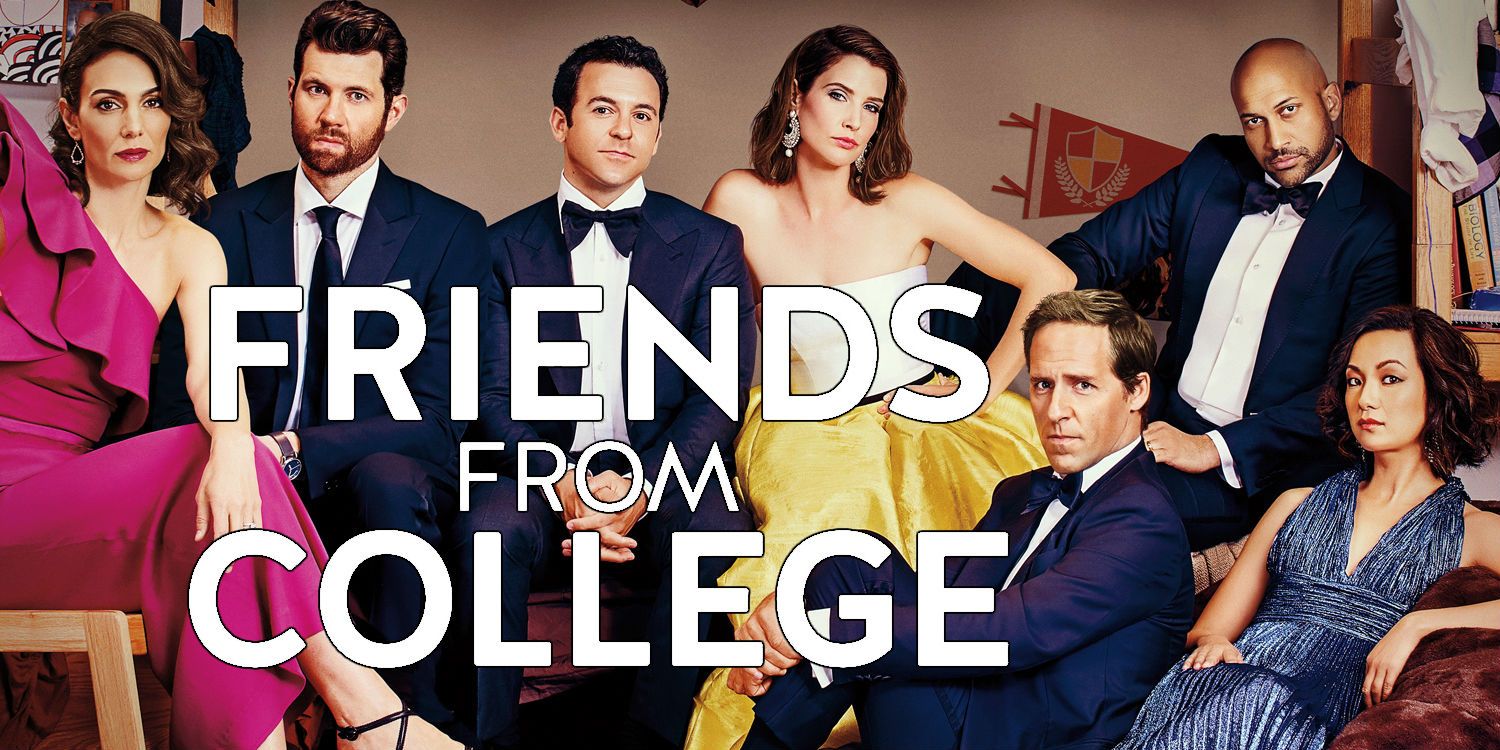 Friends From College, the comedy series from Nicholas Stoller and Francesca Delbanco, has now premiered its second season on Netflix today. Despite boasting a stellar cast and an impressive production pedigree (Stoller directed comedies Forgetting Sarah Marshall, Get Him to the Greek and the Neighbors movies), critics and audiences reacted poorly to the largely unlikable and unsympathetic behavior of the group of college friends approaching middle age and running into relationship turmoil.
However, the numbers were good enough for Netflix to greenlight second season, so Stoller and Deblanco were afforded another chance to continue what was often a funny (if slightly unpalatable story) about friendship. Season 2 takes place a year after the events of season 1 and catches up with the once tightly-knit, now fractured group of friends. The following is a guide to the cast and characters to prep you for reentering the lives of college buddies who might be better off without each other…
Related: Winter TV 2019: Premiere Dates For All The New & Returning Series
FRIENDS FROM COLLEGE RETURNING CAST
Keegan-Michael Key as Ethan Turner: Key's rich comedy career includes his partnership with Get Out director Jordan Peele on their sketch show Key and Peele. He's also appeared in major film and television including stints on Modern Family and Archer and starring in action parody Keanu alongside Peele. His character, Ethan, is married to Cobie Smulders' Lisa Turner. The couple moved to New York in the season premiere, and that plus their unsuccessful efforts to get pregnant put a serious strain on their marriage. It didn't help that Ethan had been having an affair with Sam Delmonico (Annie Parisse) since college. His life implodes at the end of the first season after Lisa confesses to a tryst with Nick (Nat Faxon) and tells him she needs a break from their dying marriage. In season 2, he's attempting to write a young adult novel after his failed first attempt with Max (Fred Savage).
Cobie Smulders as Lisa Turner: TA hedge fund lawyer struggling with with IVF, Lisa started a new job at a misogynistic (in the extreme) new law firm upon moving to New York. She had her own affair with Nick (Nat Faxon) while on a company retreat and eventually ended her marriage over it in the season finale. The How I Met Your Mother Star appeared in major action franchises like The Avengers and Jack Reacher, as well as appearing in smaller indie films and television shows.
Annie Parisse as Samantha "Sam" Delmonico: Interior designer Sam Delmonico was the epitome of #firstworldproblems in a show that was basically predicated on them. She had an idyllic life with wealthy husband Jon (Greg Germann), but constantly put it in jeopardy to continue her affair with Ethan. While her actions betrayed a high degree of selfishness, she eventually re-committed to her family in the season finale and begged Ethan to keep their affair a secret so she could protect the life she'd built. The second season trailer shows her still wrestling with her feelings for Ethan as well as attempting to repair her marriage with Jon. Parisse has appeared on Person of Interest and HBO's short-lived Vinyl.
Nat Faxon as Nick: Nick's Peter Pan/trust fund baby lifestyle dogged his heels for most of the first season as his partying ways caused more problems than they did fun. After getting drawn into his mentality and engaging in a careless night of sex with him, Lisa immediately rejects him and ends her own marriage. While Nick starts dating Merrill in season 2, he still harbors feelings for Lisa, despite her horror at her own behavior when they slept together. Faxon's worked prolifically as a voice actor, lending his talents to shows including Disenchantment, Robot Chicken and Supermansion.
Fred Savage as Max Adler: The literary agent's addiction to his destructive friends almost torpedoed his relationship with doctor Felix (Billy Eichner) and his career. The season finale saw him realize that the book he'd workshopped with Ethan – the one that was going to revive both of their careers – was actually an unintentional rip-off of a story his company had been developing in front of him at meetings while he was distracted. Season 2 sees him and Felix moving forward with their wedding, and it's at their engagement party that the friend group reunites. Best known for his work on The Wonder Years (which would be a neat reboot if anyone's listening), Savage actually revisited another of his child performances this year when he reprised his The Princess Bride role in one of the most memorable parts of Once Upon a Deadpool.
Jae Suh Park as Marianne: In season 1, Park was drastically underutilized as drifting artist/hippie/yoga instructor Marianne. Her impressive comedy resumé includes appearances on Adam Ruins Everything, Teachers and financial feature The Big Short. Professionally she'd evolved the least of all of her friends, and her lifestyle had started to clash with the rest of the group's. The season finale saw her reject everyone in a rage at Sam's birthday party, giving the finger to all the condescension she'd suffered at their hands despite offering her home to Ethan and Lisa - but not without teaching Sam's kids to "drive" and being responsible for Sam's luxury SUV winding up at the bottom of a pool.
FRIENDS FROM COLLEGE SUPPORTING CAST AND SEASON 2 GUEST STARS
Greg Germann as Jon Delmonico: Germann returns as devoted if oblivious husband to Sam and father of their two children as the couple try to work out their significant issues. Germann's also in the middle of a recurring guest stint on ABC's Grey's Anatomy as the prickly, but vulnerable neurosurgeon Thomas Koracik.
Billy Eichner as Felix Forzenheim: Billy Eichner reprises his role as Felix, Max's devoted but perpetually annoyed partner. Eichner's had an incredibly prolific few years appearing in a huge variety of projects including Hulu's Difficult People, his own Funny or Die series Billy on the Street and even American Horror Story.
Sarah Chalke as Merrill: Sarah Chalke joins the cast as a "waspy" woman named Merrill who serves as a love interest for Nick. Chalke's lately been best known for her work in animation as the voice of Beth on Rick and Morty as well as her appearance on the Roseanne reboot's first season.
Zach Robidas as Charlie:  The Sorry For Your Loss actor joins the cast as Lisa's new boyfriend Charlie, whom she's seen introducing in the trailer as the friends converge at Max and Felix's engagement party.
This entry was posted by Screen Rant on January 12, 2019 at 5:01 am, and is filed under TV News. Follow any responses to this post through RSS 2.0. You can skip to the end and leave a response. Pinging is currently not allowed.