Future Man's Wolf Inspired by Derek Wilson's Dog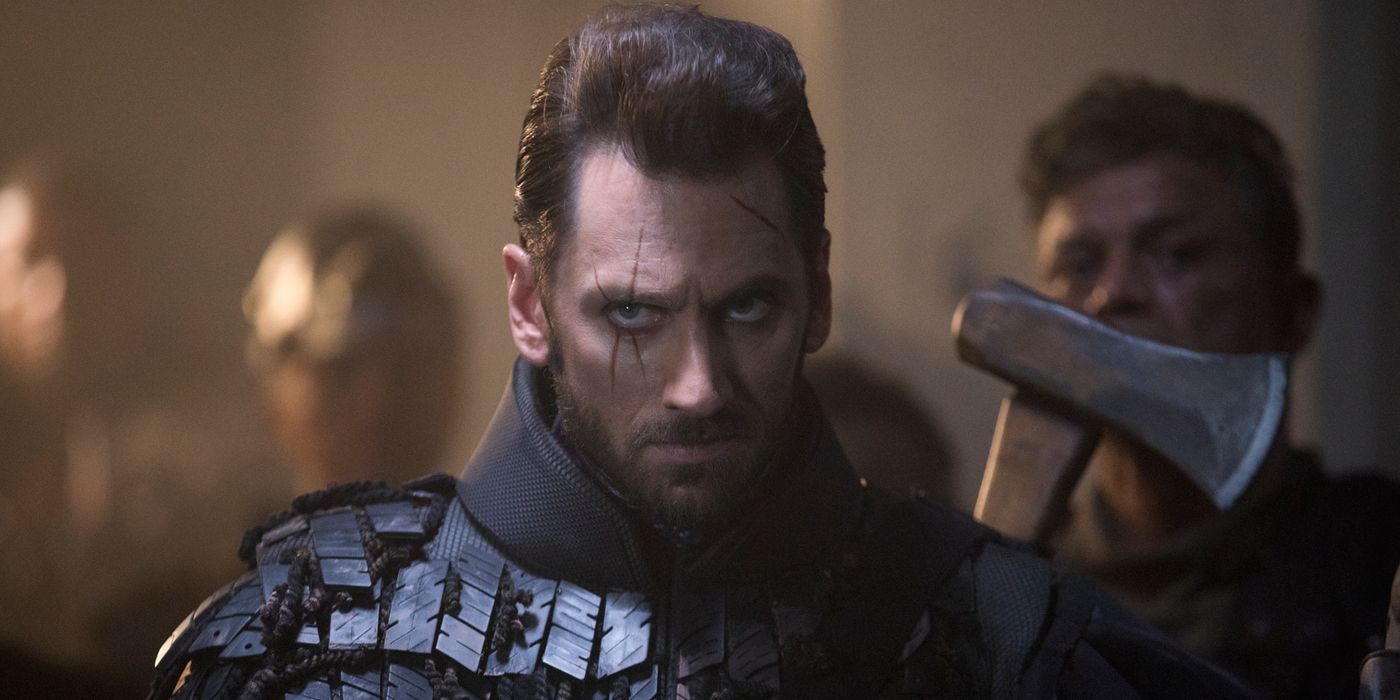 Every actor pulls inspiration from somewhere, and Future Man's Wolf is inspired by Derek Wilson's pet dog. While this might seem like an odd source of inspiration for most actors, it's especially fitting for someone with Wolf's particular traits.
In Future Man, Wolf is one of two soldiers who travel to present day California from the future in an attempt to save the world (his partner being Eliza Coupe's Tiger). They recruit a janitor (and expert gamer) named Josh Futturman (Josh Hutcherson), believing him to be the sole person who can lead the fight against the villainous Biotics. As it so happens, Josh isn't exactly the leader they expected.
Related: Future Man Season 2 Full Trailer: Seth Rogen Is A Man Named Susan
During New York Comic Con 2018, we spoke with Wilson about what sort of motivation he uses when playing Wolf, and his response was nearly as unpredictable as Wolf himself. Despite referring to his character as a "hardened warrior," Wilson touched on the fact that Wolf softens up over the course of season 1, going so far as to credit his pet dog as the main source of inspiration for his character. He said:
"For season 1, I actually studied my dog quite a bit. She's a pitbull. She can look kind of aggressive - she's not, she's the sweetest dog - but then, when she wants something, she turns into this really sweet, soft thing, and she'll just kind of- I remember finding it in that scene with Ed Begley where he was teaching me to cook; just sort of that, 'Can I touch it now? Can I have my food now?' Because that's something I taught my dog - [I] put a plate of food in front of her, and she'll just look at you until you say 'OK.' So, there's a lot of that in Wolf."
As far as character evolutions go, season 2 of Future Man isn't holding back. While Tiger will be playing multiple versions of herself in season 2 (following the major revelation about Tiger's true identity) and Josh will be kicking off season 2 by hitting rock bottom, Hutcherson revealed that Wolf will be living with a "cluster family with six husbands and wives." So, as far as character arcs go, Wolf is certainly giving initial reactions to his character a run for their money.
Where season 1 of Future Man paved the way for the show's over-the-top comedic tone, while also nodding to classic films from the '80s and '90s, season 2 is pushing the narrative to essentially see just how wild this sort of unrestrained concept can get. And, though using a pet dog as a form of inspiration for creating a character may not rival some of the show's other unabashedly wilder elements, it's still one of many unconventional ingredients that keep the series as fresh as it is.
Season 2 of Future Man is available to stream on Hulu.
This entry was posted by Screen Rant on January 11, 2019 at 3:01 am, and is filed under TV News. Follow any responses to this post through RSS 2.0. You can skip to the end and leave a response. Pinging is currently not allowed.