Game of Thrones Season 8 Episode Runtimes Reportedly Revealed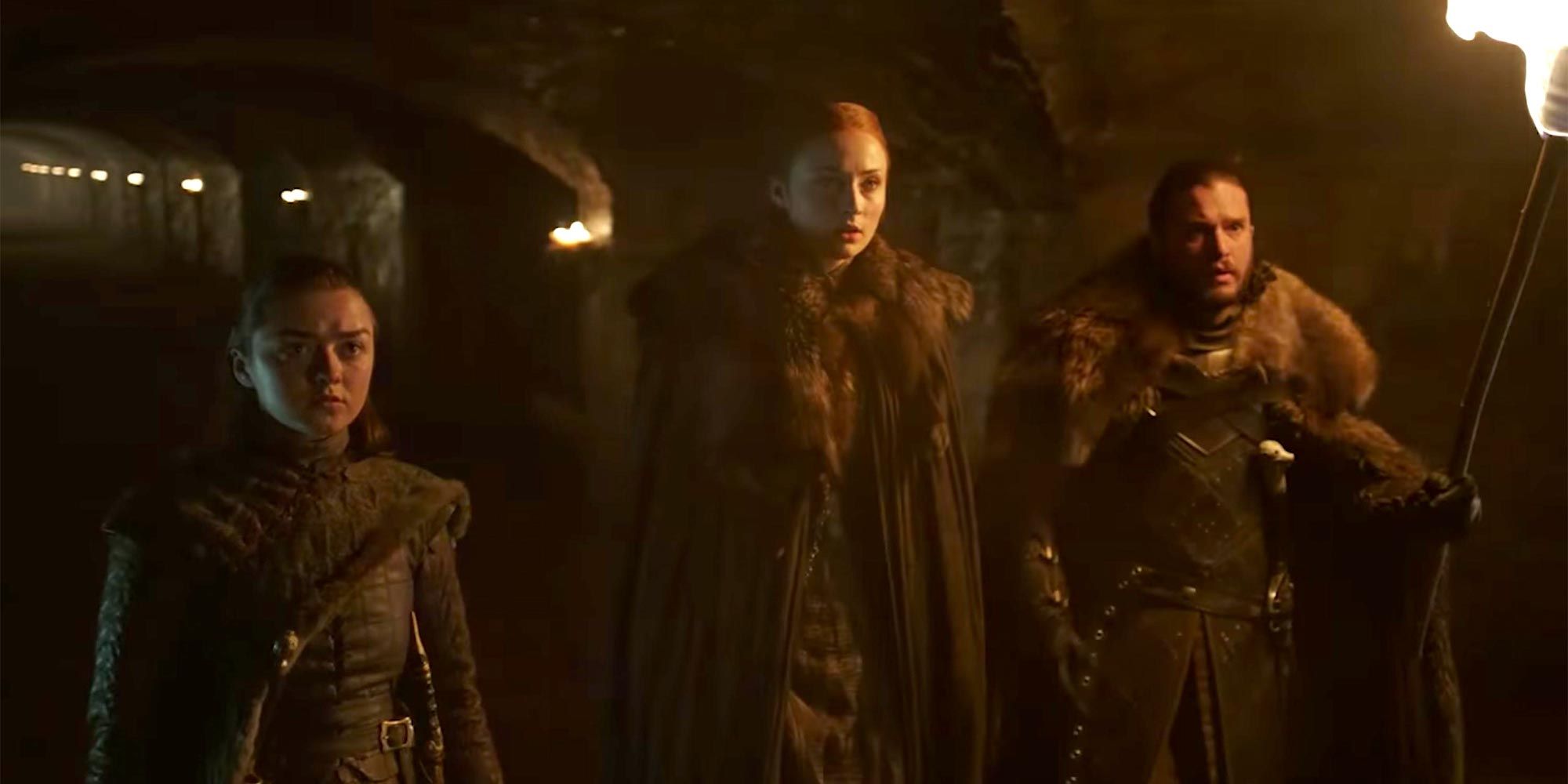 With fans chomping at the bit for the final season premiere, it looks like a key piece of Game of Thrones season 8 information has been revealed: the runtimes for the season's six episodes. We've suspected for some time (and especially given the lengthy runtimes of some of season 7's later episodes) that season 8 episodes would be almost feature length, but now we know the exact, official runtimes.
There's been little to no information about GoT's final season despite being only three months out (at time of reporting) from the season 8 premiere date. While fans can reasonably expect to see huge questions answered that arose in the wake of the season 7 finale in 2017, including how GoT's human characters will battle the White Walkers and how or if Jon Snow's parentage will be revealed, there hasn't been too much revealed about specific narrative arcs. HBO dropped a new teaser during the 2019 Golden Globes featuring Jon, Sansa, and Arya in the Stark family crypt as well as a short clip featuring Sansa, Daenerys, and Jon but truly, this information about the episode runtimes is, to date, one of the juicier pieces of information GoT fans have to work with right now.
Related: Game of Thrones Season 8 Trailer With Real Footage Is Coming
Thanks to a key tweet in a series of tweets from French film outlet Première [h/t CBR], the news on the episodes' runtimes was revealed during French network OCS's presentation on its HBO properties at the Showeb series in France. It's believed that a majority of GoT's season 8 episodes will run for 80 minutes while the season's first two episodes will be 60 minutes long but there's room for speculation on precise runtime given the fact that an accompanying screenshot in the original Première tweet about OCS' GoT presentation indicates the six episodes will reportedly hit 90 minutes each.
Première attempted to add some clarification in a second tweet (translated to English by CBR.com), piggybacked onto that first tweet about the 90-minute episodes, that OCS verbally explained season 8's first two episodes would be 60 minutes while the final four would be 80 minutes each. It's unclear why there would be such a difference in runtimes as seen in a screenshot from the presentation versus what was claimed verbally. Regardless, the extended runtimes of the six final GoT episodes seem to confirm earlier reports that the final season will feel like viewers are watching six full-length movies.
Knowing what's coming in GoT season 8 is still an unknown, despite all of the educated guesses, fan theories, and hopes for what will happen from the fans. But, funnily enough, it's a relief to know that at least the episodes will have extended runtimes to accommodate the massive undertaking of wrapping up the GoT saga. Whether an episode will run 60 minutes, 90 minutes, or somewhere in between, a longer-than-normal GoT episode means there will be time to pack in lots of plot and character development as well as plenty of action sequences. In turn, this will mean that fans just might get to see the endings they were hoping for for many of their favorite characters or, at minimum, an ending that will hopefully satisfy them.
Game of Thrones season 8 premieres April 14 on HBO.
This entry was posted by Screen Rant on January 23, 2019 at 11:01 am, and is filed under TV News. Follow any responses to this post through RSS 2.0. You can skip to the end and leave a response. Pinging is currently not allowed.