Game of Thrones Season 8 Premiere Date & Teaser Trailer Revealed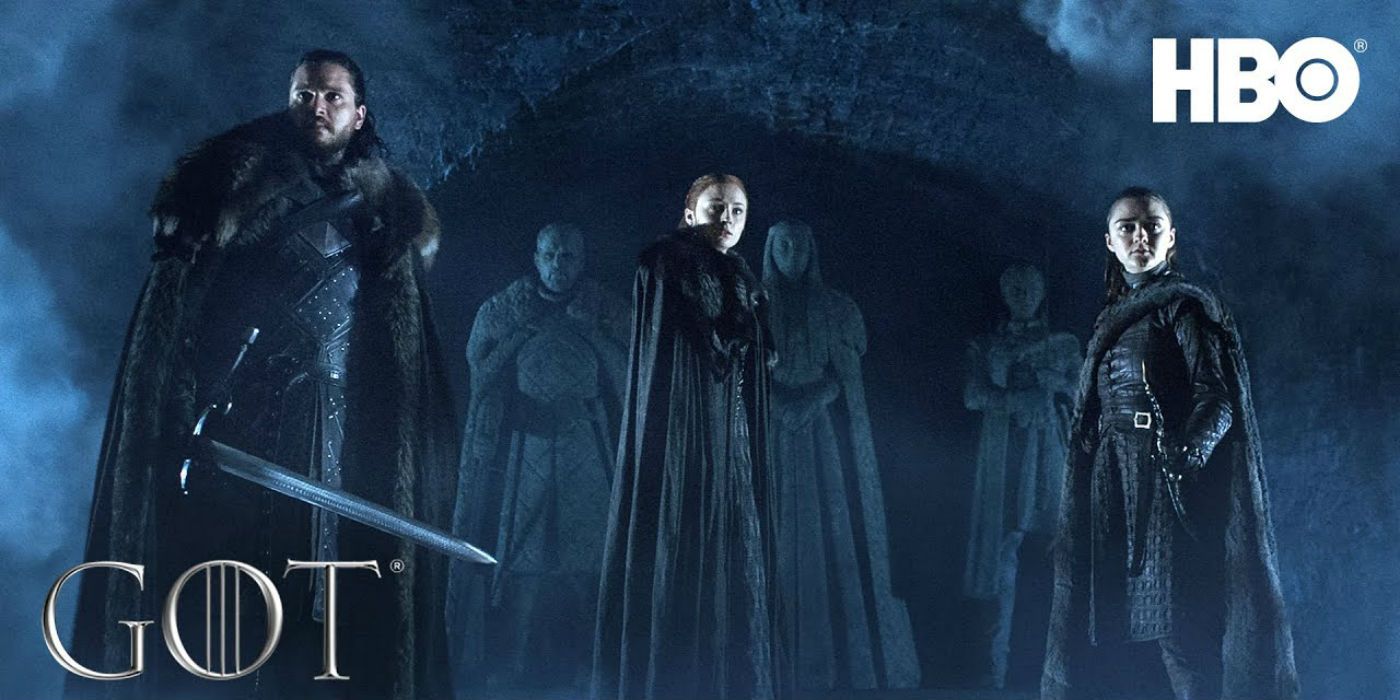 UPDATE: Read our breakdown of the Game of Thrones teaser.
HBO has confirmed that Game of Thrones season 8 will premiere on April 14th, 2019, and unveiled the first proper teaser trailer. Anticipation is high for the final season of Game of Thrones, which will bring one of the most-loved TV shows of recent years to a dramatic end - and hopefully build up momentum for the prequel series set centuries before the main show.
HBO made a smart move by revealing the Game of Thrones premiere date right before the season 3 debut of True Detective, a series that's trying to win back its audience after a disappointing second season. The network hoped that Thrones fans would tune in to find the release date, and then stick around to watch True Detective; it was a very savvy marketing move.
Related: Game Of Thrones Teases Jon Snow's Death In Season 8?
Season 8, of course, is the dramatic end of the Thrones story - and it's the shortest season yet, with just six episodes. Like season 7, this will consist primarily of original content, although George R.R. Martin has continued to work closely with the showrunners on the plot.
The "Crypts of Winterfell" teaser below confirms that Game of Thrones will return on April 14. The tease doesn't feature any footage from the upcoming season, but definitely sets a foreboding tone. It was directed by David Nutter, who won an Emmy for the Game of Thrones season 5 finale "Mother's Mercy," and features an original score by composer Ramin Djawadi.
Ice and fire are set to come into dramatic collision in Game of Thrones season 8, which will surely feature some of the most exciting action scenes to date. The "Winter is Coming" promise is most definitely being fulfilled in Westeros, with the Night King and his army of White Walkers advancing relentlessly - and now possessing a dragon as one of their weapons. Daenerys Targaryen (Emilia Clarke) and Jon Snow (Kit Harington) will surely be the central figures, leading the charge against these dark forces.
Although there's tremendous excitement about Game of Thrones season 8, it's important to note that the show has probably never been under greater pressure. Fans have been following this series for eight years, and are deeply invested in it. Star Sophie Turner, known for playing the role of Sansa, has cautioned that she expects the plot to prove divisive; she believes some fans will love how the series ends, and others will hate it. Curiously, Martin himself has expressed surprise that Game of Thrones is coming to a close so soon, when he expected it to run for 13 seasons or even more. This may well explain why season 7 was criticized for rushing the resolution of some of its plots, and has raised concerns that similar problems may be seen in the scripts for season 8. Still, hopefully that won't be the case, and in April Thrones followers will be thrilled to return to Westeros.
Game of Thrones season 8 will premiere on HBO at 9pm on April 14.
This entry was posted by Screen Rant on January 13, 2019 at 6:01 am, and is filed under TV News. Follow any responses to this post through RSS 2.0. You can skip to the end and leave a response. Pinging is currently not allowed.