Glass Star Originally Didn't Get Split Was A Sequel To Unbreakable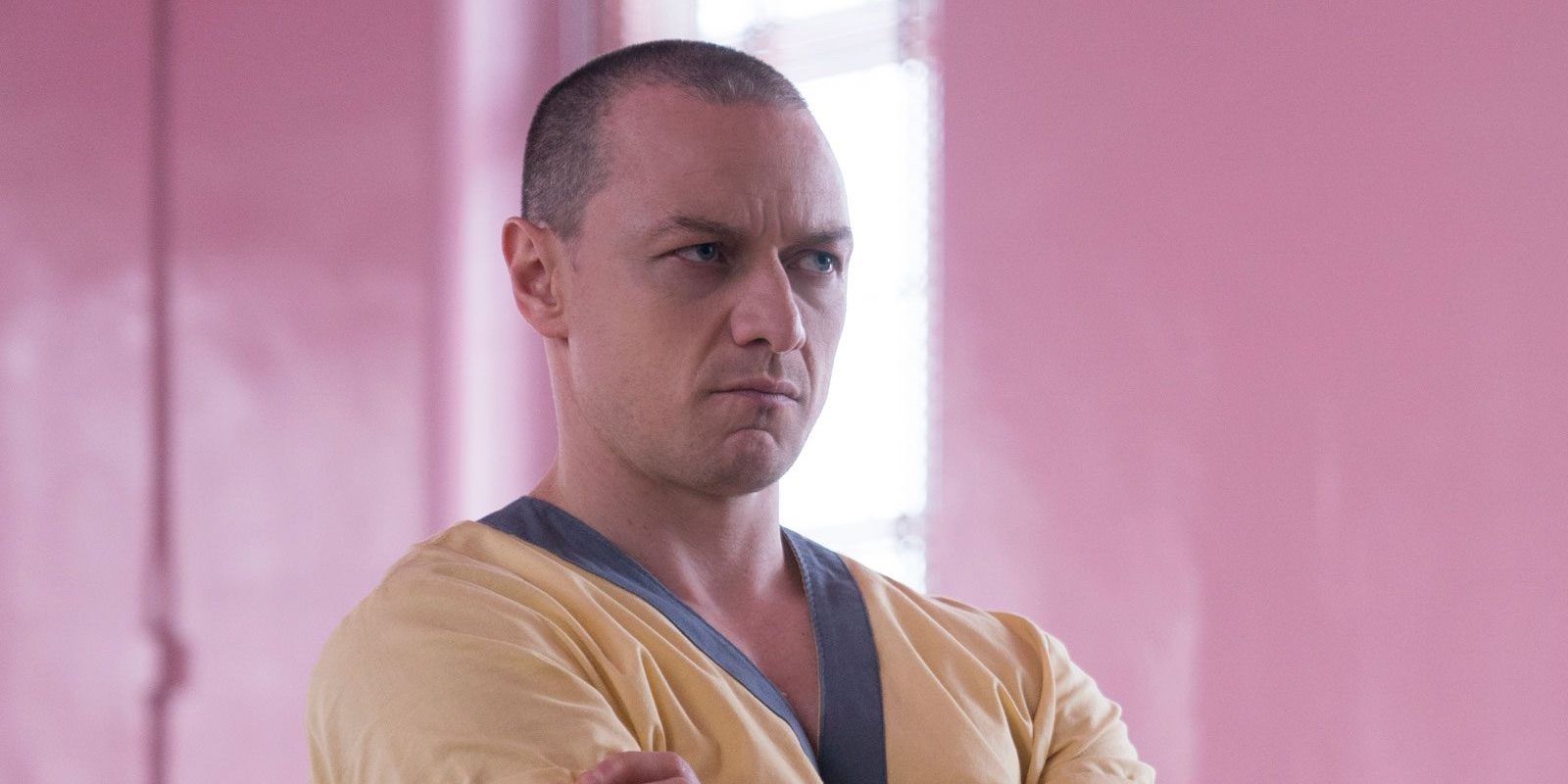 Glass star James McAvoy originally didn't understand that 2017's psychological horror-thriller, Split, would turn out to be an unexpected sequel to 2000's superhero drama, Unbreakable. Both films, which were written and directed by M. Night Shyamalan, are now part of a shared universe recognized as the Eastrail 177 trilogy, and Glass looks to close the series by uniting the two films. McAvoy's performance in Split was one of the reasons the film received so much buzz, but the unexpected ending is what really got audiences talking.
Split centered on Kevin Wendell Crumb, a man with 23 distinct personalities, who abducts three girls in order to serve them as an offering to an impending 24th identity, the Beast. The film was Shyamalan's biggest success in recent memory and left audiences begging for more. McAvoy starred as Crumb and effectively managed to slip in and out of each identity, which lead to him giving one of his best on-screen performances to date. Alongside McAvoy, the film's cast included Anya Taylor-Joy, Jessica Sula, Haley Lu Richardson, Betty Buckley, Brad William Henke, and Sebastian Arcelus. With the release of Glass quickly approaching, McAvoy has now revealed that he originally didn't get that Split would tie into Unbreakable.
Related: M. Night Shyamalan Breaks Down the Importance of Colors in Glass
During an interview with Digital Spy, McAvoy made it known that he at first was unaware Split was a sequel to Unbreakable. He recalls the rehearsal process, and how Shyamalan mentioned the superhero drama during rehearsals but McAvoy never caught his hints. Prior to rehearsals, McAvoy had read a draft for Split and overlooked a clue hinting at the shared universe that was in the making. When asked about the surprise twist, McAvoy answered with the following:
"I read the first version of Split that I got sent and there was a little tenuous clue there – if I had been sharper eyed, I'd have seen it, but I missed it. I got into rehearsals and he kept talking about Unbreakable, and then it became clear, it dawned on me, the veil was lifted and I was like, 'Oh my God'. Then a few weeks after that, I came clean with him and I was like, 'Dude, I did not get that at all."
McAvoy isn't the only person who was left in the dark, as his co-star Taylor-Joy was also surprised at the film's bombshell revelation. However, this was always the plan for Shyamalan, who initially included Crumb in the Unbreakable screenplay, but decided to leave the character out. It's no secret that Shyamalan loves incorporating a twist into his projects, and some have played out better than others. With that said, Split was the missing puzzle piece of Unbreakable that Shyamalan always wanted to tell, and now the two films will hopefully be wrapped up properly with Glass. McAvoy will return to reprise his role as Crumb, and he will be joined by Samuel L. Jackson and Bruce Willis, who will reprise their respective Unbreakable roles after nearly 20 years.
Knowing that two cast members from Split didn't realize they were part of a sequel to Unbreakable must have made Shyamalan even more excited for them to watch the film. McAvoy's performance deserved much more recognition than it got, and fans of the film would certainly agree. With Glass right around the corner, fans can expect a twist or two from this concluding entry as well, and hopefully, McAvoy caught on earlier this time around.
Source: Digital Spy
This entry was posted by Screen Rant on January 14, 2019 at 9:01 am, and is filed under TV News. Follow any responses to this post through RSS 2.0. You can skip to the end and leave a response. Pinging is currently not allowed.