Glass Star Reveals The Film Originally Had A Different Ending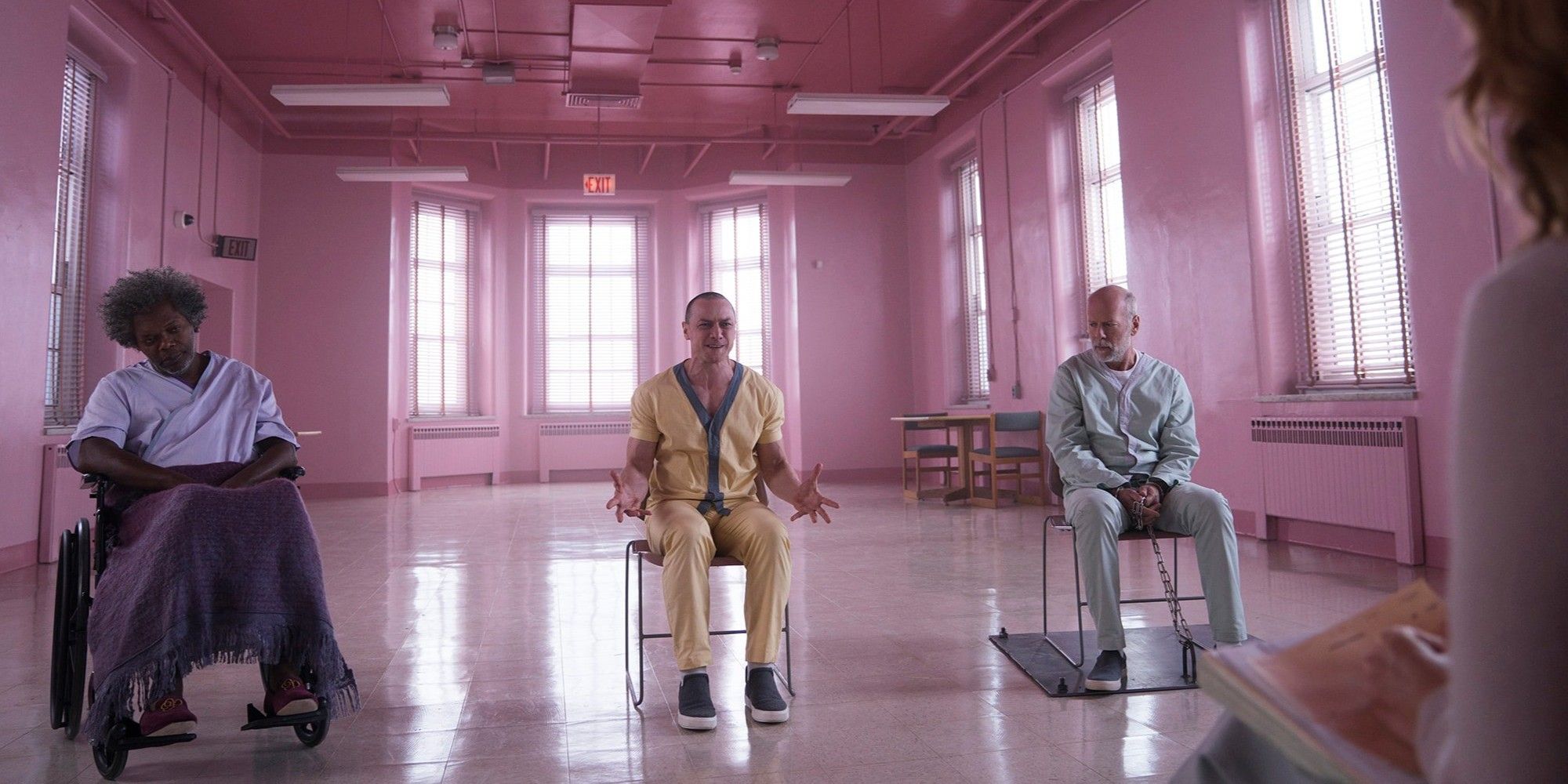 Glass star Samuel L. Jackson reveals the film's original ending was changed during production due to real-world events. Glass is the belated sequel to 2000's Unbreakable, which starred Bruce Willis as an ordinary man who discovers he might be invincible following a tragic accident. The film was director M. Night Shyamalan's follow-up to his breakthrough hit The Sixth Sense, but despite receiving good reviews it was considered by the studio to be a financial disappointment.
Shyamalan always intended Unbreakable to be the start of a trilogy, but it took a long time for those plans to come to fruition. When it seemed unlikely Unbreakable 2 would ever happen, the director suggested in interviews he may reuse the villain concept he had for the sequel for a separate movie. This eventually resulted in Split, where James McAvoy plays a man with over 20 split personalities, with one being a vicious, unkillable creature dubbed The Beast. The final scene of Split shocked and delighted fans of Unbreakable by revealing the two movies were secretly connected the whole time and set up a potential third movie pitting Willis' superhero David Dunn against The Horde.
Related: Screen Rant's 50 Most Anticipated Movies of 2019
Split returned a very healthy profit, so a sequel titled Glass that unites Willis, McAvoy and Unbreakable villain Samuel L. Jackson was quickly greenlit. Now Jackson has revealed in a new conversation with Digital Spy that the movie started shooting with a different ending in mind - until real-world events forced a change.
There was a different ending when we first started this that kind of needed to be changed because of the way society is and what's going on in the world and what it would have looked like.
Of course, since Glass hasn't been released yet the actor can't reveal what this alternate ending would have been, and what specific real-life events caused it to be changed. While Shyamalan ultimately saved The Horde for a planned sequel, he actually planned to introduce the character in Unbreakable. He realized during writing that the villain unbalanced the story, and the first movie needed to focus on the relationship between Dunn and Jackson's Mr Glass before another key character could be introduced.
Unbreakable is considered by many fans to be Shyamalan's best work, and it was a movie so ahead of its time it was commenting on the comic book movie genre years before its current explosion. While the movie has been receiving mixed reviews thus far, hopefully, Glass will prove to have been worth the almost 20-year wait.
Source: Digital Spy
This entry was posted by Screen Rant on January 14, 2019 at 8:01 am, and is filed under TV News. Follow any responses to this post through RSS 2.0. You can skip to the end and leave a response. Pinging is currently not allowed.