Gotham: 6 Unanswered Questions From Season 5, Episode 3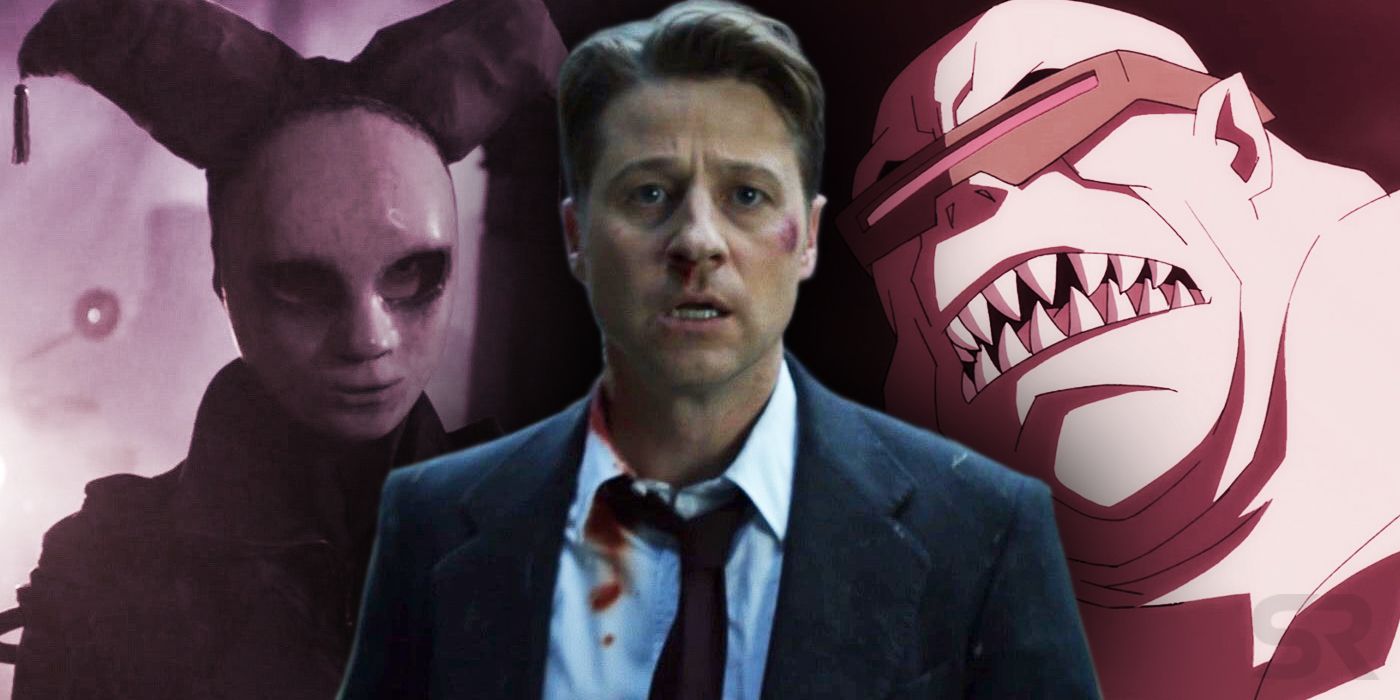 Caution: Spoilers ahead for Gotham season 5, episode 3.
Here are all the biggest questions coming out of Gotham season 5, episode 3. In last week's entry in the final season, Selina Kyle shockingly seemed to morph into a literal Catwoman, while Ed Nygma's plot against his Riddler alter-ego slowly began to take shape. On the other side of town, Jim Gordon risked everything to rescue a group of abducted children and despite ultimately succeeding, he and Bullock had to survive an encounter with a frightening new villain from the Batman comics along the way.
As the title implies, this week's "Penguin, Our Hero" returns Gotham's spotlight to everyone's favorite limping gangster, who is forced to deal with the consequences of Nygma's smear campaign and the fact that Jim Gordon is rapidly becoming Gotham City's savior. Following her miraculous healing last week, Selina Kyle is now back to her old self and is seeking revenge against Jeremiah Valeska, the man who left her on the verge of death in Gotham season 4. Finally, in a scene sure to delight Batman fans, Selina's quest for revenge led to a confrontation between Kyle's Catwoman and Ecco's Harley Quinn.
Related: Gotham: 6 Unanswered Questions From Season 5, Episode 2
Aside from that epic siren showdown, the third offering of Gotham's final season also left a number of intriguing questions unanswered. Here are the most vital ongoing mysteries coming out of "Penguin, Our Hero."
This Page: Questions About Gordon's Future In Gotham
Is No Man's Land How Jim Gordon Becomes Commissioner?
In traditional Batman canon, the Jim Gordon character is the city's Commissioner; the head of the police force who sometimes works with the Caped Crusader and sometimes hunts him down like a regular villain. Gotham's original remit was to show Gordon's path from street Detective to chief of the GCPD and with the current season confirmed as the show's last, it would be fitting if Ben McKenzie's Gordon achieved the rank of Commissioner before Gotham rolls its final credits.
There's no argument that Gotham's Gordon has enjoyed a rapid, somewhat unrealistic, rise through the ranks to his current position of Captain but Gotham City is no ordinary place and, frankly, Gordon puts the rest of the police department to shame on a weekly basis. As such, it's realistic to assume that Gordon will soon become the city's police Commissioner and the current No Man's Land set-up could be the impetus behind his promotion.
Gotham City is in a dire situation at present and with no outside help from the U.S. government, Jim Gordon has essentially become the city's de facto authority. While he certainly doesn't control the entire city, Gordon is the law and the one remaining bastion of hope and sanity; the man citizens flock to in times of need, heeding his words and marveling at his deeds.
Most of Gordon's promotions in Gotham have had a bittersweet flavor to them, whether that's due to betraying a friend or enlisting help from the mafia, and it would be apt for the government to promote Jim to Commissioner for his heroic deeds when they did nothing at all to help him.
Related: Gotham: 8 Unanswered Questions After The Season 5 Premiere
Is This How The Penguin, Gordon and Riddler Alliance Begins?
The issue of how Penguin, Jim Gordon and Riddler could ever possibly find themselves working together was raised in the very first scene of Gotham's season 5 premiere, but the issue has become even more pronounced after the last two episodes. Set in the near future, the sequence showed all three men fighting side-by-side against a mystery oncoming enemy and, considering the amount of ill feeling between the trio, this was certainly a surprising sight.
Since that flashforward however, the division between Gordon, Penguin and Riddler has widened so considerably that it's hard to believe all three will find themselves on the same side later this season. Riddler has been setting Penguin up against Gotham City's other gangs, a fact that surely won't elude Penguin much longer, and the level of adulation the citizens have for Gordon is riling Penguin up so badly, the duo now have an impressive record of two armed standoffs in the space of three episodes this season.
However, "Penguin, Our Hero" showed the first signs of thawing relations, at least between Penguin and Gordon. The moment came as Penguin's recruits realized they could actually overpower a thinly-built man with a bad leg instead of taking his orders and threw their leader into a cell alongside Jim. Naturally, this forced the pair to work together for the first time this season, marking an initial step towards a full-on future team-up.
By showing viewers the future Gordon, Penguin and Riddler allegiance from the outset and then building up the trio's animosity toward each other, Gotham is massively hyping whatever villain is yet to emerge from the shadows, forcing fans to question who could possibly be enough of a threat to push three men who absolutely hate each other into working together.
Related: Gotham Season 5 Cast & Guest Star Guide
Who Bombed Sanctuary?
"Penguin, Our Hero" ends with a climactic bang, as Jim Gordon's Haven safehold suddenly goes up in flames. It's safe to assume that one of Gotham's villains was responsible, rather than a dodgy gas pipe or lax fire safety precautions, but the real question is which baddie did it? More significantly, who could possibly have the time, resources and motivation to bomb a huge building full of innocent people.
Penguin's proximity to the site meant he had the best opportunity to set up the attack and may have even possessed the necessary resources, although the bombing doesn't align with his usual style. And, as much as Penguin hates Gordon, his ego would no doubt prevent him from bombing a building full of people who had been chanting his name only minutes earlier.
Back in this season's premiere, Bruce Wayne's supply chopper was shot down by a mystery enemy and it seems likely that the same enigmatic figure is also behind the bombing of Haven. There is evidently someone out there with a ton of explosives and a huge grudge against Jim Gordon and, with this in mind, Jeremiah has to be the prime suspect. Already this season, Harley Quinn has been seen sneaking in and out of GCPD headquarters and this episode revealed that Jeremiah possessed an intimate knowledge of Bruce's life. Given his history with bombs and penchant for chaos without reason, it's possible that this attack was just the next stage of Jeremiah's mission to keep Gotham City on its knees.
Who Were The Gang Attacking Bruce And Selina?
In last week's episode of Gotham, Gordon and Bullock encountered Mother, a creepy villain from Batman lore, in an abandoned hotel but the character's appearance was short-lived and didn't seem to connect with the overarching story of Gotham season 5. "Penguin, Our Hero" seemed to pull a similar trick, introducing a familiar villain in a fairly standalone and insignificant capacity.
Related: Gotham Season 5 Proves (Again) Why The City Needs Batman
When Bruce and Selina enter the Dark Zone, they are set upon by a strange-looking gang with the same taste in sunglasses as Scott Summers. While it wasn't stated directly in the episode, this group were Gotham's live-action version of the Mutant Gang and their Mutant Leader. These villains first appeared in Frank Miller's classic The Dark Knight Returns and would frequently utter the same "slice and dice" catchphrase used in this episode.
Like Mother last week, it's unclear whether the Mutant Gang will return or whether this will be their sole Gotham appearance. Perhaps the inclusion of these familiar villains is an indication of how Gotham season 5 was originally supposed to look prior to the show's cancellation. Alternatively, it's possible that Gotham is simply looking to use as many comic villains as they can now that there's no need to hold anything in reserve for the future.
Has Ivy's Cure Made Selina A True Villain?
Gotham has played heavily into Selina Kyle's status as an antihero rather than an outright villain. Viewers have seen Camren Bicondova's version of the whip-wielder do some despicable things, lying, clawing and stealing her way through life. Unlike other villains, however, it's always been clear that Selina does these things to survive after a difficult childhood on the mean streets of Gotham City. Fans have regularly seen Selina's softer side and while it certainly took Bruce Wayne a long time to crack her tough exterior, Selina has shown genuine compassion towards him and others.
Sadly, that may no longer be the case. After taking Poison Ivy's Miracle-Gro in last week's episode, Selina's eyes mutated to look like those of an actual cat, suggesting that the cure may have had some unfortunate side effects. Sure enough, Ivy had already foretold that the plant could unleash Selina's darkness and that prediction now looks to be coming to fruition.
Related: Gotham Season 5 Cast Promise Plenty Of Moments Fans Want To See
After venturing into the Dark Zone with Bruce, Selina is forced to fight the imposing Mutant Leader in order to find out Jeremiah's whereabouts. Using her speed and agility, she wins the contest and discovers a location but even after doing so, Selina continues to claw at the man's face, visibly enjoying every second until Bruce grapples her arm with a hook. This level of brutality is new territory for Selina and obviously a concern to Bruce, but it also brings the character closer to Batman canon. Although the couple always enjoys a complicated relationship, Gotham viewers know that Batman and Catwoman have a future as enemies and Selina's new dark streak demonstrates how that feud could begin in this version of the story.
To What Extent Is Ecco Harley Quinn?
Most villains in Gotham are direct representations of their comic book counterparts, but the situation has been very different when it comes to the Joker. Indeed, Mr. J's true identity has been one of the show's ongoing mysteries and although Jeremiah Valeska seems to be identical to the Clown Prince of Crime, Gotham has still yet to directly refer to him as "Joker." It has already been confirmed that this is due to DC wanting to reserve the Joker character for movies only, but now a similar sense of uncertainty is surrounding Harley Quinn.
When Jeremiah's loyal assistant Ecco debuted last season, many believed she would potentially take up the Harley Quinn role and that prediction has now been proved correct. In this week's episode, Ecco was seen in a red and black costume obsessively serving Jeremiah's will and coming out with the same kind of lovestruck crazy nonsense so closely associated with the popular Quinn. She even called Selina "puddin'."
Like Jeremiah however, the character still hasn't been directly referred to as "Harley Quinn" on screen and until then, despite having an abundance of similarities to the character, there's always a chance Gotham has some kind of rug-pull in store akin to the Jerome/Jeremiah twin twist. Until then, it's safe to assume Ecco is Gotham's interpretation of Harley Quinn.
-
As was the case last week, the third episode of Gotham's fifth season continued to build on current plot threads but gave very little away in terms of definitive answers. There remains no sign of Bane, the mystery ally on Gordon's radio or Lee Thompkins but viewers do now have a clearer view on how Penguin and Gordon could put aside their differences and form an alliance in the near future. Perhaps the most interesting thing to come out of this week's episode of Gotham, however, is the warpath Jim Gordon is bound to go on now that he has no one to protect.
Gotham season 5 continues January 24th with "Ruin" on Fox.
This entry was posted by Screen Rant on January 18, 2019 at 10:01 am, and is filed under TV News. Follow any responses to this post through RSS 2.0. You can skip to the end and leave a response. Pinging is currently not allowed.