Harry Potter: 20 Things That Make No Sense About Voldemort's Daughter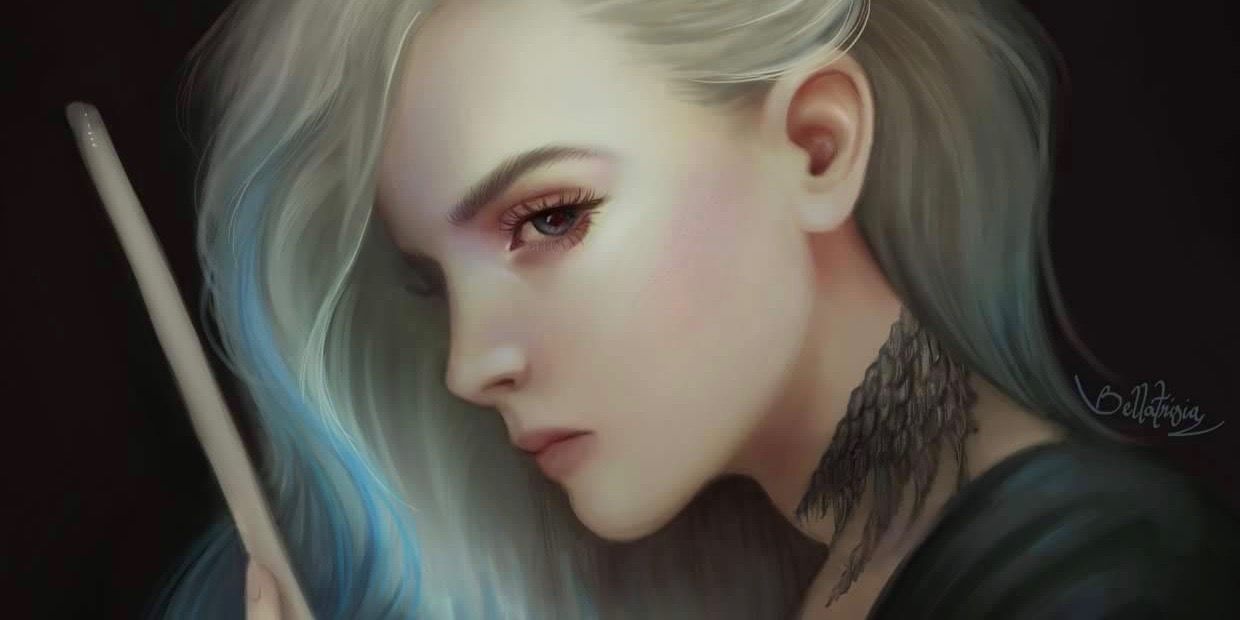 In Harry Potter and the Cursed Child, we see the adventures of Harry and his friends' children. Things get complicated quickly when the Sorting Hat places Harry's son Albus in Slytherin. Every one immediately judges Albus as a disappointment to his father's legacy. However, Albus discovers an unexpected friend in Scorpius Malfoy, the son of Draco and Astoria. Scorpius joined Slytherin House like his father, but rumors persist that Scorpius isn't actually Draco's son. They claim that Scorpius is actually the child of Lord Voldemort.
Albus and Scorpius bond over their strained relationships with their families. When Harry refuses Amos Diggory's request to save his son Cedric with a Time-Turner, Albus and Scorpius take up the mission instead. Part of Albus' motivation is his resentment, as he feels that his father won't do something bold and heroic like Harry Potter is supposed to. However, Amos' supposed niece Delphini isn't who she claims to be.
Delphini may be the most cursed and pitiable character of all. She was conceived by Lord Voldemort and Bellatrix Lestrange. Both her parents fell during the Battle of Hogwarts. She sets the main conflict in motion, scheming to alter time and reunite with her Dark Lord father. However, several major questions linger about Voldemort's long lost daughter. She briefly describes her background to Albus and Scorpius, but the source of her power, her cunning instincts, and her motivation are never fully explored in the play. In the Harry Potter series, there is always more to uncover.
Here are the 20 Things That Make No Sense About Voldemort's Dughter!
20

WHY IS SHE NAMED DELPHINI?

The names of Harry Potter characters totally run the gamut from mundane to fantastic. Delphini is definitely more on the fantastic side, but is there any explanation about where that name comes from?

Delphini may refer to a constellation in the northern sky known as Delphinus. Delphinus has a main sequence blue-white star in it called Alpha-Delphini. The Black family is known for naming children after stars and constellations, including Bellatrix and Sirius. Since Bellatrix was Delphini's mother, this seems like the most logical explanation. In a more creative sense, though, Delphini may also refer to a legend from Greek Mythology. The female dragon known as Delphyne guarded the Oracle of Delphi. Gaia, Delphyne's mother, ordered her to this task.
19

WHAT EXACTLY DID VOLDEMORT HAVE PLANNED FOR HER?

Voldemort was obsessed with immortality. His campaign of terror and control were all about his desire to life forever. He designed his Horcrux scheme to ensure multiple pieces of his soul could each survive even if his body was destroyed.

The very concept of considering children as part of his plans for longevity must have been tough for him to swallow. In a certain sense, it would mean admitting the possibility that he wouldn't be around forever. Did Voldemort ever envision Delphi as his heir and replacement, or did he only ever imagine her as another servant? Would he have raised her and taught her to be his equal, or would he keep some knowledge and power safely to himself?
18

WHO WOULD HAVE BEEN HER CAREGIVER IF VOLDEMORT WON?

Voldemort obviously didn't plan to fall during the Battle of Hogwarts, and, ideally, the mother of his child would not have fallen there either. However, we don't know how much being around for his daughter weighed on him during the battle. Assuming he had won and survived, he may have only been interested in being around for Delphi to ensure that she fulfilled her role as his servant and heir.

However, even Voldemort's baby would have still been a baby for a while. Who was going to look after her, feed her, house her, and educate her? Perhaps if they won the war, Bellatrix might have been happy to raise her and Voldemort's daughter. However, even during the Battle of Hogwarts, somebody probably had to be watching little Delphi.
17

WHAT IS HER SURNAME?

Delphi's surname is never mentioned in Harry Potter and the Cursed Child. We only ever know her by her first name. She almost certainly has one, but figuring out what it should be is not very straight forward. Or rather, figuring out what surname her parents wanted her to have is a little complicated.

Conventionally, she would have her father's surname. However, Tom Riddle gave up his muggle father's name with extreme disdain. It seems unlikely Voldemort would pass that singular title onto his daughter and name her Delphi Voldemort. If they decided to give Delphi her mother's family name, she would be Delphi Lestrange. However, that seems unlikely since Voldemort may have just thought of Bellatrix as a loyal follower and convenient child bearer.
16

DID SHE RECEIVE A HOGWARTS LETTER?

In a secluded tower at Hogwarts, there is a faded quill and a peeling, yellowing book bound in dragon hide. These are the Quill of Acceptance and the Book of Admittance. Every time a witch or wizard of sufficient magical capability is born, the Quill and the Book enter them for admittance to Hogwarts once they turn eleven years old.

This pair of ancient enchanted items doesn't miss anyone. Surely the Quill and the Book recorded Delphi for eventual enrollment. So why did she never receive a Hogwarts letter? When Harry turned eleven, the Hogwarts letters literally flooded 4 Privet Drive. Did they not persist like that for Delphi? Did Euphemia Rowle somehow prevent Delphi's Hogwarts letters from arriving? Would her bribe be forfeit if she let Delphi go to Hogwarts?
15

WHAT ELSE HAPPENED TO HER IN THE TIMELINE WHERE VOLDEMORT WON?

Scorpius and Albus deduce that Delphi was in fact the Augurey, the authoritarian figure referred to by Dolores Umbridge and Draco Malfoy. In the timeline in which Voldemort won the war for the Wizarding World, Delphi grew up to become the head of the Ministry of Magic.

By the time Delphi came of age, Voldemort would have had much more time to reshape the Wizarding World in the UK however he wanted. Delphi would have everything going for her. Her mother and father would be alive and opposition to their ideals would be stamped out. Perhaps Delphi would have become even more powerful than what we saw of her in the original timeline. Instead of being an outcast, she would have been a prodigy.
14

WHEN EXACTLY WAS BELLATRIX PREGNANT WITH HER?

Delphi must have been born before the Battle of Hogwarts, but the specific time when Bellatrix was pregnant with her is a bit vague. Voldemort must have propositioned Bellatrix with a child sometime after the battle in the Department of Mysteries. Conceiving and carrying Delphi would help explain why neither Voldemort nor Bellatrix appeared during the events of Half-Blood Prince.

Was Voldemort considering having a child before then? If he wasn't, then perhaps the destruction of the prophesy convinced him to move forward with this alternative plan to protect Slytherin's legacy. Delphi must have been born before the trio were abducted and taken to Malfoy Manor, since Bellatrix showed no obvious signs of having been pregnant when she appeared in that sequence.
13

WHY WAS AMOS DIGGORY SINGLED OUT?

Delphi evidently decided that she needed a cover story while she developed her plan to bring her father back. She posed as a niece of Amos Diggory and bewitched Amos with a Confundus charm so that he would go along with her deception.

In Cursed Child, Amos seeks out Harry Potter and begs him to use a Time-Turner to save his son Cedric's life. However, how did Delphi know that "the spare" in the prophesy referred to Cedric in the first place? She needed some way of getting the Time-Turner herself, but how did she know Albus and Scorpius would be eager to help? Did she know all along that humiliating Cedric would create a timeline where Voldemort won, or did she only realize that possibility after Albus and Scorpius told her about it?
12

WHY WEREN'T THE ROWLES MORE SUPPORTIVE OF HER?

Voldemort obviously expected to win the Second Wizarding War and for his influence to grow. This would have made it much safer for Delphi to grow up in a world where Voldemort was in charge and his followers controlled the Wizarding World. Regardless, the Rowle family was known to be pretty devoted Death Eaters. If they believed in Voldemort's cause, wouldn't they have been happy to help raise Voldemort's daughter?

Delphi tells Scorpius and Albus that Euphemia Rowle took her in mostly for the gold that was offered to her. Like most Death Eaters after Voldemort was defeated, Euphemia probably didn't want anything to do with Voldemort or his daughter. However, it seems odd that the Rowles would turn on Voldemort and still agree to raise his child.
11

WERE HER MAGICAL TALENTS INHERITED OR LEARNED?

It seems pretty random how magical talent may manifest in young witches and wizards. Both nature and nurture can play a big part. Harry's parents were both very talented in magic,  but Harry grew up with the Dursleys, who discouraged even mentioning magic. Similarly, Delphi grew up in an unsupportive home. She at least knew about magic, but she didn't know about her true potential as Voldemort's heir until Rodolphus found her. Again, this is similar to Harry, since Hagrid was the one who found him and told him about his parents.

Did Delphi study and practice on her own to develop her magical power? Also, did it only begin in earnest after Rodolphus found her and assisted her, or was she always a natural talent like her father was before her?
10

HOW CAN SHE CLAIM TO KNOW HARRY BETTER THAN VOLDEMORT DID?

In the confrontation between Harry and Delphi in the past, Delphi claims to know Harry better than Voldemort ever did. At best, this could only be a taunt to throw Harry off even more. It seems very unlikely that the claim can actually be true.

Voldemort and Harry shared a multifaceted magical link. Harry became an unintentional Horcrux when Voldemort attacked him as an infant, and, later, Voldemort used Harry's blood to restore his corporeal body. Over the course of their confrontations, Voldemort also successfully tricked Harry into thinking Sirius was held captive in the Department of Mysteries. Delphi never had access to Harry Potter like that. The only way that boast would carry weight is if Delphi had supposedly learned from her father's mistakes in fighting Harry.
9

HOW DID SHE SNEAK INTO HOGWARTS IN THE FIRST ALTERNATE TIMELINE?

When Albus and Scorpius traveled back in time the first time, they didn't reshape events like they wanted. They didn't save Cedric's life and their own lives and families were altered in disappointing ways. Ron and Hermione never married or had children, and Albus was sorted into Gryffindor instead of Slytherin, separating Albus and Scorpius.

Albus sends Delphi an owl letting her know that they failed and Delphi sneaks into Hogwarts to convince Scorpius and Albus to reconcile. However, i's never explained how this is possible. What's even more confusing is the fact that Delphi even remarks on how lax Hogwarts' security seems. However, she never actually tells Albus exactly how she got into the school without getting caught.
8

WHY WOULD SHE PREFER PASSING AWAY OR AMNESIA?

When Delphi, Albus, Scorpius, and Harry and his adult friends travel back in time to October 1981, they stop Delphi from changing the future. She had planned to prevent Voldemort from encountering Harry as a baby, thereby ensuring that he would never be defeated in the first place. All of her deceptive and malicious efforts were meant to reunite her with her father.

When Albus, Scorpius, and their families defeat her, she begs them to take her life or at least wipe her memory of her family and her identity. However, it's unclear why she would wish this. Was her relationship with her absent father so important to her that this failure was intolerable for her? If she were imprisoned, there would at least  still be the possibility of escaping and continuing to serve his legacy.
7

IS SHE POWERFUL ENOUGH TO ESCAPE FROM AZKABAN?

Plenty of Voldemort's followers were sentenced to terms in Azkaban. Even some wizards and witches who were wrongly convicted of crimes connected to Lord Voldemort's service endured incarceration in the prison.

Sirius Black managed to escapd Azkaban on his own, without any outside help. His conviction in his innocence let him fool the Dementors and slip away. The only time other genuine followers of Voldemort escaped from Azkaban was when the Dementors deserted their posts and joined him. After 1998, the Ministry of Magic stopped employing Dementors as guards. So when Delphi was imprisoned, Aurors would stand guard instead. Even with the Dementors gone, the magical safeguards against escaping prisoners must be considerable. Voldemort never had to escape from Azkaban, so we don't know if Voldemort's daughter is capable of doing it or not.
6

WHY DOES SHE HAVE A TATTOO OF HER AUGUREY?

Delphi was sent to live with Euphemia Rowle, who became her foster mother. Rowle kept an Augurey as a pet. The Augurey is a magical bird that supposedly wails whenever a passerby should be wary of an unfortunate fate, though the more informed consensus on the creature claims that Augureys wail when rain is imminent.

Either way, it doesn't make much sense as to why Delphi would get an Augurey tattoo. This bird was a reminder of her childhood guardian and how much she disliked Delphini. Perhaps instead of being an omen of downfall, Delphi fashioned it into a symbol of her authority. The Augurey was her alias in the timeline where Voldemort won the war, but it's never explained why.
5

DID VOLDEMORT PLAN ON HAVING ANY OTHER HEIRS?

Historical, real life royal families always made sure to produce multiple children when possible. Multiple children was the best way to increase the chances of the family enduring. As much as Voldemort's pure-blood mania ties in with tradition, it's likely Voldemort considered siring multiple heirs. He made multiple Horcruxes as part of that plan to achieve immortality, so why not produce multiple children to continue Slytherin's bloodline as well?

Perhaps Voldemort would have produced multiple heirs in the timeline in which he won the war, but we don't learn anything definitive to that end. Voldemort might have imagined that multiple heirs would compete with and threaten to destroy each other, or him.
4

DOES SHE HAVE ANY HALF SIBLINGS?

As far as we know, Voldemort never had any other children of his own. However, Bellatrix, the mother of Delphini, was also married. Rodolphus Lestrange and Bellatrix Black were married shortly after they both graduated from Hogwarts.

Rodolphus and Bellatrix were among the only Death Eaters to stay faithful to Voldemort after the infant Harry Potter defeated him. They may have shared a passion for pure-blood ideology and serving Voldemort, but there is nothing to indicate any passion or romantic interest between them. Their two families arranged their marriage, so it seems like their sense of duty never compelled them to produce legitimate children. However, this is never confirmed.
3

HOW DID RODOLPHUS TELL HER ABOUT HER HERITAGE?

Rodolphus survived the Battle of Hogwarts, unlike his wife and his master. The reformed Ministry of Magic sentenced Rodolphus to imprisonment in Azkaban again for his crimes. We'd expect the Ministry to ensure that Rodolphus never escaped again, especially since he was originally sentenced to life in prison for using the Cruciatus curse on the Longbottoms.

Whether he escaped again or if he was in fact released is not certain. If he had actually escaped again, you might expect the Ministry to lead a manhunt for him, like they did with Sirius Black. However, somehow Rodolphus managed to find the natural daughter of his wife Bellatrix and Lord Voldemort, since Delphi learned the truth of her heritage from Rodolphus.
2

DID SHE EVER ASPIRE TO BECOME A DARK RULER HERSELF?

Above all else, Delphi wanted to meet her father. She wanted to be with him and prove herself to him. However, what did she imagine for the two of them after that? If she succeeded in changing history so that they could be together, would their relationship still turn out like she imagined?

If Harry Potter never became destined to defeat Voldemort, would Voldemort still eventually win the Wizarding War? Would Delphi have still grown into her father's right hand agent? Would she have been happy in that role forever? Could their relationship have grown any deeper or healthier than Voldemort's relationship with his other servants? Would Delphi only consider becoming a dark ruler in her own right if her father was defeated, or would she ever consider overthrowing him?
1

HOW DID SHE BECOME SO CHARMING?

Delphi used magic to trick Amos Diggory into believing she was his niece. However, other than that, she played a pretty convincing part. Harry, Albus, and Scorpius all trusted Delphi immediately. Delphi endeared herself to both Albus and Scorpius with just the right amount of shyness and righteousness.

However, how did she learn to be so good at manipulating people? Voldemort had a lot of practice putting on faces to manipulate people at his orphanage, at Hogwarts, and in the wider Wizarding World. Delphi never had that experience. She presumably stayed cooped up with Euphemia Rowle until Rodolphus found her. Did she simply inherit her nefarious people skills from her father?

---

Are there any other things about Delphini in Harry Potter that make no sense? Let us know in the comments!
This entry was posted by Screen Rant on January 18, 2019 at 4:01 am, and is filed under TV News. Follow any responses to this post through RSS 2.0. You can skip to the end and leave a response. Pinging is currently not allowed.