How Much Did Glass Cost To Make?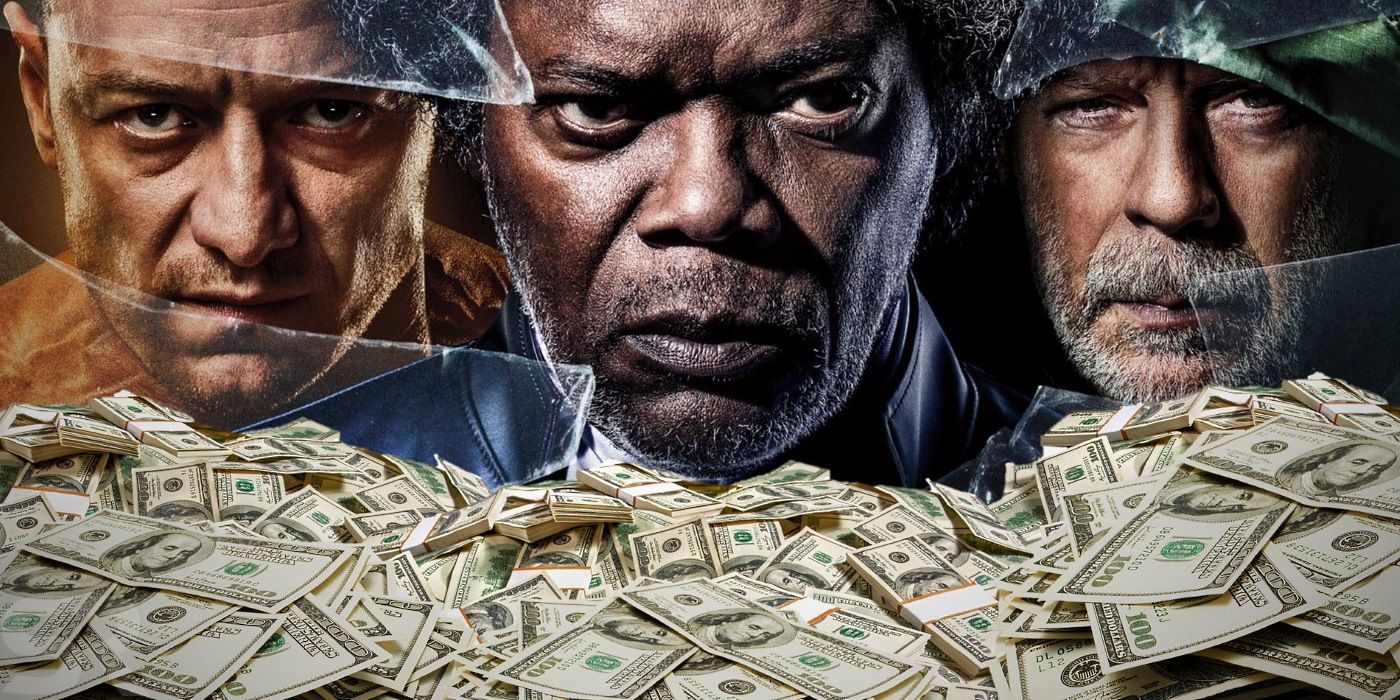 Glass is being marketed like a major studio blockbuster, but it cost considerably less than one to make. Back in 2000, M. Night Shyamalan released Unbreakable, a grounded and realistic character drama that just happened to be about superheroes. At the time of its debut, Unbreakable was not as critically or commercially successful as runaway smash The Sixth Sense, but it earned itself a passionate following and eventually proved to be well ahead of its time. Nearly two decades after its premiere, Unbreakable is regarded as one of Shyamalan's best films.
Because of the superhero/comic book elements, Unbreakable seemed ripe for sequels, but none came to fruition for the longest time. Then, Shyamalan delivered his best twist in years with Split, revealed to be a stealth followup to Unbreakable. Anticipation skyrocketed for the director's next film, which is trilogy finale Glass. It's clearly the biggest title releasing in January, and Universal is advertising it like a Marvel or DC film. But compared to some of those projects, Glass was a relatively cheap endeavor.
Related: Do You Need To See Split and Unbreakable to Understand Glass?
Glass' production budget is reportedly just $20 million. That figure is more than twice the cost of Split ($9 million), but considerably less than the $75 million price tag (unadjusted for inflation) of Unbreakable.
What's more is that Shyamalan has a lot more invested in Glass than Universal or international distributor Disney. It recently came out the filmmaker personally financed his most recent movies The Visit, Split, and Glass. This allowed Shyamalan to have greater creative freedom over the projects, but it's also a risky proposition. If any of those works were commercial failures, Shyamalan would have been hit with massive losses. Fortunately (and smartly), he kept costs in check to ensure maximum profitability. Glass is expected to be a massive hit, potentially earning as much as $120 million worldwide in its opening weekend. Those estimates will keep Shyamalan and the studios (which handle marketing and distribution) very happy in the early part of 2019.
The $20 million budget means Glass needs to gross approximately $40 million worldwide in order to break even, which is a number it should soar past by Martin Luther King Day. It's good the film is poised to be so successful at the very beginning of its run, since it's unknown how strong its legs will be. Professional reviews for Glass are largely mixed-to-negative, with many viewing it as a disappointing ending to the trilogy. If audiences share that sentiment, Glass could drop off during its second weekend, but by then it'll simply be padding its totals.
This entry was posted by Screen Rant on January 18, 2019 at 11:01 am, and is filed under TV News. Follow any responses to this post through RSS 2.0. You can skip to the end and leave a response. Pinging is currently not allowed.