How Shazam! Connects To The DCEU Movies So Far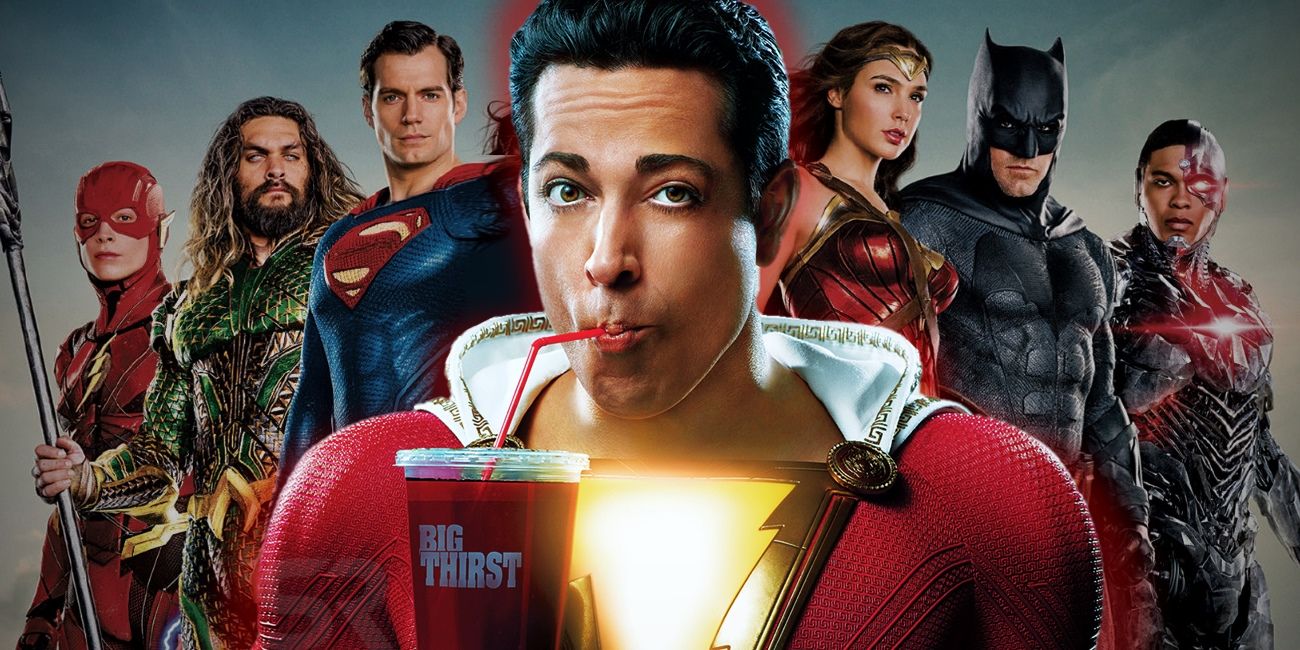 Warning: minor SPOILERS for Shazam!
Whether movie fans are hoping that Shazam! will help to "reboot" the DCEU or honor the movies that came before, they all want to know the same thing: how much will Shazam! fit the continuity established in the Justice League movie universe so far?
The answer is one that will most likely please fans across the board, as unlikely as that may seem. When we got the chance to visit the set of Shazam! both cast and crew were in agreement as to Billy Batson's place in the world of Batman, Superman, and the rest of DC's heroes. But the most exciting comments didn't address how Shazam! will confirm or contradict the DC movies that preceded it... but how it opens up the door to the magical side of the DCEU. The same one fans hope to see explored in future films like New Gods, Justice League Dark, and more. Trust us, Shazam! may confirm more than you think.
This Page: How Shazam Connects to Other DCEU Movies
Shazam's Characters Watched Man of Steel Happen
The question of how and where Shazam! crossed over with Man of Steel, Batman v Superman, and Justice League was a popular one on our visit, considering how fundamental that was to Marvel Studios, in creating an explicitly common universe. Even if Henry Cavill's future as Superman is a mystery, Shazam! star Zachary Levi says that's the version of the Man of Steel that the characters in the movie know. Because that's the same story they've been watching play out in their world along with the audience:
We are definitely within the DCEU world. Everything that has happened - again, you should ask the people above me about some of these things - but the bulk of... I think since the Man of Steel, all of that has really happened in our world. Freddy is more the comic book--not just comics, he is the superhero aficionado. That guy is all about it. All of that stuff, theoretically, we could have been watching on the news as it was going down.

Oddly enough, Billy isn't a big superhero aficionado. Billy's been so obsessed with trying to find his parents, trying to find his family. And he's lived on the streets quite a few times in between all that. To him, that stuff is going on, but he's not caring so much about that.
RELATED: Why Shazam is Only Chosen AFTER Justice League
That similarity - fans watching Zack Snyder's Justice League take shape, and the movie characters doing the same - extends to the merchandise sold to "aficionados" like Freddy Freeman. His t-shirts and Batman v Superman souvenirs were revealed in official photos, but director David F. Sandberg says it extends to one scene in particular, when Shazam and the villain Dr. Sivana crash into a toy store filled with Justice League products:
I mean, everything exists that we had in there. It's all these DC toys--they're all real DC toys that are in there. I mean, for some [the studio/producers] were like, "Hey, you can't have that character, because that character's not in the universe yet. You have to stick to these characters."
The odds of seeing Shazam join the Justice League are unclear for now, but if this film's connection to the DCEU feels similar to Suicide Squad's, that's no accident. We also learned that not only would Shazam! also occupy its own, dark corner of the movie universe, but it would also give fans a glimpse into the larger, magical world of the DCEU.
In which case... potential SPOILERS ahead?
Shazam Confirms The DCEU's Magical Realm
By now anyone who has watched the trailers for Shazam! has seen how accurately The Wizard and his base of operations, The Rock of Eternity, have been adapted to film. Not only based on the visual design, wardrobe, and dialogue, but by the central semi-circle of stone thrones... with only The Wizard Shaman left to sit in them. During our visit to the set we were more than a little surprised, since the comics offer an explanation for the empty seats that we didn't expect the first Shazam! movie to tackle.
RELATED: Shazam Fan Art Connects Billy To DCEU's Greek Gods
Thanks to Justice League, Wonder Woman, and Suicide Squad, general audiences know that the DCEU is home to real, honest to goodness magic, used by gods like Ares and Zeus, and even dark, occult forces like Enchantress, and more. At least... it used to be. In both the comics - and apparently the movie as well - The Wizard's home base was once the site of The Council of Eternity: a group of Earth's most magical beings, from ancient cultures spread across the globe. But when Billy arrives, only Shazam remains. When we asked director David F. Sandberg if the similarities were out of service or the confirmation of lore known to most DC fans, he didn't mince words:
Oh, yeah. Yeah, because the wizard has this whole backstory and this whole 'protecting the realms against the sins' [mission]. Yeah, we definitely allude to that.
That's the Seven Deadly Sins Sandberg is referring to, which the latest Shazam! TV spot also confirmed would be appearing in the film. And as we suspect based on the broken rock we see elsewhere in the trailers, the otherworldly, magical villains that explain why Billy Batson only becomes Shazam NOW.
Shazam! is In Its Own Magical Corner of The DCEU
It's too soon to tell just how much of the Council of Eternity's members, the reason for their origin, or their past champions will be explicitly shown, and what will simply be "alluded" to for now. Either way, it's the planting of a major seed in the DC movie universe. One that could grow well beyond the Shazam! films alone--especially with a confirmed Black Adam movie still somewhere in development with Dwayne "The Rock" Johnson starring. But for now, fans shouldn't get ahead of themselves.
Sandberg may get the chance to dig into those storylines in a sequel, but at this point, he's focused on making the origin story he was hired to tell. And while Shazam! may acknowledge the other movies that precede it, this still isn't following a Marvel model. If this is the first DC movie to catch your or your family's attention, don't hesitate to walk into the theater without fearing you've 'missed' some pivotal story:
When I came on board it was like, "Yeah, we're doing a standalone Shazam movie." And I know the project has, I think, existed in various forms before, but I haven't really--I'm not really familiar with all of that. This movie's mostly just about introducing Billy Batson and Shazam, and who he is, how he came to be. It takes place in this DC world where all these heroes exist, but in some ways... it's both sort of self-contained, while also being a part of something bigger.
How much effort was there to make sure it worked self-contained ? In Justice League, that movie works better if you've seen other movies before it. So how much did you think of that as you were developing the movie?
No, in that case, it's very standalone. Like, you don't have to have seen any of the other films, because it's its own, contained story, really. It's just more the world of [DC movies] that's part of it.
Stay tuned to Screen Rant for more Shazam! set visit coverage, including interviews, previews, and some theories of our own.
This entry was posted by Screen Rant on January 23, 2019 at 10:01 am, and is filed under TV News. Follow any responses to this post through RSS 2.0. You can skip to the end and leave a response. Pinging is currently not allowed.