James McAvoy Says Pennywise Freaked Him Out On IT: Chapter Two Set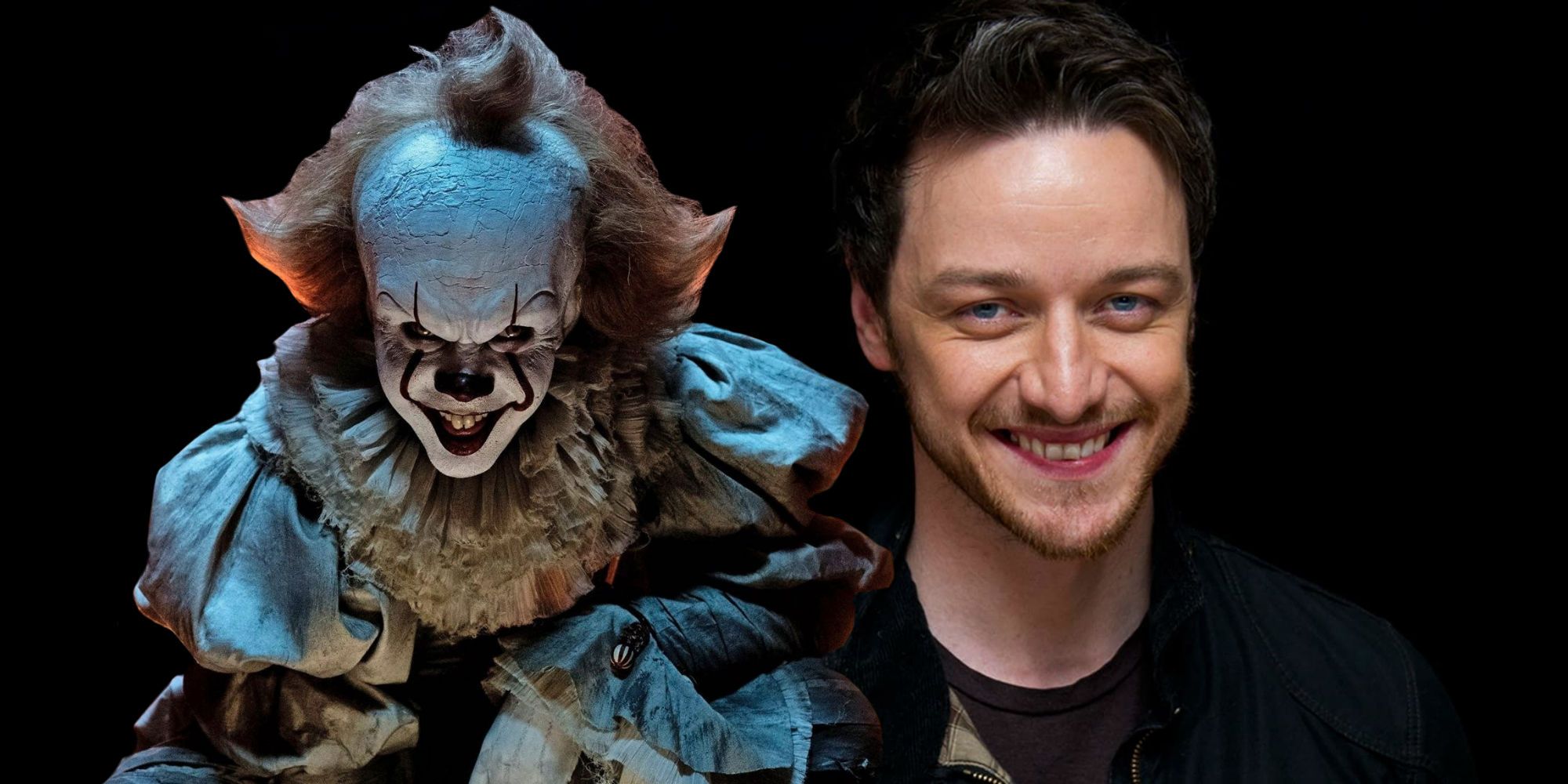 IT: Chapter Two star James McAvoy freaked out on set after seeing co-star Bill Skarsgard dressed as Pennywise. The movie is the highly anticipated follow-up to Warner Bros' 2017 hit horror film IT  and it will take place 27 years after the events of the first film. Both movies are adaptations of Stephen King's novel and the original film was well received by both audiences and critics alike. Adding to that, IT was also a box office hit for Warner Bros., which helped the studio reach $5 billion at the box office that year, so a sequel was certainly on the way.
McAvoy stars in the film as an adult Bill Denbrough, one of the members of the Losers' Club, who will all return to Derry, Maine to face Pennywise for a final confrontation. Picking up 27 years later, IT: Chapter Two will revolve around the now grown-up Losers' Club, who left Derry behind under the impression that the horrors they faced as children were put to rest. Andres Muschietti returns to direct the upcoming sequel, which should be another hit for Warner Bros., and the young Losers' Club will be present as well. Along with McAvoy and Skarsgard, the cast includes Jessica Chastain, Jay Ryan, James Ransone, Isaiah Mustafa, Bill Hader, and Andy Bean. With the film's release only a few months away, McAvoy has now revealed his biggest obstacle during the filmmaking experience.
Related: What The IT: Chapter Two Set Photos Reveal
During a portion of Good Morning America, McAvoy revealed that Pennywise freaked him out on set of IT: Chapter Two. He explains how clowns were never a big interest to him as a kid, as he was always fearful of their tragic nature. However, despite his fears, McAvoy admits that Skarsgard is amazing as a person and as the intimidating clown. During the production of the original film, Skarsgard was kept away from the young cast to create a more genuine reaction, but it seems Pennywise can strike fear in any age group. When discussing Skarsgard's performance as the intimidating clown, McAvoy said:
"He's amazing. The guy who plays the clown is terrifying. He's a lovely guy, and yet he really freaked me out. I remember standing there with the rest of the cast, all these adults, and we'd all done weird freaky stuff. And we are all looking at each other going, 'I don't like being here. I don't like being an actor today.' He really did, he really freaked me out. I never liked clowns as a kid."
McAvoy certainly isn't alone in his fear of clowns, as many seem to not be fond of the face painted individuals. Clowns were once recognized as harmless circus attractions, but a lot has changed over the years. Now, the usage of clowns has become more common for scare tactics and viral pranks. In fact, just before the first film was set to release, there were clown sightings reported in several states, some believed it to be a marketing tactic by the studio involved in IT, but that was never revealed to be the case.
Fears aside, the follow-up to Warner Bros' 2017 hit is still one of the most highly anticipated films of the year. Fans of the first movie are anxiously waiting for a first glimpse at the film, which should give more insight into what to expect. However, this continuation will also serve as the conclusion to King's original mythology, so it will be interesting to see if the success of IT: Chapter Two will lead to another continuation.
Source: Good Morning America
This entry was posted by Screen Rant on January 18, 2019 at 11:01 am, and is filed under TV News. Follow any responses to this post through RSS 2.0. You can skip to the end and leave a response. Pinging is currently not allowed.