Jumanji: Welcome to the Jungle Sequel Casts Danny Glover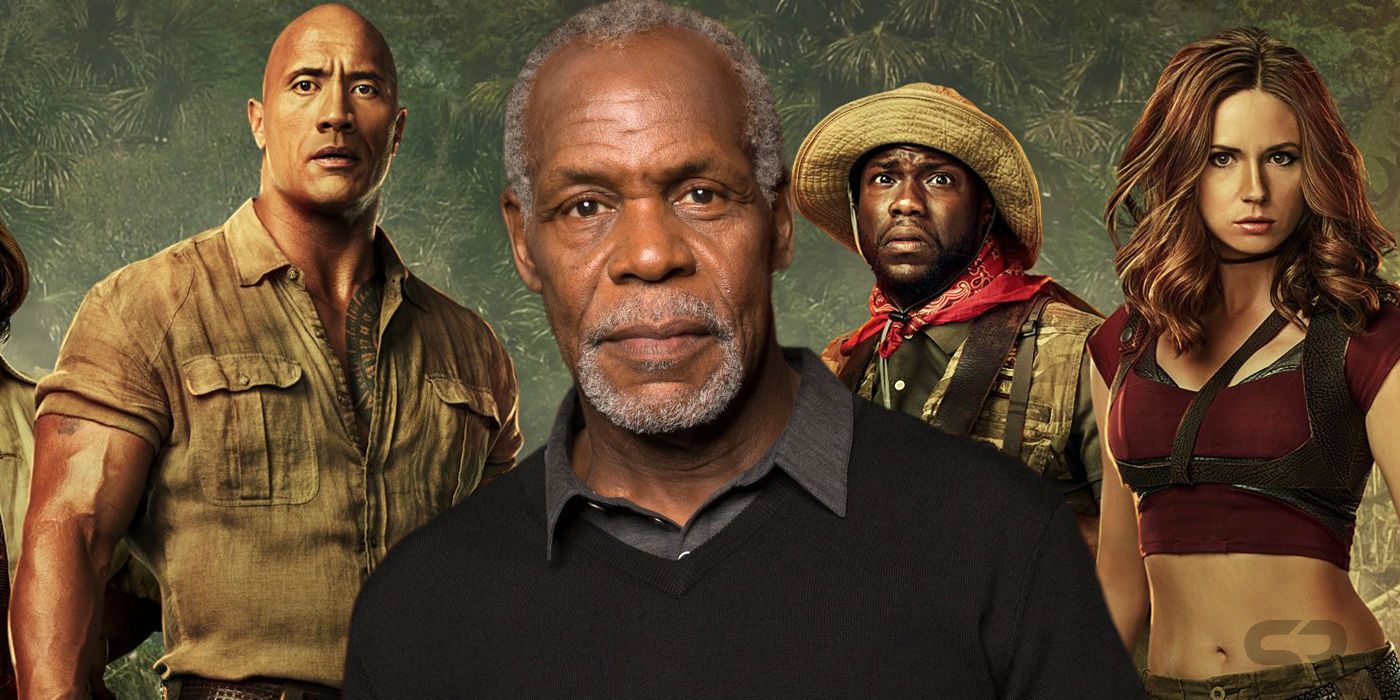 Danny Glover is the latest cast member to join Jumanji 3, Sony's sequel to Jumanji: Welcome to the Jungle. The latter starred Dwayne Johnson, Kevin Hart, Karen Gillan, and Jack Black as video game avatars in the studio's surprise box office hit at the end of 2017, grossing nearly $1 billion worldwide. Sony began developing a sequel early last year, which sees Jake Kasdan return to direct.
The new franchise is a continuation of the original Robin Williams' led Jumanji family film, but the game has evolved from its board game roots. As shown in Welcome to the Jungle, the video game has the ability to transport people into Jumanji, where they become the avatars they selected and must try to win the game before loosing all three of their lives. Story details of the upcoming sequel have not been revealed, but Sony's recently been assembling a wide-ranging cast. The first new addition was Awkwafina (a recent breakout star), and longtime comedy actor Danny DeVito joined not too long after.
Related: Jumanji 3 Will Have More Connections To Original Film
THR reports Danny Glover is the latest star to join the cast of the third Jumanji film. Details about Glover's role were not revealed, which is par for the course with the film's previous additions. Glover is best known for his role as Roger Murtaugh in the four Lethal Weapon films, but some of his more recent credits are critically-acclaimed indies Sorry to Bother You and The Old Man and the Gun. Star and producer Dwayne Johnson shared his excitement for the casting news by giving the following statement to THR:
From Awkafina to Danny DeVito to now one of my action heroes, Danny Glover — its been awesome having so many actors and OG legends raise their hands wanting to come and play in our Jumanji universe. 'Who turns into who?' will always be the fun magic sauce for our audience.
Based on the rules of Jumanji, there are really only two options for Glover's role, if it is significant. The first option is he could be someone in the real world who is transported to the video game world. If this is the case, then this could give one of the original cast members a chance to give their best impression of Danny Glover, while limiting his actual role in the film. The other option is being an in-game character. All five of Jumanji's avatars were already shown in Welcome to the Jungle, so if this happens, the game will either need to get some unlockable characters, make Glover a cut scene character, or have be the new villain. As more casting decisions are made, hopefully it won't be too long before story and character details are revealed.
Production on Jumanji 3 is expected to begin in the early part of this year, but no exact start date has been reported so far. With the casting process in full swing, the start of production is clearly approaching. Sony has already set a December 2019 release date for the movie too, so they'll need a quick and productive shoot in order to give Jumanji 3 enough time to be completed in post-production.
Source: THR
This entry was posted by Screen Rant on January 15, 2019 at 3:01 am, and is filed under TV News. Follow any responses to this post through RSS 2.0. You can skip to the end and leave a response. Pinging is currently not allowed.