Justice League Concept Art Reveals Snyder's Classic Aquaman Costume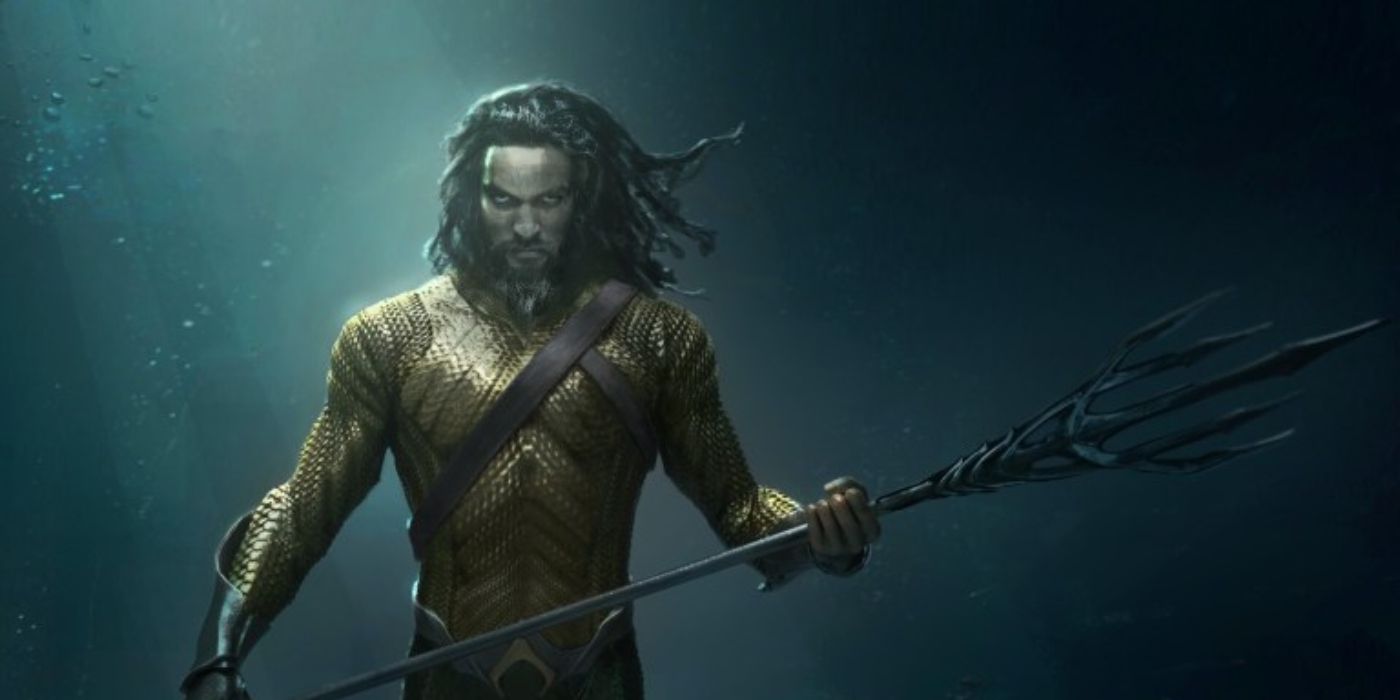 Concept art for Justice League reveals a version of Aquaman's classic costume was considered for Zack Snyder's film. Justice League is a blockbuster where the behind the scenes story is arguably much more interesting than the one presented onscreen. Once Batman V Superman: Dawn Of Justice was complete, Snyder jumped right into production on Justice League. The DCEU was looking to play catch-up on Marvel's cinematic universe and opted to skip over giving each hero their own solo movie first in favor of a big, Avengers-style team-up.
Unfortunately, neither Snyder nor the studio could have predicted the mixed reviews that would greet Batman Vs Superman. The movie was criticized for its muddled screenplay and brooding, joyless tone, and when the movie failed to pass $1 billion worldwide - which it should have easily achieved given the pairing of two iconic superheroes - Warner Bros got worried. Throughout production on Justice League they emphasized the movie would be more colorful and fun, but once Snyder was removed and replaced by Joss Whedon, the project seemed in trouble. The final theatrical cut was a stitched together mess, with Snyder's original footage awkwardly meshing with Whedon's reshoots. The movie soon became the lowest-grossing of the DCEU and the reviews were, again, mixed to negative. To this day, fans are still petitioning the studio to release Snyder's original cut of the film.
Related: Every Confirmed Change to Zack Snyder's Justice League
Of all the heroes in Justice League, Jason Momoa's Aquaman arguably got the rawest deal in terms of screentime, with many of the character's sequences being cut or reshot. Prior to Momoa being cast as Arthur Curry, fans had a hard time taking the idea of a 'cool' Aquaman seriously, and the character's aged armor costume in Justice League didn't at all resemble his classic gold and green suit. Now concept artwork from Constantine Sekeris reveals a faithful version of the costume was considered for the project, but ultimately wasn't used. More artwork can be found at the link above.
It should be noted Sekeris' artwork bears a close resemblance to the armor Curry dons in the final act of Aquaman, so perhaps the classic look was being saved for the solo movie when Arthur reclaims his heritage. While Justice League didn't make great use of the character, the solo Aquaman movie has proven to be a surprise smash hit for DC. The movie's colorful visuals and pulpy tone struck a chord with viewers, with Warner Bros promising future DC will be less focused on a shared universe.
In a strange twist, it was recently revealed that during test screenings for Justice League, characters like Wonder Woman and Aquaman scored high with audiences, while Batman and Superman ranked towards the bottom. It's odd to think two of the most iconic DC heroes are the least liked out of the current cinematic line-up, but at least in terms of Batman, Matt Reeves' upcoming solo movie appears to be something of a soft reboot of the character.
Source: Constantine Sekeris
This entry was posted by Screen Rant on January 24, 2019 at 8:01 am, and is filed under TV News. Follow any responses to this post through RSS 2.0. You can skip to the end and leave a response. Pinging is currently not allowed.