Kingdom Hearts 3 – Everything You Need To Know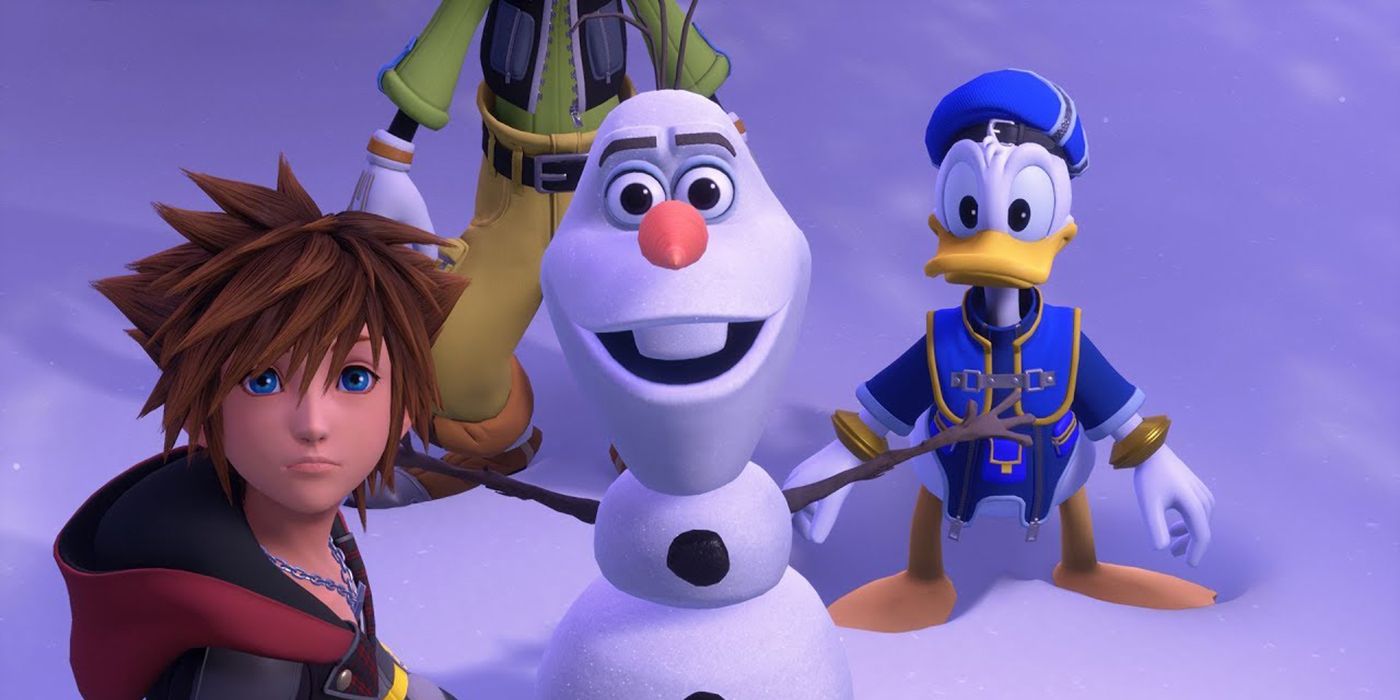 The Kingdom Hearts series does a tremendous job of combining the worlds of Square Enix and Disney effectively, and Kingdom Hearts 3 has been one of the most-wanted games for over a decade. Indeed, a main numbered release in the series hasn't happened since Kingdom Hearts 2, which launched in Japan in 2005. Although there have been other titles in the meantime, a true third game has been on the cards for an extremely long time.
Thankfully, Kingdom Hearts 3 is nearly upon us, but some fans of the original games might want a refresher on exactly what to expect from one of the most highly sought after games of 2019. After all, if players haven't kept up-to-date with the intricacies of the other releases in the meantime, they may be left wondering exactly what they have in store. Meanwhile, the years since Kingdom Hearts 2 have witnessed generations of new gamers come through, who may be jumping into the franchise for the first time.
Related: Screen Rant's 25 Most Anticipated Video Games of 2019
So, read on to find out everything you need to know about Kingdom Hearts 3. From the release date through to what characters have been confirmed to appear, here's a guide to the game ahead of its launch.
Kingdom Hearts 3 Release Date Set For January 2019
Even though the wait for Kingdom Hearts 3 to be confirmed was a long one, players will be able to get their hands on the game relatively early in 2019. Kingdom Hearts 3 is scheduled for release on January 25, 2019 in Japan and January 29, 2019 in the rest of the world. The title will be made available for PS4 and Xbox One.
Over the years, there were plenty of rumors about when Kingdom Hearts 3 would eventually drop. Initially, official plans had been for a release in 2018, as revealed at D23 in 2017, but this was eventually pushed back. The final Kingdom Hearts 3 release date was then confirmed last year at a performance of the Kingdom Hearts Orchestra World Tour.
Kingdom Hearts 3's Story & Campaign
Kingdom Hearts is set in a universe where various Disney characters exist alongside characters from Square Enix properties such as Final Fantasy. This universe, which is separated out into different worlds based on Disney films, is being besieged by a force known as the Heartless, which is slowly corrupting the Kingdom Hearts landscape - although things become more complex as they go on.
Over the games, main character Sora, along with friends and various allies picked up from Disney stories, faces off against the antagonist Xehanort. It's all serious stuff that tracks across the franchise's multiple releases, although there are plenty of moments of fun to be had in the Disney worlds that Sora finds along the way.
What about Kingdom Hearts 3, though? Kingdom Hearts 3 is set to be the longest in the series, will again reunite Sora with allies like Donald Duck, as they search for the Seven Guardians of Light and the Key to Return Hearts. Once again, stopping Xehanort is the priority here, as the villain attempts to start a second Keyblade War. With King Mickey and Riku off searching for former keyblade masters, expect the various strands to all tie up together by the end of the game.
Kingdom Hearts 3's Characters
Kingdom Hearts 3 will have plenty of returning characters from the previous games. Sora is back as the main character, as expected, as are others such as Riku, Kairi, and Ventus. Long-term Disney cast members Donald Duck, King Mickey, and Goofy will return, while as anticipated Xehanort in his various forms is back as the big bad.
There will be some new additions, though, including some beloved Pixar characters. In terms of party members, Toy Story mainstays Woody and Buzz Lightyear will be in the series for the first time, as well the Monsters, Inc. duo Sully and Mike Wazowski. When it comes to party members from Disney properties, Rapunzel and Flynn from Tangled and Baymax of Big Hero 6 fame will be there - complete with the Big Hero 6 cast.
With an expanded roster once more, players will again be intrigued to see how these characters fit in with the wider world, and will no doubt be dreaming of teaming up returning characters like Hercules with Buzz Lightyear. More than that, though, will be how the new worlds from Disney properties work – and what fun can be found with Kingdom Hearts 3's star-studded cast.
Kingdom Hearts 3's Disney Worlds
When it comes to Kingdom Hearts 3, there are going to be some returning locations from previous games. The pirate-infested waters of the Caribbean are back for those after a Pirates of the Caribbean fix, as well as Olympus from Disney's Hercules and the 100 Acre Wood of Winnie the Pooh.
That said, there's a major emphasis on new locations, in line with some of the new characters that have been added. Toy Story is represented by the Toy Box, and Monsters, Inc. setting Monstropolis is there too, so Pixar fans will find plenty of love. Meanwhile, the Kingdom of Corona from Tangled will be a setting, as will Arendelle from Frozen.
All in all, a good variety will be found when in comes to setting. From fantasy kingdoms through to cities, ideally that will give players lots of different gameplay experiences, as well as the chance to dig into some of the best of Disney and Pixar's world building.
Kingdom Hearts 3's Gameplay
Fans of action RPGs should know what to expect from Kingdom Hearts 3. Players take a more direct control of combat than in some other Square Enix titles, completing fights themselves while calling on the help of other party members.
There are some changes to the formula in Kingdom Hearts 3, though. For starters, the party size has been increased from three to five, which gives players much more flexibility. A new super attack known as Attraction Flow is also included, which pulls on Disney theme park rides such as Thunder Mountain Railroad.
Within fights, keyblade transformations will play a part, with gamers able to transform the iconic weapon to pull off some major damage. However, different keyblade forms, such as the Guard Form and Power Form, will allow users to mix things up a bit - although the full details are still under wraps for now.
Kingdom Hearts 3 Doesn't Require Completing Previous Kingdom Hearts Games
Given the number of Kingdom Hearts games, and the complexity of following all the different releases over various platforms, some players may be worried that Kingdom Hearts 3 might be hard to decipher without an in-depth knowledge of the wider story. After all, although the main plot can be picked up via PS4 re-releases in particular, it's still an awful lot to catch up on.
Hopefully, Kingdom Hearts 3 will be easy to understand for new players, and director Tetsuya Nomura has suggested that the game has been built in a way that is still accessible for those who are coming to the franchise for the first time. That said, the plot of Kingdom Hearts is a particularly winding one, and so there will no doubt be some moments that make more sense to those who have kept up-to-date with releases. After all, even some long-term fans of the franchise find it hard to decipher the overarching lore at times.
Kingdom Hearts is full of prophecies around light and darkness, as well as some bizarre moments such as having characters that look identical. With that in mind, checking out Kingdom Hearts HD Final Chapter Prologue 2.8 might be a good idea, which includes remasters of other games and acts a little as a refresher course in Kingdom Hearts. However, it's been teased that Kingdom Hearts 3 contains a full-fledged recap for the entire series, so that everyone can play the new title.
This entry was posted by Screen Rant on January 14, 2019 at 8:01 am, and is filed under TV News. Follow any responses to this post through RSS 2.0. You can skip to the end and leave a response. Pinging is currently not allowed.