LEGO Movie 2 Features Ruth Bader Ginsburg Cameo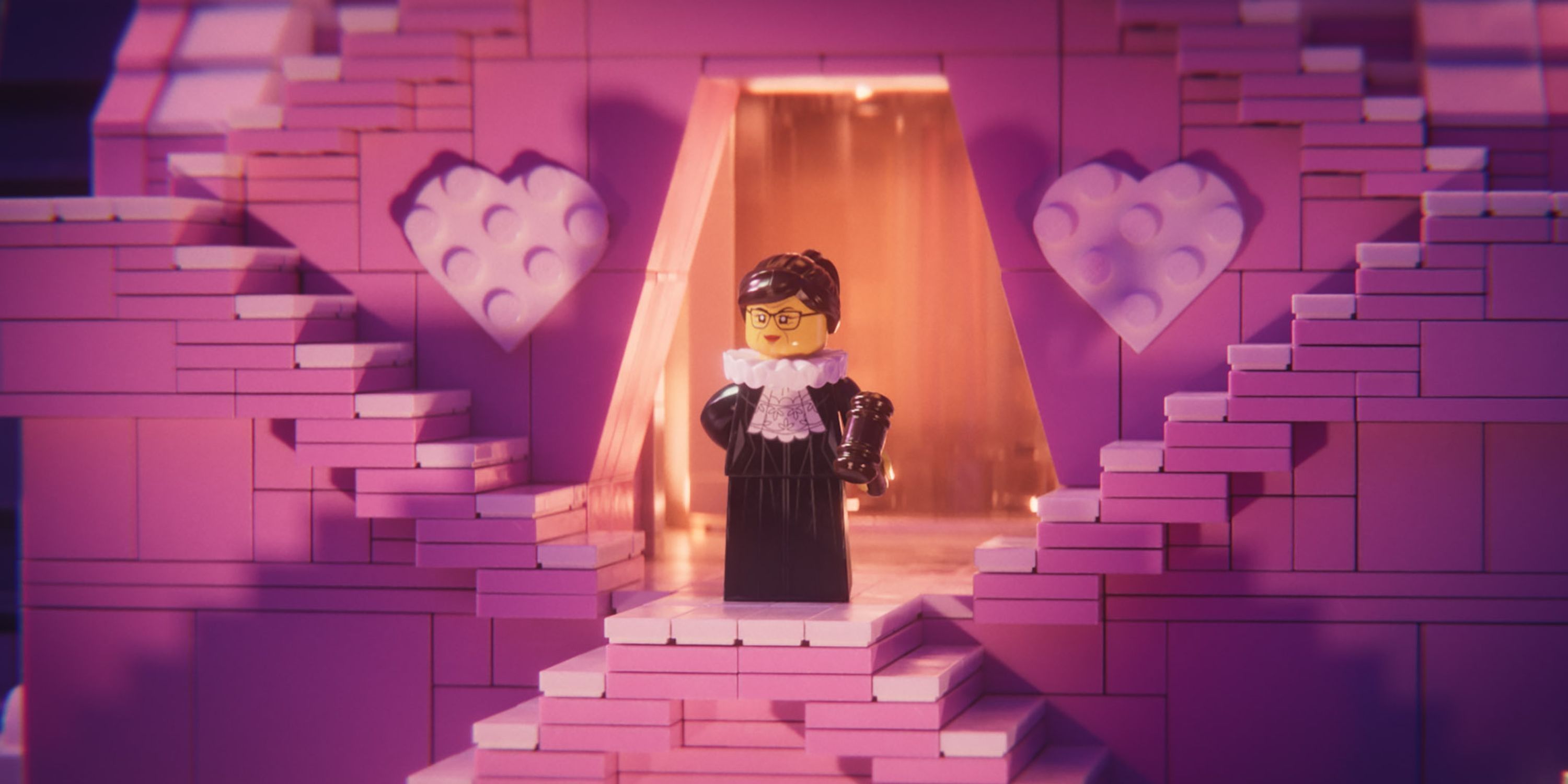 Supreme Court Justice Ruth Bader Ginsburg is set to make an unlikely cameo in The LEGO Movie 2: The Second Part. Released back in 2014, the original LEGO Movie starred Chris Pratt, Elizabeth Banks, Will Ferrell, Will Arnett and Morgan Freeman and would go on to become a huge critical and commercial success. Aside from the announcement of several spinoff movies (LEGO Batman, Ninjago and The Billion Brick Race), a direct sequel was also put into production and will finally release next month. The Second Part sees the introduction of the Systar system, the result of Ferrell's on-screen daughter joining her brother and dad in their LEGO universe building, and will find Chris Pratt's Emmet desperately attempting to save his friends after they are abducted by a mysterious spacecraft.
Far away from the world of colorful Danish bricks voiced by Hollywoods finest, Ruth Bader Ginsburg has been an Associate Justice of the U.S. Supreme Court since 1993 and her fiery passion for both the law and for gender equality has seen Ginsburg transform into somewhat of a cultural icon. Known informally as The Notorious R.B.G., 2018 saw the release of a documentary focusing on Ginsburg's life and the biopic On The Basis of Sex, in which she was portrayed by Felicity Jones. The Supreme Court Justice has also been played by Kate McKinnon on Saturday Night Live and was one of Wade Wilson's considerations for the X-Force in Deadpool 2.
Related: LEGO Movie 2 Projected For Lower Opening Weekend Than Original
Ginsburg's journey into the world of film looks set to continue in 2019, as she is confirmed for a cameo appearance in The LEGO Movie 2: The Second Part. As reported by USA Today, Ginsburg has given permission for a LEGO figure featuring her likeness to be used in the film, however she will not lend her voice to the character. Ginsburg's LEGO incarnation can be seen in a TV spot released in promotion of the movie and it has also been confirmed that Notorious R.B.G. fans will be able to get their hands on a toy minifig of LEGO-Ginsburg, complete with a gavel. Director Mike Mitchell said of Ginsburg's cameo:
"These movies are so full of surprises. And we were thinking, 'Who's the last person you would think to see in a Lego film as a minifig?' Ruth Bader Ginsburg! And we're all huge fans. It made us laugh to think of having her enter this world."
Part of the appeal of the first LEGO Movie was certainly the unpredictability as to who would be appearing in brick form during any given scene. While most of the original movie's surprise characters were fictional ones, the fact that  many were voiced by Hollywood A-listers like Channing Tatum and Jonah Hill added to the fun. By turning attention towards real-life personalities this time around, The Second Part can deliver all the excitement and unpredictability of the original but with a new twist.
As for Ruth Bader Ginsburg herself, it certainly seems like the Supreme Court Justice's rise as a figure of cultural importance will only continue in 2019 and if she ever decides to step away from the legal professional, a career in movie and television cameos surely beckons. However her appearance in The LEGO Movie 2: The Second Part is perhaps more appropriate than it first appears, as it was previously reported that the sequel would tackle the issue of gender equality in its story.
Source: USA Today
This entry was posted by Screen Rant on January 21, 2019 at 5:01 am, and is filed under TV News. Follow any responses to this post through RSS 2.0. You can skip to the end and leave a response. Pinging is currently not allowed.