Listen To Your Favorite Video Game Menu Music All In One Album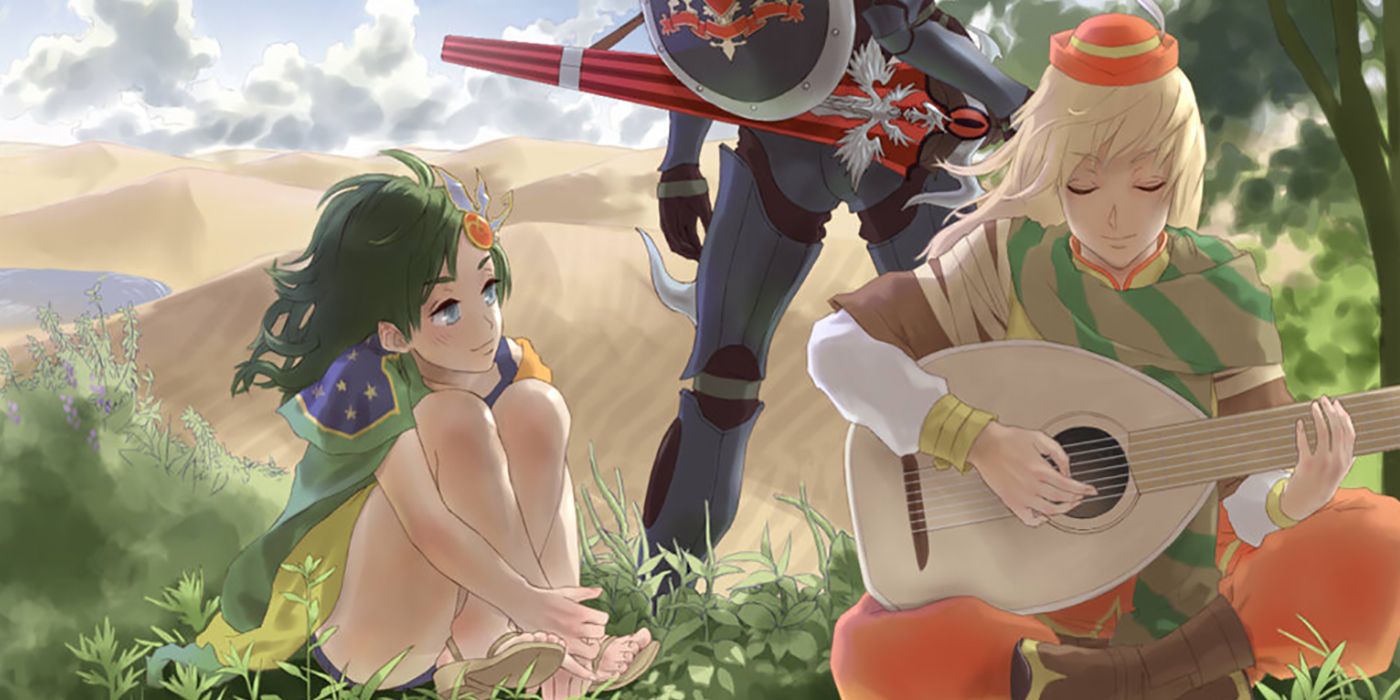 Some of your favorite gaming menu music can now be listened to in one complete album. Over the years, a host of brief musical numbers have found their way into gamers' brains, often without any effort whatsoever on the part of the gamer themselves. Menu music can and often does have a surprisingly subconscious effect, slowly working its magic while players make a variety of selections before jumping full tilt into their adventures.
It's easy to take such short tracks for granted without even realizing a genuine fondness for them until much later on. And, as games themselves continue to evolve, often the emphasis with gaming music is on the more epic soundtracks, like Red Dead Redemption II's award-winning score from Rockstar. But the truth is, some people actually prefer the short yet sweet sounds of the menu music on Sims 3, or the soothing player selection strains from Super Smash Bros. If you've ever caught yourself humming a tune from a favorite game menu when there's no PC, device or console in sight, then the new remix album by Materia Collective just might be exactly the sort of thing you're looking for.
Related: Everyone is Suing Fortnite Over Dance Moves
As initially reported by Kotaku, Materia Collective has just released a whopping 52-track remix album entitled Menu: An Homage To Game Title Themes. The substantial collection of tunes features remixes from such popular games as The Elder Scrolls IV: Oblivion, The Legend of Zelda: Twilight Princess, The Witcher 3: Wild Hunt and Mega Man 3, to name but a few. The entire album can be purchased digitally at Bandcamp, as well as on iTunes, Google Play and Spotify. All the tracks can be sampled at Bandcamp as well. Check out Materia Collective's teaser trailer for the album as well as the full track-listing below:
Thomas Kresge - Katamari on the Symphony (from "Katamari Damacy")
JohnStacy - Super Deluxe Grand Prix 64 (from "Mario Kart 64")
When the Clock Strikes, YUNGxHALLOWEEN - Wily's Mysterious Freaking Intro (from "Mega Man 2")
Losn - Break Out (from "Ape Escape")
Eileen Snyder - Dragón de samba y l'espada de luz (from "Fire Emblem: Shadow Dragon")
Patrick Dunnevant - Stardew Valley Overture
Alex Hill, Tia Maxfield - Made of Happiness (from "The Sims 3")
Lazerwolph (Phillip Merriman) - Until the Very End (from "Mass Effect: Andromeda")
James C. Hoffman - Chaosium Sword (from "Ninja Gaiden II")
Joe Zieja - Reel 'Em In, Boys! (from "Assassin's Creed IV: Black Flag")
Jorito - Until Dawn (from "Final Fantasy XIII")
Ronin Op F - Chronometric Dimension Shifter (from "Chrono Trigger")
Fabian Fabro - Doki Doki Literature Club! (from "Doki Doki Literature Club")
Ben Emberley - Choose Your Player! (from "Super Smash Bros. Melee")
Matias Castro Cancino - Motherless (from "Horizon Zero Dawn")
Will Dawson - Title (from "Mega Man 3")
Mairiba - Main Title (from "Deus Ex")
Ian Martyn - L'ouverture Tactice (from "Final Fantasy Tactics")
Melancholy Robot - Kirby Dreaming (from "Kirby's Dream Land")
Daniel Romberger - The Adventures of Cuphead and Mugman (from "Cuphead")
Lord Bif - Geralt of Rivia (from "The Witcher 3: Wild Hunt")
Nautilus T Party - The Axiom (from "Axiom Verge")
John Robert Matz - Dragonborn (from "The Elder Scrolls V: Skyrim")
Dean Nguyen - Title Theme (from "Diddy Kong Racing")
Josué Ferreira de Oliveira - Belmont Overture (from "Castlevania III: Dracula's Curse")
Bark Boiz - When You're With Me (A Sunny Day) (from "Nekojishi")
Fredrik Häthén - Opening Movie (from "Vagrant Story")
David Russell - File Select (from "Super Mario 64")
Lucas Guimaraes - Tale of the Star Rod (from "Paper Mario")
Glenntai - Wishes To Relax & Study To (from "Final Fantasy XIII-2")
Peter Jones - WAKE UP (from "Minecraft")
Austin Hart - A Place to Call Home (from "Final Fantasy IX")
Chris Porter - Florence's Lullaby (from "Florence")
Alex Hill, Andrew Kroepel - Recall the Heroes: An Overwatch Fanfare (from "Overwatch")
Vaughn Rowles - Reign of the Septims (from "The Elder Scrolls IV: Oblivion")
Garrett McPherson - Crimson Lunar Dream (from "Momodora: Reverie Under the Moonlight")
Ashlee Busch - Dragon Wings (from "Dragon Age: Inquisition")
Catboss. - Aurora's Theme (from "Child of Light") (Growing Up Sucks Remix)
zykO - Fever Dream (from "The Legend of Zelda: Ocarina of Time 3D")
Ilium - Postcard from Celeste Mountain (from "Celeste")
Soren Laulainen - Myst Theme
DS - Concert Paraphrase on "Select Theme" (from "Star Fox 64")
Michael Hoffmann - Space Cruise (from "FTL: Faster Than Light")
Sam Bobinski - The Red Strings Club (from "The Red Strings Club")
Michael Schiciano - Out Into The Frontier (from "SaGa Frontier")
Jon Bash - Limbo
Anne Strader - Twenty Years (from "Shardlight")
Sean Schafianski - Lost Verse - Shadowlord (from "NieR")
Reven - Somnus (from "Final Fantasy XV")
Jeremy Harris Jones - Waterside (from "Blue Dragon")
Thomas Spargo - Bob, Let the Plant Go (from "Yoshi's Story")
Eric Buchholz, Sauraen - The Dawn
Materia Collective is comprised of musicians who've taken to remixing, covering and exploring the sounds that color gamers' experiences. Together, the collective has been responsible for a variety of large-scale releases. Inspired by the idea that video game music is, in fact, its very own massive genre of music, collective members have made a name for themselves over the years by paying tribute to the games that built their respect for said genre. They've released several Final Fantasy albums and with this new project, the collective once again explores an avenue of beloved yet all too often ignored music. As a music publisher and record label, Materia's Menu album may provide them with a whole new surge in popularity, while giving gamers a chance to experience and appreciate another side of the games they love.
It's great to see the creativity of Materia Collective taking on something as basic as menu tracks. Hopefully Menu: An Homage To Game Title Themes' sales will reflect an appreciation for their efforts, and provide the collective with the encouragement to continue doing what they do and to continue exploring the boundaries of video game music.
Source: Kotaku
This entry was posted by Screen Rant on January 21, 2019 at 3:01 am, and is filed under TV News. Follow any responses to this post through RSS 2.0. You can skip to the end and leave a response. Pinging is currently not allowed.