Magic Arena Fifth Card Problem Finally Getting Fixed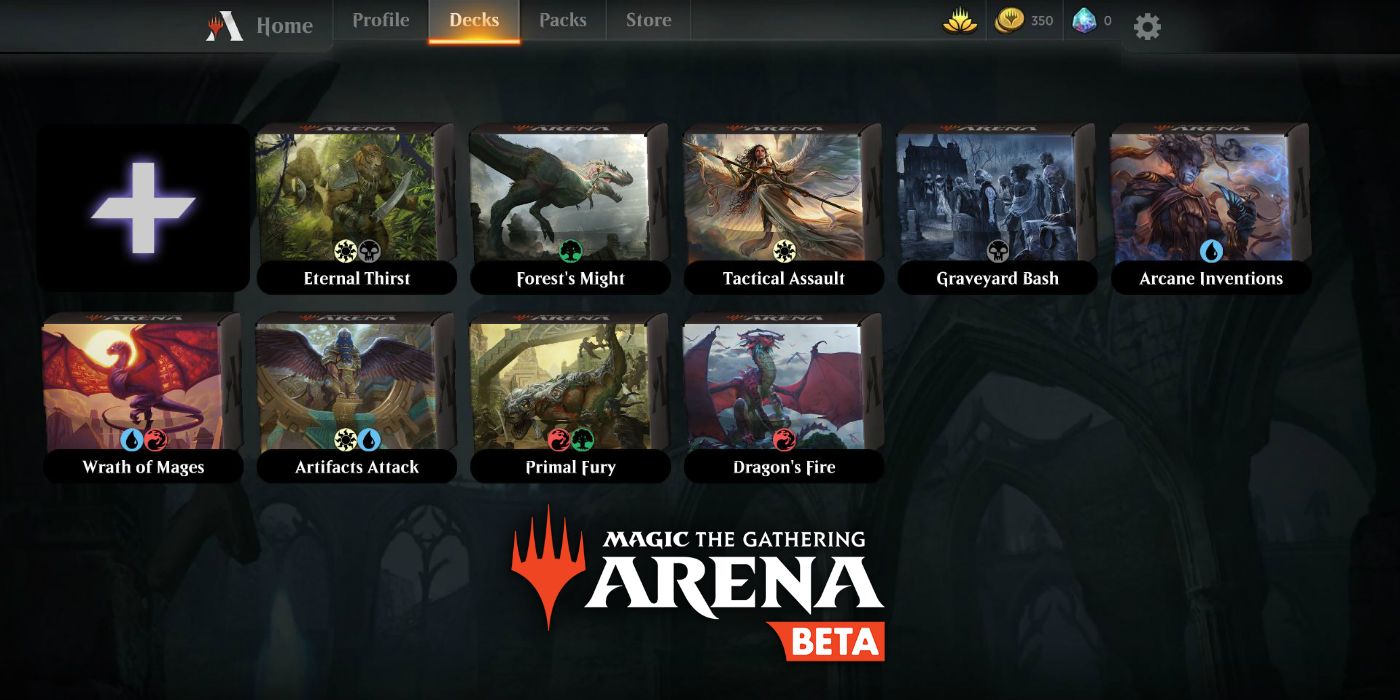 Wizards of the Coast announced today that the company would finally be addressing Magic The Gathering Arena's fifth card problem. The update that addresses the issue will roll out Thursday, January 17th, and was announced via a YouTube video designed to showcase what is coming to the platform with the launch of Ravnica Allegiance.
While Magic Arena's esports transition has been largely smooth thus far, the fifth card problem has plagued it since the open beta began and players felt they were being cheated on pack openings. Magic Arena allows players to use up to four of the same copy of a card in any of their constructed decks. Previously, opening a fifth copy of a card - which is entirely useless, as Magic Arena does not have a system to trade away or scrap fifth cards - would see the card quietly added to a resource tracker. Once players opened enough duplicates, they would gain access to something called the Vault, a collection of Wildcards that were supposed to make up for the many duplicates. It was not a very popular system, and was never very clearly tracked or explained.
Related: Elaine Chase Interview: Magic Arena Jumps Into Esports
Now, Magic Arena will be introducing duplicate protection. There's a detailed forum post here, but the essentials are as follows: if a player would open a Rare or Mythic Rare card that they already have four of, the system will automatically replace it with a different card of the same rarity from that set. The change will allow players to build their collection much quicker, and will also reduce the times that opening a pack feels like a "bad" experience for the player. The latter is vitally important in retaining the millions of players Magic Arena has attracted over the last few months.
There are a few caveats, of course. If a player has already collected full sets of every Rare and Mythic Rare in a set, they'll instead be awarded a small number of Gems, the premium currency in Magic Arena. In Limited, players will still receive duplicates, and those duplicates will be added to the Vault as normal.
Magic Arena is also getting a number of other changes with the release of Ravnica Allegiance, including a new Constructed Best-of-Three format on its ranked ladder system. Wizards of the Coast had been getting criticism regarding its lack of Best-of-Three systems in a ranked setting, as most Magic events allow players access to a sideboard, a collection of niche cards meant to help improve their chances in a series of games. It's a vital part of Magic, and something the competitive community was unwilling to lose.
Luckily, it appears Wizards of the Coast is attempting to dispel the notion that the company does not listen to its players. While it has, fairly or not, earned that reputation before, the feeling surrounding Magic Arena is that the company is making a concerted effort to address the needs of its playerbase. With ten million dollars in prizes on the line in 2019 alone, it makes sense for Wizards of the Coast to protect that investment by keeping its many Magic fans as happy as possible.
Source: Magic Arena Forums
This entry was posted by Screen Rant on January 14, 2019 at 12:01 pm, and is filed under TV News. Follow any responses to this post through RSS 2.0. You can skip to the end and leave a response. Pinging is currently not allowed.