Married At First Sight: 20 Rules Couples Have To Follow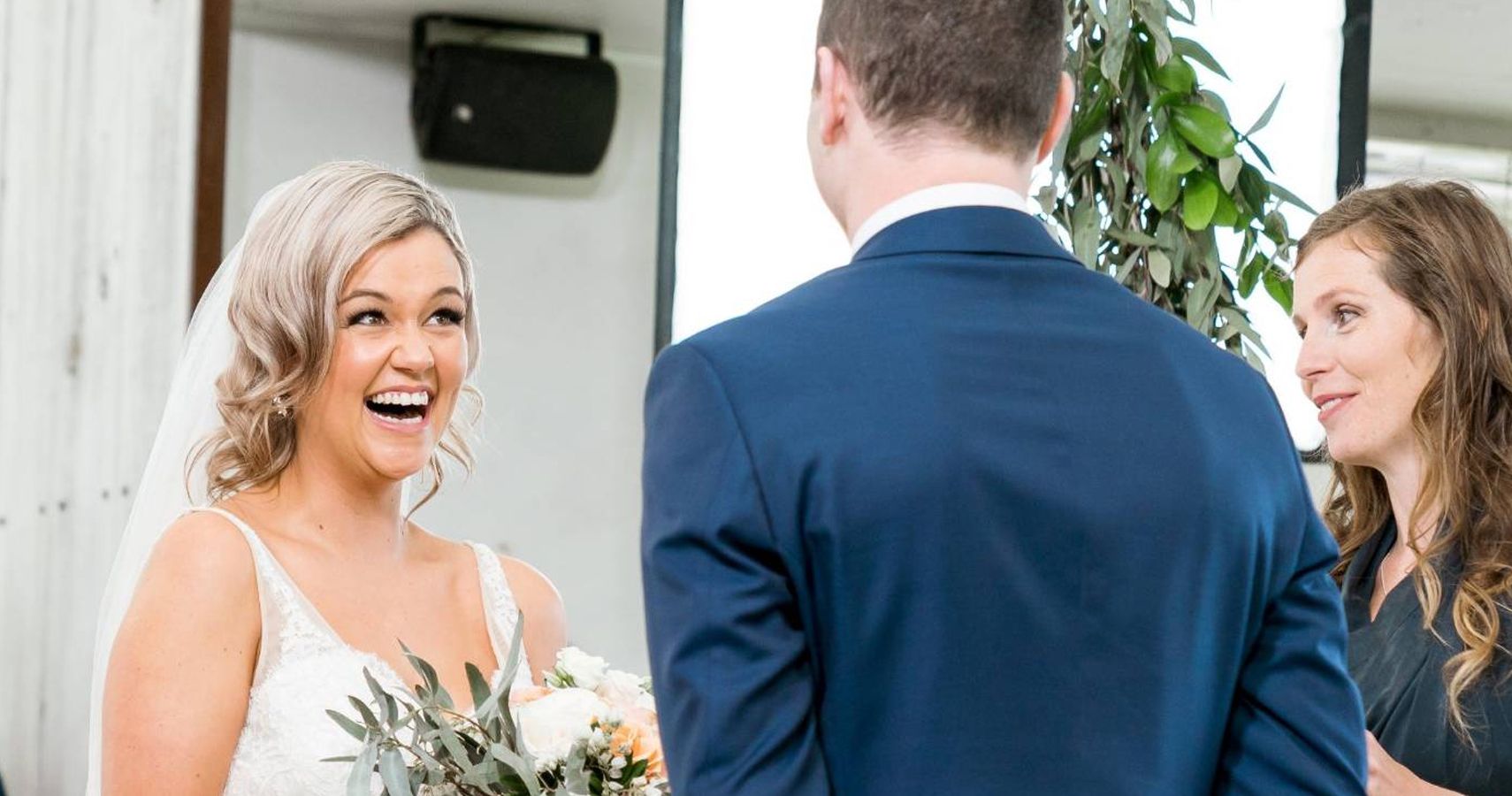 In 2013, 50% of primetime television audience tuned into a reality TV shows, according to Nielsen. The popularity of this genre has risen over the years, and each season, we have new reality shows popping up ranging from house cleaning, mediums, dating, botched surgeries, and following the lives of already established celebrities.
Research reveals that this genre satisfies American's needs in three main ways-the urge to relate to characters in shows they watch, insatiable appetite for fame, and the need for moderately inexpensive programming. As a result, the ground is fertile for producers as Americans are obsessed with reality television. Sadly, a report in 2018 showed that 63% of women said there is too much reality television programming, but this has not stopped producers, because as the same report revealed, Americans are still watching anyway.
With no limits to creativity, reality shows such as Married At First Sight have hit the screens. Married At First sight is a unique program that pushes hopeful single participants to their limits and forces them to marry a total stranger at first sight, after scientific matchmaking. The first season had 1500 applicants, which rose sharply to 17,000 in season 2, yet only 3 couples (6 participants) were needed for each season. In 5 seasons, 15 couples had been matched and married, but only 3 were still married by the time the 6th season was being shot. Still, the show has forged on, currently in its 8th season.
Here are 20 Rules Couples Have To Follow On Married At First Sight.
20

Legally Binding Marriage But, No Church Wedding

As some would like to imagine, these marriages are just for screen-value and ratings, hence could be fake. Well, all marriages in the show are legally binding, with a marriage license. The wedding ceremony is, however, a civil one, in order to avoid criticism from religious groups.

The couple has to say some things twice for production value, in order to get different camera angles. Also, as much as the wedding is real, the production gives direction on where to sit, stand and go on the wedding day. This is however not a bad thing, as Clark from season 2 confessed that it didn't feel forced and the camera crew from Channel 4 was great.
19

Marriage License Signed Immediately After The Ceremony

After the civil wedding, a marriage license must be signed to ensure the legality of the union. The license, which contains a spouse's vital information, must be signed immediately after the wedding ceremony.

Usually, a couple picks up the paperwork a week or two before the wedding ceremony, sign the document after the ceremony, and their officiant mails it the following week. At MAFS, the couple cannot pick up the paperwork earlier as it will show the name, age, address, and other key identifying data, killing the element of surprise on the wedding day. Immediately after the wedding, however, the couples can have access to the data via the license they sign.
18

Must Sign A Prenup

The cast obviously own property and assets before joining the show and need legal protection in case their marriages fail. For this reason, all couples must sign a prenuptial agreement basically stating that what they walk into the marriage with is what they walk out with.

It is a very short and brief prenup, that ensures that nobody gets into any form of legal trouble. It should be noted, however, that once the couple is into the marriage, what they do is solely their decision.
17

No All-Cast Dinner Party

Married At First Sight is fun to watch since it matches 3 couples living in the same city, working with the same relationship experts and living the same experience. This would be taken a notch higher if there would be an all-cast dinner party.

Executive producer, Chris Coelen, doesn't think so and said that it is not that they don't want a couple to meet other couples in the show, it just would be fake. While it would be easier to do that from a production standpoint, assembling everyone at one location, things would stop being real. In March 2018, fans were however treated to a dinner party and some could not handle the drama. It was known as an episode full of shocks.
16

Must Fill Open-Ended Psychological Questionnaire 

Married At First Sight consists a panel of experts, among them, psychologists, who ensure that each participant fills out an extensive open-ended psychological questionnaire, with approximately 50 questions, to understand their moral values and mental state.

One of the show's counselors, Pastor Calvin Roberson, while speaking to ET online, reiterated the importance of core values, citing that these were legal marriages and annulment was not an option. Executive producer, Sam Dean, also speaking to ET Online, added that each of the 4 experts must conduct their own research, an incredibly grueling process, which when done correctly, will take each expert an upward of 12 hours.
15

Must Go Through Thorough Background Check

A background check is also very vital. No one wants to hook up with a serial abuser or jailbird. Just because the show is reality-based, it doesn't mean that anyone can get on it. One of the experts on the show, Rachel DeAlto, each candidate goes through a thorough background check.

While speaking to ET online, she further explained that the reason was to weed out participants who have questionable lives and behaviors, such as a criminal record or significant debt. Truth is, reality show or now, marriage is a serious commitment, and candidates need to get into this kind of contract for the right reasons.
14

Must Attend An Interview Over Phone Or Skype

As experts and the production team have reported in several interviews, the selection process is insanely thorough. After all, they need a highly effective way to narrow down close to 20,000 participants and counting, to 6 individuals who will make 3 compatible couples.

So, once a city is picked and participants sought, the first stage is to know who these people are and make their first impression. Skype and phone interviews are set up, and they mandatory for anyone wishing to proceed to the next stage. This is followed by an all-encompassing questionnaire, and it is during this process, that participants are vetted out due to several reasons that would make them unfit.
13

They Must Marry And Move In With A Complete Stranger At First Sight

This is evident from the series title, that you meet a stranger and immediately marry them, no questions asked. Well, the only question the audience can ask is if just anyone is paired, and if there is a process to ensure compatibility, how is it done?

A city is picked, where the production team spends 6 months preparing by going to churches, bars, using dating sites and just reaching out to people, to widen their prospective pool. As the selection process progress, three experts have the final say, using science to match make. Since these couples should in theory work, again, based on science, they are required to marry and move in together at first sight. After the 8-week period, some decide that the match was 'made in heaven' while others think they were terrible for each other and opt for divorce.
12

Must Live As A Married Couple For 8 Weeks

Once the couple meets, and have their civil wedding ceremony, life begins! They go on a honeymoon, and when they come back, live in an apartment the show rents for them. The camera crew pops in several times in a week just to know how they are getting along. But there are moments off camera that allow them to bond deeper.

They are required to stay married for 8 weeks, until decision day when they will declare their stand, to either remain married or divorce. No one is forced to continue with the relationship after the marital trial period is over and they want out.
11

The Pay Is Not Good

There is a good number of millionaires in America who have earned their fortune through reality TV. The Kardashian Klan are among the most famous, with Kim is reportedly worth $350 million, Momager Kris is worth $60 million, Caitlyn Jenner is worth $100 million and Kylie is worth $900 million, just to mention a few members of the family.

Due to these impressive numbers, one would be tempted to assume that a foot into reality TV is a foot inside America's rich reality stars list. Well, as Coelen stated in an interview with The Wrap, the couples earn almost nothing. So, if you are looking to move into Beverly Hills after a stint at MAFS, sorry to disappoint you.
10

Men And Women Are Separated Before The Final Couples Are Chosen

MAFS is strictly about ensuring that the couple meets during the wedding ceremony, and this means that any form of interaction before then, is avoided. As a result, men and women are separated before the final couples are chosen.

One would be tempted to ask, what if there were to be same-gender couples? Couldn't they have met earlier? Still speaking to The Warp, Coelen touched on the matter, saying that the still don't have same-gender couples in the show. Although they would wish to have that as well, it is difficult due to the casting process. Same gender participants are kept together meaning that same-gender couples would risk losing the surprise element of the show. He, however, added that if they figure out a logistical way of handling the issue, they would love to do it.
9

No Inconsistent Stories

Given the level of scrutiny each participant goes through before the final 6 are selected, there is no room for dishonesty or any indication of that, in the show. So serious is the process, that there is a home visit in the last stages of the selection process. This is why inconsistent stories are discouraged.

Dr. Pepper, one of the show's experts, said that the trait she most looks for is coachability, someone willing to take advice, and is also warm, with the ability to empathize with someone else. Coelen added that it is not just about being a perfect match on paper, but also being earnest and kind. As a result, inconsistent stories are red flags, that are picked when the experts' earlier recorded interviews with prospective participants, are reviewed.
8

Must Agree To Be Filmed 10 Hours A Day For 8 Weeks

There are participants who have applied to be part of the show because they are genuinely looking for a life partner while others simply want to see how this works. No matter their reasons, they have to be comfortable with cameras surrounding them at least 10 hours a day for 8 weeks. This means that couples have to adjust to two major things in the show- a stranger for a spouse, and cameras. The couples are also allowed to use their own 'diary cameras'  to capture any moments they feel are cute.

How participants will handle being filmed for this long is something that the experts and producers can't predict during the rigorous casting process. In addition to this, couples talk to producers, who send detailed notes to the experts. This is an exercise that Dr. Pepper notes has helped improve the series.
7

Production Does Not Bear Divorce Costs

On Decision Day, the couple gets to share their views on the marriage and declare the way forward, either to a happily-ever-after, or a separation. For those that opt to no longer warm each other's beds, they need to have their own budget for divorce costs as the production does not bear them.

Stills peaking to The Wrap, Coelen said that there is no specific budget for divorce costs. The show could contribute within a certain period if the couple divorces, and also help them cover the costs of an attorney if they choose, but there is no set amount. What is for sure is that the separating couple will receive a nominal amount.
6

Can't Have Been Married Before, No Children

America's divorce rate has reduced by 18% between 2008 and 2016, thanks to millennials. Also, marriage rates are plummeting as millennials are taking longer to settle down. Consequently, 42% of Americans live without a partner or spouse. This means that this generation could have more single people than baby boomers, a target market for MAFS. But there's a catch, despite the lower marriage rates, there are 13.7 million single parents in the country, responsible for raising 22 million children.

This number has doubled since 1968, from 13% to 32% in 2017, as the share of US children living with an unmarried parent. These are however not MAFS' target participants, as they only need people who have not been married before, and have no children.
5

DNA Test A Must

Getting on this show is not a joke. In addition to assessing your mental capacity, morals, and code of ethics, they need physical data, one of them a DNA test which could seem too much for some people. But hey, it is okay because if a couple decides to stick together after the 8 weeks and start a family, you need to know what complications to expect in your offspring. Also, you don't want to end up getting paired with a relative!

Couples will also be asked for the hip-to-waist ratio in women and hip-to-shoulder in men. Waist-to-hip ratio is an important question because it has been traditionally used to gauge attractiveness in females.  Recent studies have also shown that WHR has a correlation to a woman's fertility. The hip-to-shoulder ratio in men also affects a man's attractiveness, women preferring a high shoulder-to-waist/hip ratio. This means men with wide shoulders and a small waist are the most attractive.
4

Must Declare Their Stand On Decision Day

Decision Day is the show's big moment, couples deciding on the fate of their relationship and experts finally knowing their success rate, which of course, bolsters their scientific theories. Whatever happens on D Day should be supported by both parties in a marriage, and sometimes it is not an easy decision to make especially when the two had a rocky start.

Opening up to US Magazine, Neil Bowlus gave us a sneak peek into what goes on into participants' minds on D Day. Neil revealed that he opted for divorce as he sought a more intimate relationship. For him, work did not end at the divorce, he spent 6 more months interacting with the experts, getting him into a comfortable place and appreciate his friendship with his ex.
3

No More Screen Time After The Show

TV productions cost money and that is why there is always an end to series. This is why there are only 8 weeks on camera. One would think that we could see how the divorced couple moves on and how the married couple continues with their relationship. Sadly, for curious viewers, life moves on after the show.

The closest we can get to favorite couples is on social media. A good example is Davina Kullar and Sean Varricchio who opted to divorce at the end of MAFS season 2. After the show, Kullar remarried, making the announcement in a series of photos on Instagram. On the other hand, Varricchio took to Twitter to express his thoughts on MAFS, stating that he no longer followed the show, had no ill feelings and moved on with his life.
2

Social Media Is Hidden

MAFS producers take the surprise so seriously that they ensure participants' social media is hidden to prevent research. In a long interview with Cosmopolitan, Clark from season 2 divulged that social media is hidden. He confessed that he had no interest in getting to know the other couples.

He also confirmed that they never met anyone else in the process, only meeting a couple of people on science day, but never meeting any of the other couples throughout the programme. Clark added that to ensure that there was no crossover, all social his social media was hidden and there was no way someone would find anyone.
1

Guest Limit On Wedding Day

Clark gave more details on what happens on the wedding day. He did not have much of a choice. First of all, he had to choose the wedding he wanted from a PowerPoint presentation that had options for him. Sadly, everything he chose wasn't picked, but Melissa's, his to-be wife's options, were picked.

There was also a guest limit, and he was only allowed to invite 20 guests. This was a low point for him as the selection process caused some friction with some of the family members. His day started at 9:00 am with his groomsmen getting ready. What we don't know is if the groomsmen were part of the 20-limit, or not.

---

What do you think about these rules on Married At First Sight? Let us know in the comments!
This entry was posted by Screen Rant on January 18, 2019 at 5:01 am, and is filed under TV News. Follow any responses to this post through RSS 2.0. You can skip to the end and leave a response. Pinging is currently not allowed.