Mary Poppins Returns Clips Highlight the Magic of Practical Effects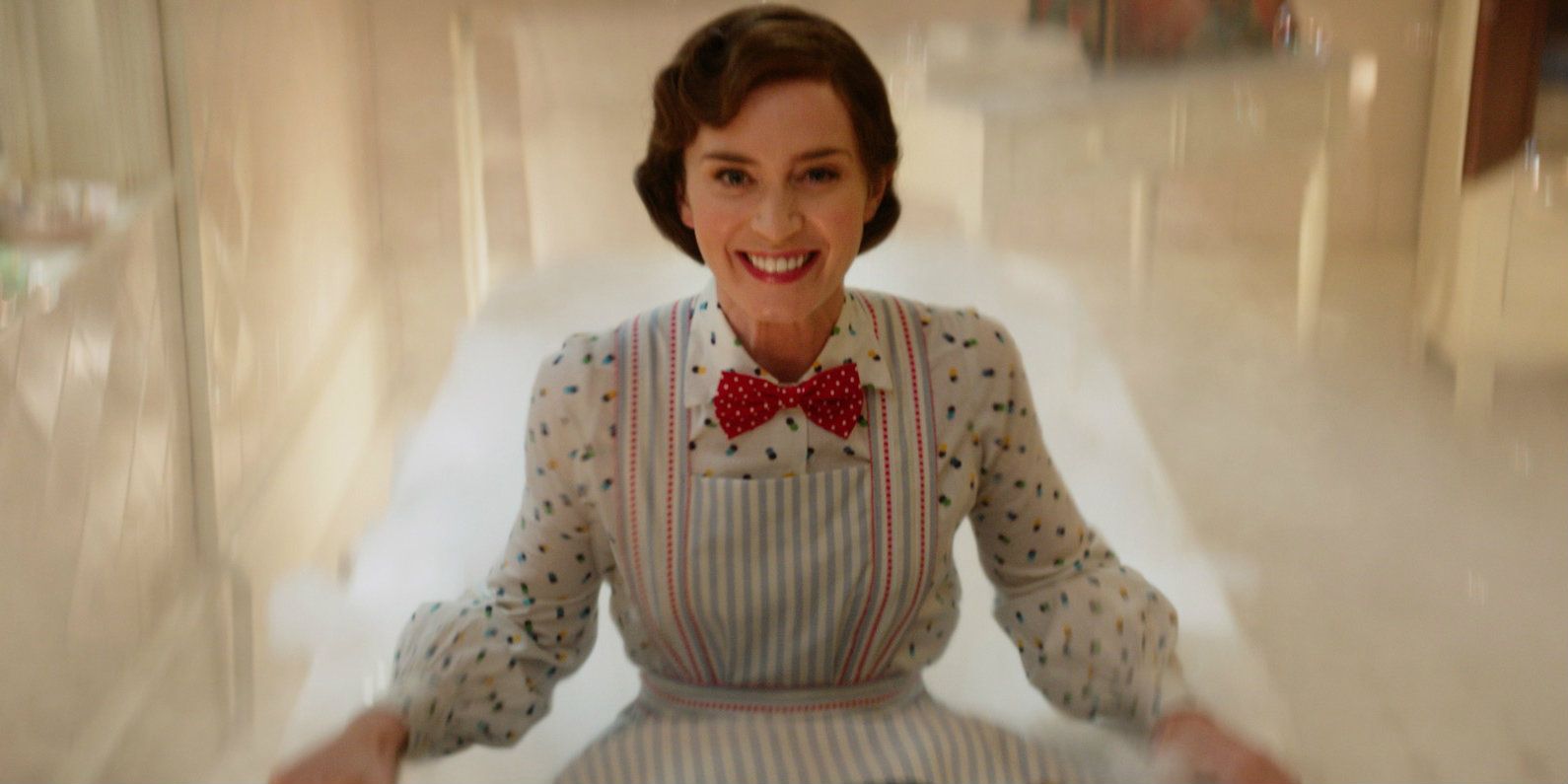 Behind the scenes clips from Mary Poppins Returns highlight the film's unexpected practical effects and set pieces. Disney's Mary Poppins sequel might've taken 54 years to actually happen, but the final results have largely justified the long wait. Mary Poppins Returns has so far earned $288 million at the worldwide box office in less than a month (on a $130 million budget) and landed its share of award nominations, including four Golden Globe nods. Critics have been equally supportive overall, with praise being lavished on stars Emily Blunt and Lin-Manuel Miranda in particular.
Described by some as The Force Awakens of Mary Poppins movies, Mary Poppins Returns is as much a love letter to the original Disney film as it is a continuation. Naturally, that comes across in the sequel's songs and musical numbers, most of which parallel scenes from the 1964 movie in some manner. However, there's another - and somewhat less obvious - area where Returns bears a distinct resemblance to the original Mary Poppins: its use of practical effects and sets.
Related: Mary Poppins Returns: Every Easter Egg & Reference
Twitter user and Disney fan CafeFantasia has posted a series of behind the scenes clips from Mary Poppins Returns that directly shine a light on the film's practical effects. Perhaps most surprisingly, these short videos reveal that a memorable stunt from the film's "Can You Imagine That?" musical number - where Mary (Blunt) enters a magical realm by plunging backwards into a bubble bath - was actually done practically. See for yourselves, below.
Obviously, Mary Poppins Returns uses CGI throughout its runtime, be it to bring the fantasy portion of "Can You Imagine That?" to life or create establishing shots of the film's 1930s London backdrop. Still, it's nice to see the film's crew used practical effects whenever possible and often in creative ways (like the bubble bath stunt). That goes double for the four months the Mary Poppins Returns crew spent constructing the lovely Cherry Tree Lane set, as seen in a time-lapse video here. As these clips further reveal, some of the movie's most impressive practical effects - specifically, Mary's dress from the animated Royal Doulton Bowl sequence and its hand-painted ruffles - are barely noticeable at all.
Thankfully, Mary Poppins Returns' crew is expected to receive recognition for their efforts from the Academy when the 2019 Oscar nominees are announced this month. Costume designer Sandy Powell is especially deserving of a nod for her work on not only this film, but also her costumes for Yorgos Lanthimos' period piece The Favourite, and may yet land Oscar nominations for both. All in all, the accolades would be well-deserved and help remind everyone of just how much hard work and ingenuity goes into making big screen magic like this happen.
Source: CafeFantastia
This entry was posted by Screen Rant on January 13, 2019 at 9:01 am, and is filed under TV News. Follow any responses to this post through RSS 2.0. You can skip to the end and leave a response. Pinging is currently not allowed.