Matthew McConaughey & Anne Hathaway Interview: Serenity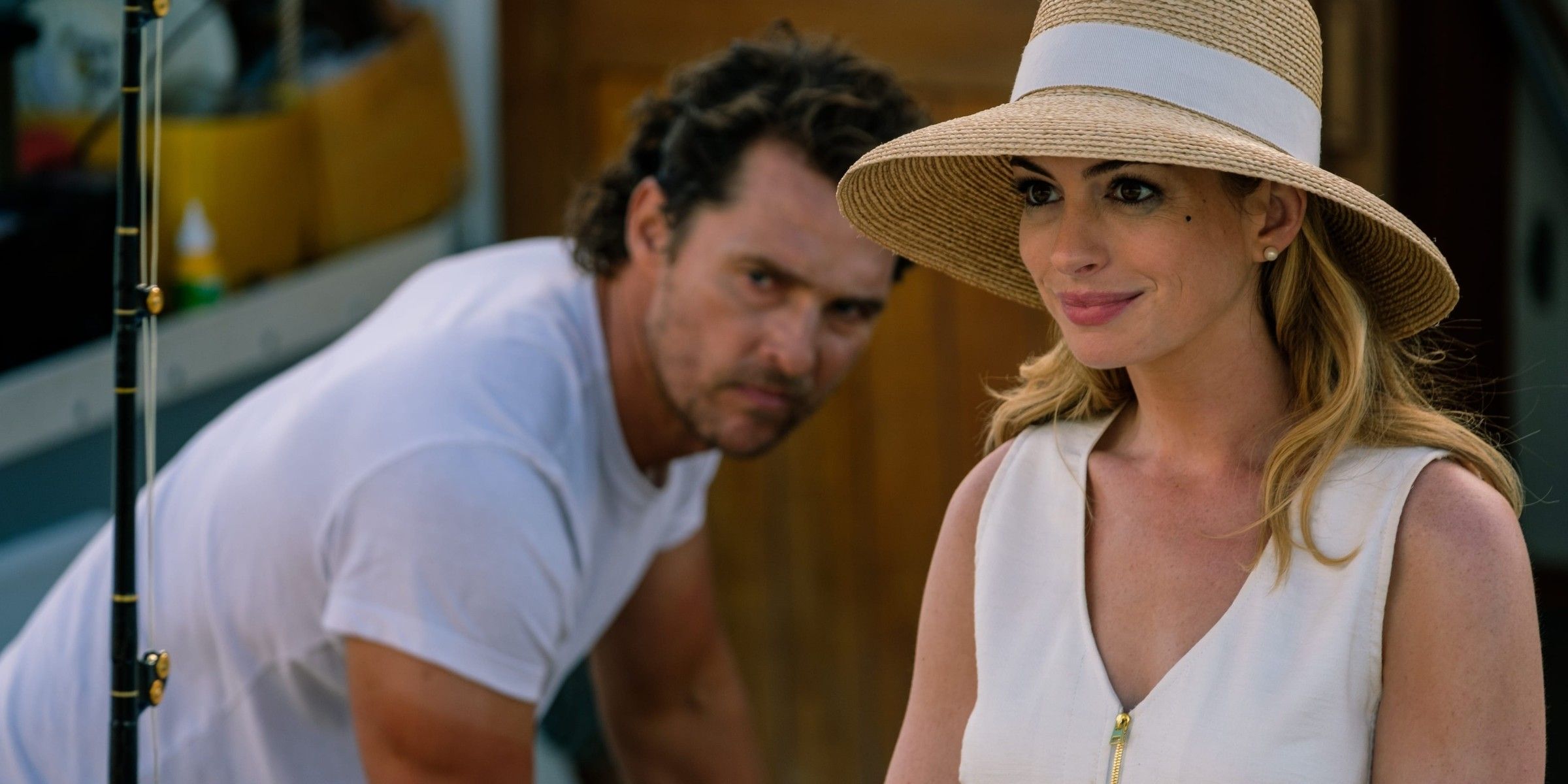 Matthew McConaughey is a versatile actor who has starred in such movies as Dazed and Confused, A Time to Kill, and Dallas Buyers Club, for which he won an Academy Award. Anne Hathaway is a world-renowned actress who has an Academy Award, a Golden Globe, a British Academy Film Award, and a Primetime Emmy Award.  Both actors star in Steven Knight's Serenity, a neo-noir thriller that tells the story of a fishing boat captain who is asked by his ex-wife to murder her new husband.
Screen Rant: First of all, guys, great job on the film. It blew my mind. Anne, your character is amazing. She's this femme fatale, protective mother, and survivor, all at the same time. So, what really drew you to Karen?
Anne Hathaway: Oh, thank you very much. I'm not usually the girl that gets sent this character. So, I was very intrigued by that. I loved the idea of getting to work with Matthew again. I knew he was going to be perfect in this part. Big fan of Steven Knight. The thing that really drew me to Karen was this idea that she's a woman who gives the appearance, and it's an appearance, it's a mask, that's been very defined by the male gaze. And there's a lot of conversation nowadays, not necessarily when we were making this, but now, about what that is and how harmful that can be. And by the end of the film, the mask has dropped, and you see this person, this soul who's been contorted by this abuse, by rage, by pain, by what she's been forced to endure. And I was really excited about getting to tell the story of someone who presents one way and has a whole different inner life.
Screen Rant: Interesting, it does remind me this film-noir style character that we'd never really get to explore the other side. Now we do in this film, and it's amazing. And Matthew, your character, his obsession and life goal is to catch this giant tuna. What does that hunt mean to you?
Matthew McConaughey: The hunt for Baker Dill, it's to do it for his son. For 10 years he's been trying to catch this fish because he's going to make a son happy. And as you—I'm about to get into giving things away. That's what my son would want me to do. That's the father figure that I am to my son. That's the hero that I am to my son. So, it is an absolute obsession. And I have not pulled it off yet. When you meet me in the film.
Screen Rant: There's a lot of elements that drive this story. And a lot of people have seen these elements before, whether that be a protective father that goes far for his child, and also an ex with questionable motives. But, even outside of the thriller genre of this, what do you think people are going to attach to with Serenity?
Matthew McConaughey: Hmmm.

Anne Hathaway: I think mind bending. I think that someone says, "Oh, it's a sexy noir." And I said, "Well, it's a sexy, surreal noir." It's a modern noir, which means that things that exist in the modern world make it into this movie. And that's all I'm going to say about that.
Screen Rant: I actually love that, by the way. It is definitely a modern noir with surrealism attached to it. Talk to me about Steven Knight because he wrote and directed this film. What was the collaboration process like with him?
Anne Hathaway: Oh, gorgeous. Gorgeous, gentle, generous…

Matthew McConaughey: Creative, exciting, but always calm.

Anne Hathaway: Non-possessive.

Matthew McConaughey: Yeah, non-possessive. Loved to actually-- He quietly gets turned on when you contradict him or have a differing opinion. He quietly gets turned on. It's not intimidated because he's very secure with his own convictions. He's not intimidated by an alternative conviction at all. It actually gets him kind of going, "Oh." Which is confidence, competence, on his part.

Anne Hathaway: And in this realm where-- I mean it's a lot to process in this. And it was a lot to process while we were making it, before we were making it. To be able to work with someone, and be in a space that's full of gentility, but isn't polite, that was really essential to all of us feeling like we were collaborating in the process.
This entry was posted by Screen Rant on January 23, 2019 at 12:01 pm, and is filed under Interviews, TV News. Follow any responses to this post through RSS 2.0. You can skip to the end and leave a response. Pinging is currently not allowed.