Mindy Kaling Thinks The Office's Kelly Might've Eventually Murdered Ryan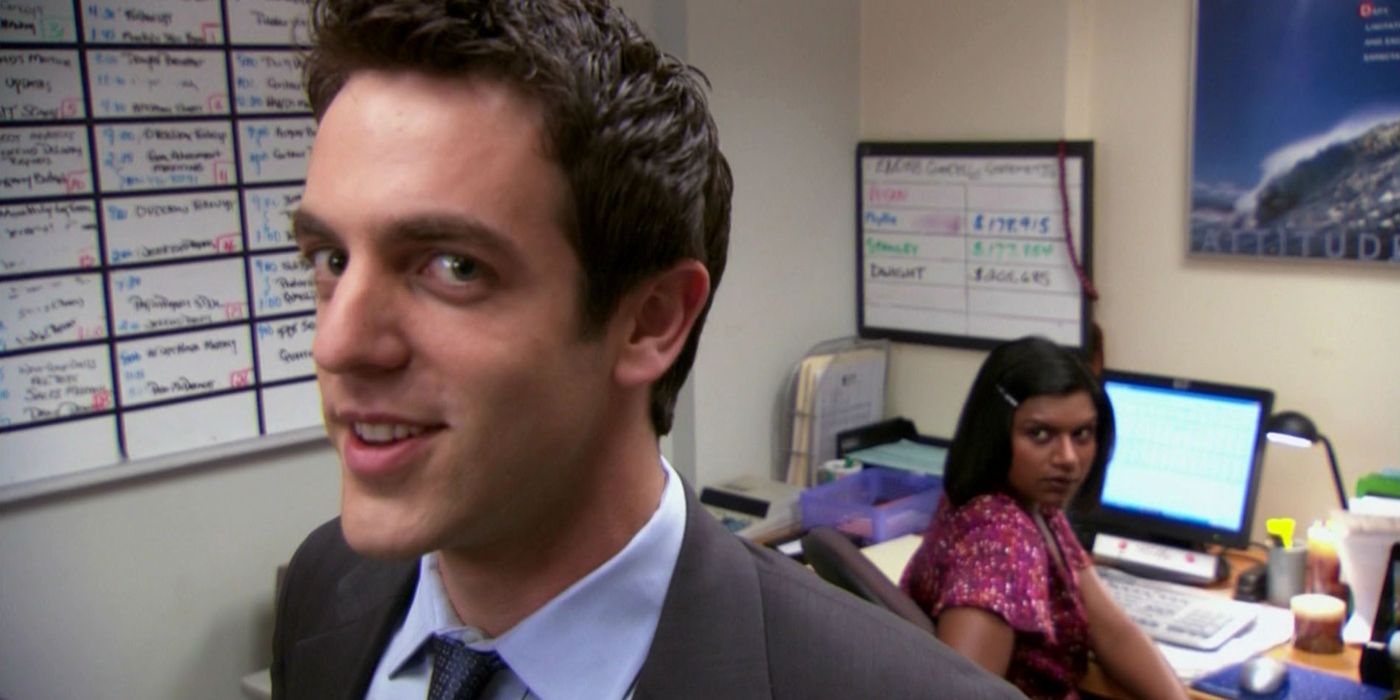 Mindy Kaling, best known for her roles as Mindy Lahiri in The Mindy Project and Kelly Kapoor in The Office, says she thinks Kelly is likely behind bars for murdering her love interest Ryan Howard (B. J. Novak). For fans of The Office, this actually seems like a fairly sound conclusion to draw. After all, the on-and-off couple grew more manic, obsessive, and downright scary over one another by their series departure at the end of the show's penultimate season, reaching a disturbing crescendo when the characters returned in the series finale. Plus, Mindy Kaling was a longtime writer on The Office, so who would we be to question?
The twisted relationship between Kelly and Ryan runs perfectly counter to the lofty relationship goals set by The Office's Jim Halpert (John Krasinski) and Pam Beasley (Jenna Fischer). While Jim and Pam share a (mostly) healthy relationship based in longtime friendship and deep trust, Kelly's and Ryan's feverish romance is rooted in deceit, selfishness, and misery. For the majority of the series they take turns refusing to reciprocate the other's advances, with their relationship beginning through Kelly's strong and persistent obsession over Ryan (so strong he was more or less forced into the role of her boyfriend) and their reunion in the finale seeing Ryan abandon a former partner's baby in order to convince Kelly to leave her stable husband for him. Considering the series ended more than five years ago, it really wouldn't be too much of a leap to assume that Kelly's potent infatuation with Ryan could advance to the point of spousal homicide.
Related: The Office Cast Begs Steve Carell to Reboot the Show During SNL Open
Kaling's musings on the life and possible crimes of Kelly Kapoor since The Office's end came in a Variety tweet, part of a longer interview about her career and the upcoming film Late Night, in which she stars. When asked the obligatory question of whether or not she would be interested in rebooting The Office, she carefully replied, "I think that anything that [Greg Daniels] decided to do I would watch and love and want to help him with." Dropping her understandable caution in avoiding the reignition of rumors of The Office's return, Kaling offers her hilariously apt (and jarringly edited) reflections on Kelly, saying:
"There's not an insignificant part of me that thinks that Kelly might be in jail. Crime of passion? The character just kept getting a little more and more unhinged. I don't wanna say that she murdered Ryan, but, like, I'm not convinced that he's still alive in the world of The Office."
In the full interview, Kaling opens up about how much things have changed for her as both a viewer and writer of television and film since she got her start on The Office in 2004, explaining that the difference is "night and day." She recalls she was "the only woman of color on [The Office's writing] staff for the entire run of the show," and says that onscreen ethnic inclusivity and representation was something she "didn't think [she] was owed." Skipping ahead to the general outlook of young people of the present, Kaling says that they recognize that lack of screen representation "isn't good enough" for them, and she believes she and other writers owe it their younger viewers to continue to lead industry change in a more inclusive direction.
The Office's Kelly Kapoor, for all of her possessive, manipulative, and potentially murderous tendencies - or, rather, perhaps because of them - is a perfect example of the type of inclusivity Kaling continues to strive for. At first, Kelly served as one of several non-white male characters off of which Michael Scott (Steve Carell) bounces his ignorant views, but she quickly blossomed into a series favorite with far more depth beyond her race or gender. And her suffocatingly toxic relationship with Ryan is the perfect embodiment of that, serving as onscreen proof to viewers that identify with her on any level that they are deserving of cultural representation amounting to far more than mere stereotypical caricature.
Source: Variety
This entry was posted by Screen Rant on January 23, 2019 at 8:01 am, and is filed under TV News. Follow any responses to this post through RSS 2.0. You can skip to the end and leave a response. Pinging is currently not allowed.