Mortal Kombat 11 Detailed: Fatalities Are Back And Better Than Ever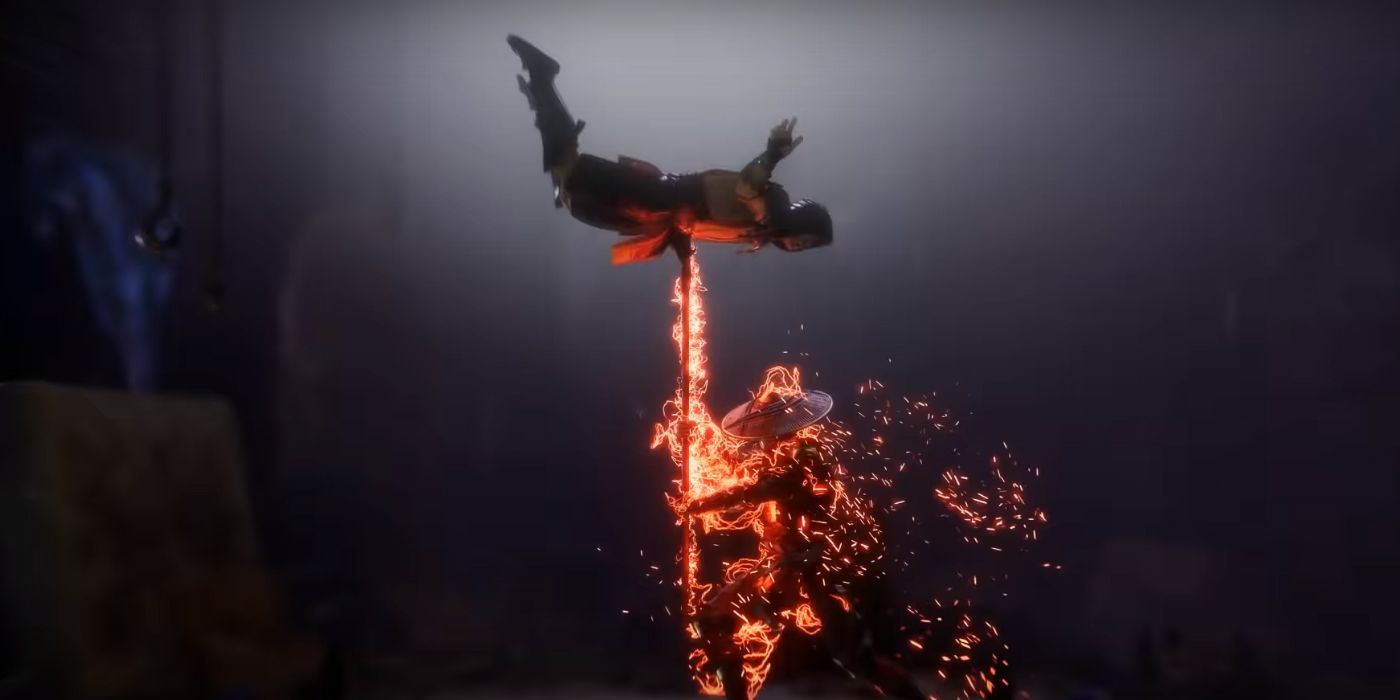 Mortal Kombat 11 won't be lacking the series' trademark fatalities. During the Mortal Kombat 11 reveal event earlier today, NetherRealm Studios unveiled a detailed look at the fatalities system in the upcoming game, showcasing a number of gruesome finales that will sate even the most bloodthirsty fans.
Mortal Kombat 11 is a return four years in the making following the release of 2015's Mortal Kombat 10. The title's first announcement during The Game Awards also promised a huge information dump in the form of today's Mortal Kombat 11 reveal event, which gathered various industry notables together to celebrate the franchise's history while revealing more about the upcoming game. The event showed off a brand new story mode featuring the franchise's first female boss, Kronika, alongside a brand new fighter in her servant, Geras. Geras joins a roster that is confirmed to include Baraka, Raiden, Skarlet, Scorpion, Sonya Blade and Sub-Zero as of now, with more to come.
Related: Mortal Kombat 11 Reveals Scorpion, Raiden, & Shao Kahn
Still, the focus of the event was what makes Mortal Kombat such a hit with its fans, and Mortal Kombat 11 will accordingly feature a wide array of increasingly bloody fatalities. The reveal event brought a minute-long trailer dedicated to an exhibition of what some of those finishing moves might look like, and the results were viscerally spectacular. There's the usual creative beheadings that have become a series trademark, but there are some new ones, too. Sonya Blade, revealed today to be voiced by Ronda Rousey, uses a helicopter to dissect her poor enemy, while Scorpion can use a super-heated version of his iconic chain to bisect a challenger in what is surprisingly one of the tamer iterations of fatalities in the trailer. Oh, and Baraka literally rips his opponent's face off and then eats their exposed brain, so there's that.
If there's another takeaway to be made from the fatalities trailer, it is that Mortal Kombat 11 will be the most visually impressive title the series has ever produced, and it doesn't seem like it will be a particularly close contest. The trailer featured incredible, minute details, whether it be the sparks of ash flying from Scorpion's eviscerated enemy or the fascinating crystallization of blood into a projectile weapon. It is gory, and it won't be for everyone, but Mortal Kombat fans will no doubt appreciate just how much work has gone into bringing each fatality to life.
Below are additional official MK11 videos including a gameplay walkthrough, the Mortal Kombat 11 gameplay reveal trailer and prologue story trailer, and the announcement of all-new character Geras - a powerful and loyal servant of Kronika, the first Mortal Kombat female boss.
Mortal Kombat 11 has a lot of expectations riding on it. The series has been away for a while, and fighting games have only improved during its absence. While dynamic visuals and over-the-top storytelling have been selling points before, the fatalities in Mortal Kombat 11 can only do so much heavy lifting. For more on just what the full Mortal Kombat 11 experience will entail, players will simply have to wait until the game's targeted release date of April 23, 2019.
Mortal Kombat 11's pre-orders include access to the beta, available March 28, 2019, and strangely, an in-game playable character, Shao Kahn. For the hardcore collectors, Mortal Kombat 11 Kollector's Edition was also revealed which includes the game, a Kombat Pack, Scorpion mask bust, exclusive steel case, commemorative magnet coin and authenticity plate.
This entry was posted by Screen Rant on January 17, 2019 at 1:01 am, and is filed under TV News. Follow any responses to this post through RSS 2.0. You can skip to the end and leave a response. Pinging is currently not allowed.