Netflix: Best New TV Shows & Movies This Weekend (January 11)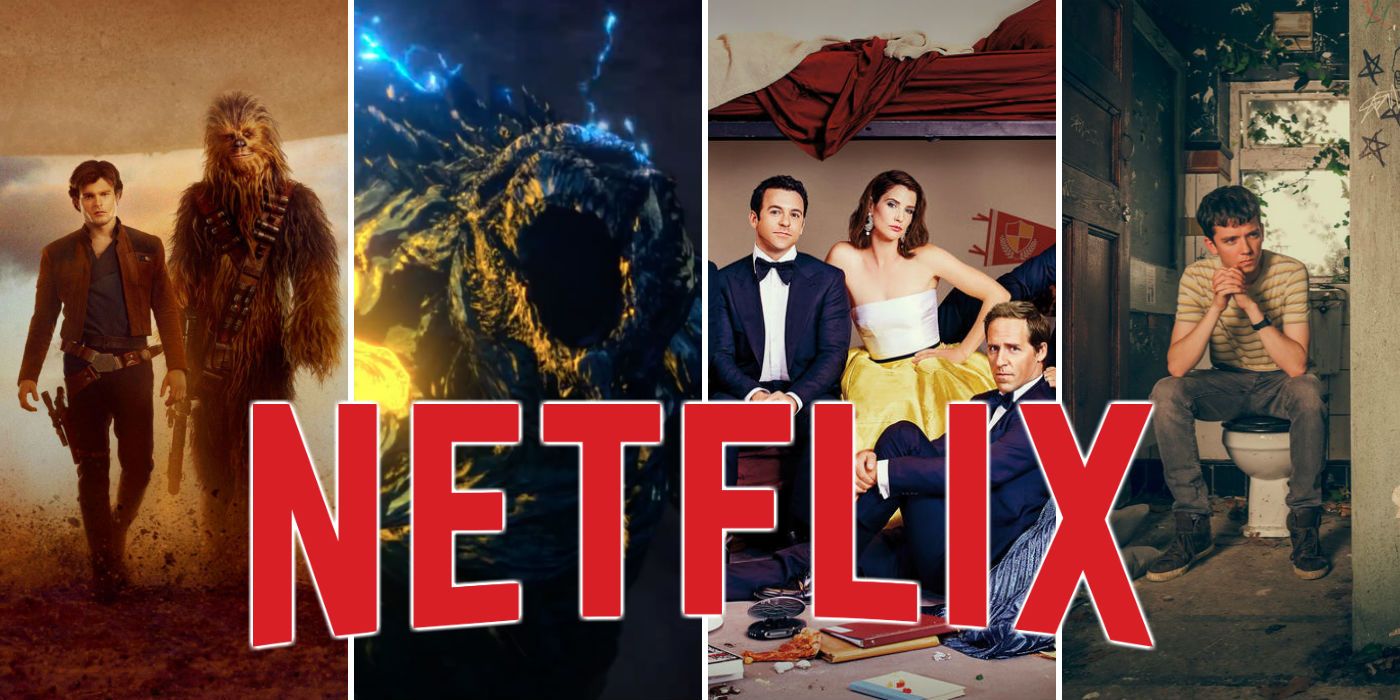 Beat the January blues this weekend with the latest TV and movie releases on Netflix. There's plenty to look forward to this month, including the second (and probably final) season of Marvel's The Punisher and the animated TV reboot of Carmen Sandiego, and Netflix has been on a roll lately with original movies like Bird Box and the twisty interactive narrative of Black Mirror: Bandersnatch.
This week's biggest new release is Godzilla: The Planet Eater, an anime film featuring everyone's favorite giant lizard. There's also a second season of comedy series Friends From College, and a brand new sitcom in Sex Education. Aside from Netflix Originals, the streaming service's library has been updated with movies like Solo: A Star Wars Story and The Fast and the Furious: Tokyo Drift.
Related: The 25 Best Films on Netflix Right Now
If you'd rather curl up on the couch than go outside and face the winter cold, here's our handy guide to everything new available on Netflix this weekend.
Godzilla: The Planet Eater
Godzilla: The Planet Eater is the final entry in Netflix's animated film trilogy that began with Godzilla: Planet of the Monsters and continued in Godzilla: City on the Edge of Battle. Produced by Toho Animation and directed by Kobun Shizuno and Hiroyuki Seshita, The Planet Eater sees Godzilla face off against the terrifying three-headed dragon Ghidorah, who will also appear in this year's live-action feature Godzilla: King of the Monsters.
Friends From College Season 2
Netflix Original comedy series Friends From College returns for a second season, once again starring Cobie Smulders, Keegan-Michael Key, Fred Savage, Bill Eichner, Jae Suh Park, Nat Faxon, Greg Germann and Annie Parisse. The show sees a group of old college buddies reunited and trying to figure their lives out as they approach their forties. In season 2, Max (Savage) brings the gang back together for his engagement party - which quickly gets out of hand.
Sex Education
Asa Butterfield stars in Netflix Original Sex Education, a British comedy series about a high school virgin whose mother (played by The X-Files' Gillian Anderson) is a professional sex therapist. Otis (Butterfield) teams up with business-minded bad-girl Maeve (Emma Mackey) to set up his own sex therapy clinic at their school. Unfortunately, Otis then finds himself developing what seems like a hopeless crush on Maeve.
Other New Netflix Releases This Weekend
2 Fast 2 Furious - 2003 street-racing action sequel starring Vin Diesel and Paul Walker.
All Of You - Filipino romantic comedy about two strangers who meet via a dating app.
Back With the Ex - Australian reality TV series about former couples giving their relationship a second chance.
Catwalk: Tales From the Cat Show Circuit - Canadian documentary taking a look behind the scenes of a cat show.
DreamWorks Holiday Classics - Four holiday specials featuring characters from DreamWorks animated franchies.
The Fast and the Furious: Tokyo Drift - Action movie about a high school student who is sent to live in Tokyo after a street-racing accident.
Hardy Bucks - Irish mockumentary series about a group of men living in small-town Ireland.
Komola Rocket - Bangladeshi drama film about the lives of passengers on a steamship.
Kurt & Courtney - Music documentary about Kurt Cobain's rise to fame, his relationship with Courtney Love, and his early death.
The Last Laugh - Comedy film starring Chevy Chase and Richard Dreyfuss, about a former stand-up comedian who returns to the comedy circuit.
Mr. Young - Comedy series about a 14 year-old kid who graduates from college and starts teaching at a high school.
Next Enti? - Indian Telugu-language romantic comedy about the dating life of a young woman who decided at an early age she "hates boys."
Pahuna - Nepali drama film about three young siblings who are separated from their parents and must survive on their own in India.
Pocoyo - Spanish animated series aimed at pre-schoolers, about a friendly toddler called Pocoyo.
ReMastered: Massacre At The Stadium - Documentary film about the shocking murder of Chilean singer Victor Jara.
Shaka Zulu - 1980s miniseries about the conflict between the British Empire in Africa and Shaka, the leader of the Zulu Nation.
Skin Trade - Action movie about as New Jersey detective who teams up with a Bangkok cop.
Solo - Spanish survival thriller about a surfer who falls off a cliff, based on a true story.
Solo: A Star Wars Story (pictured above) - Sci-fi prequel exploring the early life of charming smuggler Han Solo.
Titans (except U.S.) - International Netflix viewers can now watch the first season of this gritty series featuring the teen superheroes of the DC Universe.
When Heroes Fly - Israeli TV series about four veterans who reunite and travel to Colombia in search of a loved one.
This entry was posted by Screen Rant on January 11, 2019 at 10:01 am, and is filed under TV News. Follow any responses to this post through RSS 2.0. You can skip to the end and leave a response. Pinging is currently not allowed.