Netflix & Hulu's Fyre Festival Documentaries: Which Is Better?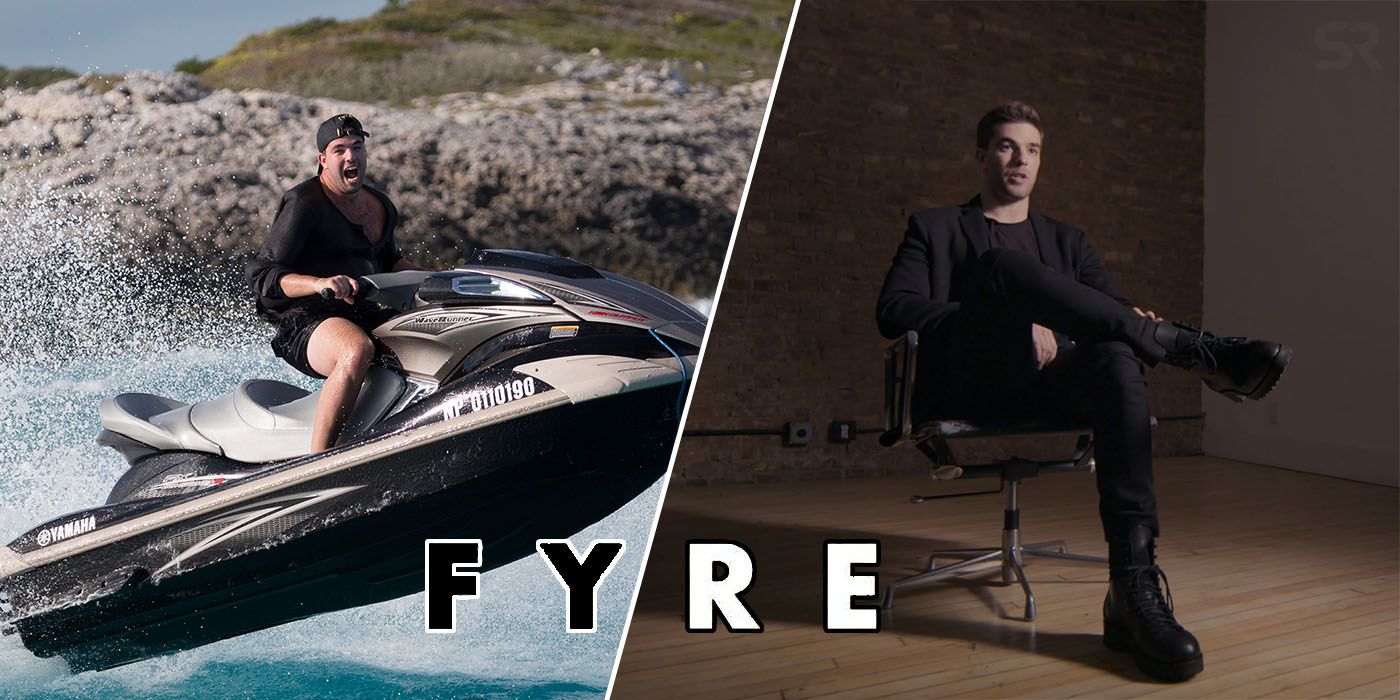 This past week, two documentaries about the infamous Fyre Festival premiered online - but which is better? The first, Fyre Fraud, was released by Hulu last Tuesday, while Fyre debuted Friday on Netflix. While both films examine the motivations of American entrepreneur Billy McFarland - the mastermind of the ill-fated music festival -- the respective filmmakers take distinctly separate approaches in how they engage with the audience, with one being more straightforward, and the other offering a more immersive, behind-the-scenes look. 
In April and May of 2017, Fyre Festival was scheduled to take place at Great Exuma island in the Bahamas. A promotional video featuring numerous well-known models, including Bella Hadid, teased an extravagant experience that catered to the millennial generation. Co-founded by McFarland and hip-hop star Ja Rule, the festival relied on an aggressive social media campaign and big promises to recruit social media influencers. In the end, financial fraud, poor organizing, and even bad weather led to the festival's demise, which was followed by eight lawsuits. Jenner Furst and Julia Willoughby Nason directed the Hulu documentary, and Chris Smith directed the Netflix production. It's worth noting that Jerry Media, the same company in charge of Fyre Festival's social media campaign, co-produced the latter film. 
Related: Fyre Festival Documentaries: Most Shocking Reveals From Hulu & Netflix
Here, we break down the highlights of both to determine which documentary is better: Hulu's Fyre Fraud or Netflix's Fyre?
NETFLIX'S FYRE HOOKS THE AUDIENCE BETTER
Given that Hulu seems to take a more objective approach, being that the filmmakers weren't involved with promoting Fyre Festival, the opening act structure makes perfect sense. Using a minimalist score, Fyre Fraud accentuates the initial hype that surrounded the festival, and depicts how the average person might've viewed the initial buzz from afar. Essentially, Fyre Fraud examines the millennial point of view. 
In contrast, Netflix's Fyre hooks the viewer by showing behind-the scenes footage of the original promotional shoot. This allows for a more lively viewing experience, as it pinpoints the festival's origin story through on-camera, in-the-moment commentaries from the actual people involved. Only then do the filmmakers go back in time five months to the Web Summit when Fyre Festival was first announced. By taking advantage of first-hand, behind-the-scenes footage, Fyre hooks the target audience more effectively than Fyre Fraud.
HULU'S FYRE FRAUD IS ALL ABOUT MILLENNIALS
For a film that emphasizes the millennial experience, Fyre Fraud takes itself quite seriously. This isn't necessarily a bad thing, as the hard news approach details the most important facts, and how they connect to society as a whole. With that said, the filmmakers spend a lot of time explaining how millennials represent the perfect mark for McFarland, all the while using social media language to underline concepts that most younger viewers already understand. For example: FOMO a.k.a. "The Fear of Missing out." In other words, Fyre Fraud doesn't quite feel like it was made for millenials.
More: The 25 Best Movies on Hulu Right Now
With Fyre, the filmmakers mostly show rather than tell. Of course, they do indeed present the essentials as to McFarland's business origins, and how he managed to assemble a team of wealthy investors. But the narrative threads are directly tied to video evidence of his lifestyle during the production process, along with the lifestyle of his collaborators. While one could argue that there's a conflict of interest (given Jerry Media's involvement), audiences get a better look at people living the millennial experience, rather than having talking heads explain how things work. 
NETFLIX'S FYRE IS EDGIER & MORE REVEALING
For viewers looking to fully understand how McFarland pulled of his Fyre Fest scam, Hulu's doc effectively connects the dots and features official interviews with the man himself throughout (more on that later). Fyre Fraud chronicles the magnitude and scope of the festival, and how people reacted to the early buzz, but it values traditional storytelling over provocative imagery and stories. Here's the thing, though: Fyre Festival made a name for itself by teasing a wild party behind the curtain, and Netflix's film delivers in that regard. 
Fyre is more Influencer-oriented, and it also features on-camera interviews with McFarland's primary "whisperer," an event producer named Andy King. After a series of relatively PG commentaries, King tells a story about how McFarland requested that he give fellatio to the Bahamian head of customs, and that King himself was fully ready to execute the plan. Fortunately, he ultimately didn't have to "take one big thing for the team." Earlier in Fyre, there's a somewhat troubling video account of the initial promo shoot, in which the models are aggressively directed to enter the water, unaware of what McFarland and company have in mind. Overall, Fyre has better moments.
HULU'S FYRE FRAUD HUMANIZES MCFARLAND
In Fyre, viewers see the person that McFarland wants to be: a rich and famous entrepreneur connected to a luxurious lifestyle and celebrities. The interview subjects detail how McFarland comes across as charming, but there's something behind his perpetual grin that seems off. 
In Fyre Fraud, the filmmakers show what appears to be the real McFarland, who is ultimately confronted about his behavior but doesn't admit to any wrong-doing. It's the quiet moments that resonate the most, as McFarland thinks about his next answer, and how he can re-phrase certain statements. In addition, Fyre Fraud includes interviews with McFarland's girlfriend Anastasia Eremenko, a model whom the entrepreneur met after the Fyre Festival fiasco. Though Eremenko doesn't say a whole lot about McFarland the man, she does make him appear just a little bit more relatable, if only because she clearly sees something in him worth holding on to, leaving the viewer to fill in the gaps as to why.
NETFLIX'S FYRE HAS MORE JA RULE
Though Fyre Fraud covers the essentials about Ja Rule's relationship with McFarland, and his involvement with Fyre Fest, it doesn't necessarily offer any new insight. That's where Netflix's behind the scenes footage becomes so valuable. 
In Fyre, Ja Rule appears to be having loads of fun, right from the moment he arrives in the Bahamas and begins bossing around models. In one of the doc's most intriguing clips, Ja Rule makes a Magic Johnson and Larry Bird correlation, suggesting that he and McFarland will change the game just like the aforementioned basketball players changed the NBA. While the Fyre filmmakers are obviously selective with their clips, showing the most entertaining moments, the footage effectively highlights the fraternity-like vibe during production, and how Ja Rule embraced the fun but not his accountability.
Related: The Best New Netflix TV Shows & Movies This Weekend (January 18)
BOTH FYRE FILMS ADDRESS CONSEQUENCES
Compared to Hulu's Fyre Fraud, Netflix's Fyre is more aggressive when depicting McFarland's collateral damage. The filmmakers call him out on camera, while interviews with Bahamian locals emphasize the lingering effects of McFarland's fraud.  
To be fair, Hulu doesn't fail to identify the long-term consequences. It's just that Fyre does it better, with footage that's more visceral and informative rather than just purely informative. What's important, though, is that each film pays special attention to the victims.
NETFLIX'S FYRE IS BETTER, BUT WATCH BOTH
Both Hulu and Netflix made solid Fyre Festival documentaries, with one being a little more revealing than the other. For older audiences, Fyre Fraud will probably be more accessible. But for younger viewers, Fyre will likely feel more entertaining, while also checking off the essentials. 
Overall, audiences should watch both Fyre Festival documentaries, as they are each important video documents about modern pop culture, and how anyone can be manipulated by people who promote what could be rather than backing up big statements with facts and hard evidence. If you have to choose one, though, put Fyre in your Netflix queue.
This entry was posted by Screen Rant on January 19, 2019 at 10:01 am, and is filed under TV News. Follow any responses to this post through RSS 2.0. You can skip to the end and leave a response. Pinging is currently not allowed.