Netflix Original TV Shows To Be Most Excited About In 2019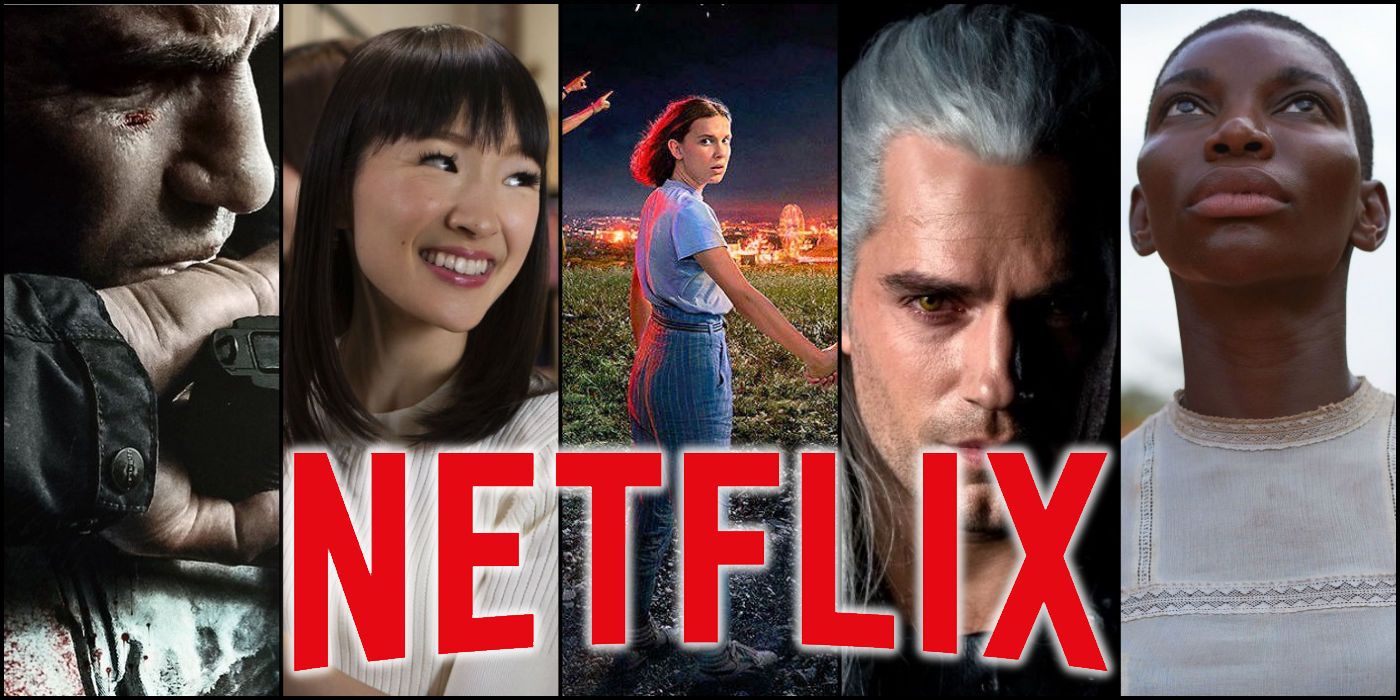 Gone are the days of streaming services just providing a place to binge-watch your favorite network shows; nowadays they've become places for original content to thrive, and Netflix's slate of upcoming original TV shows for 2019 is something to be excited about.
From early smash-hit original series like Orange Is The New Black, Netflix has expanded to create dozens of new series each year. Animation, comedy, docuseries, comic book adaptations; you name it, Netflix is making it. And while some of these have been major duds (or at least created their fair share of controversy), there's no doubt that the streaming service has continued to produce an incredible number of binge-worthy shows.
Related: 25 Best Netflix Original TV Shows, Ranked
It shouldn't be a surprise, then, that 2019 brings with it a huge number of new and continuing series for viewers to look forward to. From the last of the Marvel/Netflix Defenders series to some brand new comic adaptations, dark British comedies, and inspirational docuseries, these are the best upcoming Netflix Original Series to watch in 2019 (in no particular order).
15. Stranger Things
Available July 4
Stranger Things returns for its third season after skipping 2018, and it's going to be an exciting one. Not much is known about the exact plot of Stranger Things season 3, but the fact that it takes place in the summer, and will include themes and references to some of the biggest movies from 1985, makes for an interesting new take on the series. Everyone, including 11, is together, and even though everything seems to be going fine, something will ultimately happen and turn their summer vacation into another thrilling adventure.
14. Tidying Up With Marie Kondo
Available Now 
This January sees two new docuseries hitting Netflix, and the one you choose is going to say a whole lot about how you like to start your new year. Tidying Up With Marie Kondo is one for those who are definitely into the "new year, new me" approach, and this house-clearing reality show will both inspire and charm you. Starring Marie Kondo, the author of the wildly popular The Life-Changing Magic Of Tidying Up, the show sees Marie help various people tidy up their homes and change their lives - and much like Queer Eye, it's so much more than just a makeover show.
13. Conversations With A Killer: The Ted Bundy Tapes
Available Jan 24
Of course, if you would rather start the year by having your pants scared off, there's always Conversations With A Killer: The Ted Bundy Tapes. The latest to tap into the trend of serial killer obsessions, this docuseries focuses on the best-known killer of them all: Ted Bundy. Featuring never-before-heard audio interviews with Bundy on death row, this is sure to appeal to fans of Making A Murderer.
12. Grace And Frankie
Available January 18 
Grace And Frankie remains one of Netflix's more underrated comedy series, but this year it's headed into season 5 in January - which means that there's a solid fanbase watching this hilarious show. Don't expect another sitcom about sexy city roommates in their 20s, though. Grace and Frankie stars Jane Fonda and Lily Tomlin as two very different women who discover that their husbands have been romantically involved for decades… and now that they are retiring, it's time to come out of the closet. A new take on the odd couple dynamic, this show has plenty of dysfunctional family goodness and presents a great take on the way that retirement-age characters are presented in TV.
11. Sex Education
Available Now
If you would rather get your laughs from something newer (and darker), take a look at this series that is brand new to Netflix this year: Sex Education. Asa Butterfield stars in this a brilliant new Brit comedy about a teenage boy and his sex-therapist mother. Expect plenty of cringe-worthy moments as he schools his friends on the sex he just can't seem to bring himself to have… even with himself.
10. Dead To Me
Release date unconfirmed
Dead To Me, meanwhile, is an upcoming series starring Christina Applegate (image above from Anchorman). The tagline has everyone wondering just what is going to happen, with the intriguing description "A dark comedy about a powerful friendship that blossoms between a tightly wound widow and a free spirit with a shocking secret." Sounds like this one is going to be another dark comedy, and one with plenty of surprises in store.
9. The Punisher/Jessica Jones
The Punisher is available January 18, Jessica Jones release date is unconfirmed
The dreaded superhero fatigue still shows no sign of appearing in 2019, with Aquaman crushing the box office, and if you are searching for something comic book related on the small screen, Netflix has you covered. Of course, we're bidding a sad farewell to the ambitious shared universe of Marvel/Netflix's Defenders, which means the final few series are on their way this year. The Punisher returns for a second season this month, and Jessica Jones will get a third at some point later this year. Get your fill of the last of Marvel's ass-kicking heroes before they are gone for good.
8. The Umbrella Academy
Available February 15
If you are looking for something new, and not Marvel, Netflix has some new options for superhero fans. The Umbrella Academy hits in February, based on the graphic novel of the same name about a group of unorthodox superheroes in an alternate history. Get ready for some dysfunctional super-family goodness with this one, which promises to be something for those fans who want superpowers with a darker twist.
7. Raising Dion
Release date unconfirmed
Raising Dion, which has yet to get a release date, is another totally different take on the superhero genre, as a single mother attempts to hide her young son's superpowers from those who would exploit them, and uncover the mystery of their origin. With the mystery of a dead father and plenty of people after Dion, this is definitely not going to be a superhero origin show, but one that looks at superpowers in childhood.
6. GLOW
Release date unconfirmed 
For some more serious viewing, viewers can flip to the returning GLOW, which straddles the line between comedy and drama, chronicling the rise of women's wrestling in the '80s with the Gorgeous Ladies Of Wrestling. GLOW is a phenomenal example of what a series can do with a deeply unlikeable lead character, and a female ensemble cast that is absolutely stunning. The cast are incredible, and the costumes are a great dip back into the nostalgia (and huge hair) of the decade.
5. Black Earth Rising
Available January 25
Black Earth Rising, meanwhile, may not be a true Netflix Original (it was originally released in the UK in September of 2018), but was created in partnership with Netflix and releases in North America at the end of January. The series centers on a Rwanda-born legal investigator whose adoptive mother, an international human rights lawyer, takes on the prosecution of a militia leader who fought in the Congo. Their relationship is brought to breaking point by the case, but issues of identity are joined by an unfurling and dangerous conspiracy.
4. A Series Of Unfortunate Events
Available Now  
Finally, we're stepping far out of the realm of reality with these next few shows; adaptations and prequels that wander well into the realms of the fantasy world. Returning to the streaming service for a final season is A Series Of Unfortunate Events, which wraps up Neil Patrick Harris's turn as the devious Count Olaf. This season covers the last few books, as the orphaned children have to deal with the scheming of Olaf one final time.
3. The Chilling Adventures Of Sabrina
Available April 5
Also returning is The Chilling Adventures Of Sabrina, the Netflix adaptation of the comic character that reworks the '90s show into some spooky goodness in the same vein as the popular Riverdale series (and they may even cross over at some point). After a successful first season of witchy adventures and a Christmas holiday special, this season is likely to see the show really take off, as fans are now immersed in this world and the characters, and looking forward to seeing what Sabrina is up to next.
2. The Witcher
Release date unconfirmed 
New fantasy to look forward to includes The Witcher, starring Henry Cavill of Superman fame, based on the fantasy book saga of the same name. Get ready for some high fantasy monster hunting and magic, as well as Cavill in a white wig. This is definitely high fantasy, which can be hit or miss when it comes to adaptations, but the star power of Cavill and the devoted fan base should mean a fantastic show - even if some fans weren't too pleased with the test footage of Cavill as the character.
1. The Dark Crystal: Age Of Resistance
Release date unconfirmed
Finally, Netflix is resurrecting the world of Tim Henson's The Dark Crystal with The Dark Crystal: Age Of Resistance. The series features a star-studded voice cast, as it explores the world that Tim Henson created years before the original film. It's going to look very different, of course, with huge advances in animation and CGI that update the classic puppets of the original, but fans are sure to love the updated look.
This entry was posted by Screen Rant on January 14, 2019 at 2:01 am, and is filed under TV News. Follow any responses to this post through RSS 2.0. You can skip to the end and leave a response. Pinging is currently not allowed.