Netflix Vs Hulu: Which Fyre Fest Documentary Should You Watch?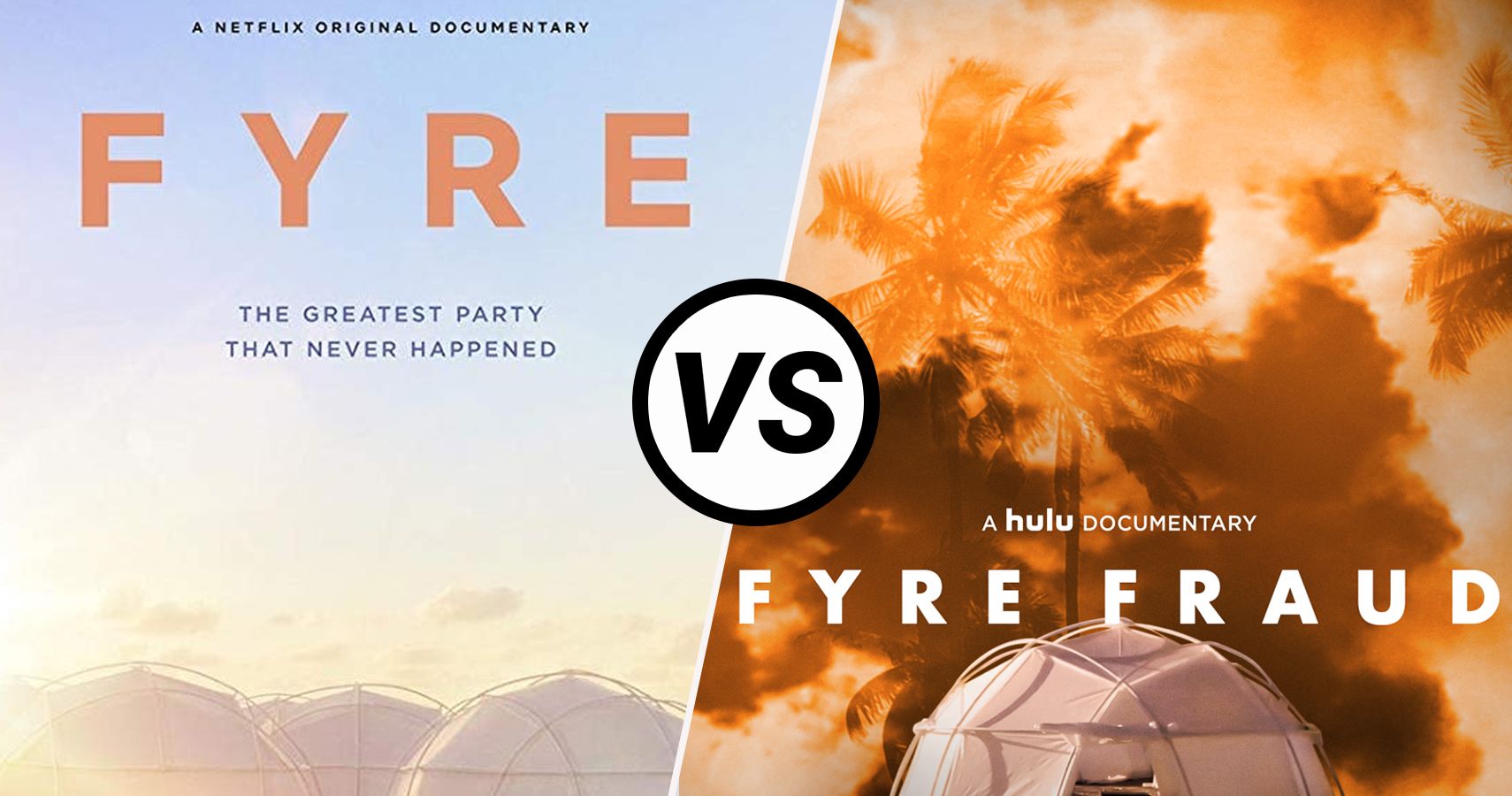 Two years ago, the internet was set aflame by Fyre Festival, which took place on the Bahamian island of Great Exuma.  Present-day, we're in a similar situation. Both Hulu and Netflix have released Fyre Festival documentaries in a span of a few days between one another, with Hulu unexpectedly dropping theirs first. Here's a quick recap: businessman (and scam artist) Billy McFarland and rapper Ja Rule created a "luxury" music festival that was heavily promoted by social media and celebrity influencers. People paid thousands for tickets, were promised luxury villas and food only to arrive at a music fest with no bands, dinky white tents, and sad looking sandwiches.
You'd think that documentaries covering the same topic would get repetitive, but each documentary tells the story of a music fest gone (very) wrong in disparate ways. So which one should you watch? Short answer: Watch both. If you don't have time— or can only take so much Fyre Fest commentary — here are a few points to consider before choosing one.
Hulu got an exclusive interview with Billy McFarland...with a catch
This is the most pointed difference between the two documentaries. Hulu's Fyre Fraud got exclusive access to McFarland in an interview, which was filmed before he was sentenced to six years in prison in October 2018. McFarland lied throughout the interview, as convicted scam artists do, and there were even questions he refused to answer. There were also segments where McFarland most likely fudged his answers. Yeah, the interviewer kept him accountable — and so did other sources, clips, and information presented — but McFarland himself mostly just made Fyre Fraud have a more character study feel.
Here's the catch: Hulu paid McFarland to be in the interview, which presents ethical quandaries. Though the exact number hasn't been disclosed, Netflix's Fyre director, Chris Smith, threw shade by claiming that when he told The Ringer that he approached McFarland for an interview, he decided not to because he requested $125,000, while also claiming that Hulu shelled out $250,000. Fyre Fraud's co-director Jenner Furst didn't disclose the amount but did say it was less what Smith claimed.
Related: Fyre Festival Documentaries: Interesting Reveals From Hulu & Netflix
With McFarland, Hulu delves into more personal territory by interviewing his girlfriend, Anastasia Eremenko, and his mom (though the latter is just a snippet of a statement in a robotic voice). In interviewing people in his life aside from the Fyre, viewers are able to glean a greater understanding of who McFarland is — and how he ended up catching heat for the fest. 
Netflix Fyre was produced by Jerry Media
Hulu's film isn't the only film to be mired in controversy. Netflix's flick was produced by Jerry Media, aka social media moguls F***Jerry. Who else did they work for? Fyre Festival's marketing team. This nuance isn't lost on Hulu, whose film includes an interview with Oren Aks, a former Jerry Media employee. At the end of the doc, they call out Netflix.
While Hulu placed some responsibility on Jerry Media, Netflix downplayed their influence on the festival's unraveling. Both films, however, still create a narrative that largely blames McFarland. And, yeah, the dude's a mess.
Hulu's takes on a faster pace while Netflix's dives deeper
The way Fyre Fraud is formatted takes on the feel of scrolling through a social media feed through a quick pace, memes a-plenty and comical relief. In that way, it's more akin to how the story originally unfurled on our Twitter timelines. It also delves into more over-arching themes that explore who millennials are as a generation, the rise of influencers and their effect on marketing. Models like Bella Hadid and Kendall Jenner, who have a tremendous reach and audience, sold the clear blue waters, blissed-out vibes Fyre Festival promoted.
Netflix's Fyre hones in on the chaos of the festival's organization. We're given a look behind the scenes as McFarland and Ja Rule pressure their staff into fudging the truth as McFarland attempts to satiate potential investors. Interviews with the team who developed the Fyre app, meant as a tool to streamline the process of booking artists for live performances, demonstrates McFarland's inability to pay his staff fairly and on time.
RELATED: Samuel L Jackson and Ryan Reynolds Mock Fyre Festival
There was even a scene where Andy King, an event production planner and creative director of Inward Point, reveals that days prior to the festival, customs told McFarland that they wouldn't give over four 18-wheeler trucks that were filled with Evian water unless he paid the $175,000 fee. Allegedly, since McFarland was strapped with cash, he came up with an alternate plan. He called King and asked him to perform certain illicit acts on a customs official to get the issue solved. However, King got it worked out without carrying out McFarland's orders. Still, the scene had me shocked.
Netflix highlights the plight of the Bahaiams affected
What really sets Netflix's film apart is its inclusion of interviews with the Bahamian residents. The stories they share are horrific and perhaps they're the biggest victims in this scenario. One resident interviewed was particularly heart-wrenching. Maryann Rolle of the Elvis Rolle restaurant says in Fyre that her staff worked long hours to serve (and clean the dishes after) nearly 1,000 meals a day for the workers. But she didn't get paid for her work, citing that she spent $50,000 of her own money to pay her staff. A GoFundMe page was created last week and has already reached over $160,000 — surpassing its goal of $123,000.
Hulu's documentary also interviewed Delroy, a local bartender, who was a real gem. Honestly, I could listen to him casually talk about how dumb McFarland is all day. Delroy claims that Billy purchased $2 million of booze (plus taxes!) and he was like, "Billy, uh-uh." We couldn't agree with you more, Delroy.
Ja Rule is an absolute mess in both
In both films, rapper Ja Rule is presented as complicit in Fyre Festival's failure, but also that he had no idea what he was doing. If you really don't have time to watch these documentaries, you should really just take a look at Ja Rule's Twitter. HE HAS RECEIPTS. As he states it, he was:
He wasn't interviewed for either documentary, honestly, he probably didn't want to be, but different clips were in each. Overall, Netflix hones in more on Ja Rule and shows more behind-the-scenes footage of his part in it. Mostly, he's seen having a blast in the Bahamas and bossing around a model. Hulu pulls clips from other interviews, but Ja Rule's role ultimately is presented more like a laughing point, as there isn't as much depth. Was he also scammed? Did he also scam people? Or did the rapper just want to party and had some massive oversight? I'd go with the latter.
The Verdict
It really comes down to taste preference. If you want something more light, go for Hulu's Fyre Fraud. Explored through a modern, social media lens, the documentary is more fun and broad than Netflix's. It hits at more universal themes and connects the plight of Fyre Festival to larger societal issues. On the other hand, Netflix's Fyre delves deeper into interviews of those who worked alongside McFarland and presents a more making-of-a-scam-artist narrative. Since Hulu pulls from an exclusive interview with McFarland, there's less overall footage. The ethical quandaries aimed at both docs are troublesome, sure, but neither comes off as overly biased — unless you consider Netflix's lack of accountability directed toward Jerry Media.
In the end, watch both. Or, again, just go check out Ja Rule's tweets for wild entertainment.
NEXT: Seth Rogen & The Lonely Island Making Fyre Festival Like Movie 
This entry was posted by Screen Rant on January 22, 2019 at 11:01 am, and is filed under TV News. Follow any responses to this post through RSS 2.0. You can skip to the end and leave a response. Pinging is currently not allowed.