New Hobbs & Shaw Image Hypes the Summer's 'Biggest Showdown'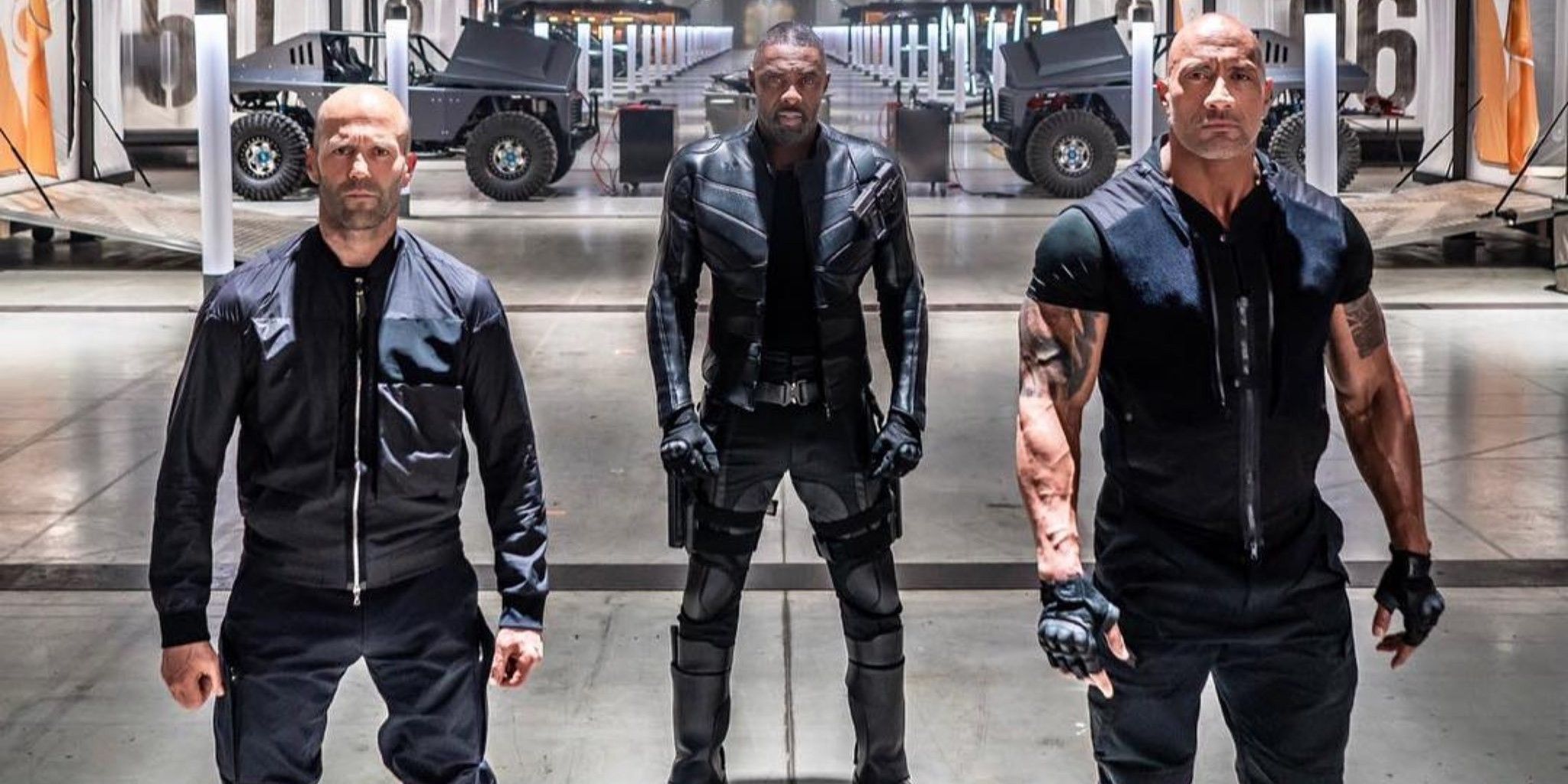 A new image from Fast and Furious Presents: Hobbs & Shaw hypes the "biggest showdown" of the summer between Jason Statham, Idris Elba, and Dwayne Johnson. While the Fast & Furious brand has been around since 2001, it got a new lease on life after Johnson joined the franchise as straight-laced lawman Luke Hobbs in 2011's Fast Five. Since then, the property has scaled greater box office heights - with its last two films having grossed well over $1 billion worldwide - and Johnson has, in many ways, become its true star. So, unsurprisingly, the Hobbs character is now being spun-off into a movie of his own.
Hobbs & Shaw, as its title implies, follows Hobbs as he teams up with the mercenary Deckard Shaw (Jason Statham) to take on a new threat in the form of the mysterious Brixton (Idris Elba). Statham became part of the Fast & Furious franchise back in the post-credits scene for Fast & Furious 6, and went on to serve as the main antagonist in Furious Seven. His character Shaw was then granted something of a redemption arc in 2017's The Fate of the Furious and even worked alongside the series' heroes to save the day. Statham and Johnson also engaged in some good-natured trash talking in that film, which helped inspire the idea behind Hobbs & Shaw to begin with.
Related: The Rock Says 'Snowflake' Interview Never Happened
Johnson, Statham, and Elba are joined in the Hobbs & Shaw cast by series newcomers like Vanessa Kirby (Mission: Impossible - Fallout) as Shaw's MI6 agent sister Hattie, Eiza González (Baby Driver) as a mysterious character known as Madam M, and Eddie Marsan (Deadpool 2) in an as-yet undisclosed role. The Rock, as has become his typical practice, has kept fans in the loop throughout the film's production via his social media updates, many of which include photos of the Hobbs and Shaw cast on-set.  His latest Instagram post, which you can see below, further teases a showdown to remember between the "outlaw lawman" Hobbs, "international spy" Shaw, and the sinister Brixton in the spinoff.
The Rock, of course, is never one to refrain from hyping his own movies and promises audiences will have "an absolute blast" watching Hobbs and Shaw take on Brixton, aka. the "Baddest Bad Guy the Fast & Furious franchise has ever had". Elba, for his part, is the latest big name to sign on to play a villain in a Fast & Furious film, after Charlize Theron played the cyberterrorist Cipher in Fate of the Furious and even Statham and Johnson served as antagonists for their first go-rounds with the franchise. The brand's international draw-power and scope have only aided its efforts in bringing in A-list talent from around the world, with Luther's Elba being the latest example.
Between Johnson, Statham, and Elba, Hobbs & Shaw should have little trouble attracting a sizable crowd at the box office this summer. Moreover, the film could potentially mark a return to form for the franchise in terms of quality, following the lukewarm critical reaction and #JusticeforHan fan movement in response to Fate of the Furious. Indeed, the spinoff is being scripted by franchise writer Chris Morgan and directed by David Leitch, who's coming off the back to back successes of his spy thriller Atomic Blonde and comic book movie sequel Deadpool 2. Between some notable behind the scenes talent and its impressive cast, Hobbs & Shaw may yet live up to its promise of being one of the summer's "biggest" events.
Source: Dwayne Johnson
This entry was posted by Screen Rant on January 13, 2019 at 8:01 am, and is filed under TV News. Follow any responses to this post through RSS 2.0. You can skip to the end and leave a response. Pinging is currently not allowed.