New Men in Black: International Photos Reveal Alien Agents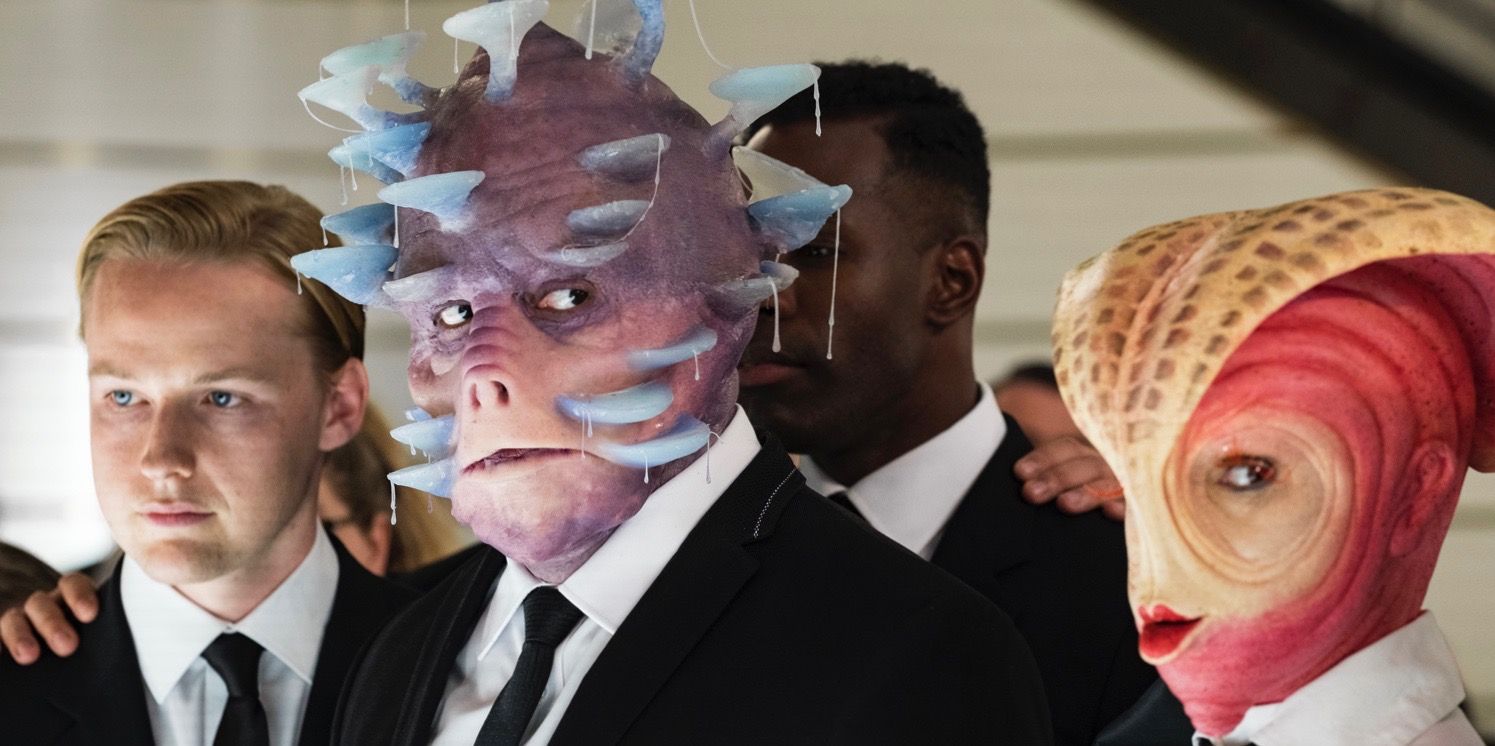 New photos from Men In Black: International reveal alien MIB agents. The Men In Black series began in 1997 with Will Smith and Tommy Lee Jones in the main roles, but the new spinoff will star Chris Hemsworth and Tessa Thompson in the lead roles of Agent H and Agent M, respectively.
Aliens have always been at the center of the Men in Black movies. The first film introduced viewers to a world where extraterrestrials secretively disguise themselves as humans in order to interact and have lives on Earth. The Men in Black were tasked with monitoring these alien interactions, with most of the Agents being human. That being said, the first three Men In Black movies had dozens of alien species, a few of which were MIB agents themselves. Now, it looks like the new movie will have even more extraterrestrial MIB agents.
Related: Sony's Bringing Back Its Biggest Franchises (After Losing James Bond)
A handful of new images from Collider show Thompson and Hemsworth suited up as agents, but also gives a sneak peek at some of the extraterrestrial agents that will be seen in the movie. The first three images below feature some new species of aliens that are set to appear in Men In Black: International. While the first two images clearly show extraterrestrials as MIB agents, the third image shows aliens that are likely civilians.
Thompson and Hemsworth will be the main focus of the new Men in Black movie, but the cast has grown considerably in the past year. Liam Neeson was added to the cast in May 2018 as the head of the London MIB base, as well as Rebecca Ferguson, whose role is currently unknown. Emma Thompson will also be reprising her role as Agent O from Men in Black 3, leading some people to believe that Men In Black: International will share some connections to the previous films.
While the first three Men in Black movies mainly took place in the United States, Men in Black: International will be on a more global scale. This not only means that new MIB bases in other countries will be featured, but also that even more aliens will likely be seen since different species likely established themselves in other countries besides the US. The first trailer for Men in Black: International gave the first look at some of these extraterrestrials, but this is the best look yet at the aliens that will be working for the MIB.
Source: Collider
This entry was posted by Screen Rant on January 20, 2019 at 5:01 am, and is filed under TV News. Follow any responses to this post through RSS 2.0. You can skip to the end and leave a response. Pinging is currently not allowed.